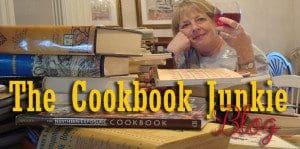 By Gini Rainey
Sometimes the best gifts I receive are cookbooks, and what makes them even better is if they are from family!  My cousin gave me one of those lovely gifts a few years back.  It is the "Texas Blossoms" that was put out by the Richardson Woman's Club in 2002 and is a really terrific representation of a great regional cookbook.  This book has a forward by Liz Carpenter, communicator, reporter, author, and speaker, whose most notable achievement was as press secretary for Lady Bird Johnson and chief of staff for the LBJ administration.  As a speechwriter, she is the author of one of the most memorable speeches of the sixties – a 58-word, seven-sentence text that Lyndon Johnson delivered after the death of President John F. Kennedy.
Packed between the lovely covers of this cookbook, that features an iconic photo of a field of Texas Bluebonnets, are 408 pages of recipes that run the gamut from Grand Beginnings all the way through to Sweet Endings.  In between are some great sounding recipes along with full color photos of the mountains of Big Bend National Park, the sand and railroad vines of Padre Island National Seashore, the bluebonnets of the Hill Country, poppies, cornflowers and ox-eyed daisies in the Richardson area, Spanish moss and American Lotus' from the East Texas Piney Woods, along with many others.
The beginning of each section has something that I just love.  The compilers of this cookbook put together a series of "Texas Blossom Menus for 4" that make excellent use of the recipes in the book.  Not only have they gone this far to help out the cook, but they also include notations as to which recipes need to be made ahead, must be frozen, must be
chilled, bake-sale favorites and hostess pleasers.  Additionally, the point out which ones are easy to take to a picnic or a buffet, great for holidays, and definitions of some of the Spanish titles.  Not only that, but they also sneak in little blurbs about different festivals around the state. What great ideas!
I'm pretty sure that this cookbook has some recipes that you won't find anywhere else.  I know that I haven't come across them before and some of them really do intrigue me, like South Texas Grapefruit Pie, Texas Rangers (which involve soaking pecans in bourbon), Creole Fudge Cake (that has coffee in the cake and the icing), Texas Star Shrimp and Chicken Casserole, Seafood Strudel (shrimp, crab or lobster in phyllo dough), Apricot Russian Chicken, Curried Brussels Sprouts, Mi Casa Caramel Pie (with coconut, pecans and cream cheese) and so very many more.
Since we are entering into a busy time of year, how about an easy, yet impressive dessert?  To make Apple Enchiladas, you first take a 20-ounce can of sliced pie apples (not filling), drain and reserve the liquid.  Now, spoon the fruit down the center of 8 fresh flour tortillas and sprinkle them with cinnamon.  Roll and place the tortillas, seam side down in a lightly greased 13x9x2-inch pan.  Add enough water to the reserved apple liquid to make 1/2 cup and pour into a saucepan along with 1/3 cup butter, 1/2 cup granulated sugar, 1/2 cup packed light brown sugar and bring to a boil.  Reduce the heat and simmer for about 3 minutes, stirring constantly.  Pour the mixture over the enchiladas and let stand for 30 minutes.  Bake in a preheated 350 degree oven for 20 minutes, uncovered.  Serve warm with a scoop of vanilla ice cream.  Now, that's what I'm talking about!