Summer is in Full Bloom with Fresh Tyler Produce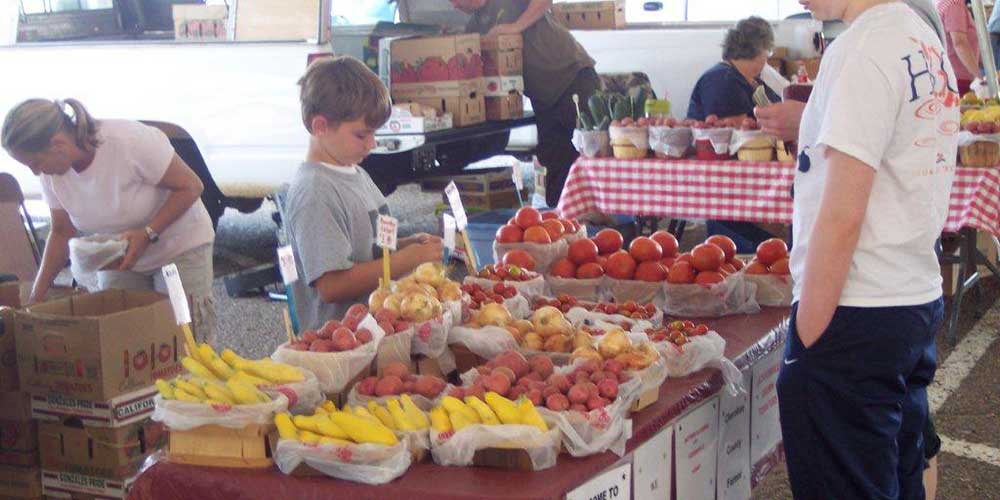 Everything is blooming, growing, and flourishing in East Texas, and it's time to head back to your local favorite farmers market. Be sure to check one of these out for all kinds of goodies.
Rose City Farmers Market, Downtown Tyler
Saturday mornings, 8am-12 noon, the Rose City Farmers Market is a neat, unique experience for the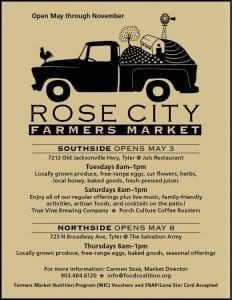 whole family. Located just a block from the Square, in the Unclaimed Furniture parking lot in Tyler (236 S. Broadway), the market brings all that's fresh straight to you: fruits, vegetables, and herbs all grown within 75 miles of Tyler. That includes pasture-raised beef, lamb, pork, chicken, and turkey, free-range/non GMO eggs, and goat cheeses. Treasures from East Texas fields like arugula, carrots, kohlrabi, radishes, beets, turnips, strawberries, new potatoes, mustard greens, kale, lettuce, cilantro, onions, swiss chard and parsley will be on hand as the crops come in.  Also, everything from fresh bread to flowers, coffee, jams and jellies, baked goods, Texas olive oil, handcrafted art, and Texas fruit wines are on hand. Local musicians will be showcased every Saturday, plus the new, exciting addition of rotating food trucks. Visit them on Facebook, and at rosecityfamersmarket.com and foodcoalition.org.
East Texas State Fair Market
East Texas State Fair Farmers Market, located at the Fairgrounds, 2112 W. Front St., Tyler, is located under the large pavilion. They are open Tuesdays and Saturdays, 7am-1pm starting May 5th.  The East Texas State Fair Farmers Market is sourced from 100% local farmers who grow all of the food they sell on their own land. This is a covered/open air market, with local grown, fresh fruits, veggies, and flowers. There are also crafters, homemade baked goods, preserves, and fresh eggs. This farmer's market is located right behind the Rose Garden.
Ruby-Farm
Located at 1057 County Road 2732, Alto, (936)225-2969, this farm is open Monday-Saturday 8am-5pm, and offers pick your own peas plus grows and has for sale farm fresh tomatoes, purple hull peas, southern peas, pinto beans, eggplant, okra, peppers, melons, squash, figs, and other vegetables. They also sell good quality square baled hay.
Barron's Blueberries
Located at 16478 CR 431, Lindale, (903)312-8538, offers a variety of crops available for sale and you can pick your own for blueberries.
Tyler Farmers Market
Tyler Farmers Market is located in the parking lot of the Broadway Square Mall located at 4601 S.Broadway Ave., Tyler. The Tyler Farmers Market is open Tuesdays, Thursdays, and Saturdays 7am-2pm.They feature seasonal items under a big white tent.
Lindale Farmers Market
Ongoing every Saturday (9am-1pm) – Lindale Farmers Market will be held at Parrott Park at the Old Mill Pond Museum, 2900 S. Main St.., Lindale. Lindale Farmers Market is dedicated to provide locally grown produce and items personally created by hand within a 100-mile radius of Lindale. Fruits, vegetables, artisan wares, and more are featured each week. Everything is home grown, home made, and hand crafted by artisans, ranchers, and growers. For more info go to facebook.com/Lindale-Farmers-Market.
Blueberry Hill U-Pick Farm
Blueberry Hill Farms is a local farm and market located just outside of Edom, Texas, that opens up its fields during the summer months for blueberry picking. It's a great place to go to pick fresh blueberries
and also shop at their country store, which sells amazing pies and more. If you're looking for a fun day trip to spend in the sun and enjoy some blueberry treats, Blueberry Hill Farms is a great destination. It's a true farm with red barn buildings, and rows and rows of blueberry bushes as far as your eyes can see. Just grab a pail and make your way out to the fields. Once you have your bounty, you can take them into the store to have them weighed and sorted. The staff are friendly, helpful, and will even sell you a huge bag of blueberries that have been professionally picked. Also, there are plenty of outdoor picnic tables under the trees. There is no admission fee. Blueberry Hill Farms opens Memorial Day weekend through July 31st. For more info go to blueberryhillfarms.com.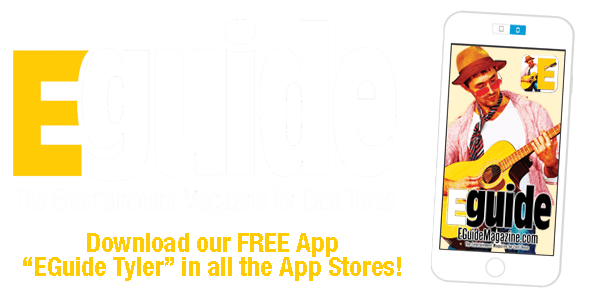 July 26th: Daddy Daughter Date Night returns to the Rose Garden Center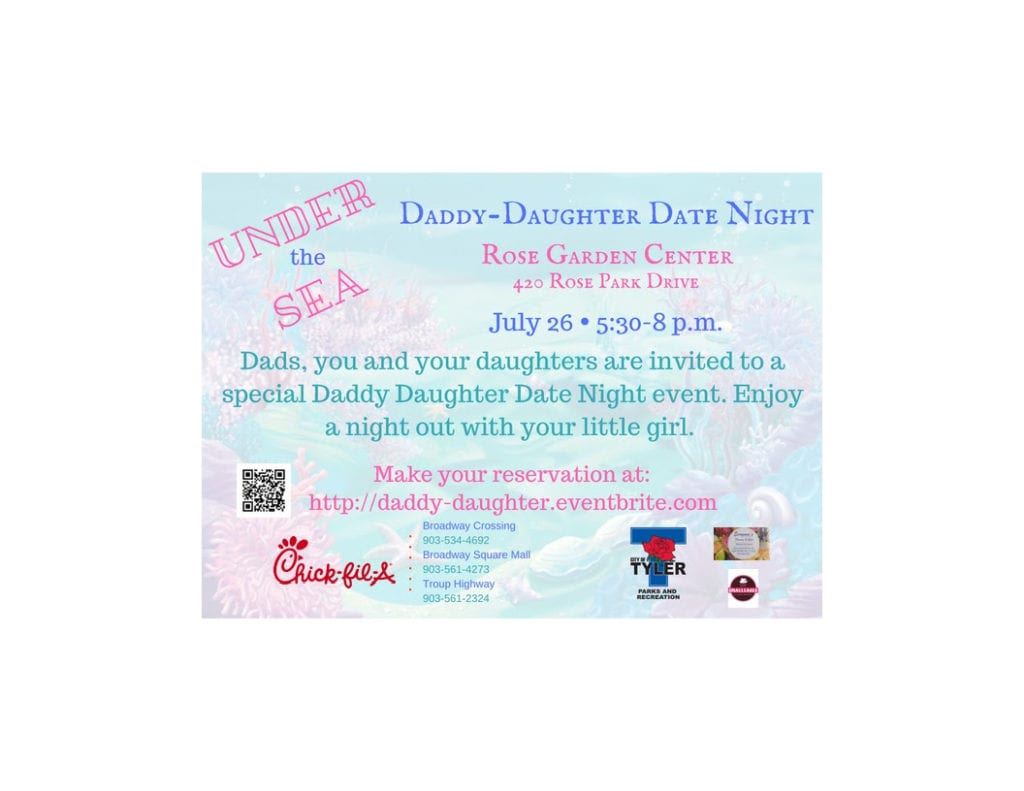 Tickets are now on sale for the Daddy Daughter Date Night sponsored by the Tyler Parks and Recreation Department and Chick-Fil-A. The special event is on Thursday, July 26 from 5:30 to 8 p.m. at the Rose Garden Center, 420 Rose Park Drive. Tickets can be purchased at http://daddy-daughter:eventbrite.com for only $20 per dad and daughter. Several seating times are available to choose from on Eventbrite.
Each dad and daughter will enjoy an evening "Under The Sea" with a meal provided by Chick-Fil-A and Smallcakes. There will be photo opportunities, which are included in the ticket price. Live entertainment and a craft project for dads and daughters to work on together are lined up and surprises to take home.
"It will be a great night for dads to treat their daughters like a princess, hang out with the Chick-fil-A cows and have great one-on-one conversation throughout the evening," said Debbie Isham, special events/recreation manager.
This event is sponsored by the Tyler Parks and Recreation Department, Chick-Fil-A, Smallcakes, Evoynne's Florist, Flowers and Gifts and All American Tent and Party Rental.
For more information, please call Debbie Isham, special events/recreation manager at (903) 531-1214.
Make a Splash This Summer at The Waterpark at The Villages Resort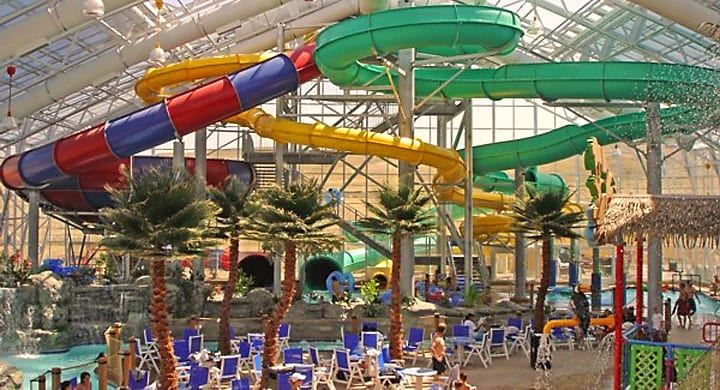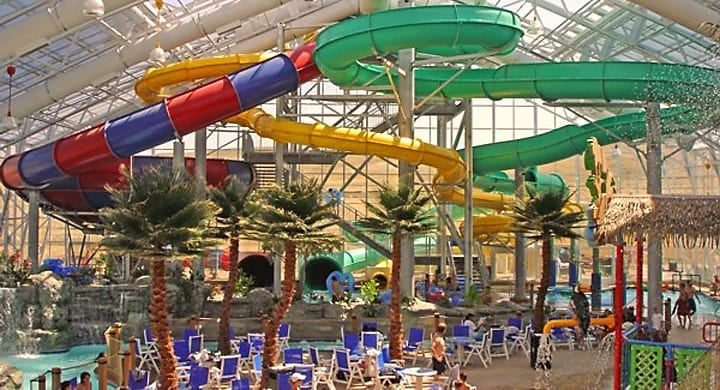 Did you know there's an indoor waterpark in Flint that features a lazy river, waterslides, a wave pool and many other attractions? The Waterpark at The Villages Resort offers 25,000 square feet of fun for the entire family, making it one of the largest in Texas. The 19,000-square-foot, glass-enclosed recreational area is climate-controlled for year-round fun, with a retractable roof that allows for open-air excitement in the summer.
Splash, float, slide or just relax at The Waterpark at The Villages Resort – this is an amusement park for the whole family. The waterpark features a lazy river with a whirlpool for tubers as well as four exciting three-story waterslides. Meanwhile, a forest ranger children's playscape offers a giant 10,000-gallon bucket dump, three kid-sized body slides and life-size figures of bears and moose.
For guests who just want to relax and watch the fun, there are plenty of lounge chairs and seating areas with tables surrounding the pool areas. Casual dining is also available, including Subway® and pizza.
There are men's and women's changing areas complete with lockers, restrooms, and showers. The Splash Store provides guests with any last-minute essentials needed for an exciting day of family fun.
The waterpark is a great venue for your next family reunion, work party, birthday party, or other gathering. The Party Room is ideal for a party up to 12 guests, while the entire waterpark can be reserved for up to 1,200 guests.
The waterpark, which first opened its doors in January 2008, is located on the grounds of Holiday Inn Club Vacations® Villages Resort. This family playground is a prime Texas vacation destination, featuring spacious villas and fun-filled amenities and spanning nearly 3,000 acres among the woods along Lake Palestine.
The Waterpark is open daily 10am-9pm. Tickets are $10 for observers, $21.95 for under 48" tall, $24.95 for others. Twilight Passes are $18.95 for under 48" tall, and $21.95 for others 4-9pm.
The Waterpark at the Villages Resort is located at 18270 Singing Wood Ln., Flint. For more info call (903)534-8400 or go to waterparkatthevillages.com
The 70th Season Begins at Tyler Civic Theatre Kicks-Off July 26th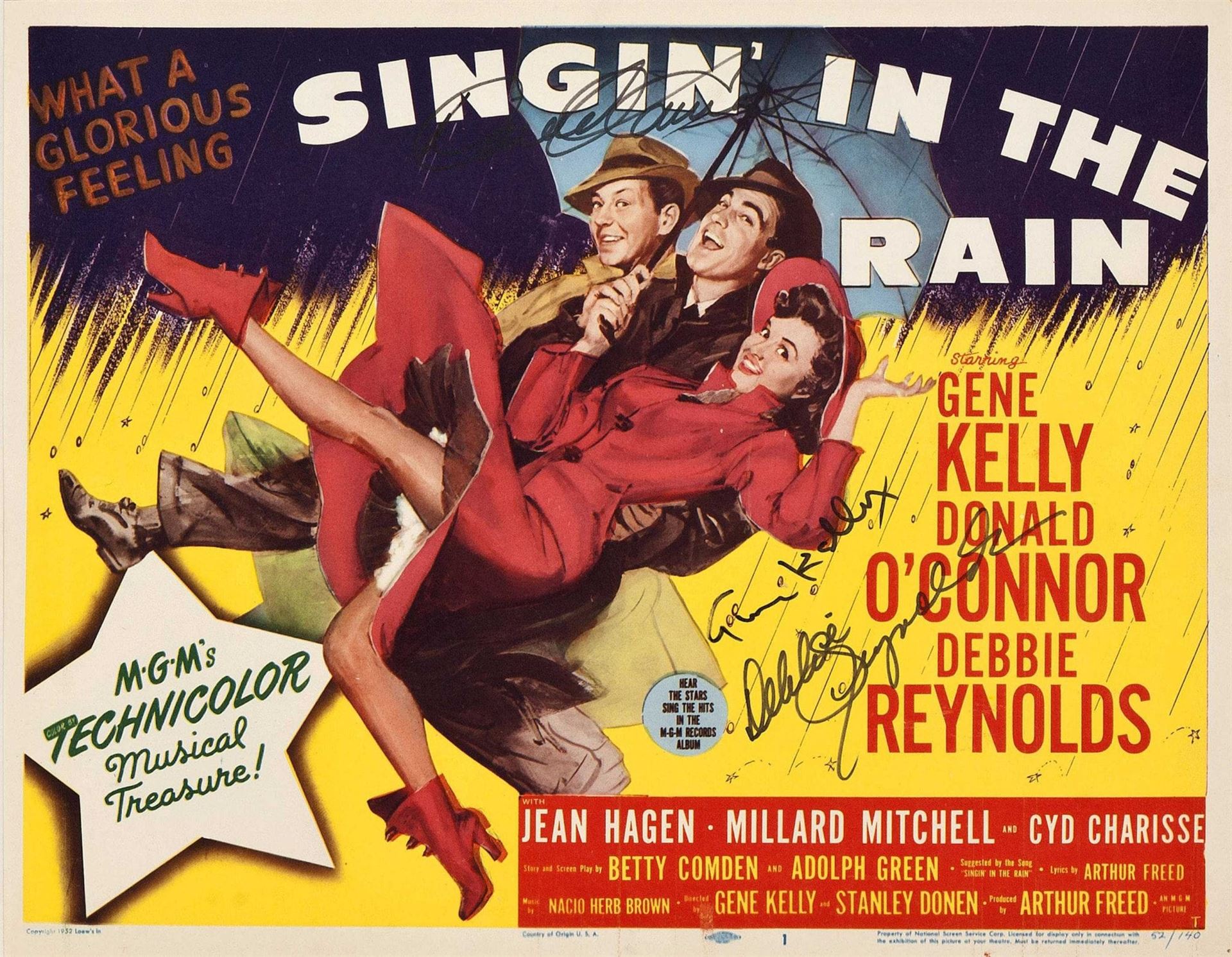 The 2018-2019 season begins with a lot of fun!
Single show tickets are available for $18 for adults and $15 for students. FLEX Pass are available for multiple performances. Tyler Civic Theatre is located at 400 Rose Park Dr., Tyler, next to the Tyler Rose Garden Center. For more info or tickets call (903)592-0561 or go to tylercivictheatre.com. The 2018-2019 productions are:
July 26th-August 12th (Thursday-Saturday at 7:30pm, Sunday at 2:30pm): "Singin' in the Rain" – The "Greatest Movie Musical of All Time" is faithfully and lovingly adapted by Broadway legends, Betty Comden and Adolph Green, from their original award-winning screenplay in "Singin' in the Rain." Each unforgettable scene, song, and dance is accounted for, including the show-stopping title number, complete with an onstage rainstorm! Hilarious situations, snappy dialogue and a hit-parade score of Hollywood standards make "Singin' in the Rain" the perfect entertainment for any fan of the golden age of movie musicals.
September 6th-9th (Thursday-Saturday at 7:30pm, Sunday at 2:30pm): "The Touch" by Mike Hargrove – "The Touch" tells the story of a grandmother with a healing touch – a secret "gift" her own grandmother helped her to discover and understand. An accident on the family farm brings opportunity for restoration of body and soul that spans four generations. Hope is found in a family secret buried beneath decades of doubt and skepticism. Playwright, Mike Hargrove made his final edits to the script only five days before his untimely death in January 2017. DeAnna Hargrove is honored to present her husband's story for the first time in the theatre he fervently supported alongside her.
October 5th-14th (Thursday-Saturday at 7:30pm, Sunday at 2:30pm): "Dial M for Murder" – Tony Wendice has married his wife, Margot, for her money and now plans to murder her for the same reason. He arranges the perfect murder. He blackmails a scoundrel he used to know into strangling her for a fee of one thousand pounds, and arranges a brilliant alibi for himself. Unfortunately…the murderer gets murdered and the victim survives. But this doesn't baffle the husband: He sees his hireling's death as an opportunity to have his wife convicted for the murder of the man who tried to murder her, and that is what almost happens. Luckily, the police inspector from Scotland Yard and a young man who is in love with the wife discover the truth, and in a scene of almost unbearable suspense they trap the husband into revealing his guilt, thus freeing Margot.
November 6th-7th (school shows) and November 8th-11th (Thursday-Saturday at 7:30pm, Sunday at 2:30pm): "Snow White & the Seven Dwarfs" – The classic children's tale of Snow White, seven dwarfs, a magic mirror and an evil queen comes to Tyler Civic! Supposedly disposed of by the wicked queen, Snow White finds her way to a happy glen and the home of seven friendly dwarfs. A deadly apple casts her into a deep sleep, from which she is revived in time by her devoted prince.
January 13th-14th (school shows) and January 15th-20th (Thursday-Saturday at 7:30pm, Sunday at 2:30pm): "The Taming of the Shrew (Condensed)" – This season TCT performs a hilarious, but seriously abridged version of Shakespeare's classic "The Taming of the Shrew." The 45-minute play preserved the original language along with all the major plot turns, but condensed it down to a one-act play and is a perfect introduction to the Bard for participant and audience member alike.
February 8th-17th (Thursday-Saturday at 7:30pm, Sunday at 2:30pm): "On Golden Pond" – This is the love story of Ethel and Norman Thayer, who are returning to their summer home on Golden Pond for the 48th year. He is a retired professor, nearing 80, with heart palpitations and a failing memory but still as tart-tongued, observant, and eager for life as ever. Ethel, ten years younger, and the perfect foil for Norman, delights in all the small things that have enriched and continue to enrich their long life together. They are visited by their divorced, middle-aged daughter and her dentist fiancé, who then go off to Europe, leaving his teenage son behind for the summer. The boy quickly becomes the "grandchild" the elderly couple have longed for, and as Norman revels in taking his ward fishing and thrusting good books at him, he also learns some lessons about modern teenage awareness – and slang – in return. Date Night for Valentine's Day will be February 14th with a Dessert Theatre. Tickets are $24 for adults, $20 for students.
March 8th-17th (Thursday-Saturday at 7:30pm, Sunday at 2:30pm): "Bus Stop" – In the middle of a howling snowstorm, a bus out of Kansas City pulls up at a cheerful roadside diner. All roads are blocked, and four or five weary travelers are going to have to hole up until morning. Cherie, a nightclub chanteuse in a sparkling gown and a seedy fur-trimmed jacket, is the passenger with most to worry about. She's been pursued, made love to and finally kidnapped by a twenty-one-year-old cowboy with a ranch of his own and the romantic methods of an unusually headstrong bull. The belligerent cowhand is right behind her, ready to sling her over his shoulder and carry her, alive and kicking, all the way to Montana. Even as she's ducking out from under his clumsy but confident embraces, and screeching at him fiercely to shut him up, she pauses to furrow her forehead and muse, "Somehow deep inside of me I got a funny feeling I'm gonna end up in Montana …" As a counterpoint to the main romance, the proprietor of the cafe and the bus driver at last find time to develop a friendship of their own; a middle-age scholar comes to terms with himself; and a young girl who works in the cafe also gets her first taste of romance.
April 11th-14th (Thursday-Saturday at 7:30pm, Sunday at 2:30pm): "The Complete Works of Shakespeare – Abridged" – Come see all 37 Shakespeare plays performed in 97 minutes! Three madcap men in tights weave their wicked way through all of Shakespeare's comedies, histories, and tragedies in one wild ride that will leave you breathless and helpless with laughter. An irreverent, fast-paced romp through the Bard's plays, "The Complete Works of Shakespeare – Abridged" was London's longest-running comedy.
May 10th-19th (Thursday-Saturday at 7:30pm, Sunday at 2:30pm): "Groucho Marx, A Life in Revue" is a stage play written by Groucho Marx's son Arthur Marx and Robert Fisher with musical direction by Jim Grady. It is a look at the life and career of the famous entertainer Groucho Marx of the Marx Brothers and "You Bet Your Life" fame. It opened off-Broadway at the Lucille Lortel Theatre on October 8, 1986 and played 254 performances closing on May 3, 1987. This inspired bio musical about "The One and Only" begins with Groucho as an old man doing his famous Carnegie Hall show. It then goes back to the beginnings of the Marx Brothers and their struggles to make it in vaudeville, their rise to stardom and their eventual break up. All classic Groucho songs are included. One actor plays Groucho, another plays Chico and Harpo, and one actress plays all the wives, girlfriends and Margaret Dumont. A hit in New York, across the U.S. and in London, this show will delight Marx Brothers fans and the as yet uninitiated. The performance on Sunday, May 12th (Mother's Day) has an optional pre-show brunch. Tickets are $34 for adults, $30 for students. Also, a dinner-theatre opportunity will be available for Thursday May 16th performance.