"Sticks & Stones: Works by Helen Altman"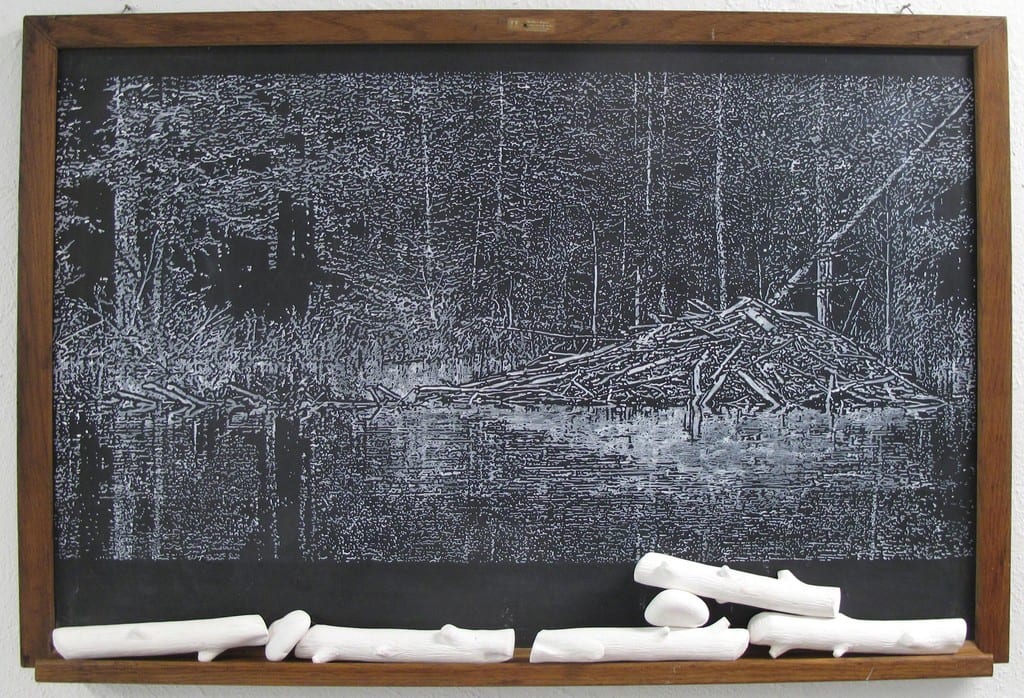 This Month at Tyler Museum of Art:
"Sticks & Stones: Works by Helen Altman"
The Tyler Museum of Art (TMA) is located at 1300 S. Mahon Ave. on the Tyler Junior College main campus. Regular TMA hours are 10am-5pm Tuesday-Saturday, and 1-5pm Sunday. The Museum is closed Mondays and most major holidays. The Museum is supported by its members, Tyler Junior College, and the City of Tyler. For more info call the museum at (903)595-1001, tylermuseum.org, or email info@tylermuseum.org.
"Sticks and Stones: Works by Helen Altman"
Tyler Museum of Art celebrates the arrival of springtime with a quarter-century survey in the career of one of the most diverse and prolific contemporary Texas artists. "Sticks and Stones: Works by Helen Altman" opens March 11th and continues through June 3rd in the museum's Bell Gallery. Admission is free.
The exhibition, organized by the TMA and curated by Caleb Bell, features more than 40 pieces spanning a dynamic body of work by Altman, a Fort Worth-based artist noted for her ability to move between various series across an eclectic array of media.
"Sticks and Stones" focuses on her fascination with flora and fauna, which "have been a much-appreciated constant in my life," the artist said. "They have been a constant source of joy and also a source of coping."
Altman's specific choices of media throughout her career — blankets, wire birds, egg editions, and torch drawings, to name just a few — also reflect a pronounced emphasis on exploring the unique in the everyday.
"Many of my works use commonplace materials and objects. I respond to ready-made objects that are often discards or flawed in some obvious way," she said. "Alterations in these familiar things elevate them and draw parallels to our own human predicament."
Altman received both her bachelor of fine arts and master of arts degrees from the University of Alabama, as well as her master of fine arts from the University of North Texas. Her work has been widely exhibited and is featured in numerous public collections, including the Art Museum of South East Texas, The Grace Museum, and Museum of Contemporary Art in San Diego.
Support for "Sticks and Stones" is provided by Collectors' Circle Platinum Sponsor The Byars Foundation.
Special events in connection with the exhibition include: Free First Friday tours at 11am April 6th, May 4th and June 1st; and Family Days from 2-4pm Saturday, April 14th and May 12th.
"Best Friends II: The Dog as Subject in Fine Art Photography"
On exhibit through March 25th, and presented in collaboration with SPCA of East Texas, this exhibition presents "man's best friend" as captured by 31 fine art photographers.
Organized by and on loan from The Grace Museum in Abilene, the show features close to 30 accomplished photographers including Elliott Erwitt and William Wegman, each sharing their unique take on the ongoing fascination with the relationship of dogs and their owners in everyday life.
The exhibition originally includes prints from its extensive Alice and Bill Wright Photography Collection. "Alice and Bill Wright began collecting dog pictures early in their careers," says information from Grace Museum. "As dog lovers and professional photographers, they found the combination of technical merit and subject matter irresistible."
Some captured images of dogs in the tradition of documentary photography while others carefully composed shots of dogs (sometimes with their humans) in studio settings.
Exhibition admission is on a "pay what you can" basis with proceeds benefiting the TMA and SPCA of East Texas equally.
Special events in connection with "Best Friends II" include free First Friday tours at 11am March 2nd; and Family Days from 2-4pm Saturday, March 10th. Admission to both exhibitions is free all day.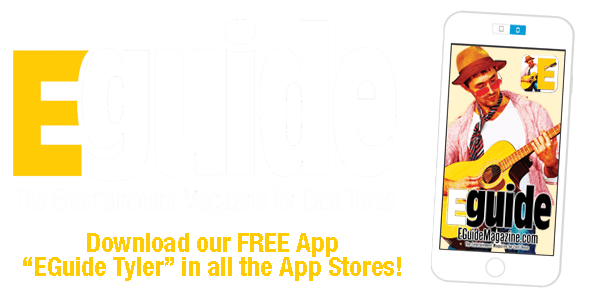 GMS exhibits "Elephant in the Room"
"Elephant in the Room" Opening at Gallery Main Street
Gallery Main Street features a new exhibit of original art approximately every eight weeks. Each exhibit opens with a Saturday evening reception that features music, an opportunity to meet the artists, refreshments, and more. The Opening Receptions are free and open to the public.
"Elephant in the Room" is opening March 10th. This exhibit is inspired by this definition: "Be inspired to create artwork that defines a very large issue that everyone is acutely aware of, but nobody wants to talk about. Perhaps a sore spot, perhaps politically incorrect, or perhaps a political hot potato, it's something that no one wants to touch with a ten foot pole. Sometimes [the] pink elephant in the room."
Other Upcoming Exhibits
Gallery Main Street Gallery is offering several shows this year, both to participate in and view. Upcoming shows are:
Solo Show #1 -Deadline April 22nd, opening May 12th

"6x6x10" – Deadline June 1st, opening June 6th

Solo Show #2 – Deadline June 17th, opening July 14th

"Assemblies" – Deadline July 29th, opening August 11th

"Alternate Perspective" – Deadline September 30th, opening October 13th

Holiday Market – Deadline November 25th, opening December 8th
You can enter your art at DowntownTylerArts.com. For more info call (903)593-6905 or go to DowntownTylerArts.com.

Contemporary Works in 2018 International Exhibition at UT Tyler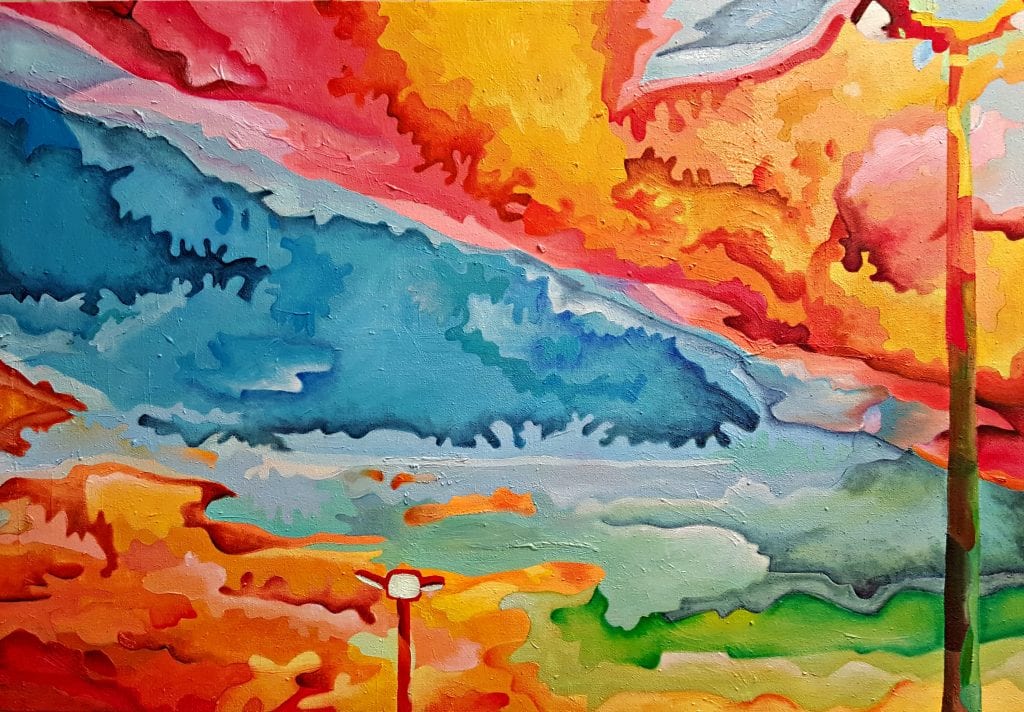 The University of Texas at Tyler Meadows Gallery:
Features Contemporary Works in 2018 International Exhibition
All manner of two-dimensional artwork from nearly 40 noted national and international artists is currently on display at The University of Texas at Tyler Meadows Gallery as part of the 33rd Annual International Exhibition.
A public reception with a presentation by this year's juror Michelle Smythe began February 8th at the gallery. The exhibit concludes Friday, March 9th.
"This year's exhibition excites and delights the visual senses with a richness and variety in each individual piece of work. The collection is a great representation of the contemporary art world, a real learning experience for our students and a treat for visitors to the Meadows Gallery," said Michelle Taff, UT Tyler Media and Gallery Coordinator for the Department of Art and Art History.
The Meadows Gallery is in the UT Tyler R. Don Cowan Fine and Performing Arts Center. Gallery hours are 8am-4:30pm Monday -Friday and by special appointment.
Smythe is founding member and executive director of K Space Contemporary, a nonprofit art organization established in 2001 in Corpus Christi.
For more information, contact Taff, (903)566-7237 or mtaff@uttyler.edu or call the department, (903)566-7250.
A member of the prestigious UT System, The University of Texas at Tyler focuses on student success and innovative research in the more than 80 undergraduate and graduate degree programs offered. With more than 10,000 students, UT Tyler has facilities in Tyler, Longview, Palestine and Houston.
TJC Art Community Reaches Out to Disciple Place Village Seniors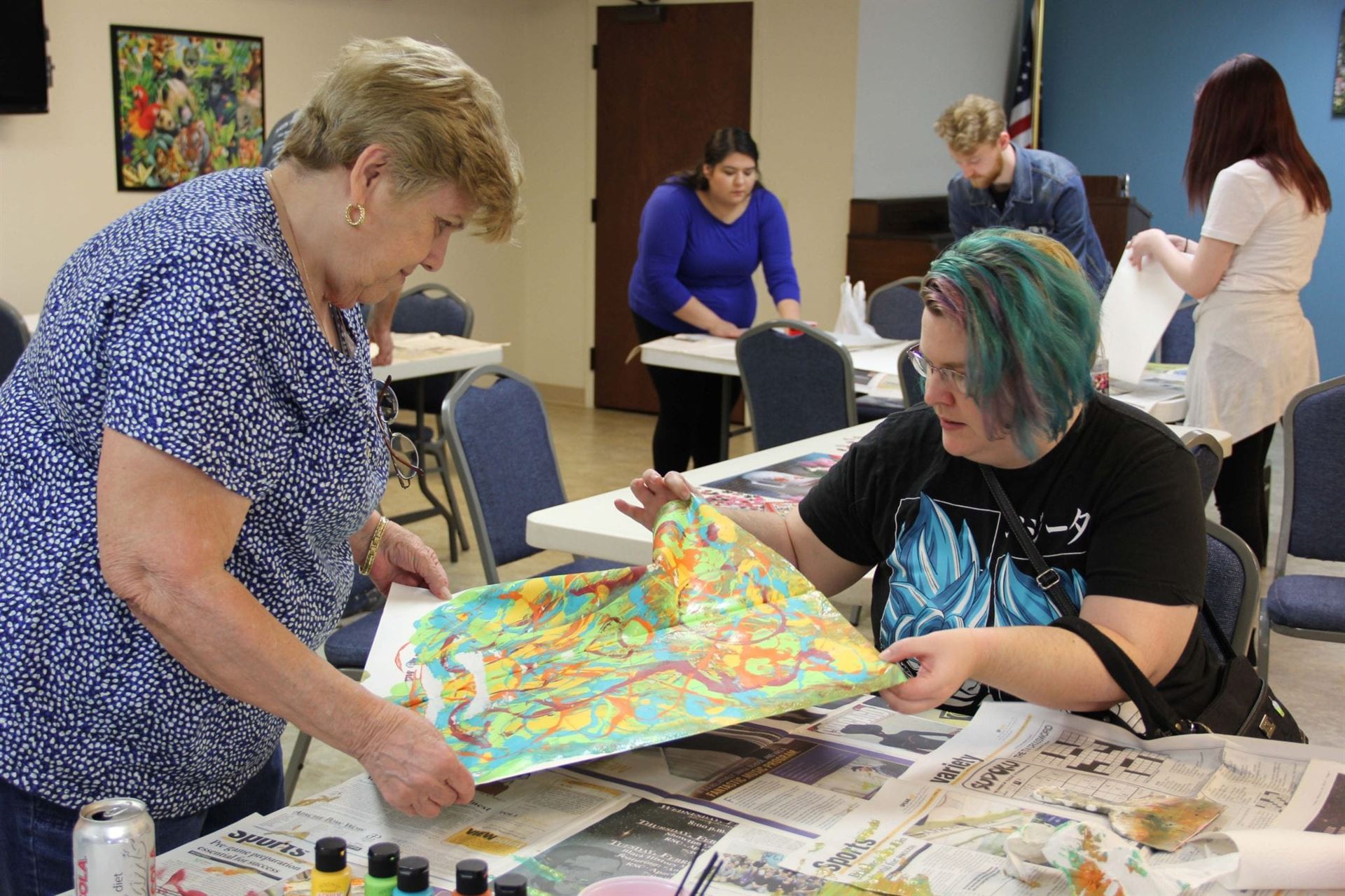 TJC Professor, Students Bring Art Class to Disciple Place Village Seniors
It is the third Thursday of the month and residents of Disciple Place Village in Tyler are ready for art class. For more than eight years, TJC Art Department Chair Derrick White has been bringing art students to the senior-living apartment complex with the purpose of teaching more than just art.
"I love to share my passion for art with those who are interested," said White. "I also hope to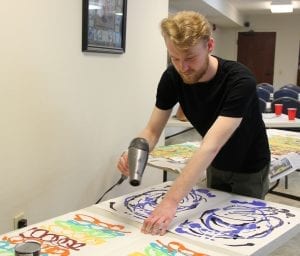 spark a desire for community service in my students," he added. According to White, students are often more comfortable serving with other students because it is less daunting, and those who begin serving in groups are more likely to continue community service later.
Cooper Adams of Troup said this was his first time to participate in the Disciple Place Village art activity and he definitely plans to return. "It is enjoyable making art alongside the residents," he said. "It's like an art community."
Shannon Rooney of Tyler said she enjoys doing something different outside the classroom. "I like having fun with the ladies, and volunteering is part of my nature," she said.
"This is the highlight of my week," said Julie DePue as she spread paint across her canvas. "It's playtime."
LaJuana Goff has been participating in White's student art activity since 2011. "I have no talent and Derrick always finds something good," she said.
Projects vary from month to month and may include painting, ceramics or woodworking. White typically demonstrates how to complete the project and students work alongside the residents and assist as needed. Some of the participating students are art majors while others are taking art classes as an elective.
Several pieces of art produced in the monthly classes decorate the walls and shelves of the facility's library and computer room.
"We come here to spend time with the residents and have conversations, and art gets made in the process," said White.
TJC offers an Associate of Arts degree which provides the first two years of a liberal arts education that prepares the graduate to successfully pursue a career in the fine arts, or an art degree at the university level. For information on TJC art programs, go to www.tjc.edu/art.