Tacos: The New Cool Food and There are Lots of Options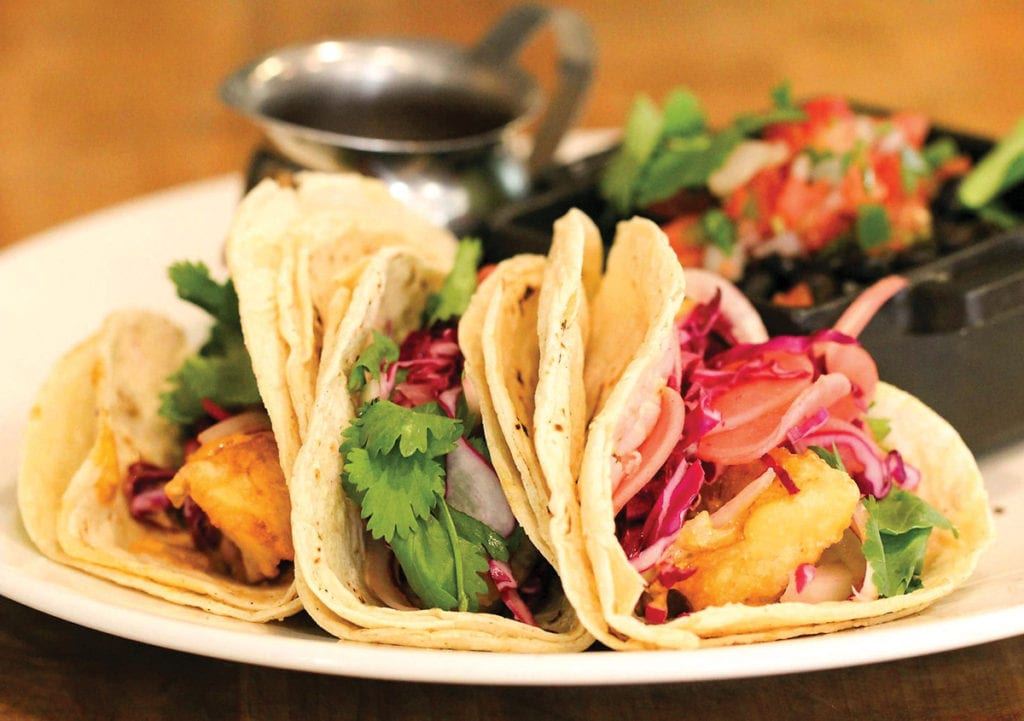 Tacos are the new "cool thing" and east Texas has an abundance of options for every appetite. Below is a guide to some of the best in the area – both traditional and out of the ordinary.
Juls
7212 Old Jacksonville Hwy, Tyler, (903)581-5857, juls903.com
Juls' offers two options of tacos, both labeled as street tacos.
Oaxacan Braised Brisket Tacos are marinated for 24 hours in Juls' signature Oaxacan rub, then the brisket is slow roasted and soaked in a tequila tomato based sauce. These tacos come garnished with salsa verde, onion, and cilantro, and are served with pork belly black beans over jasmine rice. These are an excellent choice and boast a nice taste.
Chicken Tinga Tacos (pictured) features a slowly-braised chicken breast, marinated in a smoky and spicy chipotle adobo sauce, and served with caramelized onion and smoked Chili de Arbol. These are served in locally handmade corn tortillas and comes with jasmine rice topped with pork belly black beans, and Pico de Gallo.
Get a side of Jul's famous Guacamole with Charred Salsa which is made fresh daily, or their Tobacco Onion Rings for a perfect meal.
Villa Montez Latin Kitchen
3324 Old Henderson Hwy., Tyler, (903)592-9696, villamontez.com
From their website, "Villa Montez is a unique casual family dining restaurant that offers the best of the 'Cocina Latina' (Latin Kitchen)." We feel that their unique creation of Lobster Tacos fits the description perfectly.
Yes, you read that right – lobster tacos! Lobster Tacos come with a lobster tail and is served with a side of avocado cream, black bean puree, chile de arbol, mango salsa, and tortillas. They are served with rice and black beans. The combination of flavors is delicious.
Rosarito Fish Tacos are a classic dish but at Villa Montez they come with a little flair. The hand-battered fried fish filet is topped with mango salsa and Mexican coleslaw, and comes served on a corn tortilla. It is served with rice and black beans.
Villa Montez's menu is a mix of Tex-Mex and Mexican favorites with a definite South American influence. There are some unique appetizers also, including the Queso Fondido, ceviche, Chino Latino rolls, Mazatlan Aji Azado (seared tuna), and tableside-made guacamole.
Villa Montez grows their own fresh herbs as well as some of their vegetables when in season.
Curbside Taco
Have you been missing Curbside Taco around Tyler? Well, you can find them regularly in Jacksonville at east Texas' only food court, Charcoal Alley, 217 South Main St., Jacksonville, 11am-2pm or until they sell out.
Their menu is simple with only three options – beef, pork, or chicken tacos. Our favorite is the Carne Asada, which is seared and grilled beef ribeye served with cilantro, onion, and a lime wedge. The pork option, Al Pastor taco, is served diced and marinated and cooked in their homemade adobo sauce using chipotle peppers. They come garnished with cilantro and onions.
The last menu item is the Mexico City Chicken tacos (pictured) which are chicken fajita-style meat loaded with all the standard toppings.
All tacos are delicious and served on warm corn tortillas freshly made to order. The best part though is the price – Curbside's tacos are $2.25 each or three for $6. Sodas and water are available.
Curbside Taco accepts cash only. Curbside does still move around so check their calendar at curbsidetaco.com for locations. Also, check their Facebook page (facebook.com/curbsidetaco) where they announce daily if they are open by saying, "windows up" or "windows down," depending on the weather. Charcoal Alley offers a ton of picnic tables, umbrellas and often, live music.
Catering is always an option by calling (903)316-9967.
Rick's on the Square
104 W. Erwin St., Tyler, (903)531-2415, rix.com
Rick's Big Street Tacos have gotten our attention lately. Rick's menu is always changing and we find the variety that is offered refreshing. From their famous Bread Pudding to oysters, Rick's has something for every appetite.
On the taco front, you can choose from juicy grilled-to-perfection tenderloin, smoked pork, or Voodoo Chicken tacos. These are good-sized tacos, served one per order, and come served with tobacco onions, cheddar, cilantro, and jalapeno honey sauce. The tenderloin variety is tender, flavorful, and simply put, delicious -and our favorite. Trust us, two are a full meal.
Also, Rick's offers Redfish Tacos if you are wanting a more traditional fish taco. Grilled shrimp tacos have recently been added to the menu and come with shredded cabbage, and sriracha-tarter sauce.
The appetizer, Voodoo Nachos, is a great accompaniment, served with a spicy-sweet mango pico.
Rick's is located in historic downtown Tyler and offers fresh food, live bands every Friday and Saturday evenings and soon, The Black Pearl Oyster Bar.
El Charro's on the Ridge
 6899 Oak Hill Blvd., Tyler, (903)617-6022, elcharroontheridge.com
If you are missing El Charro's famous Old Fashioned Tacos, you are in luck because El Charro's on the Ridge offers this long-time favorite menu item. Mr. Gilbert, the founder of the original El Charro's, created the recipe and since then, these handmade tacos have become legend. They are built using beef, refried beans, and a few secret ingredients, then fried – making a taco-pocket of goodness. These are served loaded with lettuce and cheese.
Tony's Tacos (pictured) have also been a long time favorite. These soft corn tortillas are filled with chopped fajita beef or grilled chicken and served with your choice of lettuce and tomato, or cabbage and cilantro, with a side of guacamole and pico de gallo. You can get a half (2)or full order (4). You can add grilled onions and bell peppers for a little extra. Lunch and dinner portions are available.
Pechuga Tacos are quite yummy, served with sliced marinated chicken in a soft flour tortilla. These are available in a half or full order.
If the weather is pretty, El Charro's on the Ridge offers a wonderful patio with a breathtaking view of east Texas slow sloping hills and treetops.
Fuzzy's Taco Shop
1871 Troup Hwy., Tyler, (903)597-3899, fuzzytacoshop.com
If variety is what you are seeking, Fuzzy's offers over 30 varieties of crispy and soft tacos, including our favorite, their California Heat Taco (grilled or tempura fried) with shrimp, bacon, avocado, feta, shredded cheese, pico de gallo, and sriracha-lime sauce served on a soft corn tortilla.
Classic tacos are available and include the Beef Fajita Taco and Tempura Fish Taco with lightly battered and fried fish, served on a soft corn tortilla, and topped with garlic sauce, lettuce, tomatoes, shredded cheese, cilantro, and feta.
The Vegetarian Taco is very good, hosting a mix of shredded zucchini, squash, and carrots, served on a soft corn tortilla and topped with garlic sauce, lettuce, tomatoes, shredded cheese, cilantro, and feta. The Cilantro-Lime rice is a great side.
Breakfast Tacos are a huge hit, with combination options that include bacon, chorizo, egg, cheese, potato, and even shrimp. You can also make your own with Fuzzy's delicious Migas or Chilaquiles. Fuzzy's Breakfast Taco plate (pictured) comes with your choice of two breakfast tacos, served with Latin-fried potatoes and refried beans.
Download their free "Fuzzy's Friends with Benefits" app to make ordering easy and earn points towards free food and merchandise.
Breakers – A Seafood Joint
5106 Old Bullard Rd., Tyler, (903)534-0161, breakerstyler.com
"From oysters on the half shell to our world famous ceviche, Breakers brings top quality seafood with a fun, west coast twist." But have you tried their Baja Tacos? During lunch, you can choose from fried fish, shrimp, or grilled or crispy chicken. These tacos come cooked and seasoned to perfection, topped with fresh pico, avocado, lettuce, and cheese in a crunchy or soft corn tortilla. There are two to an order so feel free to try two different kinds.
Get a side of Robin Hood Brian's World Famous Seafood Gumbo, a secret recipe given to Breakers by Robin Hood Studios in Tyler. This wonderful gumbo is a great addition to any meal.
Breakers has a large menu full of variety for seafood lovers as well as those who are not huge fans, including steaks, lobster, oysters, shrimp, burgers, and tons more.
Live music is offered on most weekends 8-10pm.
Torchy's Tacos
426 ESE Loop 323, Tyler, (903)581-3716, torchystacos.com
A newcomer on the taco scene for Tyler is Austin-based Torchy's Tacos. Known for variety and their creative menu item titles, we have found their breakfast tacos to be outstanding. The Monk Special, eggs, bacon, green chilis, and cheese comes atop either a corn or flour tortilla. The Wrangler, another stand out on the breakfast menu, is scrambled eggs and potatoes topped with smoked beef brisket and jack cheese with a side of tomatillo sauce.
On the lunch and dinner side, the Green Chili Pork Taco is most awesome, as well as The Republican, grilled jalapeno sausage, shredded cheese, and pico, served with poblano sauce. Spicy goodness in taco form, life doesn't get much better!
For something a little different, try the Mr. Orange, which is blackened salmon topped with grilled corn and black bean relish, queso fresco, cilantro, all drizzled with avocado salsa, served on a corn tortilla. The Mr. Pink fits the "something a little different" bill as well, with "guajillo (pronounced gua-hee-yo) seared Ahi tuna, cabbage, cilantro, and queso fresco.
Classic-style tacos are available in ground beef, beef or chicken fajita options.
Heat up your holiday shopping with Torchy's Tacos through December 24th. Purchase a $25 Torchy's Tacos Gift Card, and you can receive a bottle of Torchy's Diablo Hot Sauce at no additional cost. "Get sauced today!"
Stanley's Famous Bar-B-Q
525 S. Beckham, Tyler, (903)593-0311, stanleysfamous.com
"Stanley's is the oldest operating Mom & Pop BBQ Joint in Tyler, Texas serving up true, pit smoked BBQ for over 50 years. Come try our perfect brisket, baby back ribs, turkey, chicken, fresh made sausage, and even pulled pork."
Stanley's is legendary for this, but we bet you didn't realize that Stanley's has some of the best vegetarian tacos in the city. Filled with guacamole, cheddar, cabbage, organic greens, onions, jalapenos, and cilantro – all piled high on a warm grilled flour tortilla. Ask for the jalapenos on the side if you don't like spicy.
Stanley's famous Mother Clucker sandwich comes in a taco version, the Cluckin' Taco, which is almost as good as the sandwich. We say 'almost' because it is super hard to top the "most-perfect sandwich" but the taco version comes as close as it gets. The Cluckin' Taco comes with the same stuff as the sandwich – smoked chicken thigh, cheddar, guacamole, cabbage, pico, cilantro, and spicy bbq mayo, but it is served on a flour tortilla (and no egg). You can upgrade it with candied bacon – thick cut bacon dredged in Stanley's rib rub and then smoked until it caramelizes.
One last stand-out on the taco menu is the Texas Taco, hosting Stanley's delicious tender chopped brisket (pictured), plus cheddar, beans, cabbage, onions, jalapenos, cilantro, and bbq sauce served on a flour tortilla.
Whether you are craving a "classic-style" taco or something a little different, Tyler has something for everyone's appetite. We hope you enjoy a taco or four this holiday season.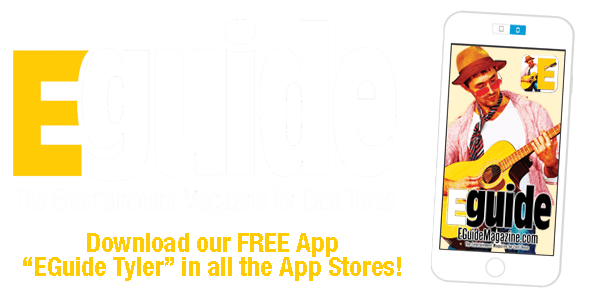 Festival of Fruit: 34th Annual Tomato Fest Saturday, June 9th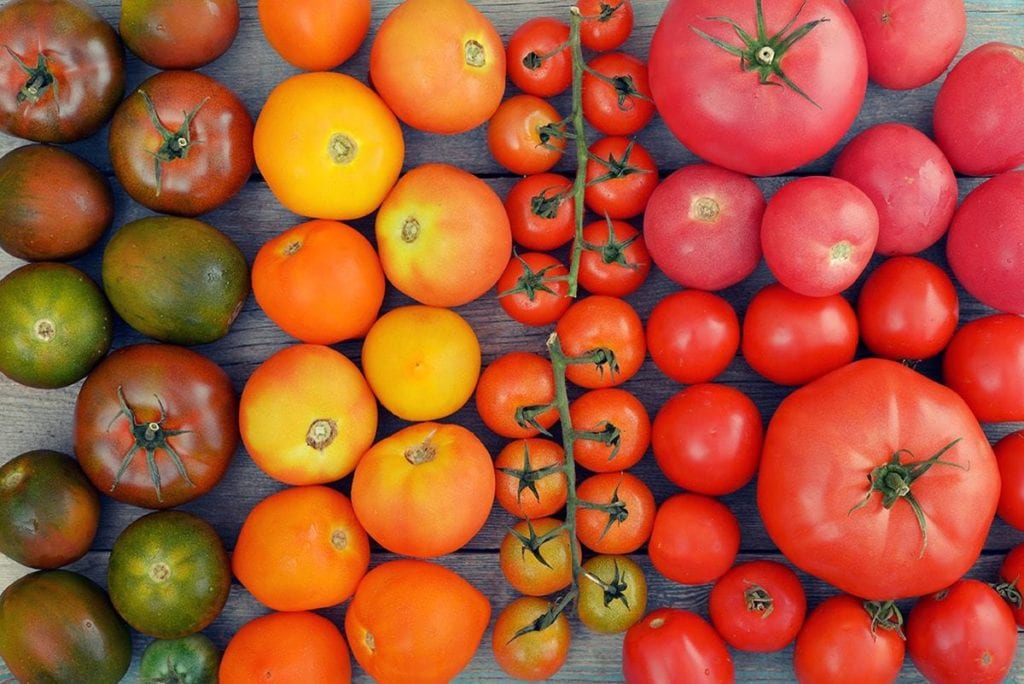 34th Annual Tomato Fest Saturday, June 9
th
Welcome to Jacksonville – home of the best tasting fruit – tomatoes!
Local farmers are busy getting ready for the upcoming 34th Annual Tomato Fest in Jacksonville, Texas by planting acres of the best tastin' tomatoes. Join the celebration Saturday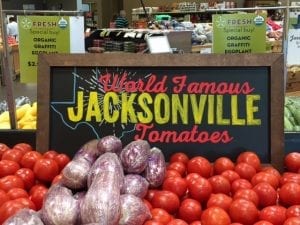 , June 9th in downtown Jacksonville for a BIG day of activities that will be happening all day long. Over 200+ vendors and all kinds of festival food, including the famous fried green tomatoes, Farmers Market, $500 Got Talent Contest, Car Show, Motorcycle Show, Tennis Tournament, Soccer Tournament, Softball Tournament, Entertainment, Kidz Zone, and so much more will cover 5 blocks downtown. Tomato events include Salsa Contest, Tomato Eating and Peeling Contest, Tomato Archery, Tomato Shoot, Best Home Grown Tomato Contest, Tomato Packing Contest and tour the Tomato Shed. Saturday evening, Chili's Street Dance will take place featuring Brian Chance Band and Lady Chazz and the Tramps. 
Activities kick off on Saturday, June 2nd with a 5k run sponsored by All Smiles. Monday, June 4th and Tuesday, June 5th is Family First Clinic's corporate challenge Dodgeball Tournament.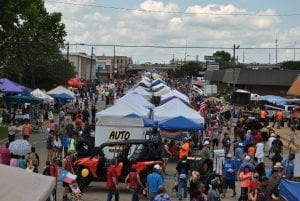 On Wednesday, June 6th, a Gospel Concert sponsored by Whataburger featuring, The Group, will perform at Central Baptist Church. New this year on Thursday, June 8th  is the Farm to Table dinner event that will take place at Castle on the Lake on beautiful Lake Jacksonville and will be catered by Rob Gowin, Sadler's Kitchen & Catering. A 4 Man Scramble takes place at the Cherokee Ranch Golf Club on Friday, June 8th. The final Tomato Fest week celebration ends at Lake Jacksonville with a Ski Show on Sunday, June 10th.
Taste for yourself the best tomatoes and fun festival packed with lots to do for everyone.  For additional information, contact Jacksonville Chamber of Commerce at (903)586-2217, or go to  JacksonvilleTexas.com/Tomato-Fest or Facebook.com/JacksonvilleChamber.
East Texans Learn to "Live Healthy"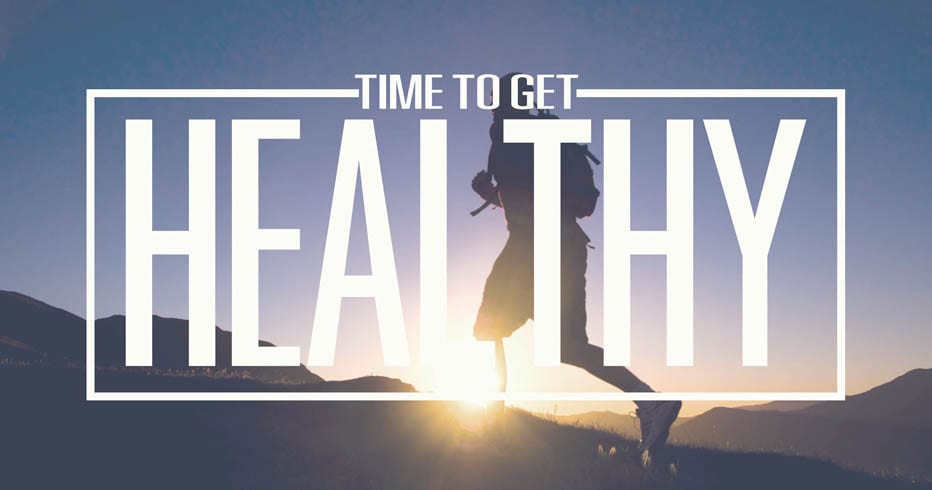 This Month at Integrative Health Matters:
Integrative Health Matters offers a healthy alternative to losing weight. The public has opportunities to visit Integrative Health Matters at any of these classes:
Every Wednesday (12:15-1:15pm) – Mindful Movements; (5:15-6:15pm) – "Just Breathe" Meditation

June 1st (10-11am) – Functional Food Friday: Eating Healthy on a Budget

June 12th (6-7:30pm) – Kitchen Talk: Mediterranean Diet Lifestyle

June 15th (10-11am) – Functional Food Friday: Meal Prepping

June 22nd (10-11am) – Functional Food Friday: Acid, Alkaline & Food Combining

June 26th (6-7:30pm) – Kitchen Talk: Plant Based Eating

June 29th (10-11am) – Functional Food Friday: Bone Broth
Cooking classes offered twice monthly are in-depth health and cooking presentations. These "Kitchen Talks" invite the public into the IHM instructional kitchen to learn to cook tasty and nutritious meals and create a healthy home environment.
Integrative Health Matters is located at 419 WSW Loop 323 #400 in Tyler, next to La Madeleine. For information about Integrative Health Matters, contact (903)595-8077 or visit ihm.life.
Rose City Farmers Market Downtown This Weekend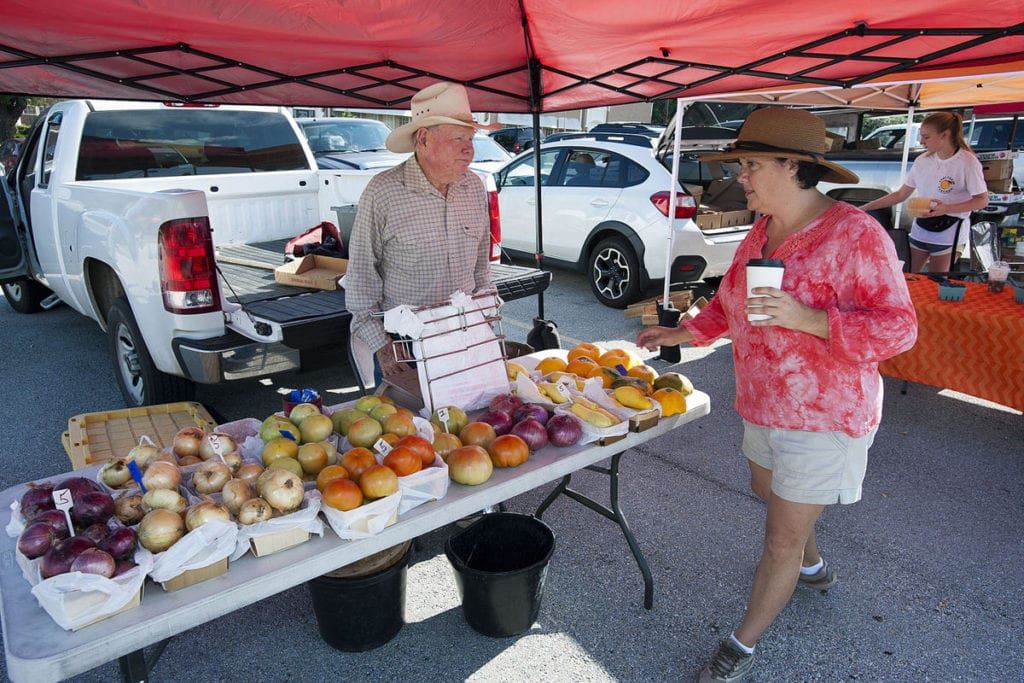 By Barbara Greenbauer
Everything is blooming, growing, and flourishing in East Texas and it's time to head back to the market!
Your Saturday mornings can be stupendous with by stopping downtown at the new Rose City Farmers Market location. Opening April 7th and running through the first weekend in November, the market is a neat, unique experience for the whole family.
Located just a block from the Square – in the Unclaimed Furniture parking lot in Tyler (236 S. Broadway),  the market is the place to be bright and early Saturday mornings from 8am-12 noon. Your senses will go wild with the atmosphere of the Rose City Farmers Market.
As part of the Food and Farm Coalition, their goal is to work toward a sustainable food system that meets the needs of both producers and consumers.
The market brings all that's fresh straight to you: fruits, vegetables, and herbs all grown within 75 miles of Tyler. That includes pasture-raised beef, lamb, pork, chicken, and turkey, free-range/non GMO eggs, and goat cheeses.
Jessica Bullock, Director of the Farmers Market, says "We are excited about the opportunity to connect people with locally grown food in a great community gathering place Downtown."
The move to downtown makes the market "easily accessible to everyone, which is extremely important to our mission," explained Jessica. All items sold at market are 100% produced or grown by the vendors. "Everything you'll see at the market has been grown, baked, or made by the vendors themselves, which may be a surprise to some," said Jessica.
Eating seasonally is what the market is all about, and when you eat food grown locally, it's is always harvested at the peak of its season. Local food is also not stored in shipping containers, so it doesn't spoil or lose health benefits on its way.
Buying food at its peak season also benefits our local farmers because it costs less for producers to harvest and transport and those savings get passed down to you…it's a huge win/win for everybody!
With the Market opening in April 7th and running through November 17th, every week will be a brand new adventure as the seasons change and different produce are featured. In April, a trip to the market will fill your senses with treasures from East Texas fields like arugula, carrots, kohlrabi, radishes, beets, turnips, strawberries, new potatoes, mustard greens, kale, lettuce, cilantro, onions, swiss chard and parsley.
The market is all about community, so you'll find something for everyone from fresh bread to flowers, coffee, jams and jellies, and baked goods. Vendors also showcase Texas olive oil, handcrafted art, and Texas fruit wines.
And that's not all you'll get to see at the Market. Local musicians will be showcased every Saturday, plus a new exciting addition of rotating food trucks. "We are proud to serve as a venue to some of Tyler's most talented musicians," said Jessica. Bring a lawn chair and enjoy the perfect blend of food and music and great weather.
Vendors or members must meet certain goals including being located within 75 miles of the market, providing safe and fair working conditions for all farm workers, organic or natural methods, humanely raised animal products, beef and other grass-eating animals are grass fed, and dairy is rGHB-free. Find out more about becoming a member/vendor at foodcoalition.org.
The market depends on volunteers to set up and break down, help with displays, banners, and lots of behind the scenes work. What a great way to give back to the community! People interested in helping can contact rosecityfarmersmarket@gmail.com.
"We are thrilled to be part of the Downtown scene and to be able to partner with the great small businesses that are part of this growing culture," said Jessica. "The new location is a perfect fit for the Market and the thriving downtown community." "We would like to thank Bill & Cecilia Bush of Unclaimed Furniture for the space and the support."
Bring the family and spend Saturday mornings at the Rose City Farmers Market, located at 302 S. Broadway in Downtown Tyler.
Visit them on Facebook at rosecityfamersmarket.com and foodcoalition.org.