By Holli Fourniquet
It seems like there is a new restaurant opening every week in Tyler. While each location offers its own unique flair, most of the new restaurants are similar to other restaurants here in town.
Not so with the newest restaurant to open in the area, Texas de Brazil, a Brazilian-American steakhouse. There is nothing else like Texas de Brazil in Tyler or the surrounding area. The nearest location to find a Brazilian-American steakhouse is Dallas, and let's face it, who wants to fight the Dallas traffic?
This continuous dining restaurant embraces the time-honored tradition of churrasco-style grilling and combines this with generous southern hospitality, superior service, and an inviting atmosphere. This restaurant is just as much about the experience as it is about the delicious food.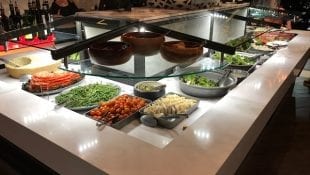 The menu offers 50-60 items on the seasonal salad area that includes appetizers, gourmet vegetables, charcuterie, imported cheeses, soups, salads, and more. Each person at the table is given a card; one side is green and the other red. After you have gotten your salad, turn your card to green and be greeted by a troop of carvers who will generously serve you various cuts of seasoned beef, lamb, pork, chicken, and Brazilian sausage accompanied with traditional side items and house-baked Brazilian cheese bread. My favorite cut of meat was the flank steak. It was juicy and cooked to perfection.
And, like I said before, this is a "continuous dining" restaurant. Dine endlessly on the best cuts of meat around, and when you're full, or need a break; just turn your card back to red. Repeat until you've had your fill. Do you like your meat cooked a certain way? No problem! You can request certain cuts of meat as well as have the meat cooked to your liking.
In-house wine connoisseurs will help you select the perfect pairing for your meal, or you can sip on Texas de Brazil's freshly-made signature cocktail, the Caipirinha.
There are two pricing options; dinner is $42.99 per person, and the salad area only is $24.99 per person. Children 2 and under are complimentary, $5 for 3-5 years, and 50% off of the regular dinner price for children 6-12 years. Texas de Brazil also offers happy hour specials starting as low as $3, Monday-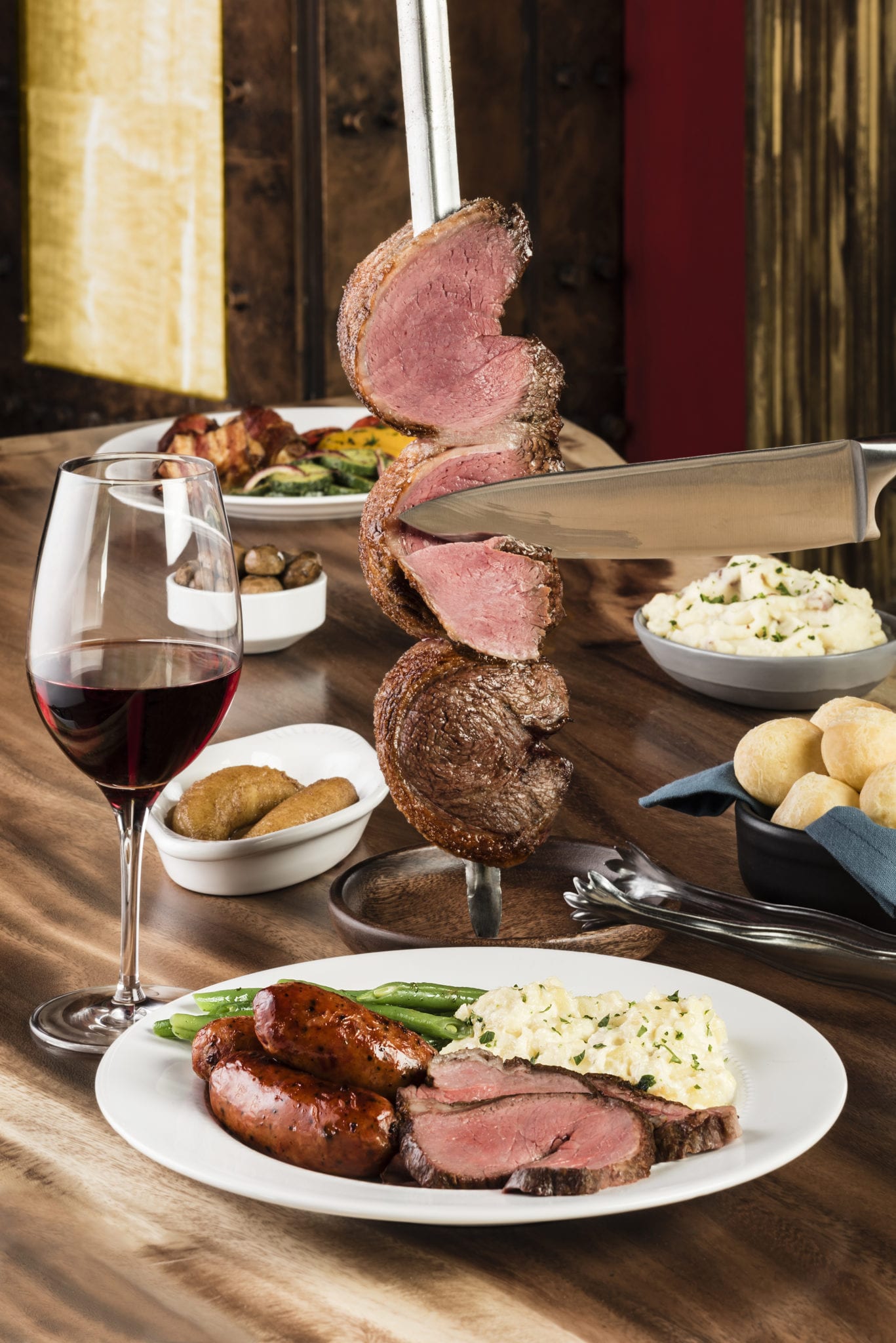 Friday, 4:30-7pm.
I recently visited the restaurant on my anniversary, and I have to say, this is a perfect date night spot. The whole experience is fun and different. This isn't a fast food joint, so there is plenty of time to relax, eat, and catch up with your significant other. Plus, if your date is anything like me, she won't have to choose what she wants for dinner; she can have a little bit of everything.
End your meal with dessert. Texas de Brazil offers a great selection of delectable desserts. Desserts are an a la carte item and include Brazilian Cheesecake, Brazilian Flan, Key Lime Pie, Pecan Pie, Chocolate Mousse Cake, Bananas Foster Pie, Brazilian Papaya Cream, Coconut Chess Pie, among several others. We tried the Coconut Chess Pie and the Key Lime Pie and were definitely pleased with these selections. The Key Lime Pie was tart, but not too tart, just like I like it, and the Coconut Chess Pie has a generous serving of coconut baked on top. It was the perfect ending to a wonderful meal.
Texas de Brazil is located at 2376 Dueling Oaks Dr., Ste. 100, Tyler. Their hours are Monday-Thursday, 5-9:30pm; Friday, 5-10pm; Saturday, 4-10pm; and Sunday, 4-9pm. For more information and to make reservations go to texasdebrazil.com.