Texas East Gymnastics: A Family of Fun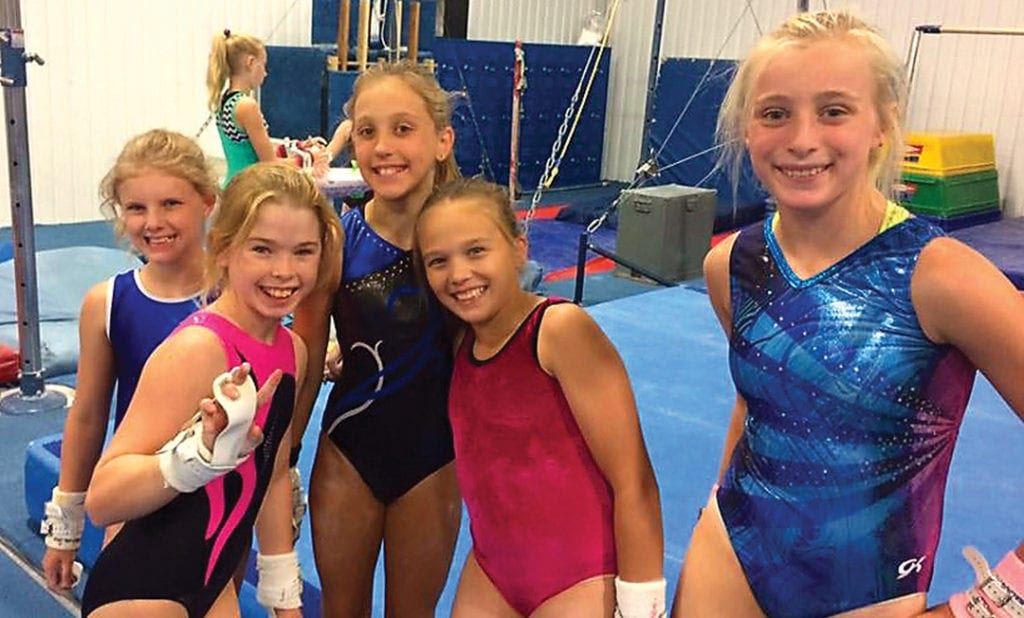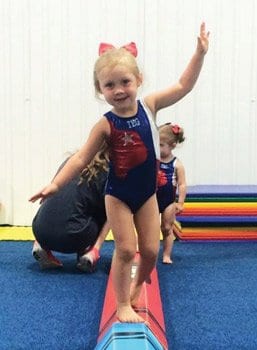 By Kelly Griffith-Fields
For forty-six years, Texas East Gymnastics has been teaching the fundamentals and honing skills of gymnasts of all ages, from preschool to competitor levels.
In their 22,500 square-foot, air conditioned facility banners adorn the wall claiming past victories. Bright colors engage young athletes, and top notch training equipment is utilized morning to night.
The family owned and operated business makes its mission to ensure all participants gain enhanced self-worth, self-confidence, and an "I can" attitude.
Preschool Gymnastics takes place in its own special room, the Jungle Gym. Boys and girls, ages two to four spend an hour each class covering all gymnastic events.
"Our goal is to allow each child to feel comfortable with movement and acquire fundamental skills which can be refined in later years," part-owner, Marlynne Finch said.
Young gymnasts begin with a motor skills musical warm up and move on to floor, beam, bars, and vault activities. The equipment in Jungle Gym is made smaller to be suitable for the youngest of athletes.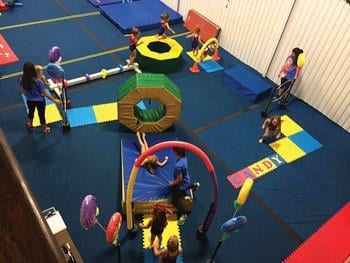 "Studies show that early intellectual growth is directly related to physical development," Finch said. "Therefore gymnastics not only develops the body, it also develops the mind."
At the end of the year students may participate in the Preschool Gymnastics' Junior Olympics Show and Awards Presentation. Preschoolers are able to show off the skills they've gained in class to an audience of family and friends.
Recreational Gymnastics classes are available for boys and girls ages five and up. The girls learn through a progressive gymnastics programs from beginner to advanced levels. "Our level system is based on skill mastery, and therefore ensures upward progress," Finch said.
Gymnasts train on all four Olympic events: vault, bars, beam and floor. The trampoline is another tool at the facility that helps students recognize the fun of being active.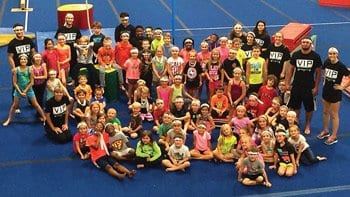 The boys program emphasizes strength, flexibility and balance. Six men's Olympic events are featured: vault, parallel bars, pommel horse, still rings, floor exercises, and high bar. The trampoline and other related activities are often incorporated into new challenges.
"Gymnastics helps to build confidence and self-discipline by exposing it's participants to challenges that can be handled successfully," Finch said.
Texas East Gymnastics also takes pride in their competitive teams. With levels ranging from beginner to elite, gymnasts compete in the USA Gymnastics Federation which is the governing body of International Gymnastics Competition.
Levels of competition include District, North State, State, Regional, Westerns, and Elite that compete to Nationals. Texas East Gymnastics have gymnasts competing at each of these levels.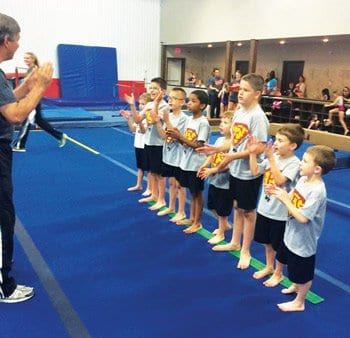 "We have one of the most successful teams in Texas with many State and Regional champions, National qualifiers and a Pre-Elite National Team member, and an Elite gymnast who competed in the Championships of the USA," Finch said. "Our gymnast, Danica Abanto just finished competing in the Philippine National Championships."
Along with those accomplishments many gymnasts practicing at Texas East have also been awarded with full college scholarships. Athletes have received full rides to the Universities of Florida, Kentucky, Arkansas, Oklahoma and Auburn, just to name a few.
For young girls who want to pursue competitive gymnastics Texas East offers Developmental Teams. The classes increase practice time which speeds the rate skills are acquired and enhance the gymnast's maturity preparing them for competition.
Cheer Tumbling Classes are provided for girls and boys ages eight and over. Classes are optimal for students soon trying out for a cheerleading team. The spring floor, trampolines, tumble track, pit and mirrors help improve the cheer instruction and prepare the tumblers.
"The majority of area cheer tumbling squads currently picked our students as their team members," Finch said.
Texas East also offers private lessons. Whether it is to develop a certain skill or prepare for gymnastics competition or cheer tryouts, private lessons are available with the instructor of your choice.
In addition to their regular programs and classes Texas East hosts special nights during each month.
Friday Fun Nights are held once a month. The facility is open to children ages five to eight-teen and they do not have to be enrolled in the gym to participate. The fun takes place from 7-10pm. Tickets for the event are $10 prior to the day and $15 the day of fun night.
The children are divided into groups by age and ability. Each group will rotate through the facility that will consist of about ten different stations. At each station they will receive instruction by trained and experienced coaches to complete the challenge, and tests their skills and abilities.
Space is limited so it's encouraged that participants purchase their tickets in advance.
"Ninja night is the new program offered at TEG," Finch said.
It will be scheduled on certain Saturdays from 6-8pm at the cost of $20 per ticket. Again children do not need to be enrolled to participate.
"At Ninja Night children will learn how to maneuver obstacles, overcome challenges and move to accomplish a task," Finch said.
Texas East Gymnastics also offers their facility to host birthday parties.
The party package includes a t-shirt for the birthday child. Parties begin with one hour of instructional activities. A certified gymnastics instructor will coach kids through such things as an obstacle course, rope climb, trampoline jumping, and group games.
Thirty minutes of the party is allotted for refreshments and gifts in the party room too.
Texas East Gymnastics is located at 1914 Deerbrook Dr. in Tyler. For class schedules, tuition rates and more information call (903)509-3547 or visit texaseastgymnastics.com.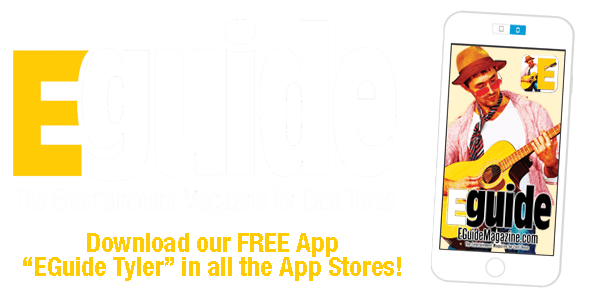 At Cowan Center: "The Wizard of Oz" April 21st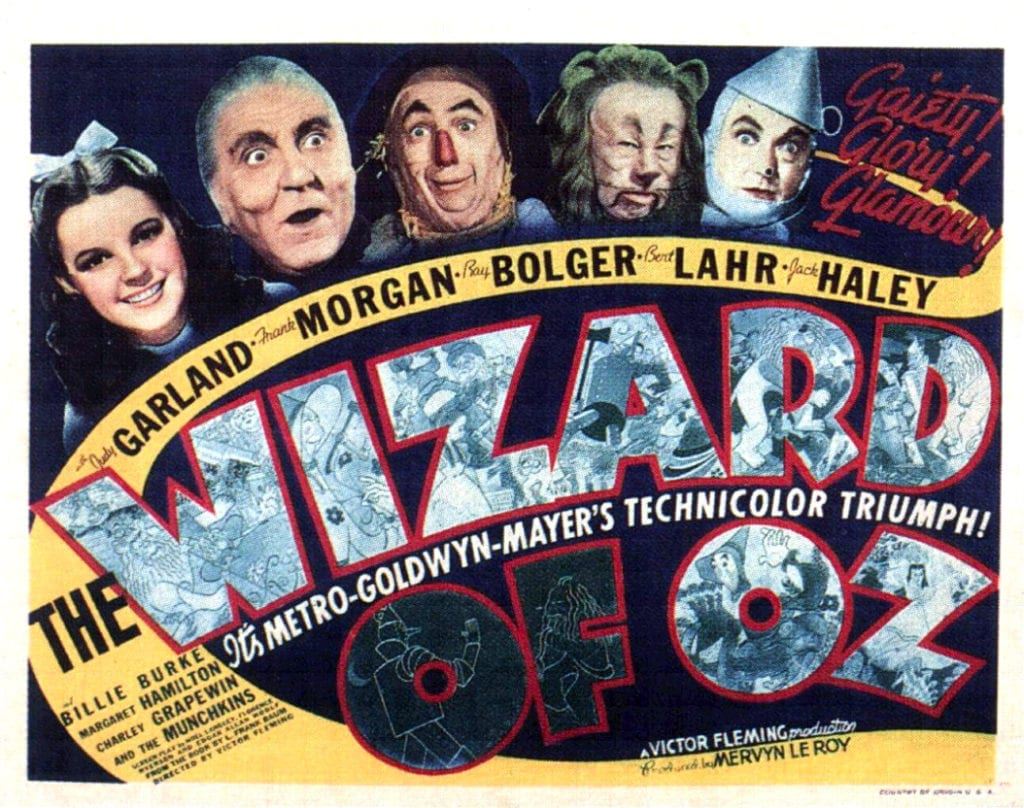 The Cowan Center is located at 3900 University Blvd. on the UT Tyler campus. Tickets are available at the box office, by calling (903)566-7424, or go to cowancenter.org. Upcoming productions are:
April 21st (7:30pm) – "The Wizard of Oz" will be presented at the Cowan Center. There truly is no place like home! The entire family will be captivated as they travel down the Yellow Brick Road and beyond with Dorothy, Toto, and their friends the Cowardly Lion, the Tin Man, and the Scarecrow in this lavish production, featuring breathtaking special effects, dazzling choreography, and classic songs. Tickets are $37-$72.
April 28th (7:30pm) – Beethoven: Symphony No. 9 will be presented at the Cowan Center. The East Texas Symphony will close their season with Beethoven's monumental Symphony No. 9.  The Orchestra will be joined by ETSO Chorus, UT Tyler Concert Chorale, and Patriot Singers, and a quartet of soloists.  The concert also features the ETSO premieres of Handel's Zadok the Priest and Brahms' Nanie.  It's a grand evening of choral music ending the season on a high note.
May 10th (7:30pm) – The Celtic Women will be presented at the Cowan Center. This global phenomenon started on a winter Dublin night in 2004. The idea was conceived to create a musical ensemble featuring a selection of exceptional classically and traditionally trained Irish female musicians. Tickets are $42-$77.
Calling All Poets, April 21st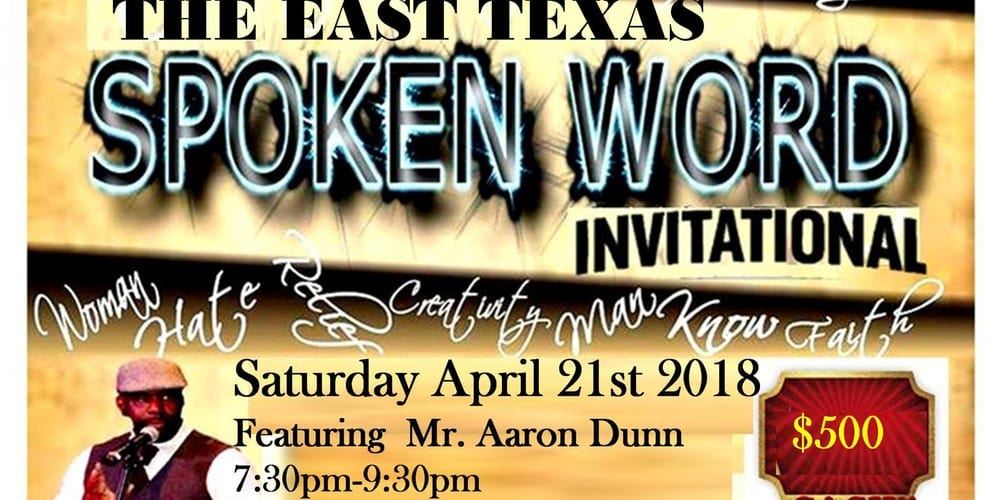 The East Texas Spoken Word Invitational Competition
The East Texas Spoken Word Invitational is an 'East Texas poets only' competition and will be held Saturday, April 21st, 7:30-9:30pm at El Guapo Records, 257 S. Broadway Ave., Downtown Tyler.
On this night, come celebrate International Poetry Month in a family-friendly space. At this collective community gathering, the featured poet will be Aaron Dunn, author of the new collection "Poetry For Your Sake." Aaron will be reciting works which will be available for purchase.
There will be 12 poets selected for his annual spoken word event. Prizes will be awarded. Poets can enter the competition for $10. There is free admission for any audience member.
Tickets are available at eventbrite.com > East Texas Spoken Word Invitational. To participate, you must have an eventbrite ticket.
Seating is limited. For more info call or text (972)704-5001 or go to mikeguinn.biz.
Liberty Hall: Bill Anderson in Concert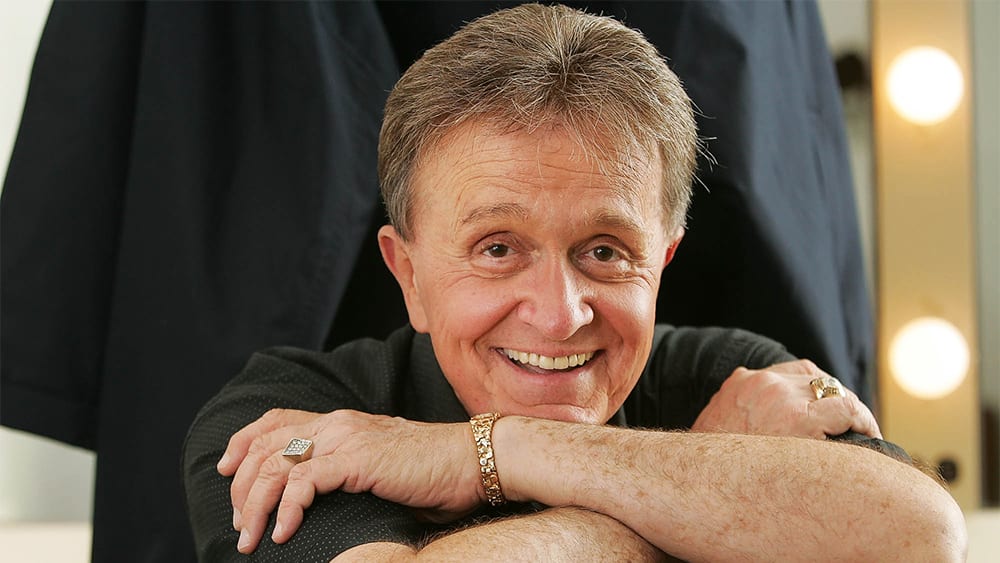 Country Music Hall of Famer Bill Anderson in concert this weekend!
---
Liberty Hall is hosting a variety of upcoming events. Liberty has something for all ages! Liberty Hall is located at 103 E. Erwin St., Tyler. Tickets are available online at libertytyler.com.
April 20th (7pm) – Bill Anderson in Concert – Country Music Hall of Famer, Bill Anderson, has been a member of the Grand Ole Opry sine 1961. One of the most popular, most enduring entertainers of our time, he's known, in fact as "Whispering Bill," a nickname hung on him years ago as a result of his breathy voice and his warm, soft approach to singing a country song. For tickets call (866)710-8942. Tickets start at $40.
April 21st (8pm) – Mouse & The Traps – After more than 50 years together, Mouse & the Traps continue to be one of the best examples of "Texas Rock & Roll." Formed in Tyler, Texas in 1965, Mouse, Nardo, Dave & Larry continue to give the public just what they want – great rock and roll. Whether you remember "Public Execution," "Hit the Bricks," or not, Mouse & The Traps has something for everyone. Tickets are $20-$25.
May 10th (7pm) – Twitty & Lynn: Grandchildren of Conway & Loretta in Concert – Tayla Lynn grew up in the heart of Tennessee and started singing with her grandmother at an early age. Tre Twitty, the grandson of the late Conway Twitty, is a remarkable young talent and will perform as well. For tickets call (866)710-8942. Tickets start at $30.
June 27th (7pm) – Country Music Hall of Famer Connie Smith – In 1964, Connie Smith recorded the Bill Anderson-written "Once a Day." Issued as her first single, it spent eight weeks at #1. She also cut darkly personal songs, including "Ribbon of Darkness" and "The Last Letter." For tickets call (866)710-8942. Tickets start at $40.
July 20th (7pm) – "Sail On: The Beach Boys Tribute" is a show based out of Nashville, TN, that focuses on performing songs by America's Band, The Beach Boys, to sheer perfection. The show includes over 30 well-known hits. Members of Sail On have performed with Brian Wilson's band, The Zombies, Earth Wind and Fire, Cheap Trick, Mark Lindsay. Tickets are $20.
August 11th (8pm) – Sgt. Pepper's Lonely Bluegrass Band will visit Liberty once again! They are a modern bluegrass band that plays and sings the songs of The Beatles. Performing some of the very best music composed by Paul McCartney, John Lennon and George Harrison, beloved songs are presented with instruments you normally wouldn't expect to hear. Tickets are $20.
August 16th (7pm) – The Bellamy Brothers – Best-known for the easy rolling, '70s Southern soft rock classic "Let Your Love Flow," the Bellamy Brothers are the most successful duo in country music history, consistently climbing into the upper reaches of the Billboard country charts during the '80s, including "Redneck Girl," "If I Said You Had A Beautiful Body, Would You Hold It Against Me," '"You Ain't Just Whistlin' Dixie," and "Dancin' Cowboys." For tickets call (866)710-8942. Tickets start at $40.