The East Texas Food Bank: Fighting Hunger, Feeding Hope

Written and Photographed by Barbara King
The rafters are piled high with food in the 75,000 square foot warehouse, ready for distribution throughout East Texas to those in need. Since 1988, the East Texas Food Bank has been the crucial conduit for the distribution of donated and purchased food to more than 200 partner agencies located throughout a 26-county service area.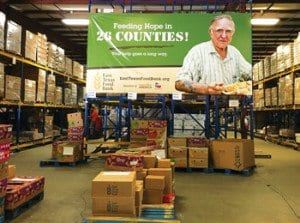 The statistics may be staggering to some; the East Texas Food Bank provided 18,500 meals to East Texans in 2015, serving 252,900 clients. As Chief Executive Officer Dennis Cullinane explains, "Families struggle and can face unexpected bills and hardships. We provide a safety net and assist in helping provide fresh, high quality nutritious foods." Cullinane added that one of the main issues arising in their mission is the intersection of hunger and health. "Families that are struggling to stretch a dollar tend to gravitate towards inexpensive food items that are rich in calories, but poor in nutritional value. These choices can lead to increased health complications such as obesity, high blood pressure, and diabetes."
The nutritious mix of product lining their shelves comes from a variety of sources including private donations from local and national manufacturers, distributors and grocers, farmers and food drives. The Food Bank works alongside 144 food pantries and 25 soup kitchens or on-site feeding programs.
The food is collected in many shapes and sizes, and a large part of the distribution involves the sorting and packing of anything that arrives in bulk form. On any given day you will see scores of volunteers in the warehouse, sorting, packing, and helping get the orders ready for distribution.
Rosann Blood, a longtime volunteer at the East Texas Food Bank for over 20 years, originally came with a church group, but now comes on her own to help make a difference. "I love to volunteer here and knowing it helps someone else be happy and healthy keeps me coming back." Today she is bagging large quantities of pasta, and she says every time she comes, she helps with another needed project.
Karolyn Davis, Communications Director says, "Our success is built from the support of the East Texas community through a variety of ways such as time, donations, and food. We have over 10,000 volunteers a year come through our doors to help support our mission for a hunger-free East Texas." All volunteers are accepted as young as the age of six (with some adult supervision.) Volunteers are welcome Monday through Thursday from 8:30am-12 noon, 1-4:30pm and from 5:30-8:30pm. Fridays are reserved for groups, and all requests can be made on the website with an online application at www.easttexasfoodbank.org.
The Tyler Junior College baseball team of 35 players and 3 coaches recently spent a morning bagging six pallets (40,000 pounds) of rotini pasta for distribution which will feed 33,750 folks in need. Head Baseball Coach Doug Wren said, "The team likes to try to volunteer every January before the season starts. The team learns that life is not all about baseball; it's a teamwork project that impacts a lot of people in our community in a short amount of time."
The East Texas Food Bank does so much more to support our community through programs which benefit a wide variety of people. Partnering with the Smith County Sheriff's Office and the Smith County Agricultural Extension office and the Flint Baptist Church, they operate two gardens on a combined ten acres of land. The Backpack program provides nutritious meals to low-income children who participate in school meal programs but face hunger on the weekends. Thanks to the BackPack program, during the 2014-2015 school year, the East Texas Food Bank provided more than 36,000 meals and nearly 129,000 snacks to needy school age children.
The summer food program provides free breakfasts and lunches to children who are at-risk of going hungry over the summer months. The Food Bank also partners with programs such as Meals on Wheels to assist seniors who receive meal assistance during the week, but also need help to avoid going hungry on the weekends. The Senior Servings program helps fill this gap.
The East Texas Food Bank also runs mobile pantries with their fleet of trucks, distributing food to clients in areas where there may not be an existing partner agency.
One of the main priorities of the Food Bank is to "educate and enlighten individuals about healthier, more economical food choices," said Davis. "It may be surprising to some, but if you go to a grocery store, the exterior of the store with fresh produce and meats is where you should shop; the interior is full of packaged, inexpensive fillers that are not high in nutritional value." The East Texas Food Bank provides nutrition classes that teach low-income individuals the basics of food budgeting and good eating habits.
As part of their Outreach program, the East Texas Food Bank encourages clients to utilize all resources available to them, such as federal and state nutrition programs, especially the Supplemental Nutrition Assistance Program (SNAP). "In 2015, we helped more than 2,000 individuals submit SNAP applications," Davis said.
"Individuals and corporations that make gifts to the East Texas Food Bank can be assured that 95 cents out of every dollar goes directly to programs and services," explained Davis. "We encourage people to get involved at any level that is comfortable for them, including volunteering on site, hosting a food drive, or giving a donation through our secure website."
See how you can make a difference in the lives of East Texans, visit the East Texas Food Bank website at www.easttexasfoodbank.org, call (903)597-3663, or visit them at www.facebook.com/EastTexasFoodBank.
The East Texas Food Bank is located at 3201 Robertson Road in Tyler.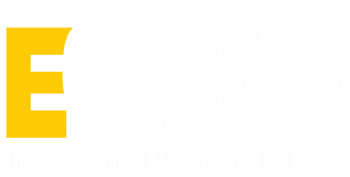 Feb. 21st-24th: 'In the Heights' on Stage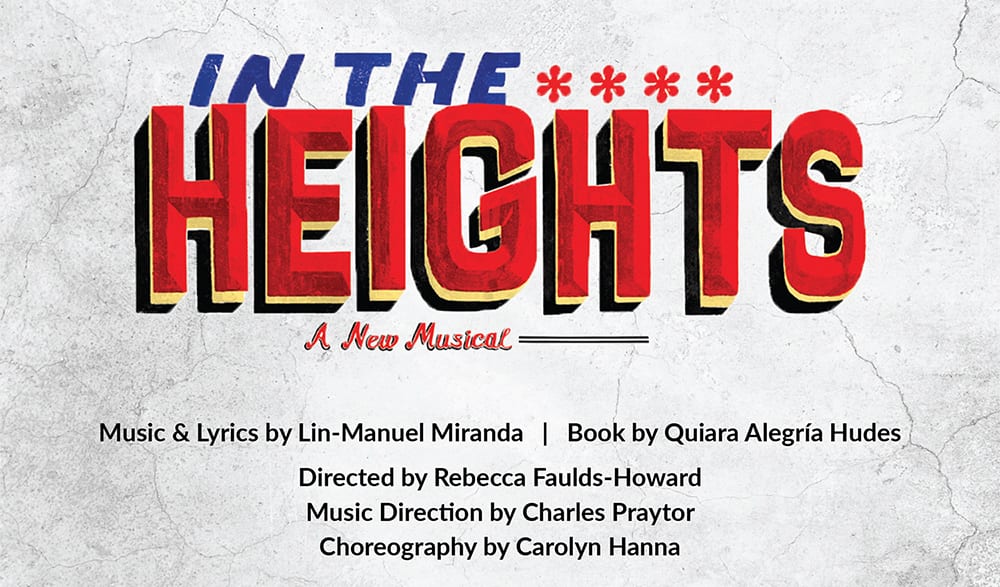 Tickets on sale Feb. 14 for TJC spring musical, 'In the Heights'
The stage of Tyler Junior College's Wise Auditorium will be transformed into a New York City neighborhood for "In the Heights," the Tony Award-winning musical by Lin-Manuel Miranda.
The show runs 7:30 p.m. Wednesday-Saturday, Feb. 21-24.
Tickets are $10 for adults and $5 for seniors and students. The TJC Box Office opens Wednesday, Feb. 14, and box office hours are noon-6 p.m. weekdays during the run of the show. For reservations, call 903-510-2212.
The TJC spring musical is a long-standing tradition, bringing together the considerable talents of the school's theater, music, and dance departments.
The production is under the direction of Rebecca Faulds-Howard, TJC theater professor. Music director is Charles Praytor, the TJC music professor. The choreography is by Carolyn Hanna, director of the TJC Academy of Dance.
Music and lyrics are by Miranda, with book by Quiara Alegria Ludes. In 2016, Miranda won the Tony Award for "Hamilton," his groundbreaking, a hip-hop musical about Alexander Hamilton and the American Revolution.
"In the Heights" won the 2008 Tony Awards for best musical, score, choreography and orchestrations.
The show combines Latin rhythms and dance with hip-hop lyrics to tell the story of the colorful residents of Washington Heights – a New York City neighborhood on the brink of change.
Usnavi, a first-generation Dominican-American and owner of the corner bodega, and his friends and family are dealing with the pressures of rising rents and closing neighborhood businesses.
Over the course of the show, the hard-working residents of Washington Heights grapple with love, identity, and racism, all while the prospect of a winning lottery ticket hangs in the air, potentially changing the livelihoods of the people and the community forever.
TJC cast and crew
Stage manager is Brittany Puente of Grand Prairie. Assistant directors are Grace Lutrell of Diana and Dylan Mulhany of Palestine. The assistant stage manager is Hannah Early of Joshua. Director's assistant is Matt Mooneyham of Fairfield.
Principal characters, cast members and their hometowns are: Usnavi, Gerardo Carreon of Gilmer; Sonny, Joey Herrera of Katy; Benny, Christopher Flores of Muleshoe; Graffiti Pete, Bryson Chalk of Big Sandy; Kevin, Dustin Thomas of Daingerfield; Piraguero, James Loya of Tyler; Nina, Emilie Casper of Tyler; Vanissa, Iliana Herrera of Tyler; Abuela Claudia, Carson Moreland of Hughes Springs; Daniella, Nicky Dempsey of Tyler; Carla, Lucy Salto of Houston; and Camila, Rita Roman of Quitman.
Ensemble cast members and their hometowns are: Skylar Brumit of Tyler; Aryn Preddy of Tyler; Breanna Burney of Garland; Sunshine Cornell of Whitehouse; Erin Maharney of Forney; Savannah Williams of Hawkins; Kaitlyn Sullivan of Harmony; Bailey Patton of Arlington; Liz Danly of Tyler; Taylor White of Paris; Walker Delk of Tyler; J.W. McFarland of Bullard; Jesus Gonzalez of Winona; William Clark of Whitehouse; Bryce Neel of Troup; Sean-Riley Cunningham of Tyler; Ryan Jackson of Tyler; Jerod Rogers of Tyler; and Trevor Holcombe of Flower Mound.
For more on TJC Cultural Arts events, go to www.tjc.edu/performingarts.
Feb. 23rd-24th: 4th Annual Mockingbird Tyler Conference
"The Wonder of Grace" Coming February 23rd-24th
B3 Ministries, in cooperation with Mockingbird Ministries (Charlottesville, VA), will bring the 4th Annual Mockingbird Tyler Conference: "The Wonder of Grace" to Downtown Tyler, February 23rd-24th.
 This multi-denominational gathering of conference contributors and MBird devotees will explore all that The Gospel engenders within the hearts of its hearers. This will be a celebration of faith, hope and love brought down to earth.  
Conference speakers will include John Zahl, author of "Grace in Addiction" and John Newton, author of "Falling into Grace" and frequent contributor to Mbird.com. Charlotte Getz. 
The conference will also include local breakout speakers Brent Kirkley (Tapestry Counseling Ministries), Ricky Garner (New Days Community Church), Aristeo Rodriguez (El Guapo Records), Brad Wofford (BW Design), Tim and DeAnda Frost, Stanley Ward, Stacy Canion, and Tom Brown.     
The conference will feature musical guest singer/songwriter/pastor Josh White, who will deliver a Friday night concert at 7:30pm on the 3rd floor of Bethel. A breakout talk on "Christ in Culture" will take place Saturday.
Josh White is the founding pastor of Door of Hope Church and Deeper Well Records in Portland OR. As a songwriter and recording artist for Tooth and Nail and Deeper Well, Josh has released eight albums over the last 15 years as well as writing for other artists such as Liz Vice. When not making music or running the church, Josh loves to spend his time reading and hanging out with his wife Darcy, and 2 children Henry and Hattie.
As part of the Saturday break-outs, Ricky Garner will speak on "If It Ain't Broke, It Can't be Fixed: Why The Cross is The Only Hope for Your Marriage." Ricky currently serves as assistant pastor at New Days Community Church in Tyler.
Also, Tim and DeAnda Frost will speak. Tim Frost is a memory-collector, storyteller, father, and husband. Tim is a speaker and author of hope from firsthand experiences of survival. He emits a positive and light-hearted energy when he speaks to a large crowd or in a one-on-one conversation.
Registration will begin at 4pm on Friday, February 23rd at Christ Episcopal Church, and the conference will begin in full at 5pm. The Foundry Coffee House and Bethel Bible Church will host Saturday, February 24th's portion of the conference.
Registration for the MBird Tyler Conference is $50. For couples, the cost is $90. A 1-Day Drop-in ticket is $30. Tickets to the Josh White concert only is $15. Childcare is available for a fee.
Registration will include dinner from Stanley's BBQ, a copy of "Grace in Addiction," a gift bag full of various goodies, and free admission to Friday night's Josh White concert.
For more information, online registration, itinerary, and past event videos go online to mbirdtyler.com or find them on Facebook.
Feb. 24th: For a Good "Soulful" Cause, Edwin Holt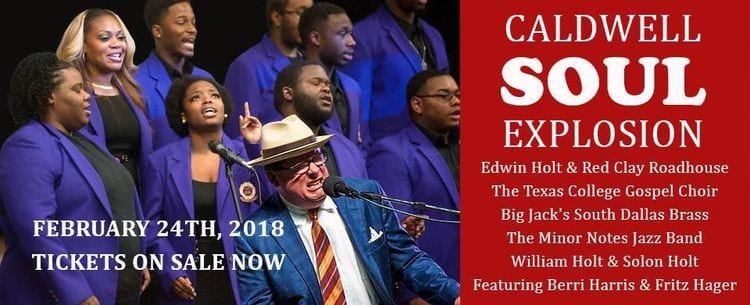 For a Good "Soulful" Cause:
Edwin Holt, Red Clay Roadhouse, and Texas College Choir Join Forces
By Edwin Holt
Some of you already know the backstory of my musical life, what you may not know is the soulful bond that developed between myself and a culture that I have come to define as my second family.
Like most people that stay in their comfort zone of their own culture, I found myself in a different realm. For several years in the south Dallas area and beyond, I found myself, a twenty year old male, performing in an all black blues band, in all black juke joints. The music was and will always be a great reward of my dues paid. The family of musicians I inherited, was a reward I never saw coming. Having the opportunity to perform, travel, and join them at their dinner tables with their families, has changed me into someone else.
Growing up in the small town of New London, Texas, I was sheltered to what lied ahead in the real world. A world that opened my young eyes to the reality of a culture riddled with struggles that continue to plague our society and most importantly, the very body of Christ.
People talk about how we are divided as a culture. They say that leadership does nothing to aid within this division but at the same time we fail to notice the blame within ourselves. We think we are helpless to make any kind of change in the world due to who we are or where were from – I believe differently. My focus in life, is to make a continued difference using love as a means of change.
So it should be no surprise that when the Texas College Choir reached out and asked me to help them get to New York in their own efforts to share the Gospel of music, I was all in. And with that, I'm hoping you are all in as well.
Presented by the Holt family, this will be an evening full of soul that will take place on February 24th at 8pm. Doors open at 7pm. The performance is being held at the Caldwell Auditorium, 300 S. College Ave., Tyler.
Please help me help others with music. It is a wonderful gift from God that brings people of all cultures together.
For more information and to purchase tickets, visit rosepickermusic.com.