The Mansion Family: A Little Crazy About Good Music

By Johnny Griffith
If variety is the spice of life, then the gents in The Mansion Family Band (TMF) are Carolina Reaper Pepper Hot right now. The Marshall, Texas-based quintet has put together a unique sound borne of the eclectic tastes and background each member brings to the table. A departure from the classic-country, pop-country, Texas-country, red-dirt-country, and hard-rock that you find around most live venues on a Friday night in East Texas, TMF brings a raw, rootsy, growl to their music that's been described as "one part whiskey, one part broken heart, one part bar fight, and five parts brothers in soul."
Born out of a wedding gig at Charlie's Backyard Bar in 2012, TMF has gone from night long jam sessions at their house to consistently playing 2 to 3 times a month. Eager to find out what makes this creative machine click, I reached out to The Mansion Family for a conversation:
Johnny: Where is everyone from and if not local, how did they end up in Marshall?
TMF: Well, Nick Brumley is from Farmersville, Texas. He came to Marshall to attend East Texas Baptist University.
John Fox is from Sulphur Springs, Texas. He also came to Marshall to attend ETBU. That's where he and Nick met and began playing together, and the seeds for The Mansion Family were planted.
Kasey Brown, he's from Kirbyville, Texas, and attended ETBU and was the assistant band director at Marshall High School. It was during the latter that we hooked up.
Eric Gardener is from Shreveport, Louisiana. Nick and Fox saw Eric play with his previous band in Shreveport and were immediately impressed. The Good Time Rounders were in need of an upright bassist; Eric was between bands and was kind enough to sign on.
Chris Dean, is from Shongaloo, Louisiana. Chris was living in Little Rock, Arkansas, and moved to Marshall for, you guessed it, a woman. His wife Bethany and he met through a mutual friend and he headed south as quickly as he could.
Johnny: Okay I have to ask, what inspired the name of the band? It's obviously going to make people do a double-take to make sure they read it right. Was that intentional or simply a nice byproduct?
TMF: In the fall of 2012, we put to bed a previous band Nick, Eric, and Chris had been in for several years called the Good Time Rounders. It was primarily a string band with the core being acoustic instruments and no drums. We used to host an electric jam every Thursday night where we had the freedom to really stretch out and be creative musically. We wanted to form a new band with that same freedom. At this time, Fox, Eric, and Nick were renting a huge historic two-story home in downtown Marshall, which became the hub for many an after party and late night jam session. It drew the nickname of "The Mansion." We were looking for a name that incorporated that atmosphere and our relationship as a family. Someone jokingly suggested "The Mansion Family" for obvious reasons, and it stuck.

Johnny: How did everyone get started in music?
Nick got started in high school after a friend showed him some chords, and he got into old country music after moving to Marshall, which is when he started writing. Fox's earliest memory of music was perched on his uncle's shoulders listening to Jerry Jeff Walker. He played percussion in school and eventually picked up bass and guitar, honing his skills in churches along the way. Eric was involved in some great orchestral programs as a kid and eventually realized he could have fun playing original music on the upright bass. He was able to meld his classical background with rock and jazz influences to make something completely new and exciting. Chris credits his grandfather as being a spark for him as he was a musician, playing fiddle, piano, and accordion. Kasey picked up music in the high school band and, due in no small part to a great teacher, has turned that into a lifelong passion.
Johnny: What would you say the biggest influence is, as a band, you've had so far?
TMF: Each other. We're not sure anyone in the band is exactly playing music in their comfort zone, which is what we wanted. We wanted to stretch out, learn, and push ourselves. We learn something in one way or another from each other every time we play together.
Johnny: How would you describe your music?
TMF: That's always been tough to answer. The easiest definition we usually throw out is East Texas roots rock with jam band tendencies. When people look at us like "What are you talking about?" sometimes we just say Americana, though that doesn't really fit either. Sometimes we just say it's like "tyrannosaurus chicken fried steak with jam-jam gravy" and let their minds chew on that for a while.
Johnny: You have a sound that's not typical of this area compared to what you can usually hear on Friday or Saturday nights. How did that style evolve?
TMF: There was a conscious choice not to do what everyone else was doing, but I don't think we could have even if we'd tried. Our sound came about very organically. We all have our different influences, and we just draw on those to do what's best for the song.
Johnny: How has this year been for you the band so far?
TMF: Pretty great and crazy, as usual, all wrapped up in one. We have definitely seen our fan base grow, mainly by finding some new venues in which to play. We've been extremely fortunate to have caught on at Stanley's Famous BBQ in Tyler. The folks, both management and patrons, have been overwhelmingly supportive. We have a good following in Shreveport. We are regulars at a few clubs over there, and we love it. One goal we had set as a band was to try to push a little further west, and Stanley's has been like finding a second home.
Johnny: What is The Mansion Family's next major goal?
TMF: To record something again. We have been in various studios and haven't come away yet with anything we wanted to put out. We also came away from one studio $1,500 lighter with nothing whatsoever to show for it, but that's a different story for a different time.
Other than that, just to keep adding fans to the family and expand our reach geographically.
Johnny: What has been your best memory so far as TMF? What has been your biggest challenge?
TMF: Wow, that's tough, because we shared a lot of experiences over the past several years. Maybe the best is not one single instance, but the sum of those moments when it just "clicked" with a crowd. When they are moving as one and you see the majority singing along, knowing the words to something we wrote – that's the best.
Finding new venues that appreciate our unique sound is always a challenge locally, which is strange because it's not "weird" or anything. It's just not top 40 country or classic rock covers. Aside from that, the whole recording thing is always a thorn.
Johnny: What experience are you hoping the first time listener takes away from a TMF show?
TMF: Our music has many layers to it, and we want people to appreciate the songs on at least one of those levels, but hopefully all. Nick's lyrics are great stories with great messages, and we hope that someone can take something away with them from that. We also work hard to make it very sonically appealing, again with the layers thing, but we hope that they can appreciate that as well. We also rock the "you know what" out, and we hope that's just flat out a good time for everyone. If we can connect with people on at least one of those levels, we're doing well. If we can find someone for whom it clicks on all three levels, that's when it's special for them and us as well.
Upcoming Shows:
October 8th – Great Raft Brewing, Shreveport, Louisiana (Multi-band show for the venue's three year anniversary)
October 21st – Rockers, Riders & Ribs Kick-Off Party – Cajun Steamer, Longview Texas, headlining kickoff party for festival with openers White Trash Wannabees and Stink Bait
October 22nd – Sulphur Springs Texas, Hopkins County Civic Center Auditorium with Sulphur Springs own Hannah Kirby of "The Voice"
November 25th  – Stanley's Famous Bar-B-Q, Tyler
For more info on The Mansion Family and to hear samples of their music, go to Facebook via @mansionfamily or soundcloud.com/kasey-brown-443687765.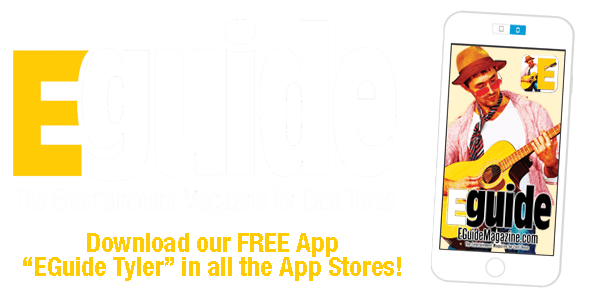 EGuide Magazine's Gig Guide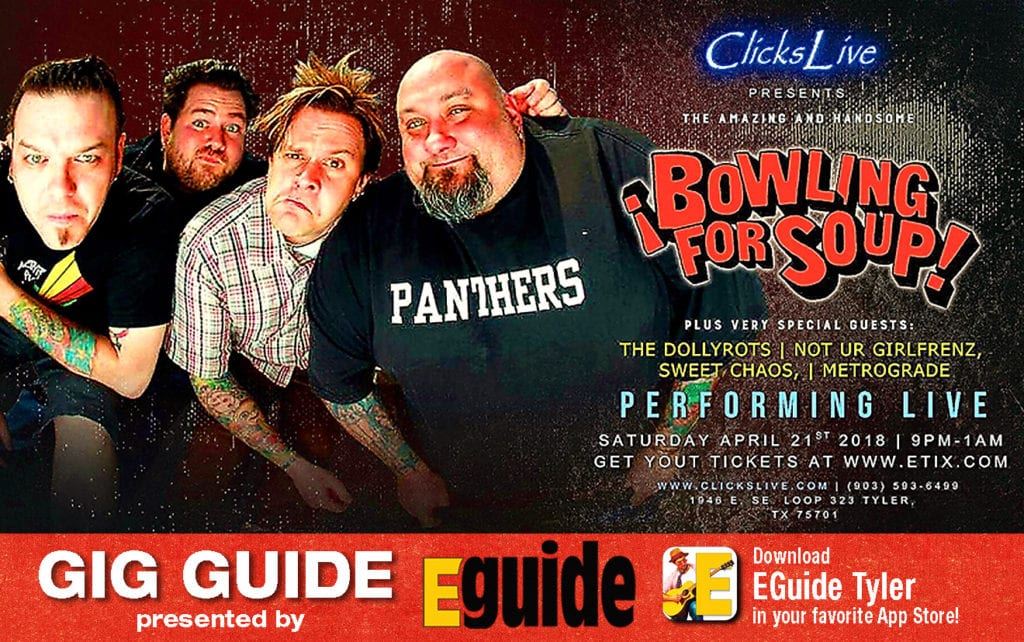 April 21st: Mouse and the Traps and Bowling for Soup
Upcoming Concerts
April 21st (8pm) – Mouse & The Traps – After more than 50 years together, Mouse & the Traps continue to be one of the best examples of "Texas Rock & Roll." Formed in Tyler, Texas in 1965, Mouse, Nardo, Dave & Larry continue to give the public just what they want – great rock and roll. Whether you remember "Public Execution," "Hit the Bricks," or not, Mouse & The Traps has something for everyone. Tickets are $20-$25.
April 21st – Bowling For Soup at Clicks Live (8pm) – American pop-punk band Bowling For Soup emerged in Wichita Falls, Texas in 1994, but have since relocated to Denton Texas. Tickets are on sale at the door for $19, and may be purchased in advance online for $15 at etix.com.

Blind Pursuit: Chasing Dreams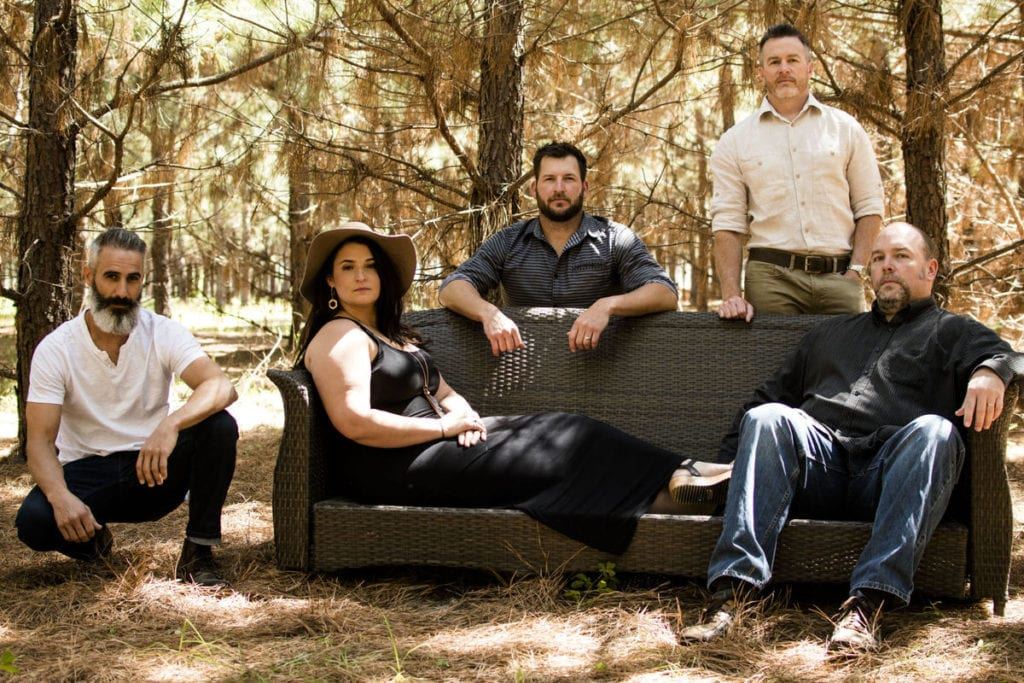 By Johnny Griffith
In science, there is a phenomenon known as the Butterfly Effect which states, that in a complex system, small changes in one place can have a larger effect elsewhere. This is best illustrated in the hypothetical example of a butterfly flapping its wings in Mexico and causing a hurricane in China.
A more practical example of this would be the formation of the band Blind Pursuit, based out of Palestine, Texas. An amalgamation of sound and styles brought to the table by each individual member, Blind Pursuit is the end result of five people from different backgrounds and geographical origins ending up in a small town in East Texas and magic happening.
Hailing from Southeast Louisiana, Maine, Cayuga, and Harmony, the odds of these five people interacting were astronomical, but small changes had large effects and Blind Pursuit has been a staple in the east Texas music scene for three years now. We recently tracked them down to get to know them just a little better.
Johnny: Blind Pursuit has been playing gigs around East Texas since 2015. What was the genesis of the band and what is the current line up?
Blind Pursuit: Our first show was February 28th, 2015 opening for our good friends Blacktop Mojo at Click's Live in Tyler.
Our current lineup includes Marc Mitchell on drums, Craig Jones on bass guitar, John Reed on lead guitar, Katie Reed with lead vocals, and Michael Jones on lead vocals and acoustic guitar.
Craig and Katie hail from Cayuga, Texas. John was raised right down the road in the Harmony Community just outside of Palestine. Marc migrated from the great state of Maine; and Mike spent most of his time about 45 minutes southwest of New Orleans, Louisiana. He has been in Texas since 1998 and spends his time filling in behind the bar at Pint & Barrel Drafthouse in Palestine, and working construction. He met John and Katie again in 2013. John and Katie own Reed Construction where John builds custom homes and Katie does interior design. Craig owns Oak Floor Supply in Tyler, Texas and Marc is in marketing and communications and sometimes moonlights at the Appleton Coffee House.
Johnny: How about the name – there's a lot to be said in that name. What does it mean to the band and where did the idea come from?
Blind Pursuit: The name Blind Pursuit stems from the belief that we are all pursuing something, whether it be chasing dreams, running after love, or following your passions; at some point, it takes a blind leap of faith to achieve something truly great. In all actuality, we started with the word 'Pursuit' and since we had no idea of how or where we were going or how to get there, 'Blind' seemed like the obvious choice.
Johnny: Blind Pursuit has a pretty eclectic mix of sounds in your catalog but how would you describe 'your' sound?
Blind Pursuit: Wow! That's a great question, one that we've been asking for quite some time. We play what we love. We are a varied group of musicians with different musical backgrounds and tastes, and we play what we would like to hear if we were sitting in the audience. Our own sound stems from songwriting, which is mainly done by our lead singer Michael, and so it definitely has a soulful, emotional style to it, and has a layered Indie rock feel. You can hear a little bit of our southern influences layered in as well as the obvious differences of having two lead vocalists. So if you wanted to pigeonhole us into a specific genre, I would say we fall into the Indie Rock genre, just because it encompasses such a wide variety of sounds and musical stylings.
Johnny: How much of your show is covers versus originals these days?
Blind Pursuit: After the release of our debut album "Offramp," we do about ¾ covers and the rest originals. New material is constantly being added and we hope to shift the number of originals to a larger segment of the show.
Johnny: About how many shows does the band try to play a month?
Blind Pursuit: We're currently averaging five shows a month but we are always looking to add to that.
Johnny: Are most of the gigs in the east Texas area or do you travel out of the area?
Blind Pursuit: The majority of our shows are in East Texas. We do travel to north and central Texas on occasion and we are hoping to broaden our travel radius this year.
Johnny: What are you most proud of as a band?
Blind Pursuit: Our album, without a doubt. We feel like it is such an outpouring of who we are and our evolution over the past couple years. It's like we have given birth to our own child. So much love, nurturing and hard work has gone into this project. Our resources and time have been singularly focused towards this and we could not be prouder of how it has turned out. We worked with so many great musicians and our Producer, Phillip Moseley was a great asset. They have been invaluable in helping us birth this album.
Johnny: What has been your favorite moment, on stage or off, as a group so far?
Blind Pursuit: I think it has been a thousand small moments of connection with our fans. We've heard stories where our songs touched someone going through a divorce, or something we sang really resonated with someone going through a tough time, and you just stop for a second after the mad rush and adrenaline goes away, and you think about how you're affecting people and the connections you're making. When we see people singing along with our songs, grabbing their person and dancing, when you see an emotional reaction – that's the good stuff, the reason we do what we do.
Johnny: What is in the works for the year?
Blind Pursuit: We've got another handful of songs and hopefully, that will translate into a new project as well. Whether the next step is an EP or a full-length album is yet to be determined.
Johnny: What's in the water down in Palestine, between Blind Pursuit, Blacktop Mojo, Kolby Cooper, and others… seems like Palestine has become a serious music town. What's your take on it?
Blind Pursuit: Every once in awhile, "magic" happens in the most unlikely of places. If you've seen the documentary on Muscle Shoals and the music that came out of that small studio in Alabama, then you kind of have insight into the madness behind the magic.
All these acts from Palestine are backed by the most awesome community of people who rally behind us and get the word out, grassroots style. The people here truly love music and they believe in us, or we wouldn't be able to do what we love. We have a connection, not only through the town we're from but through our producer and the studio we've all recorded at, Audioworx.
Johnny: What experience do you hope first timers will have at a Blind Pursuit show?
Blind Pursuit: Someone recently left a review on our Facebook page that sums it up perfectly: "Bet you will leave their concert feeling like your soul is a little more free than when you walked in." We hope that everyone will leave feeling a little lighter and a little more connected to their fellow man. In a world where we are bombarded with distractions, we hope people can come and reconnect and feel more human than when they came in. We hope the love and passion that we have for life and music can be felt and translates well to concert goers.
Blind Pursuit can be found at facebook.com/Blindpursuit and blindpursuit.com.