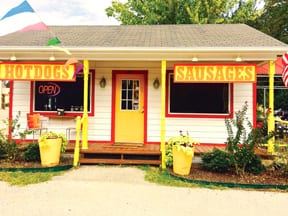 Written and Photographed By Barbara King
It might be the runner up for the most iconic American food favorite, running a close second behind Mom's apple pie. The hot dog, frank, or red hot actually made its transatlantic journey from origins in Frankfurt, Germany in 1871, originally served as a delicacy on the eve of imperial coronations.
Fast forward to a friendly, local Gresham establishment appropriately monikered, The Stand, serving up America's favorite with all the fixings.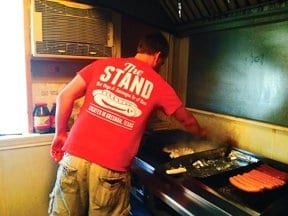 Stephan du Toit, 29, owner and grill master, is an impassioned small business owner and entrepreneur with ingrained values and a strong work ethic that is evident when you walk in the door. Originally from South Africa, du Toit arrived in the States in 1995, speaking no English, but with the knowledge that he loved business and the notion of working for himself. Transforming one of the oldest buildings in Gresham into hotdog heaven was a major renovation feat in itself, and du Toit put his money, skills and labor into the restaurant, which opened its doors in July 2012.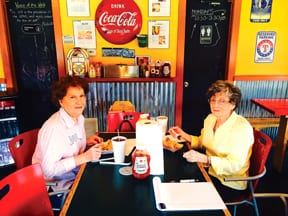 "We work to keep it simple," explains du Toit. "You aren't going to pay for a fancy décor or a complicated menu. We serve quality all beef dogs and sausages, and have up to 70 different ways to dress them up." Du Toit built the colorful benches for customer seating, bought second hand equipment and grills in the hope that the idea would take off. "People ask us why we don't do fries, and we say 'we do one thing and we do it right'." Du Toit is the epitome of a hands-on owner, alternately greeting guests, firing up the grill, sweeping floors, and handing out orders through the busy drive through window.
The atmosphere inside is homey and welcoming, and The Stand will let you help decorate, encouraging guests to bring in their favorite team flags and banners. With cooler weather to enjoy, there's a great outside patio with room for about 15 diners.
Fans of The Stand rave about the choices, and most of the clientele are repeat customers, with the popularity increasing by word of mouth recommendations. Patrons love the taste of the top grade bratwurst, polish sausages, hot links, jalapeño and cheese, andouille, spicy boudin, smoked black pepper, or for the traditionalist, the classic beef dog.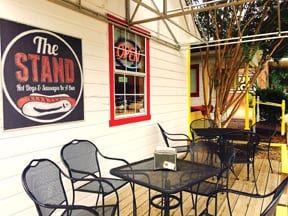 It's what you can build with your sausage or dog that makes it a sensational taste experience. You can load it up with Frito pie, top it with good old mac and cheese, sauerkraut, chili, and of course, grilled onions. The Stand makes its own homemade BBQ sauce and you can pretend you're at the fair and order a sausage on a stick or cheeseburger link, billed as the best burger in town.
To round out your meal, add a side of slaw or potato salad, a bag of chips, and a fountain or old style glass bottle beverage and juice boxes for the kids.
Boots and Rachel Gill are loyal customers who discovered the Stand driving by on the way to the golf course. "The service is great and prices are too," said Mrs. Gill, "and my favorite is the mac and cheese dog." Mr. Gill added that he "appreciates that everyone is courteous and it's a real family environment."
To add a bit of both fun and healthy competition, The Stand introduced The Big Dog Challenge or Colossal eating contest. Think you can handle a 28" hot dog served on an entire loaf of French baguette bread, smothered in cheese, chili, Fritos, kraut, relish, onions, pickles, tomatoes, mustard and ketchup? Add a bag of Doritos and that's a 5.5 pound diner's delight. If you don't beat the record, but can inhale it in under 25 minutes, it's free (otherwise it's $20). Just call The Stand and they will make the contest happen.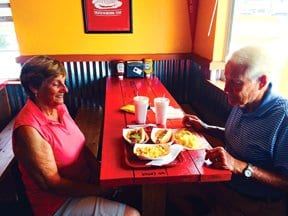 Bring your best girl or guy to The Stand for a Saturday date night, take a selfie, post it to Facebook, and get 15% off your meal. Du Toit says the spot is popular for father/daughter dates, and regular visitors include a group that flies model airplanes every Saturday that swing by for lunch.
The Stand caters too, and du Toit will bring the big grill and all the fixings right to you. "We just catered an event at a school, and did the whole works for 1400 dogs," du Toit said.
If time is an issue, take advantage of the drive through window, call ahead to place your order and it will be ready when you are.
Ruby Grizzard and her friend Jane Williams dropped by for
lunch and both chose bratwurst smothered in warm sauerkraut.
"It's not like those places where your food sits under a warmer," they explained. "Everything is fresh and tastes so wonderful. The restaurant is very clean and the staff is so welcoming and friendly, not like a fast food chain."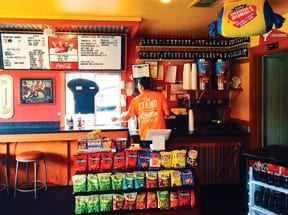 Du Toit hopes to eventually branch out, with an additional restaurant, or maybe even a traveling Stand food truck. "We will always want a first-class quality product, with service and family first…that will never change," he said.
You can find a great frankfurter at The Stand, 16700 Old Jacksonville, near the Gresham four corners.
Fall hours are Monday – Thursday 10:30am-3pm, Friday and Saturday 10:30am-8pm.
To place a to-go order call (903)504-3292. Email to eat@thestandhotdogs.com, sign up for the Big Dog Challenge, receive special notifications and see the scrumptious menu at thestandhotdogs.com or on Facebook at FansofTheStand.