This Month at Gallery Main Street – "On the Cutting Room Floor"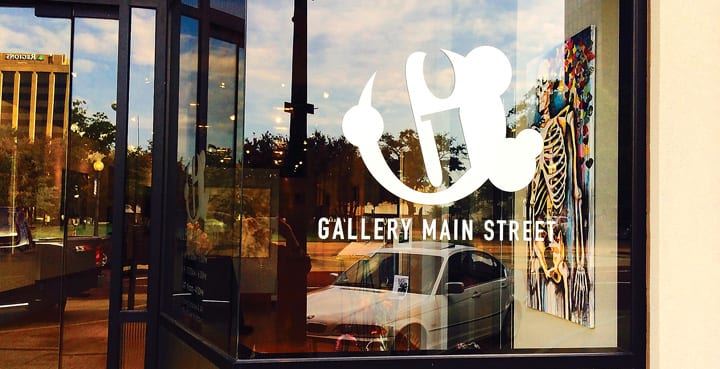 Gallery Main Street is an arts hub for the community throughout the year. A new and unique exhibit is on display at the Gallery located at 110 W. Erwin St., Downtown Tyler. Gallery hours are Monday-Wednesday 10am-5pm, Thursday-Friday 10am-6pm, and Saturday 12 noon-4pm, closed Sunday. For more info call (903)593-6905 or go to downtowntylerarts.com.
Gallery Main Street's newest juried fine art exhibit, "On the Cutting Room Floor," will open with a reception for the public on Saturday, Sept. 9, 5:30-8 p.m., at the Gallery, 110 W. Erwin St.
The new exhibit's theme is intended to coincide with the seventh annual Downtown Tyler Film Festival, which will occur Sept. 27-30 at Liberty Hall.
In addition, there will be an "exhibit within an exhibit" of images and information about the history of Downtown Tyler's many movie theaters.
"This exhibit on Tyler's movie theaters over time will add a really interesting and fun element to the fine art exhibit," said Beverly Abell of the City of Tyler Main Street Department.
The opening reception will feature an opportunity to meet the artists and purchase artwork. Best in Show will be announced at approximately 6:30p.m. The event is free and open to the public and may be visited on a come-and-go basis.
Prior to the gallery opening, the public is invited to be part of the unveiling of the newest work of public art in the Downtown area: "The Eyes of Tyler." "Eyes" is a large mural painted on the stucco surface of the Lindsey Building at East Elm Street and North Broadway Avenue. Invest in Tyler sponsored the contest and partnered with Heart of Tyler to conduct a call to artists for entries. Dace Lucia Kidd of Tyler won the contest, and she will be honored at the event.
The gallery opening will coincide with "Hit the Bricks," a Second Saturday event organized by Visit Tyler. The event will feature a variety of activities throughout the central Downtown area.
"In addition to enjoying the gallery opening and Second Saturday, we especially invite our guests to make it a complete evening by enjoying drinks and dining at our variety of Downtown Tyler restaurants and bars," Abell said.
Gallery Main Street features a new exhibit of original art approximately every eight weeks. Each exhibit opens with a Saturday evening reception starting at 5:30pm and features music, an opportunity to meet the artists, refreshments, and more. The Opening Receptions are free and open to the public.
For more info go to downtowntylerarts.com, call (903)593-6905, or follow the Downtown Tyler Facebook Page.
Remaining Gallery Main Street 2017 exhibits are:
November 11th – Opening of "Heavy Metal" Exhibit
All Gallery Main Street exhibits are juried, which means pieces are submitted for review by a jury panel of professional artists. Top-scoring pieces are selected for exhibit, and the piece with the highest score receives a Best in Show award.
To enter your work, go to downtowntylerarts.com, select "Gallery Exhibits" from the left-side menu, and then select the "Gallery Exhibit Information for Artists" tab. This link will lead artists to a page that provides all of the info needed to submit a piece including deadlines for submission