True Vine: The Community Grows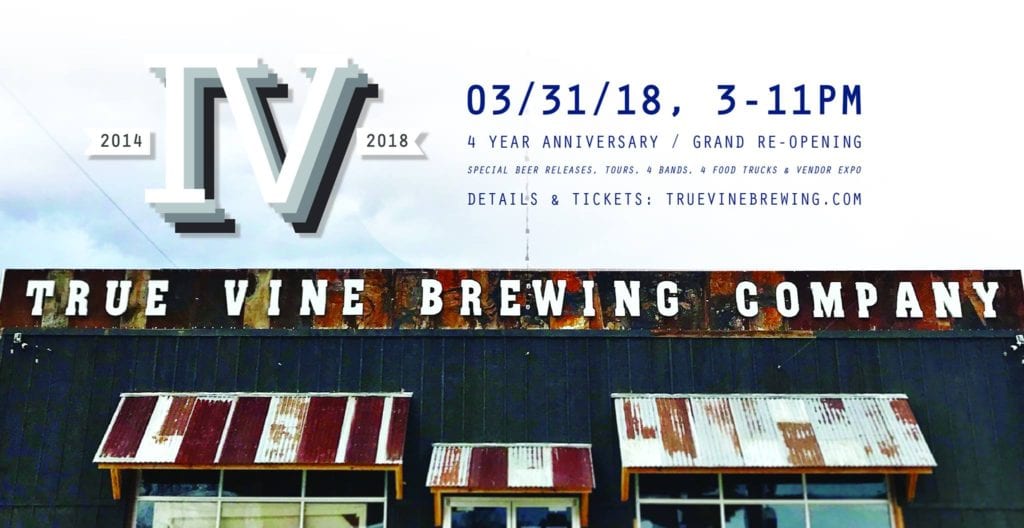 By Johnny Griffith
Formed in 2011 by three friends in a garage, True Vine Brewing sold their first keg of beer to a local restaurant in 2014 and enjoyed the novel status of Tyler's first brewery. Four years since that first keg, True Vine has enjoyed the success that often accompanies hard work, perseverance, and a quality product. From the establishment of the brewery at the Englewood location in 2013, to the Open Taps events, to the opening of a true Tap Room, to beginning to can their beers for wider distribution, the trajectory of the brewery has been steadily upward for founders, managing partners, husband and wife duo Ryan & Traci Dixon. Now, it's 2018 and things are as busy as ever for the crew over at True Vine and brewers Ryan Dixon and Scott Moss have released some popular brews; Daddy's Juice Box New England Style IPA, as well as some new seasonal beers coming this spring and summer to watch out for.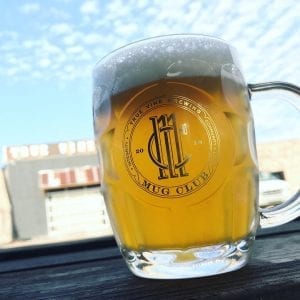 All of this has culminated in a move to a new location this spring with a grand re-opening set for March 31st. The new facility will allow True Vine to accommodate the growing demand as well as set themselves up will for future growth. I caught up with Ryan Dixon recently to see what the news is from the Brewery at the new offices at 2453 Earl Campbell Parkway:
Johnny: What was the moment you all looked around and knew it was time to look for a new location?
Ryan: Without the opportunity to grow into adjoining spaces or the land at Englewood, we knew that our time there was limited. We truly were capped for more production and space for guests at events. We had a blast establishing the great True Vine Community there.
Johnny: What were some of the mental checklist requirements for the new spot?
Ryan: Space. In terms of production growth and land for the future beer garden. We have always wanted to be a destination space. A place where people can come sit, relax, and enjoy a "get-a-way," a break from the busy lives we all live.
We needed office space, production space, room for an indoor tap room, restrooms and outdoor space for community. Being a primarily outdoor venue, covered space was also a must. Being that we have always been a "family-friendly" brewery, space for the kiddos to run around was also a need.
Johnny: How long did the search last before the new location was secured?
Ryan: One of our True Vine investors, Jim, found and purchased the building in October 2016 for a possible investment project for his company. After he told Traci and I about the building being a possible "back up plan for a future True Vine," we came to check it out and immediately fell in love with what it "could be". Shortly thereafter, the project began to renovate the dilapidated building and preparation for a brewing facility.
Johnny: Any specific challenges that were unexpected in getting the new facility up to speed?
Ryan: Being a production brewery with beer on area shelves and local draft bars, planning to move a beer factory around scheduled production was tough. Especially since we are using all of the existing equipment, minimizing our down time getting it all online here at Earl Campbell was crucial. We ended up a couple weeks behind but we are now all up and running.
Johnny: What are the immediate improvements the new facility offers?
Ryan: Our former location on Englewood was 2000 square feet. Here, our building is 10,000. Before, we had 4 official parking spaces plus the road and generosity of the county at the Cotton Belt building parking lot. We have room for about 100 cars within our property perimeter plus other overflow options. Also, we are pumped to have official indoor space here. Nearly 1700 shared feet of heated/cooled space as well as restrooms for both women and men. Our onsite pavilion and venue space is 1700 square feet of covered area to help with inclement weather and provide shade as well as a 400 square foot stage for bands and musicians.
Johnny: The new location will also be home to Sola Bread and Pizza. What was the genesis of that collaboration?
Ryan: The Sola Bread Company team have been great friends of our for a long time. Since the beginnings of True Vine, our goal has been to help grow small businesses alongside True Vine. We feel community is always best. Same concepts with our friends and former neighbors, Porch Culture Coffee Roasters who still reside at 219 S Englewood, for now.
Sola Bread has been doing community pizza nights in their backyard for a few years now. Legit wood fired Neapolitan style pies. Once we nailed down this location, we knew they would be a great fit for onsite food for our patrons. When you enter the True Vine tap room, you'll be able to order a beer and order Sola Pizza, as well as a variety of artisan style snacks. You will see them prep your pies and bake it in their oven, right there in our shared space.
Johnny: Are there upgrades to the brewing operation that are taking place simultaneously with the move? If not, is there anything on the horizon you can give us a heads up over?
Ryan: True Vine has always taken one step at a time in our growth. We believe in growing it all organically. That being said, we were in need for a new space and a step forward on production capacity. We purchased 4 new brewing tanks (2 water and 2 fermentation vessels) to help with our production demand. The larger water tanks will allow us to brew 24/7 one day and the 2 new fermentation tanks increases production capacity 2.5X. We also have plans for adding more down the line and have allocated connection points and space for future growth. One of the next pieces we will acquire will be our own canning line as well as upgrading some of our main heating and cooling units for beer production.
Johnny: The grand reopening and 4 year anniversary is March 31st. What does True Vine have lined up for that event?
Ryan: 03/31/18 will be FULL and overflowing with beer, music, food and fun. Early in the day we will be hosting our second annual Beer Run. As of this moment, we have 400+ registrants for the 5K fun run and expect close to 700 for race day. For the 4 Year Anniversary and Grand Re-Opening, starting at 3pm, we have 4 bands lined up including a few from right here in East Texas as will as musical guests from Austin, The Rocketboys. We have 4 confirmed food vendors on site as will as Sola Bread & Pizza Company. We also will be hosting several fun sport tournaments that day including disc golf putting and a corn hole tournament.
As for beer, we are getting closer to having our brand new tap room draft system flowing. Crafted from original True Vine kegs. Our new draft tower will help our bartenders dispense 20 hand crafted beers and sodas for our guests. Some of the beers that we will be pouring that day will include a special 4 year anniversary IPA with 4 hop varieties, our brand new Giant Slayer Imperial Stout and many many others. It's going to be a fantastic day!
Johnny: Finally, how would you describe the State of the Craft Beer Union here in East Texas currently and how is the future looking from where you guys stand?
Ryan: We are proud of how far we have all grown in the craft beer community. Seems like everyday someone new is getting turned on to craft beer, the bolder flavors and supporting the small independent breweries here in Texas, just like True Vine. I believe that this will grow immensely in 2018, mainly due to great craft beer being brewed here in Texas and the great support of locals. Our success has a direct correlation with the community support. With it, every small craft brewery who produces great beer here in Texas has a fighting chance against big beer.
True Vine Brewing Company is set to have their "Grand ReOpening" on March 31st from 3pm-10pm at 2453 Earl Campbell Parkway. For more information on this event, please visit: truevinebrewing.com.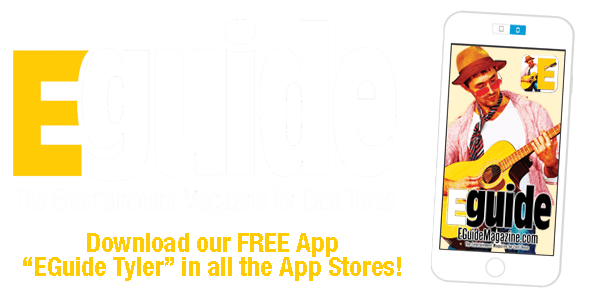 ETX Brewing Company: Good Times Are Brewing Downtown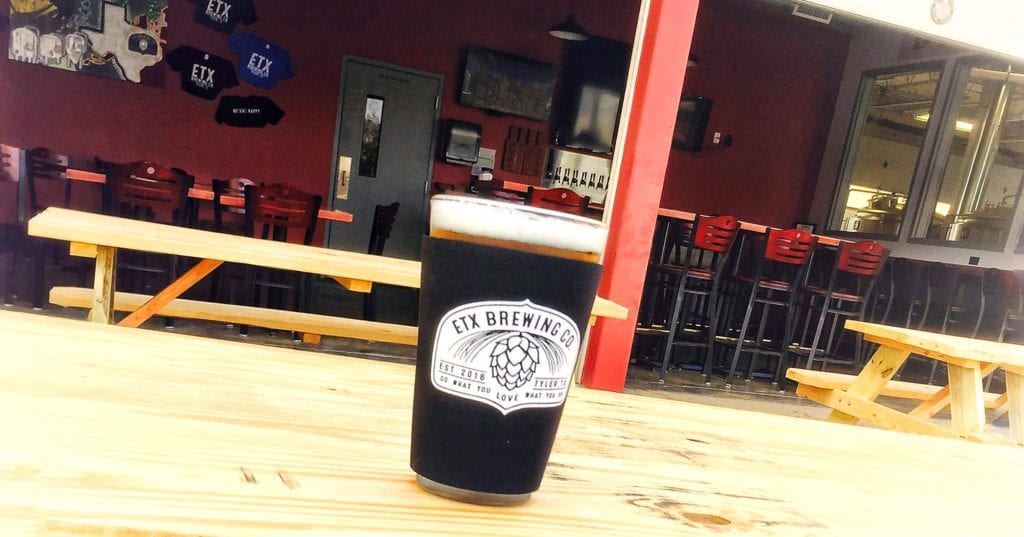 By Johnny Griffith
If you ask ten different people on the street what comes to mind when they hear the word "beer," odds are you'll get ten distinctly different answers. Ask the same question of Brian and Matt Gilstrap and you'll get one answer: family.
Brian and Matt, along with Brian's wife Annie, are the founders and operators of ETX Brewing Company, Tyler's second brewery to open and the newest addition to the growing downtown rebirth here in the Rose City.
Originally born in Arlington, both the brothers Gilstrap moved around Texas over the years after attending Texas State University in San Marcos. Brian and Annie met in college where he majored in Business Finance, and Matt majored in Computer Science. Following a move by Brian and Annie to Tyler in 2005 due to a promotion and now living in different parts of the state, Matt and Brian would come together to hang out for the weekend and began brewing beer as a hobby. Twelve years later, they realized their longtime vision of transforming the hobby into a business and now genuinely live their motto for ETX Brewing, "Do What You Love, Love What You Do."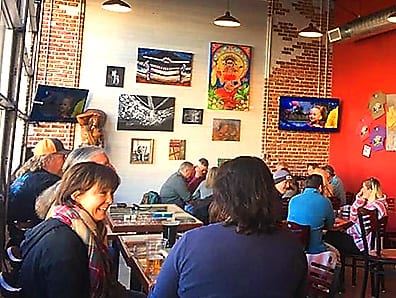 When the vision became a reality, Matt sold his house in Austin, left his job, and moved to Tyler to help with the task of taking the brewery from the garage to the masses. After considering several different locations, the Gilstrap's finally settled on a former tire service center just off downtown on S. Broadway. After several months of hard work, the vast majority of which was done themselves, the crew at ETX Brewing Company opened their brewery and taproom in January of this year to rave reviews and thirsty crowds.
With art from local artists hanging on the walls and beer brewed on site in the facility visible from the bar, flowing through the taps, ETX Brewing Company has the feel of something you'd find on either South Congress in Austin or downtown Ft. Worth. There is a decidedly modern feel, but not so much that the character of the owners doesn't show through. Brian and Matt kept the roll-up doors of the former service center in place, which allows the bar area to have a more open feel and beckons passersby on South Broadway to stop in and take a break from their hectic schedules.
I recently sat down with Matt and Brian to talk with them about the Brewery and sample some of their libations.
Johnny: Of all the things you could be doing in life, why a brewery?
ETX Brewery: Brewing quality beer has been a hobby and a passion for the brothers for many years now. Four and a half years ago Brian and Annie had twins born prematurely at 25 weeks gestation weighing in at 11 oz. and 9 oz. They were immediately care-flighted to a higher level NICU in Dallas, where they spent the next 4.5 months. Matt made the drive every other weekend to spend time with them in the hospital. At that point, perspective on life, in general, changed forever. Life is far too precious and short to not be spending it doing what you love.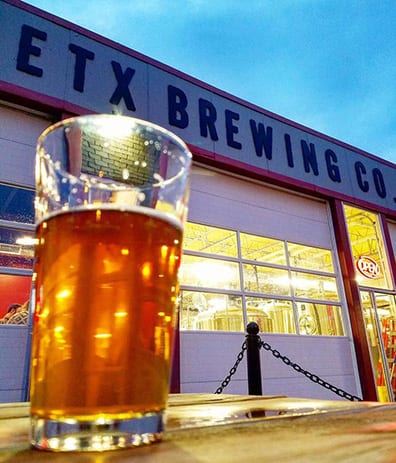 Johnny: What was THE beer that hooked you into the craft scene?
ETX Brewery: Unanimously, Dogfish Head 60min IPA was the beer we all shared together and loved.
Johnny: How did you get from your first batch of homebrew to a full blown brewery?
ETX Brewery: A lot of reading and educating ourselves on new techniques. We were constantly striving to make better beer each time. Practice! Practice! Practice! And of course, sampling the product and asking others for feedback.
Johnny: What have been some of the biggest challenges to get to this point?
ETX Brewery: With any new business, there are challenges of finances and construction, but the nature of opening a brewery brings additional legal hurdles, deciding on the size of equipment, and what beers to commit to brewing. Add to that the fact that we pretty much did all of the work on the brewery ourselves, it gives us a deep appreciation of where we are now.
Johnny: How much of a foothold does craft beer have in east Texas at this point?
ETX Brewery: Craft beer is just on the cusp of becoming big here in east Texas. For a large majority of east Texans, they are new to experiencing craft beer and especially to visiting a brewery. Our goal is really to provide an education to help people understand more about craft beer and what to look for when choosing a brew.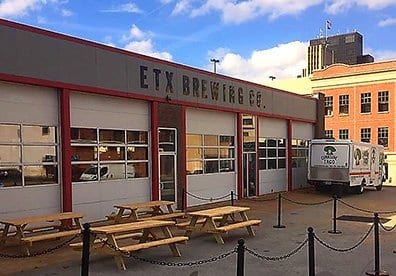 Johnny: How important was the location in the downtown area?
ETX Brewery: We were thrilled to have found a location in the downtown area. We love being a part of the revitalization that is happening Downtown! With all of the amazing businesses going in on and around the square, Downtown Tyler is turning into a "must see" for locals and visitors alike.
Johnny: What will customers be able to do at the brick and mortar location? Buy beer? Drink beer? Fill growlers? Hear live music?
ETX Brewery: Our tap room will have a variety of beers available at all times, which will be changing on a regular basis. Customers will be able to come in and sample or purchase these varieties by the pint. We will have live music on a regular basis, too. Our goal is to be a fun, laid back atmosphere to relax and enjoy a good brew with good company. We are also currently in the works to plan monthly events where a majority of the proceeds will go back to local charities here in east Texas.

Johnny: What is the beer lineup currently?
ETX Brewery: We currently have 6 beers on tap:
Test Batch 1 – An American Pale Ale, a bright filtered Golden Ale
Red House Wheat – An American Wheat unfiltered with slight notes of orange
1846 IPA – Easy drinking and flavorful from the heavy dry hopping with El Dorado hops
Test Batch 2 – Blonde Ale, unfiltered and dry-hopped after fermentation to add a floral aroma
Coffee City Stout – A Stout made with coffee, chocolate, and oatmeal (made with Belgian chocolate and locally roasted coffee from Coffee City USA)
Hitching Post – Amber Ale, a perfect balance of malt and hops producing caramel notes and a malty sweetness
Coming soon: Black IPA – A Mexican Lager, American pale ale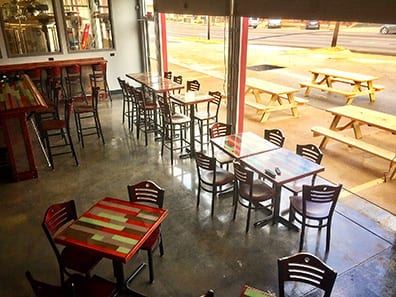 We also have a non-alcoholic Root Beer which we make in house.
Johnny: I know you just opened, but what's next on your agenda for ETX Brewing?
ETX Brewery: We'd like to improve the site and make a friendly space for food trucks, so we have something in the works for that as well as an area out back for live music and more seating. The response has been fantastic so far, and the atmosphere downtown is bringing more traffic back to the area, so we want to make sure we're in a position to take care of the people who decide to spend their time hanging out with us.
Johnny: What kind of experience are you hoping new customers will take away from ETX Brewing?
ETX Brewery: We hope they will walk away with a better understanding of craft beer. A lot of people are afraid to try a craft beer when they see it on a menu at a restaurant. We want to take that fear away and empower the customer to know what they are looking for in craft beers.
ETX Brewing Company is located at 221 S. Broadway in Downtown Tyler. For more info call (903)630-7720, find them on www.facebook.com/ETXBrew or go to etxbrew.com.

Growth on Tap for New ETX Brewing Company via Small Biz Grant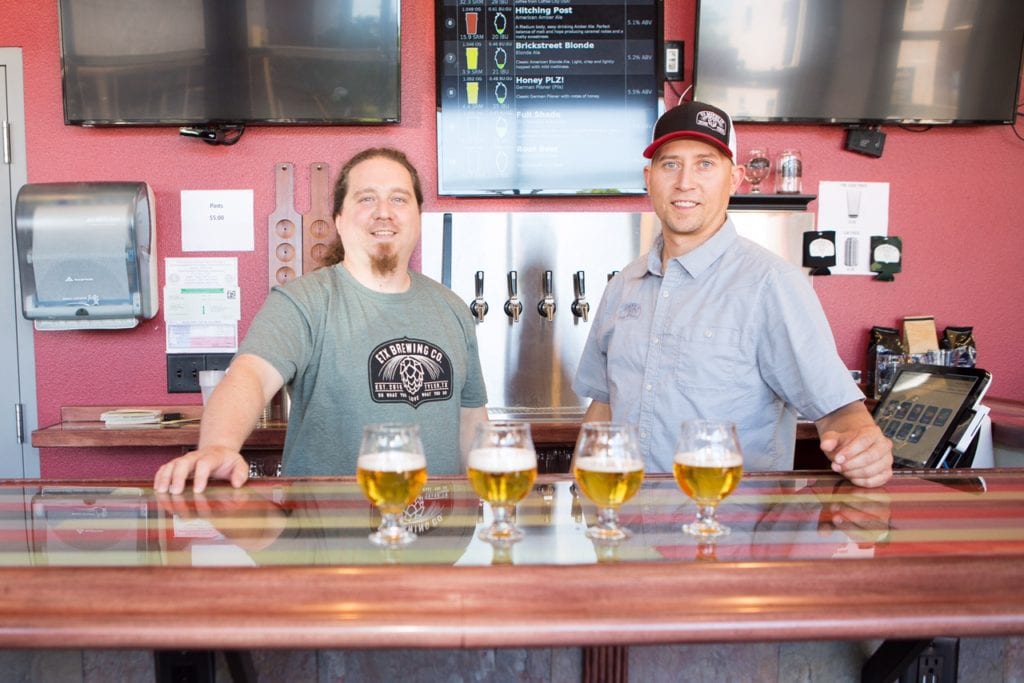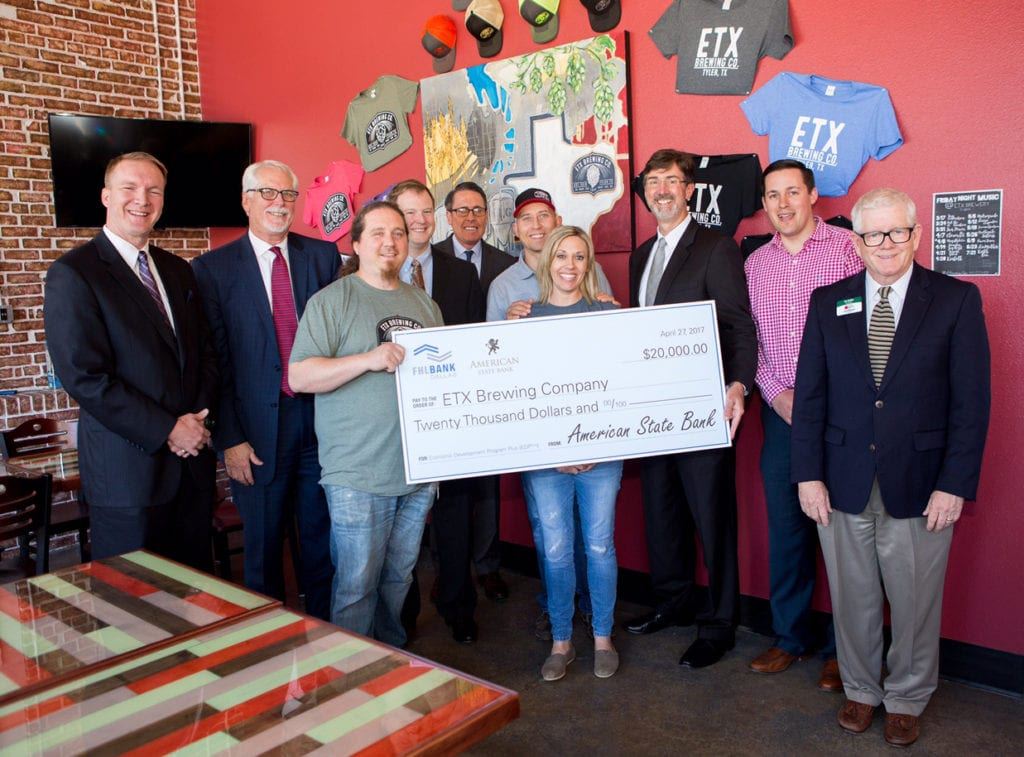 American State Bank and FHLB Dallas Award $20K Grant
Brian and Matt Gilstrap, founding brewmasters of ETX Brewing Company in Tyler, Texas, are tapping into the area's demand for craft beer. The brothers, with co-owner Annie Gilstrap, were recently awarded a $20,000 Economic Development Program Plus (EDPPlus) grant from the Federal Home Loan Bank of Dallas (FHLB Dallas) and member institution American State Bank (ASB). The funds will be used for working capital and to purchase additional inventory and a microbrew system.
"We are a family-owned-and-operated business," Brian Gilstrap said. "We are doing what we love, and our hearts are fully invested in this business. We are excited about the EDPPlus grant program, as it will allow us to purchase much-needed equipment and have additional working capital to help us quickly create new jobs in downtown Tyler."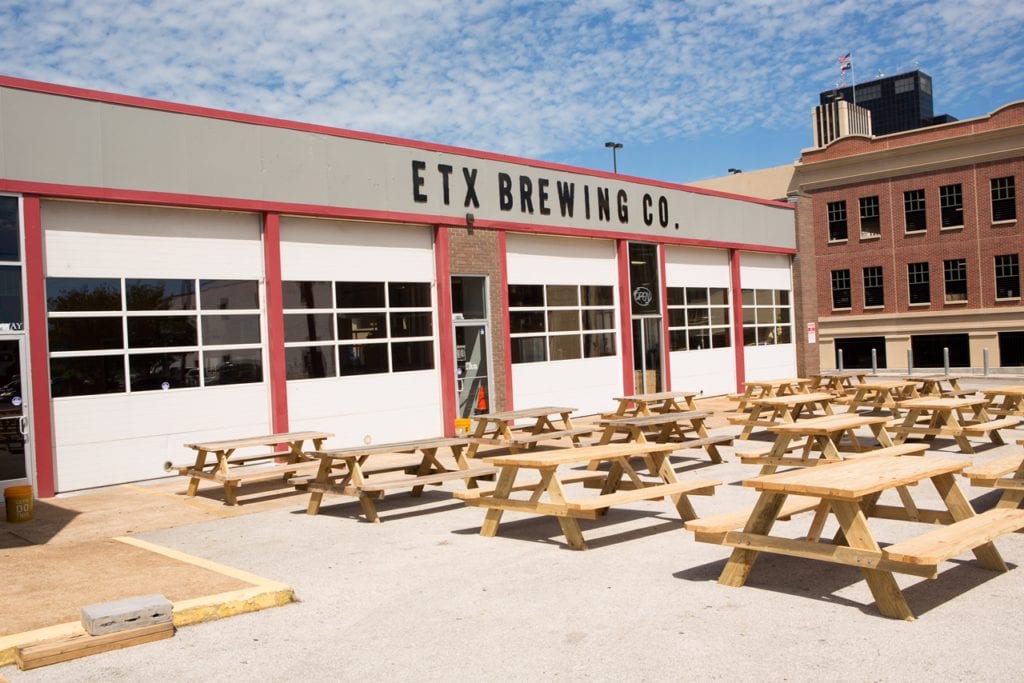 The pair has been brewing beer for 12 years and has spent the last four years preparing to launch their business. Renovations of the retail tire store at 221 S. Broadway began in May 2016. ETX Brewing Company celebrated its official grand opening on April 22. The Gilstraps were joined by representatives of ASB, FHLB Dallas and local dignitaries at a check presentation yesterday at the brewery.
"Tyler is experiencing growth and innovation through impactful economic partnerships like these," said Tyler Councilman Darryl Bowdre. "Thank you to the Federal Home Loan Bank of Dallas, American State Bank and ETX Brewing Company for your investment in downtown Tyler."
The Gilstraps worked with ASB Chief Lending Officer Bruce Thomson to open their small business.
"Brian and Matt presented a concise, well-thought-out and thorough business plan, which made them great candidates for the EDPPlus grant," Mr. Thomson said. "I've been in banking 30 years, but I had not seen a grant program like this that couples the loan funding source with a grant to the borrower. The grant really helps a small business because they can fund needed capital expenditures or working capital needs without incurring additional debt. We were happy that we could assist Brian and Matt in the grant process."
Noncompetitive EDPPlus grants are awarded in conjunction with EDP advances through FHLB Dallas members, like American State Bank. The grants are available on a first-come, first-served basis to promote and enhance small business development and job creation. As a result of the grant, ETX Brewing Company will purchase additional kegs and a one-barrel microbrew system in addition to additional working capital creating more jobs at the downtown brewery.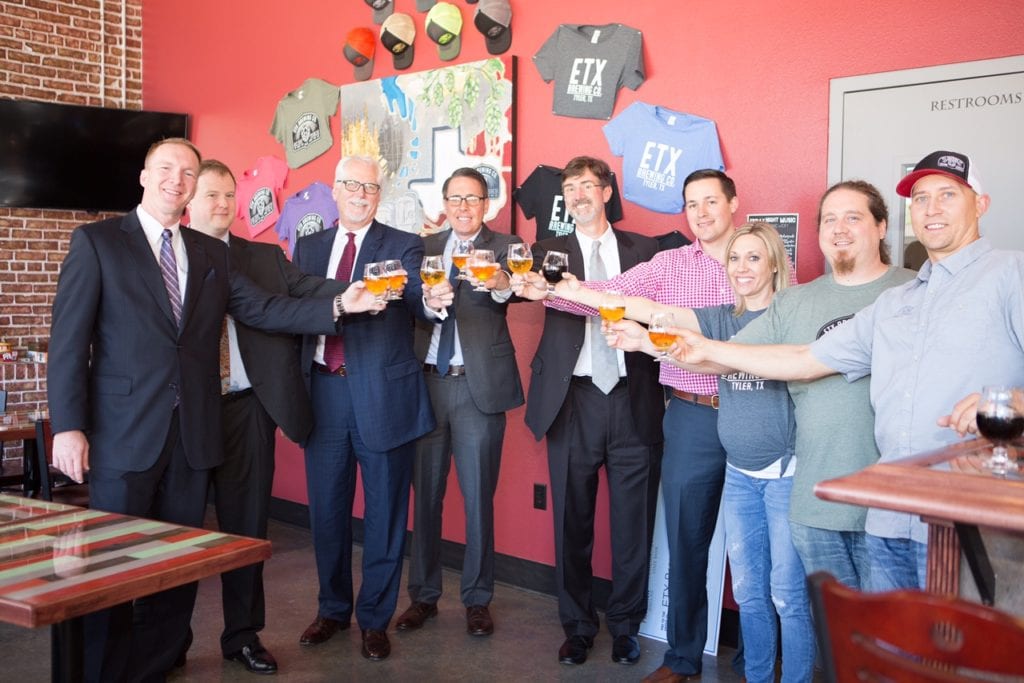 The extra kegs will allow ETX Brewing Company to increase distribution to local restaurants and pubs. The one-barrel microbrew system will allow the Gilstrap brothers to test recipes in smaller batches, as the brewery currently brews its products in larger quantities to meet demand using a 15-barrel system.
"The microbrew system lets them respond more quickly to requests from the market," said ASB's Mr. Thomson. "People come in looking for different flavors, so Brian and Matt knew if they could get a system that would let them brew smaller quantities, they could come to market faster with new products. If the recipe doesn't meet their expectations, they were only out one barrel instead of 15."
In 2016, FHLB Dallas awarded $1 million in EDPPlus grants in conjunction with EDP advances to 48 businesses in FHLB Dallas' five-state District of Arkansas, Louisiana, Mississippi, New Mexico and Texas. Another $750,000 in EDPPlus funds was allocated for 2017.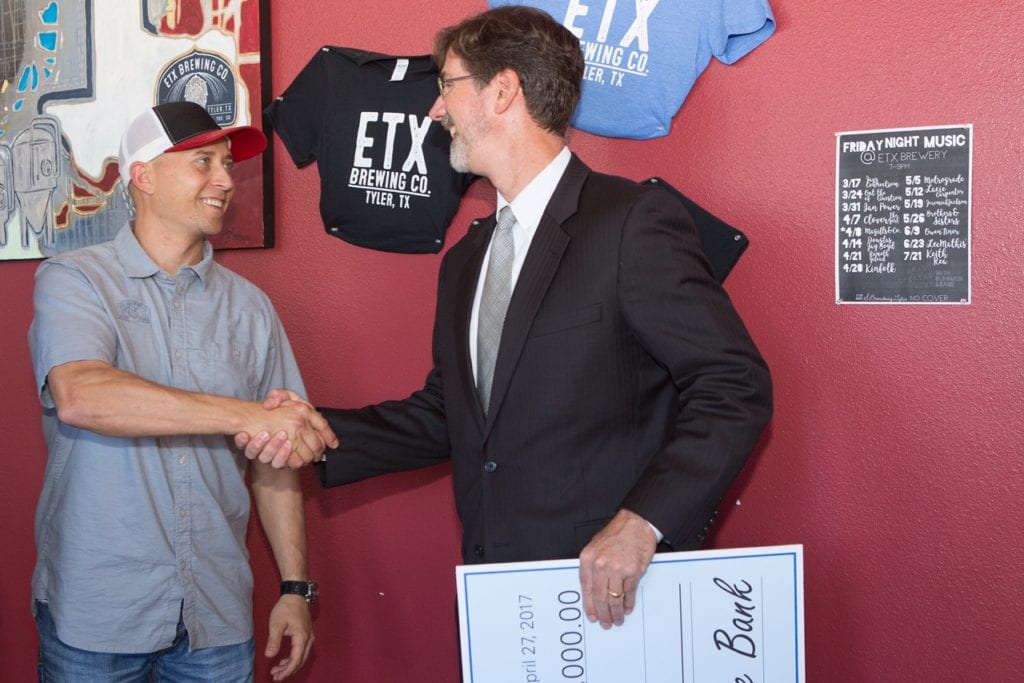 "Tyler is fortunate to have the ETX Brewing Company invest in our community," said Tom Mullins, president and CEO of the Tyler Economic Development Council. "They provide a great venue for additional downtown entertainment that residents and visitors alike can enjoy."
Gustavo Molina, SVP and chief banking operations officer at FHLB Dallas, said the EDPPlus grant is a unique program in the marketplace.
"EDPPlus gives our members a competitive advantage," Mr. Molina said. "The grant offers their customers a cash incentive, which positively contributes to the bottom line of a start-up."
About American State Bank                                     
American State Bank is a locally owned and managed community bank with five locations in Tyler and the surrounding area. The bank was founded in 1911 and has been serving East Texas for over 100 years. ASB continues to grow because of its focus on the clients first.
About the Federal Home Loan Bank of Dallas
The Federal Home Loan Bank of Dallas is one of 11 district banks in the FHLBank System created by Congress in 1932. FHLB Dallas, with total assets of $57.5 billion as of March 31, 2017, is a member-owned cooperative that supports housing and community investment by providing competitively priced loans and other credit products to approximately 850 members and associated institutions in Arkansas, Louisiana, Mississippi, New Mexico and Texas. For more information, visit fhlb.com.