Tyler Museum of Art: Learn about Exhibitions through Free Art Activities, Treasure Hunts and More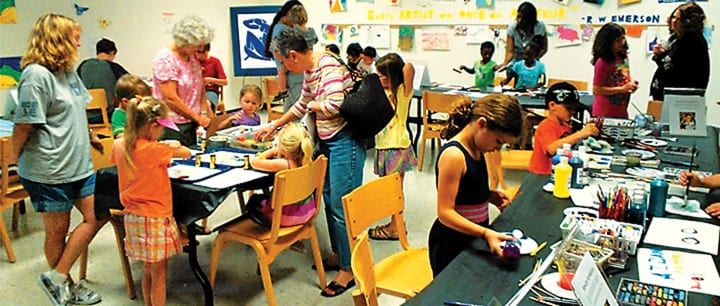 ---
By Kelly Griffith-Fields
Neighboring Tyler Junior College, the Tyler Museum of Art, sits in the shade of large magnolias and tall pine trees. Its mission is to enrich the lives of East Texans and visitors through the collection, preservation, exhibition and celebration of the visual arts.
The museum's growing and permanent collection features over 1500 works of art. The works include paintings, prints, photographs and sculptures.
The museum contains two major exhibition galleries, the North Gallery and Bell Gallery, both on the ground floor. Works from the permanent collection are only on display certain times due to limited gallery space.
Since its inception the museum has placed its focus on 19th and 20th century art. It has gained recognition for its emphasis on the work of emerging contemporary artists from Texas and surrounding states.
In recent years, exhibitions have included a greater variety of styles in an effort to represent the diversity and community interests.
In addition to the two galleries, the museum also boasts a library, classroom, café and gift shop.
Family Day is held every second Saturday of the month. Families are invited to learn about exhibitions through free art activities, treasure hunts and more. Children and adults can enjoy activities and snacks in the classroom from 2 to 4pm.
All family members will have free admission to the galleries. Three to five activities, all in different mediums, will be available to explore. "We try to provide materials and projects that children might not get to experience at school, either because of cost or time restrictions," Interpretation Manager Derek Frazier said. The activities are chosen to relate to the exhibitions by reflecting similar themes, styles, techniques and other artistic aspects.
Admission is free to the exhibitions currently on display. "Flow into the Mystic: Marriage and the Contemporary Artist" will be shown through February 1st. "Flow into the Mystic" is the work of six married couples – twelve artists. The artists spotlighted are Jack and Vera Barnett, Gary and Daphne Hatcher, Sedrick and Letitia Huckaby, Benito Huerta and Janet Chaffee, Dewane and Alexis Serio Hughes, and James R. and Philana Oliphant Pace.
"Between the States & The American Civil War's Impact on Tyler" will be on display through February 15th. "Between the States: Photographs of the American Civil War from the George Eastman House Collection" commemorates the 150th anniversary of the war and highlights the photographic processes of the period.
"The American Civil War's Impact on Tyler" highlights the home front and frames the war from the perspective of Smith County.
These Civil War exhibitions, guest curated by Letha Clair Robertson, PhD, will honor the heritage of those who served and tell the story of a community at war through photographs, maps and historical artifacts. For this, the museum collaborated with the Goodman-LeGrand House & Museum, Smith County Historical Society, The University of Texas at Tyler and several private collectors to increase awareness of the technological, scientific and human impact of the war.
Families can also pick up a family guide to encourage a fuller exploration of art. The guide asks questions and puts children in pursuit of specific pieces throughout the gallery.
"If a child completes the guide, they earn a small prize by showing it to Visitor Services staff," Frazier said.
The museum also offers summer art camps each year as a way to let children 6 to 17 years old express their creativity and imagination.
The museum gift shop has something for everyone. An array of unique items is available that spans from artful decor to postcards.
The museum café offers light lunch options in a relaxed atmosphere. Homemade soups, sandwiches and salads are available Tuesday through Friday from 11:30am to 1:30pm.
The Tyler Museum of Art, aiming to captivate imaginations and cultivate an appreciation of fine art, is located at 1300 South Mahon Avenue. It is open Tuesday through Saturday 10am to 5pm and Sunday 1 – 5pm. It is closed Mondays and for most major holidays.
For more information visit tylermuseum.org.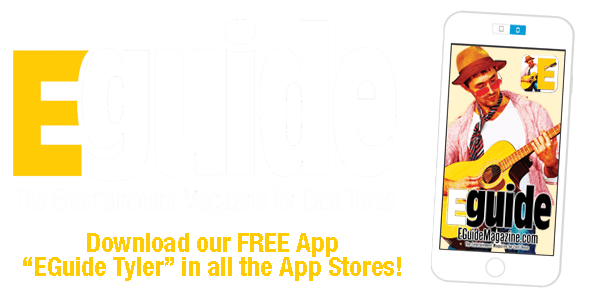 At Cowan Center: "The Wizard of Oz" April 21st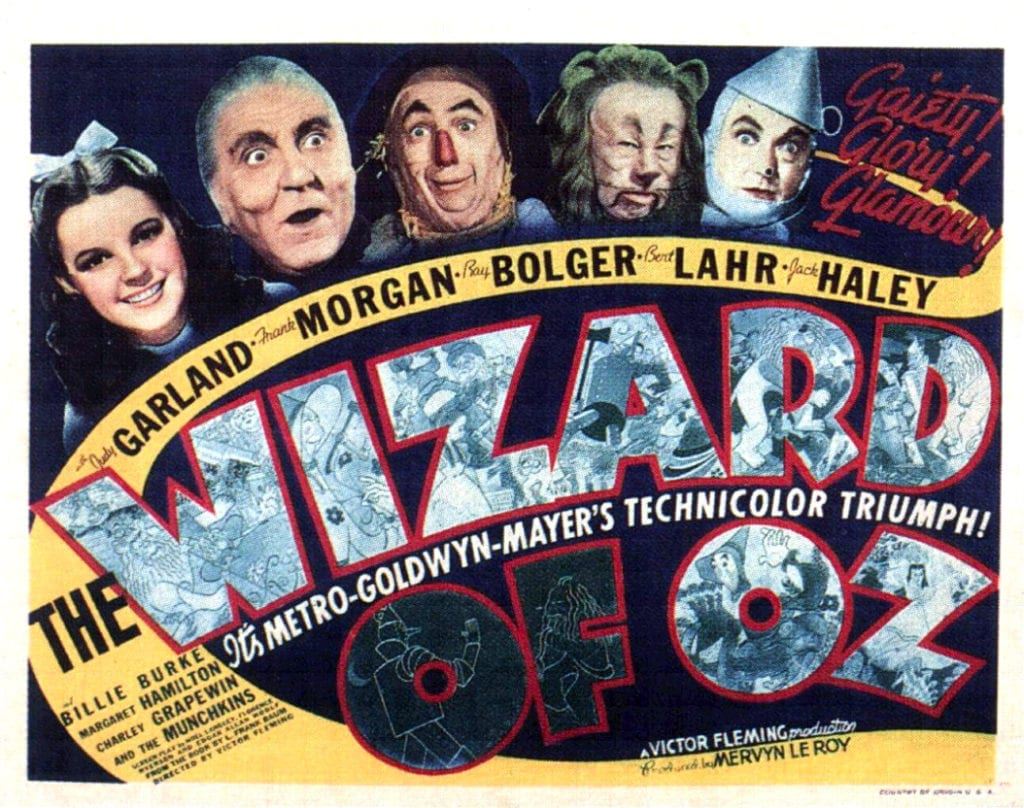 The Cowan Center is located at 3900 University Blvd. on the UT Tyler campus. Tickets are available at the box office, by calling (903)566-7424, or go to cowancenter.org. Upcoming productions are:
April 21st (7:30pm) – "The Wizard of Oz" will be presented at the Cowan Center. There truly is no place like home! The entire family will be captivated as they travel down the Yellow Brick Road and beyond with Dorothy, Toto, and their friends the Cowardly Lion, the Tin Man, and the Scarecrow in this lavish production, featuring breathtaking special effects, dazzling choreography, and classic songs. Tickets are $37-$72.
April 28th (7:30pm) – Beethoven: Symphony No. 9 will be presented at the Cowan Center. The East Texas Symphony will close their season with Beethoven's monumental Symphony No. 9.  The Orchestra will be joined by ETSO Chorus, UT Tyler Concert Chorale, and Patriot Singers, and a quartet of soloists.  The concert also features the ETSO premieres of Handel's Zadok the Priest and Brahms' Nanie.  It's a grand evening of choral music ending the season on a high note.
May 10th (7:30pm) – The Celtic Women will be presented at the Cowan Center. This global phenomenon started on a winter Dublin night in 2004. The idea was conceived to create a musical ensemble featuring a selection of exceptional classically and traditionally trained Irish female musicians. Tickets are $42-$77.
Calling All Poets, April 21st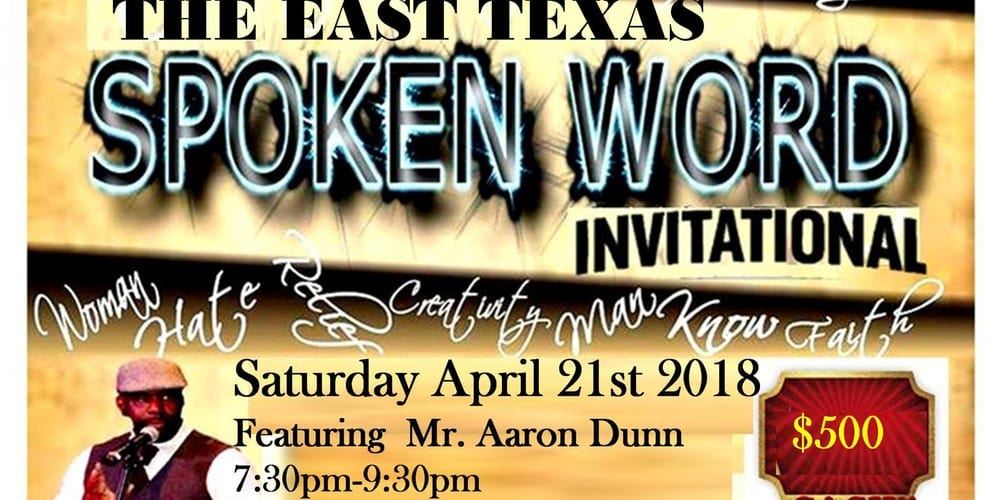 The East Texas Spoken Word Invitational Competition
The East Texas Spoken Word Invitational is an 'East Texas poets only' competition and will be held Saturday, April 21st, 7:30-9:30pm at El Guapo Records, 257 S. Broadway Ave., Downtown Tyler.
On this night, come celebrate International Poetry Month in a family-friendly space. At this collective community gathering, the featured poet will be Aaron Dunn, author of the new collection "Poetry For Your Sake." Aaron will be reciting works which will be available for purchase.
There will be 12 poets selected for his annual spoken word event. Prizes will be awarded. Poets can enter the competition for $10. There is free admission for any audience member.
Tickets are available at eventbrite.com > East Texas Spoken Word Invitational. To participate, you must have an eventbrite ticket.
Seating is limited. For more info call or text (972)704-5001 or go to mikeguinn.biz.
Liberty Hall: Bill Anderson in Concert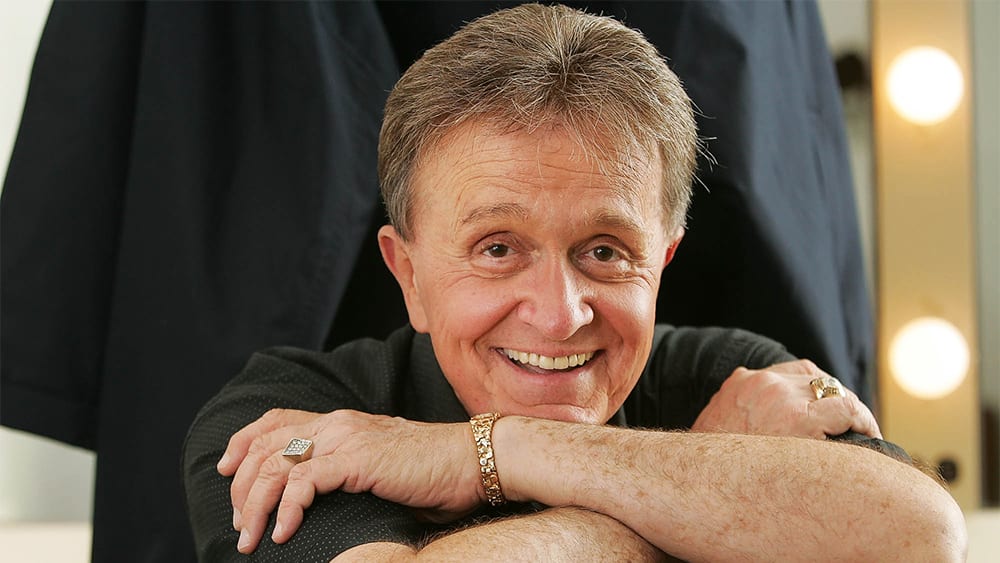 Country Music Hall of Famer Bill Anderson in concert this weekend!
---
Liberty Hall is hosting a variety of upcoming events. Liberty has something for all ages! Liberty Hall is located at 103 E. Erwin St., Tyler. Tickets are available online at libertytyler.com.
April 20th (7pm) – Bill Anderson in Concert – Country Music Hall of Famer, Bill Anderson, has been a member of the Grand Ole Opry sine 1961. One of the most popular, most enduring entertainers of our time, he's known, in fact as "Whispering Bill," a nickname hung on him years ago as a result of his breathy voice and his warm, soft approach to singing a country song. For tickets call (866)710-8942. Tickets start at $40.
April 21st (8pm) – Mouse & The Traps – After more than 50 years together, Mouse & the Traps continue to be one of the best examples of "Texas Rock & Roll." Formed in Tyler, Texas in 1965, Mouse, Nardo, Dave & Larry continue to give the public just what they want – great rock and roll. Whether you remember "Public Execution," "Hit the Bricks," or not, Mouse & The Traps has something for everyone. Tickets are $20-$25.
May 10th (7pm) – Twitty & Lynn: Grandchildren of Conway & Loretta in Concert – Tayla Lynn grew up in the heart of Tennessee and started singing with her grandmother at an early age. Tre Twitty, the grandson of the late Conway Twitty, is a remarkable young talent and will perform as well. For tickets call (866)710-8942. Tickets start at $30.
June 27th (7pm) – Country Music Hall of Famer Connie Smith – In 1964, Connie Smith recorded the Bill Anderson-written "Once a Day." Issued as her first single, it spent eight weeks at #1. She also cut darkly personal songs, including "Ribbon of Darkness" and "The Last Letter." For tickets call (866)710-8942. Tickets start at $40.
July 20th (7pm) – "Sail On: The Beach Boys Tribute" is a show based out of Nashville, TN, that focuses on performing songs by America's Band, The Beach Boys, to sheer perfection. The show includes over 30 well-known hits. Members of Sail On have performed with Brian Wilson's band, The Zombies, Earth Wind and Fire, Cheap Trick, Mark Lindsay. Tickets are $20.
August 11th (8pm) – Sgt. Pepper's Lonely Bluegrass Band will visit Liberty once again! They are a modern bluegrass band that plays and sings the songs of The Beatles. Performing some of the very best music composed by Paul McCartney, John Lennon and George Harrison, beloved songs are presented with instruments you normally wouldn't expect to hear. Tickets are $20.
August 16th (7pm) – The Bellamy Brothers – Best-known for the easy rolling, '70s Southern soft rock classic "Let Your Love Flow," the Bellamy Brothers are the most successful duo in country music history, consistently climbing into the upper reaches of the Billboard country charts during the '80s, including "Redneck Girl," "If I Said You Had A Beautiful Body, Would You Hold It Against Me," '"You Ain't Just Whistlin' Dixie," and "Dancin' Cowboys." For tickets call (866)710-8942. Tickets start at $40.