Tyler Public Library Great Decisions 2018 Series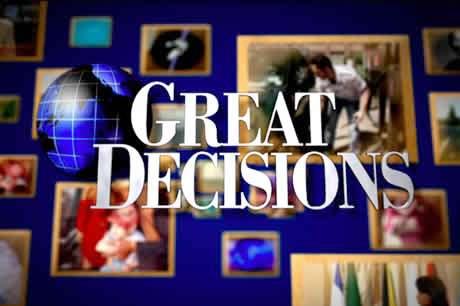 The Tyler Public Library's 2018 Great Decisions lecture series kicks off on Wednesday, Jan. 10. The opening lecture, "The Waning of Pax Americana" presented by Rebecca Jackson McElyea, will take place in the Taylor Auditorium from 12 to1 p.m.
"The Great Decisions program offers lectures that are researched and presented by local professors," said Access Services Librarian Connie Greer. "Our goal with these lectures and discussions is to help produce a better informed global citizen."
Great Decisions was founded by the American Foreign Policy Association (FPA) as a nonpartisan foreign policy discussion program that engages the American public in world affairs. The Tyler Public Library has hosted Great Decisions since February 1983.
"We are proud to host this longstanding series," added Greer. "Attendees can expect diverse lecture topics and time after each topic for a question and answer exchange."
2018's Great Decisions lectures will be held each Wednesday during January and February in the Taylor Auditorium from 12 until 1 p.m. Upcoming topics include:
Turkey: A Partner in Crisis
Media and Foreign Policy
Russia's Foreign Policy
Speakers represent the Tyler area's colleges and universities, with speakers from the University of Texas at Tyler, Tyler Junior College and University of Texas Health-Northeast.
The Great Decisions briefing book is the guiding text for this year's discussions and is available to purchase for $22 at the Library's information desk. Refreshments are served at each lecture.
For further information, call (903) 593-7323 or visit www.tylerlibrary.com.
About the Tyler Public Library
The Tyler Public Library is a department of the City of Tyler. The Library helps meet the information, education and recreation needs of Tyler's diverse and growing community by providing a full range of print, audiovisual and digital resources along with assistance and programming to promote the use of those resources. To learn more, visit www.TylerLibrary.com.
About the City of Tyler
The City of Tyler, known as the "Rose Capital of the World," is home to approximately 115,000 residents and is the major regional center for east Texas. Approximately 250,000 people come into the city each day to work, shop, and seek medical care or attend one of our four colleges and universities.  Through conservative financial planning, we provide top-quality customer service to citizens, while paying cash for infrastructure needs and ensuring that the City's collected revenues exceed expenditures. The City of Tyler has no tax supported debt and an AAA bond rating, a water supply that will last the next 75 years and we have landfill space to last until 2110. The City also provides residents with more than 1,000 acres of parkland which comprise 27 parks throughout Tyler. Our competitive fire protection rating is held by only 4% in the State and our Police Department is one of the first accredited in Texas. Our vision is to be the standard of performance excellence in local government. Learn more by visiting us online at www.CityofTyler.org.