Tyler Rock Gym: Get Your Climb On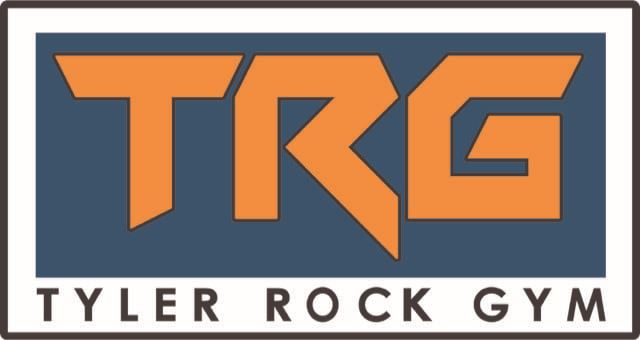 By Barbara Greenbauer
Ready for a new adventure that will test your mental and physical strength, team-building, and problem-solving skills, all rolled into one?
Tyler Rock Gym is the one-of-a kind new climbing arena in East Texas that is designed for both seasoned and first-time climbers. It's kind of an awe inspiring sight as you enter the facility, huge 32 foot walls, emblazoned with colorful foot holds, ropes and people climbing and scaling everywhere.
Opening just last month, TRG has become a haven for climbers and watchers alike; a climbing oasis that has built a strong, friendly community. This community has one thing in common – they want to get to the top, and conquer the walls.
Sign a waiver, get some hands on instruction, and orientation from well-trained staff about the harness, auto belays and bouldering walls, and you're ready to go. It's truly a motivating, positive experience, as you witness fathers and sons, mothers and small children, encourage each other to reach out, find another route and keep going!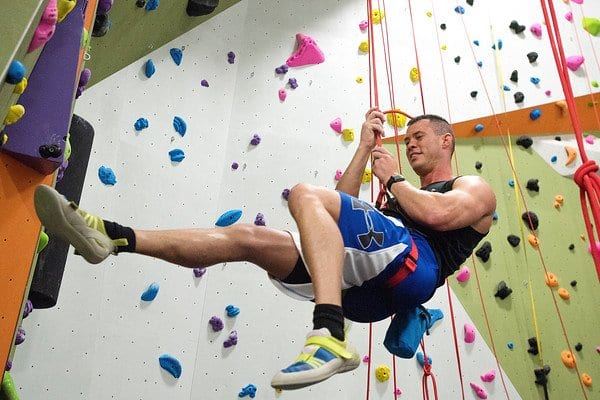 Owners Shawn Wilson and David Orchard are the head cheerleaders, welcoming each and every climber, giving them encouragement, and reaching out to make sure everyone is having a great experience. "We have seen such a sense of community grow over the very short time we've been open," said Wilson. "There have been so many different groups enter the doors, from nurses to local business owners, to students from our local colleges, and even from SFA."
All you will need to scale the walls is closed-toed shoes and a harness; other equipment is available for rent at their pro shop, including rock climbing shoes and chalk. You will be taught "how to fall safely" and then it's up to you to choose a route on one of the massive walls in the over 10,500 square foot climbing surface.
"Every five or six weeks we will change out the routes on the walls, so it becomes a whole new challenge," explained Orchard. "Our goal is to help people enjoy the sport that we fell in love with." There are more than 11 different levels of difficulty, with the lower levels designed specifically for kids. All children 13 and younger must be supervised, but on this Saturday, it's clear that families are in this together as the kids climb higher and the parents encourage enthusiastically from the mats.
Katy Kohls and Luke Kanclerz have already joined as members and "have climbed other places, but we love the social and family atmosphere here." said Kohls. "We get into the climbing zone, and it's almost like a time warp.  We turned around and we've been here almost all day, climbing, talking, and helping other climbers problem solve."
This sport is so much more than just climbing a wall. It's about endurance, problem solving and team-building. Groups sit at the base of a wall, pointing and gesturing to a fellow climber, trying to figure out the puzzle of where to position, how to climb, and the next step. A father acts as the belay for his young son as he encourages him not to give up and try again to get up to the top.
"This sport just has so many benefits," explains Orchard. "You don't have to be a superb athlete to participate, and it is great for all ages. We have a 4 year old climbing today with his mother, and we have a 70 year old man who has been climbing with us regularly."
Tyler Rock Gym is a great escape for birthday parties or corporate team-building events and offers memberships that include exclusive climbing hours, special discounts and even member get-togethers and special events (the latest member treat was a pancake breakfast.)
Corey Valverde and her 4 year old son, Izri, were having a blast, and Izri was totally fearless, scrambling up the wall at a fast pace. "We had heard about the rock gym opening" said Valverde, "and were so excited to have somewhere to exercise all year round that we could do as a family and have fun at the same time."
Bouldering is a different kind of climb; no ropes , just sheer determination and willpower. The bouldering walls are 15 feet high and have 80 different routes and angles for climbers to navigate. "There are a lot of different ways and types of climbs in this one gym," said Orchard. "Climbers that are very experienced have said it's a great challenge and workout and they keep coming back."
There are also a variety of different options to choose as far as time commitment. Climbers can purchase a one-day membership, a punch card or a monthly membership. The one day membership includes re-entry at any time, so you can climb, leave, and return at any time the gym is open for business. An all day adult pass (ages 13 and up) is $16.95, and kids 4-12 can climb for $12.95. Basic rental gear runs from $8 for harness and shoes, harness alone is $4, $5 for just shoes, and $10 for a complete kit of shoes, harness and chalk. If you don't feel like climbing, but just want to come in, encourage, and watch, it is free when you sign a waiver.
"We are just so thrilled to be able to offer East Texans a different way to spend their time," said Orchard. "The benefits of rock climbing, whether indoor or outdoor, are incredible and the opportunity to spend quality time with your family in a fun, friendly healthy atmosphere is a bonus."
Come and climb the walls at Tyler Rock Gym, located at 4580 Old Troup Hwy., Tyler. You can reach them at (903)705-0074 or at tylerrockgym.com or on Facebook at tylerrockgym
Hours are Monday-Friday, 12noon-10pm, Saturday 11am-10pm, and Sunday 1-7pm.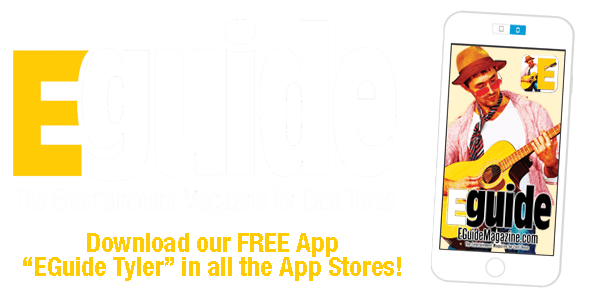 Dinosaurs are Back at Discovery Science Place!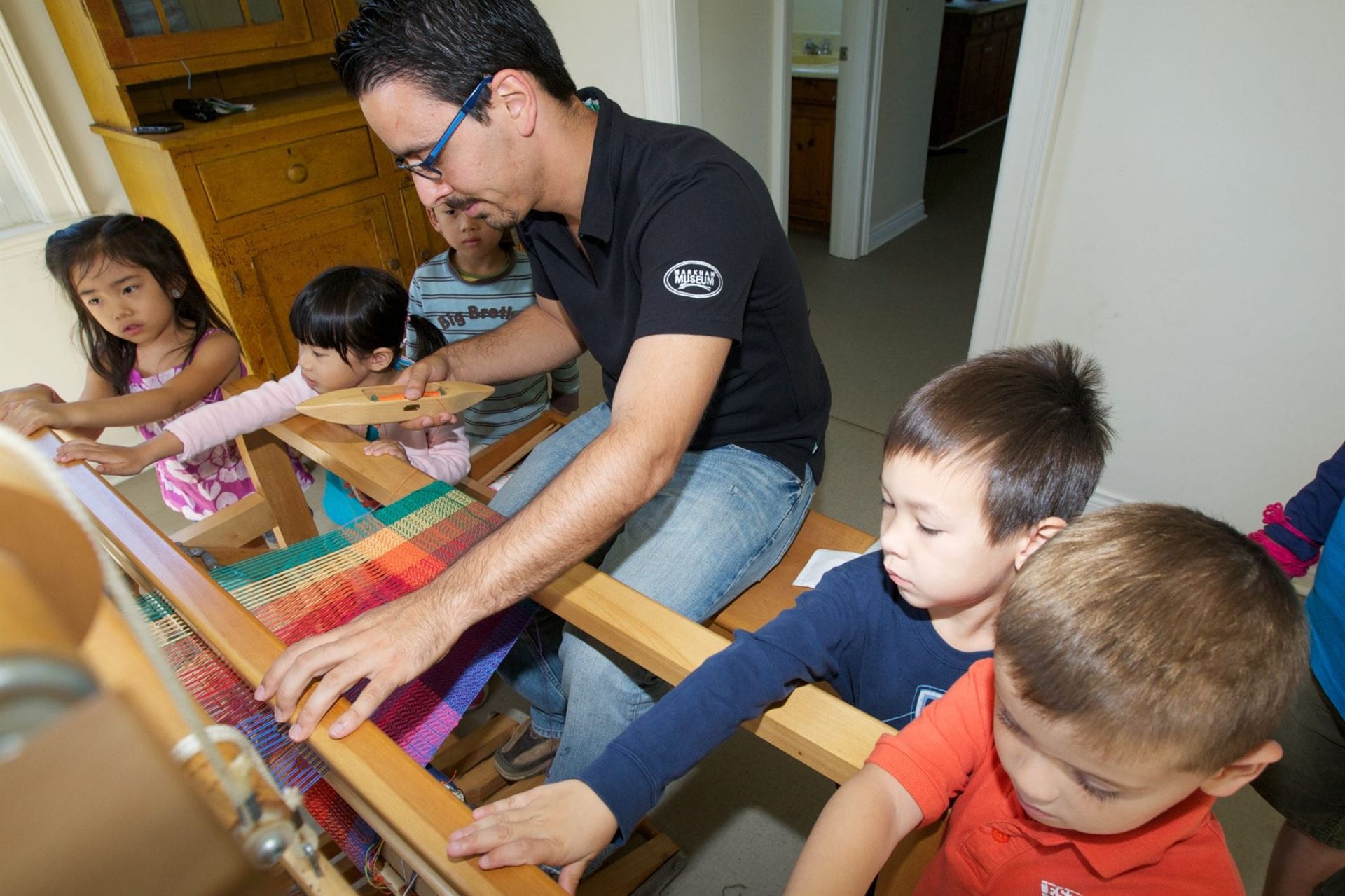 Return of the Dinosaurs This Summer at Discovery Science Place
Discovery Science Place (DSP) is located at 308 N. Broadway Ave., Downtown Tyler. DSP is open Tuesday-Saturday 10am-5pm, Sunday 1-5pm, and closed on Mondays. Summer Hours (Memorial Day through Labor Day) are Monday-Saturday: 10am-5pm, and Sunday 1-5pm.
Tickets are $8 for adults (ages 13 and up), $6 for children (ages 2-12), $6 per person for seniors (65 and up), $5 per person for active military (must provide ID), and children under 2 are free. For more info call (903)533-8011 or go to discoveryscienceplace.org.
Return of the Dinosaurs, Coming This Summer!
Come walk among the dinosaurs again as DSP's celebrates its 25th anniversary! Take your picture riding a Triceratops or braving the jaws of a T-Rex. See two Protoceratops guarding their nest or view the long-necked Apatosaurus. View actual fossils along with animatronic models of the "terrible lizards" of long ago.
"Return of the Dinosaurs" is featured in the DSP Annex building next door to the main museum building. Tickets are purchased at the main museum front desk (under the green portico) and exhibit entry is on Broadway under the blue awning.
"Return of the Dinosaurs" is a separately ticketed exhibit. Ticket prices are: $8 for adults ages: 13 and up, and $6 for children ages: 2-12. Current DSP members get in for 1/2 price ($4 and $3). Children under 2 are free.
You can view actual fossils along with animatronic models of the "terrible lizards" of long ago. The exhibit runs June 9th-August 19th.
Summer Camps at Discovery Science Place
8 weeks of camps are planned, from June 11th-August 10th. Each week has a different theme, and campers are divided into two age groups based on school grade: entering 1st-3rd grade, or for students entering 4th-6th grades. Every camper this summer will also be able to tour the exciting summer 2018 traveling exhibit. Camps are from 10am-4pm each day, and extended programming is available from 7:30am-5:30pm.
The cost is $175 per week per camper with a 10% discount for DSP museum members. Cost includes a snack and all camp materials each day, but campers will need to bring a sack lunch. Camps are:
June 11th-15th: Vex Robotics 1
The Discovery Science Place will fill with the sounds of whirling wheels and motors during this robotics camp. They have upgraded to Vex Robotics and are excited to see campers build claw bots and tackle new challenges! This camp is limited to 15 per class.
June 18th-22nd: Make: Create
Curious makers will want to sign up for this camp! During the week children will learn about the design process, then apply those ideas to bridges, buildings, fog cannons and more.
June 25th-29th: Mad Science
If it bubbles, oozes, or pops, campers will give it a try during this camp. Young camper scientists will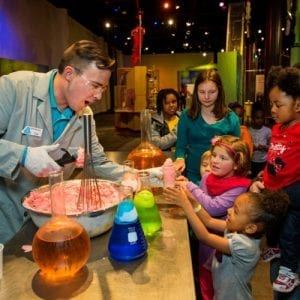 make slime, rockets, and more. Campers need to be prepared, because science can be messy!
July 9th-13th: 3D Modeling featuring Minecraft
Everyone loves Minecraft, and campers will put that knowledge to good use by transforming their Minecraft designs from the digital space to the real world using 3D printing technology. This camp is capped at 15 students per class.
July 16th-20th: Vex Robotics II
The Discovery Science Place will fill with the sounds of whirling wheels and motors during robotics camp. They have upgraded to a new robotics system, and are excited to see their campers build claw bots and tackle new challenges. This camp is limited to 15 per class.
July 23rd-27th: 3D Modeling featuring Minecraft II
Everyone loves Minecraft, and will put that knowledge to good use by transforming their Minecraft designs from the digital space to the real world using 3D printing technology. This camp is limited to 15 per class.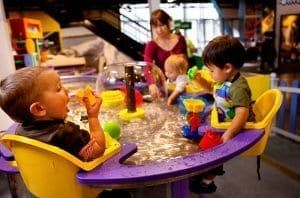 July 30th-August 3rd: Take Flight/ Make it Move
This exciting week lets campers explore various forms of flight, from airplanes to rockets, as well as learning the basis of movement and flight. Rockets will launch, planes will glide, cars will loop-de-loop, and more.
August 6th-10th: Kitchen Chemistry
No Summer camp at the DSP would be complete without Kitchen Chemistry week. Nearly all the activities done during this week can be replicated at home with parent help. Campers will make slime, learn about cooking with solar power, and create paint using vegetables and spices.
June 22nd-23rd: 10th Annual Tyler Coin Show
For more events and to add your events for free, go to EGuideMagazine.com/calendar.
June 22nd-23rd – 10th Annual Tyler Coin Show
will be held at Harvey Convention Center, 2000 W. Front St., Tyler. Friday, June 22nd the show will be 12 noon-5pm and Saturday, June 23rd 9am-5pm. There will be coins, currency, tokens, gold and silver on over 50 tables. They will do verbal appraisals and there will be door prizes, educational displays, and more. For more info call (903)570-3136 or email
ucce@hotmail.com
.
July 4th (8am-11pm) – Smith County Freedom Ride and Festival 2018 – This free event will feature fireworks, hotdogs, drinks, watermelons, kids, pets, hot-rods and motorcycles, and there is no better way to celebrate the 4th of July on a Wednesday! Come out, celebrate our freedom, and honor all those who serve at this Independence Day festival and ride. Downtown businesses will be open to the public. Public will vote on "Smith County Most Patriotic Ride" and "Smith County Most Patriotic Hotrod" from 12 noon-4pm. The Independence Day Ride will begin at 5pm to the clubhouse to the free firework show at dark. Everyone in the community is welcome to join in on the fun. For more info go to facebook.com/events/129556567877651.
July 29th (12:30-4:30pm) – Bridal Expo with East Texas Bride
focuses exhibitors, bridal fashion presentations, grand prizes, and fabulous fun. This is sponsored by All American Party & Tent Rentals, Complete Weddings & Events East Texas, and Fantasy & Fairytale Floral Designs. There will be grand prize giveaways that include The Landing at Joshua Farms offering a fabulous Saturday Package valued at $4500; Bella Sera Ranch offering a Friday DIY package for 150 guests valued at $2695 (excludes December); Old Omen Guest House "Event Day Free" for 150 guests; Eagle's Bluff $1800 venue package; Venue 31 Events $1,000 in event rentals; Fantasy & Fairytale Floral Designs offering Floral Package valued at $1,000; Complete East Texas Weddings & Events offering DJ, Video, and Photography Packages; Lisa Gallant Photography Package valued at $1,200; Simply Beautiful Flowers & More a $500 Floral Package; Nichole Beth Photography $500 Bridal Session; The Barn at the Silver Spur Cabin overnight stay. Don't miss this wonderful summer bridal event. Register for reduced tickets for $8 online and secure your bride bag and your Symbolize It gift card. Tickets at the door are $10. This will be held at Harvey COnvention Center, 2000 W. Front St., Tyler.
Ongoing Events
Hit the Bricks: 2nd Saturday Downtown Tyler (Second Saturday of each month, 12 noon-10pm) –
Get out and about on and off the square where Downtown businesses will be offering fun events all day long. There is free parking in the Fair parking garage. Rain or shine, Downtown Tyler will be the place to be every second Saturday. For more info and a full list of events go to
visittyler.com/secondsaturday
or find Hit the Bricks on Facebook. Dates are: May 12th, June 9th, July 14th, August 11th, September 8th, October 13th, November 10th, and December 8th.
Canton First Monday Trade Days Market
is held Thursday-Sundays. What started more than a century ago as a flea market has become home to some of the most exciting, cutting-edge home furnishings, antiques, and collectibles that can be found anywhere. For more info call (903)567-6556 or go to
firstmondaycanton.com
. Dates are: May 3rd-6th, May 31st-June 3rd, June 28th-July 1st, August 2nd-5th, August 30th-September 2nd, September 27th-30th, November 1st-4th, November 29th-December 2nd.
Free Yoga Saturday
(9am-12:30pm) – Every 3rd Saturday of the month, beFree offers a free day of yoga. You don't have to sign up ahead of time but you can if you'd like to, and there are no catches – just free yoga with the beFree instructors in their beautiful and healing studio space. Check the schedule to choose any class on that day that you will most enjoy at befreeyogatyler.com. beFree Yoga is located at 212 Old Grande Blvd., Tyler, (903)630-6142,
befreeyogatyler.com
.
Every 4th Thursday, April 26th, May 24th, June 28th (6-10pm) – Geek World Paint Night –
With all the excitement around games requiring models, Geek World has had a few of the communities best painters offer to lead a free painting night the 4th Thursday of every month. Bring your painting projects and get your questions answered plus learn some new tricks and techniques. This is free to attend and all painting supplies will be 10% off during the event and 20% off special orders. Geek World is located at 410 WSW Loop 323, Tyler, (903)363-9751,
geekworldconsignment@gmail.com
. Geek World also offers nightly tournaments, game nights, all day Commander games, Friday night magic, and many pre-release sneak peek events.
Brooklyn Tabernacle Choir Set to Perform, August 3rd

Brooklyn Tabernacle Choir set for August 3rd Concert at Oil Palace
The Brooklyn Tabernacle Choir is coming to East Texas for a concert at The Oil Palace on August 13th at 7:30pm.
The 270-member Brooklyn Tabernacle Choir is directed by Carol Cymbala, the wife of Pastor Jim Cymbala. Made up mostly of church members without formal vocal training, over the years the choir has received  five Dove Awards and six Grammy Awards. The choir has performed at Billy Graham Crusades and the 2012 Presidential Inauguration in Washington, D.C.
After nearly thirty years of recordings and live performances, Carol and the choir continue to rely on the Lord for his grace and direction in their ministry. The Brooklyn Tabernacle Choir is a highly unlikely group of people, a mixture of ethnic and economic backgrounds, in the heart of a city synonymous with coldness and decay. Made up of doctors, attorneys and former street people, nurses and ex-crack addicts, the choir is a unique cross section of humanity. Pastor Cymbala explains "None of us would have met if it weren't for Christ. Our backgrounds are just too diverse. But all of us have one thing in common: we have all been lifted up and changed by the power of Jesus Christ. So the choir sings, not about a mere theological doctrine, but about what has happened to them. It's not just the lyrics of a song; it's a reality to each of them." Starting each rehearsal with prayer reinforces that principle as the choir asks the Lord to bless their music and anoint their songs for the services.
"After the $2 million renovation of The Oil Palace, we made a decision that we were going to broaden the scope of our concerts and events," Kevin Michael Barbaro, The Oil Palace spokesman, said in a prepared statement. "We are committed to the people of East Texas and will bring in events from around the world that will enhance the lives of the community."
Tickets start at $15 and will be available at oilpalace.com. The Oil Palace is located at 10408 TX 61, Tyler, (903)566-2120.