Tyler Yacht Club: More Than Just a Hobby
Tyler Yacht Club: More Than Just a Hobby
Written and Photographed By Lynn Dark
There is no denying the beauty of East Texas. One of the favorite pastimes of many East Texans is spending time on on
e of the many gorgeous lakes in the area. No one appreciates this more than the members of the Tyler Yacht Club (TYC).
I met with TJ Mathis, this year's TYC Commodore, at their impressive facility on Lake Tyler to learn more about the organization. Instead of heading inside the clubhouse for the interview, Mathis suggested that we sit outside on the deck to enjoy the lake while we visited.
This is one of his favorite things to do, and I can certainly understand why. The view is fantastic and the sounds from the lake are peaceful and relaxing.
Founded in 1954, the TYC is located on Lake Tyler approximately 5 miles east of Whitehouse, Texas. Specific directions from Tyler can be found on the website.
The TYC is home to a fleet of Catalina 22 sailboats, as well as 5 Sunfish and several offshore (larger) sailboats. The largest boat at the club is around 28 feet.
The Sunfish boats are owned by the club and are available for use by club members. It is not necessary to own a boat to join the club. Some members have boats, and some don't.
The TYC boats can be sailed by one to three people, depending on size of the boat, and whether the boat is being used for cruising or racing. The club does both social sailing and speed sailing.
The TYC has weekly races for its spring, summer, fall, and winter series. There is a club winner for each series, and the prize is bragging rights for the season. Racing is conducted on a handicap system to make for some exciting finishes. You don't have to be a member to participate in the weekly races, but you do have to be a member to be a part of the point scoring series.
Races are designed to last about an hour and the course is determined by wind conditions. The public is encouraged to come out and watch, either from the water or the shore. The stipulations for weekly races are that the temperature must be above 40 degrees, the wind must be over 6 and less than 20 miles per hour. If a wind advisory is issued, the race is cancelled.
The club hosts two regattas each year. (Mathis explained to me that a regatta is a pretty big race.) The Rush Hour Regatta will be Saturday, May 3rd, and the Rose Regatta usually coincides with the Rose Festival. These are all day events which start at 9am and last until about 5pm.
Roughly 22 boats participated in the last competition. Racers from the Shreveport and Longview Yacht Clubs often participate if the level of the lake is up. Anyone interested in coming out to watch should contact the TYC to get information about the best places to do that.
People in the area who would like to learn to sail through the TYC are encouraged to send them an e-mail expressing their interest. The next step is joining a crew to literally learn the ropes. Many members are happy to have people on their boats and love to teach. Mathis himself got into sailing this way.
The TYC is constantly doing projects to improve the facility including maintaining the docks, building up the seawall, painting the clubhouse, staining the deck, etc. The club also allows the Boy Scouts to come out and help with projects, as well as sail.
The club membership is a family membership and there are quite a few women who participate in sailing as well as social events. This year's Vice Commodore is Cyndi Bolding.
The TYC hosts many social events for its members. This year's calendar of events included a Christmas wine and cheese party, a Mardi Gras party, a St. Patrick's Day party, and a crawfish boil. Upcoming is a Cinco de Mayo party, a summer luau, and an Oktoberfest party. The club pays for the food, and members bring desserts, appetizers, and their own drinks. Some events are more adult oriented, but most are intended to be social and family friendly.
In addition to sailing, members use the facility to kayak, play volleyball, swim, play, and enjoy the clubhouse, which is impressive. It has a full kitchen, a microwave, a fireplace, a comfortable lounging area, books, and separate men's and women's restrooms. Outside is a large deck with three picnic tables and lots of chairs. Next to the building is a nice sized grill. One of the perks of membership in the TYC is the ability to reserve the clubhouse for private events.
Membership fees include a $40 per month charge, as well as slip/storage fees, which Mathis describes as, "stupid cheap," compared to other facilities in the area. But like any other hobby, sailing has expenses.
The TYC currently has 70 members, and membership is capped at 75 members, according to club bylaws. The cap is based on available space.
To become a member, a person needs five references from other members. The way to get those references is to come out and sail, meet members, and participate in the club's social events.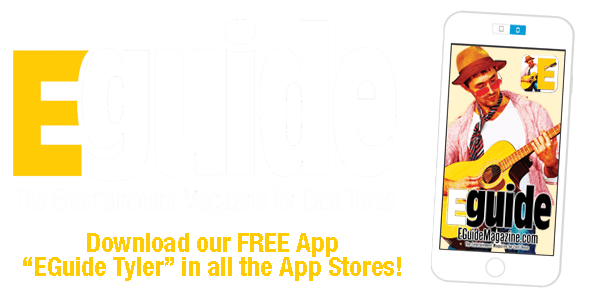 June Events: Zombie Apocalypse Hike at Tyler State Park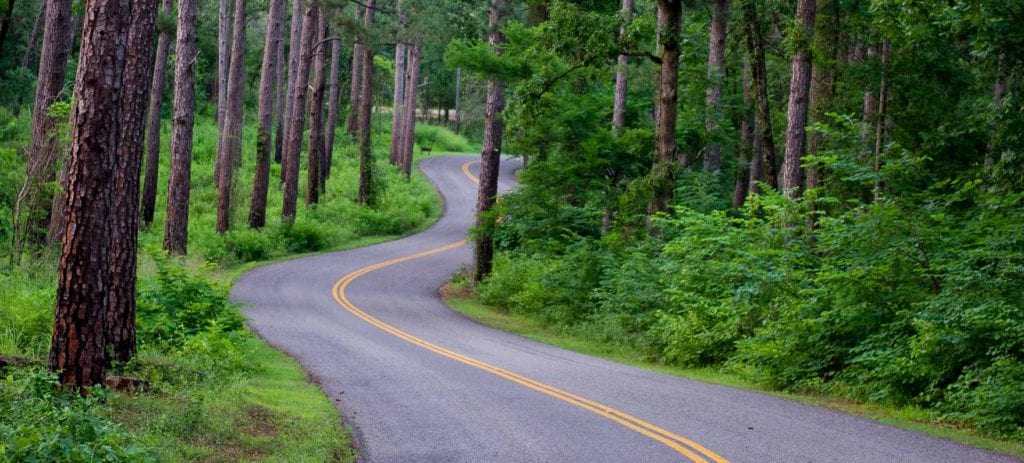 Tyler State Park Offers Springtime Outdoor Fun
At Tyler State Park, you can boat, fish, swim in the lake, hike, mountain bike, picnic, geo cache, camp, bird watch, and study nature. It is located at 789 Park Road 16, Tyler. All events are free with fee paid for admission into the park. Adults are $6 daily, and children 12 years and under are free. For more info go to tpwd.texas.gov/state-parks/tyler or call (903)597-5338. Tyler State Park offers many events this month.
June 2nd, July 7th, August 4th, September 1st, October 6th, November 3rd,  December 1st (9am-12 noon) – Dutch Oven Cooking –
Come join the Dutch Oven D.O.G.s for great food and fellowship the first Saturday of the month. Bring the family and join in the fun.  Cooking begins at 9am and food tasting begins at 11:45am.
June 2nd, 16th (2-3pm) – Wildflowers, Pollinators, and Predators –
Discover the explosion of color in the Post Oak Savannah as prairie and woodland wildflowers bloom. You will also see colorful pollinators and the equally colorful predators that hunt them. Dress for the weather and be ready for a short walk. Meet at the Blackjack Nature Trail.
June 2nd, 7th (4-5pm) – Zombie Apocalypse Hike –
What happens when things go wrong? Can you survive without cell phones, electricity, or transportation? Come and play this light-hearted game of survival and see if you make it through the apocalypse! Dress for the weather and be ready for a 3/4 mile hike. Meet at the Whispering Pines Trailhead.
June 6th (10-11am) – "Lost" in the Forest Hike –
Explore the definitions of what it means to be "lost in the forest." Learn how to keep from getting lost, what to do if you are lost, and how not every kind of "lost" is a bad thing. Wear sturdy shoes, bring water, and be prepared for about a one mile hike through the forest. Meet at the Old Road Trailhead.
June 6th, 14th (2-3pm) – Knotty-time for Kids –
Learn some basic knots that every camper needs to know. Knots have "tied" together civilizations throughout history, and they are still important today. Learn knots important for camping and one that can be a lifesaver. Meet at the Silver Canoe Park Store patio.
June 6th, 14th (3-4pm) – Kids' Wilderness Survival –
Learn how to keep from getting lost, what to do if you are lost, and how to make a handy survival pack. Meet at the Silver Canoe Park Store patio.
June 7th (9-10am) – Weather or Not?
Learn how to "read" weather and how to prepare for weather either outdoors or at home. Meet at the Amphitheater.
June 7th (10-11am) – Navigation Revelation: Map and Compass –
Learn to use a compass and a map for your navigation needs. Bring a compass if you have one. Meet at the Amphitheater.
June 8th (9-10am) – Wilderness Backpack –
Learn what to put in a backpack for your wilderness adventure. Learn how to pack for children and pets, too. Meet at the Blackjack Pavilion.
June 8th (10am-12 noon) – Backcountry Hike Series –
Learn how to prepare yourself so your trip will be more enjoyable. Dress for the weather, wear sturdy shoes, bring water, and be ready for a moderate three mile hike through the forest. Meet at the Blackjack Pavilion.
June 8th (2-3pm) – Historic Games: Play Like Your Grandparents –
Play the games kids have played for generations and find out your grandparents really did know how to have fun. Meet at the Amphitheater.
June 9th (10-11:30am) – Wildfood Walk –
Learn to identify edible wild plants and how to prepare them. Many edible plants may be seen during this short hike. Learn about plant safety too. Prepare for the weather and be ready for 1/3 mile walk. Meet at the Blackjack Nature Trail.
June 9th (2-3pm) – Micros & Giants –
Compare the large and the small on this 3/4 mile hike through the Pineywoods.
June 14th (10am-12 noon) – Lakeshore Nature Hike –
Discover the health benefits of being outdoors as we pass through changing ecosystems like hardwood bottomlands and upland pine forests.  This is an easy 2.1 mile hike so bring water, sturdy shoes, and dress for the weather. Meet at the Silver Canoe Park Store.
June 16th (2-3pm) – Dragonflies: An Ode to Odonata –
Observe these amazing creatures dart through the sky and learn about their life-cycle and their benefit to you. Dress for the weather and be ready for a short hike.  Meet at the Whispering Pines Interpretive Trailhead.
June 23rd (2-4pm) – The Big Clock: Daytime Sky –
Join us for some daytime astronomy activities and day sky viewing. Meet at the Silver Canoe Park Store patio.
June 23rd (8:30-10pm) – Night Sky: The Moon, Planets and Constellations – See the features of the waxing Gibbous Moon, the planets, and constellations of the season. Dress for the weather. Bring a blanket and/or a chair and bug repellent. Park on the entrance road to the Blackjack Camping loop and meet at the multi-use trailhead parking lot.
TJC offers Summer Activity, Athletic Camps for ages 3 and up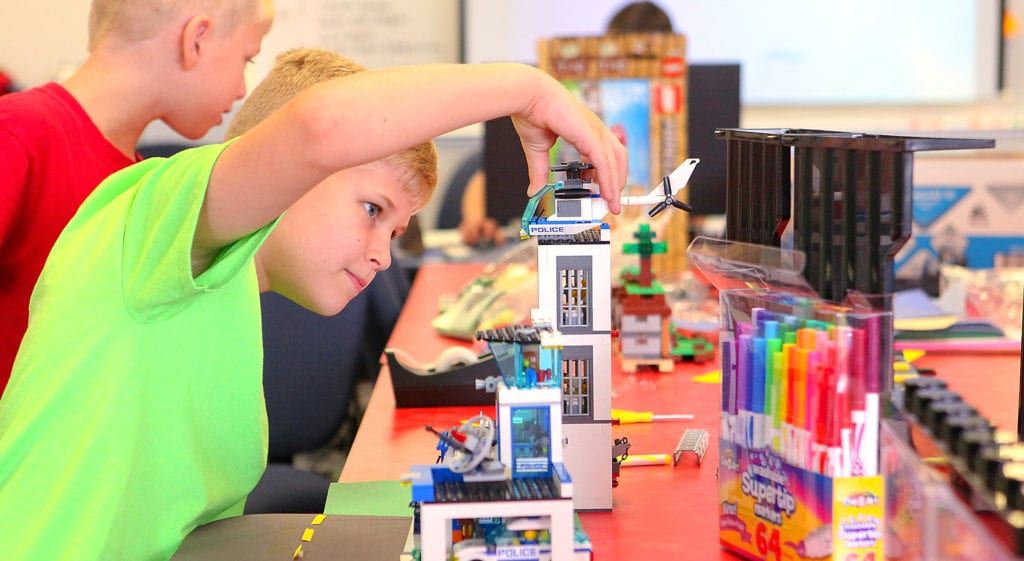 From animation to athletics, horsemanship to robotics, and scuba to improv comedy, TJC has a summer camp to spark the imagination of any young explorer.
Registration is open for TJC Summer Camps for kids ages 3 and up. Camps begin Monday, June 4, and continue through mid-August.
"We've put together a great lineup of activity and athletic summer camps," said Heath Stoner, director of TJC's Ornelas Health & Physical Education Center. Stoner also oversees the college's summer camps.
"TJC camps offer great opportunities for kids to gain skills to succeed in sports and learn about other cultures through art, science and technology," he said, "but they're also often a kid's first opportunity to spend time on a college campus. Ultimately, we hope our campers are inspired to pursue a college career someday."
The camps are operated at several locations on the TJC campus, including the Center for Earth & Space Science Education at TJC, Wagstaff and Gentry gyms, the Ornelas HPE Center, art department, science labs, swimming pool and gymnasiums.
TJC offers more than 60 activity camps, including: App Attack; Aquatic Camp; Babysitting Basic Training Bootcamp; Broadway Camp; Camp Illusion; Chess Camp; Code Breakers; Cookie, Cupcakes & Games; Comic Book Creation; CSI; Cultural Arts from Around the World; Dance Intensive for Beginners; Digital Storytellers; Disc Golf; English/Western Horsemanship; Explorers of the Kingdoms of East Texas; Exploring our World of Chemistry; Family Astronomy Camp; French Foil Fencing; Frozen Dance Camp; Game Labs; Improv Comedy; Incredible Stuff; Introduction to High Tech Health Careers; Jazz/Hip Hop Dance Camp; Jewelry Camp; LEGO Comics: Design Your Own Adventure; LEGO WeDo: Robotics for Younger Kids; Little Pony Express; Make Your First 3D Video Game; Make Your First Video Game; Minecraft Animators; Minecraft Designers; Minecraft Modders; Open Water Scuba; Pencil, Ink and Charcoal; Petite Picassos Art Camp; Printmaking Workshop; Robotics Camp; Scratch Jr.: Coding & Games for Kids; Space Camp; Slime Kaboom; Star Wars Stop Animation; Surveying & Mapping; Table Tennis; The Finishing Touch; Video Game Animation; Video Game History; Virtual Reality; Watercolor & Acrylic Painting; and Wood Works.
Athletic camps, run entirely by TJC coaching staff and players, include: baseball, basketball, football, soccer, softball, tennis and volleyball.
For details, or to register online, go to tjcsummercamps.com.

Festival of Fruit: 34th Annual Tomato Fest Saturday, June 9th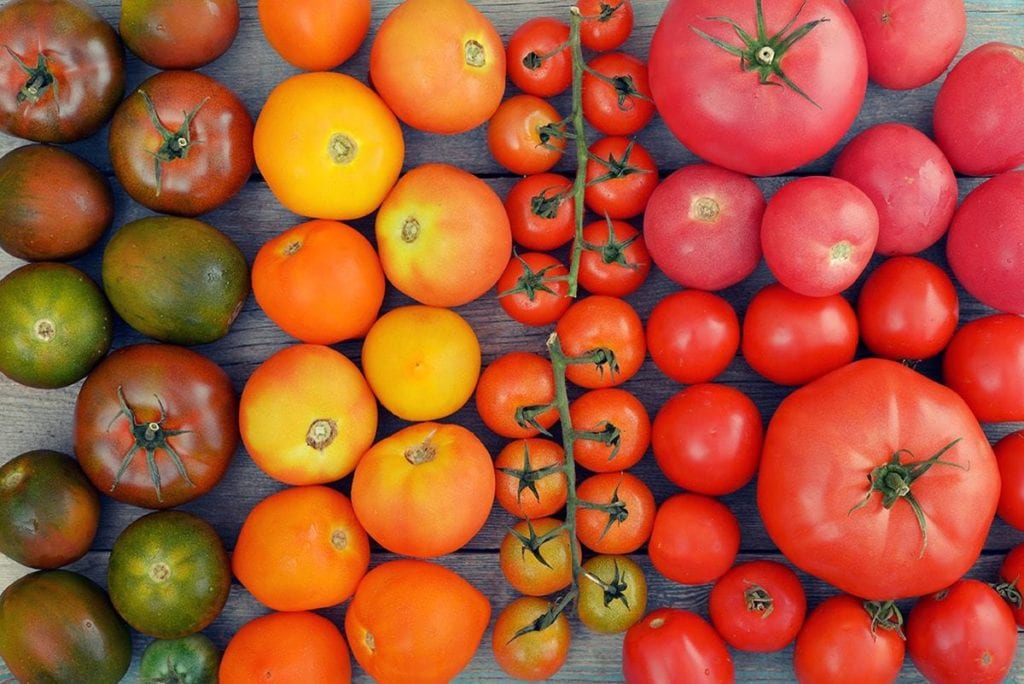 34th Annual Tomato Fest Saturday, June 9
th
Welcome to Jacksonville – home of the best tasting fruit – tomatoes!
Local farmers are busy getting ready for the upcoming 34th Annual Tomato Fest in Jacksonville, Texas by planting acres of the best tastin' tomatoes. Join the celebration Saturday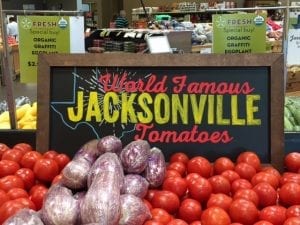 , June 9th in downtown Jacksonville for a BIG day of activities that will be happening all day long. Over 200+ vendors and all kinds of festival food, including the famous fried green tomatoes, Farmers Market, $500 Got Talent Contest, Car Show, Motorcycle Show, Tennis Tournament, Soccer Tournament, Softball Tournament, Entertainment, Kidz Zone, and so much more will cover 5 blocks downtown. Tomato events include Salsa Contest, Tomato Eating and Peeling Contest, Tomato Archery, Tomato Shoot, Best Home Grown Tomato Contest, Tomato Packing Contest and tour the Tomato Shed. Saturday evening, Chili's Street Dance will take place featuring Brian Chance Band and Lady Chazz and the Tramps. 
Activities kick off on Saturday, June 2nd with a 5k run sponsored by All Smiles. Monday, June 4th and Tuesday, June 5th is Family First Clinic's corporate challenge Dodgeball Tournament.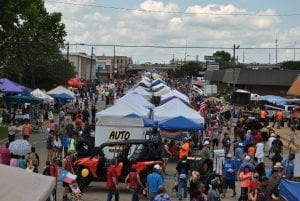 On Wednesday, June 6th, a Gospel Concert sponsored by Whataburger featuring, The Group, will perform at Central Baptist Church. New this year on Thursday, June 8th  is the Farm to Table dinner event that will take place at Castle on the Lake on beautiful Lake Jacksonville and will be catered by Rob Gowin, Sadler's Kitchen & Catering. A 4 Man Scramble takes place at the Cherokee Ranch Golf Club on Friday, June 8th. The final Tomato Fest week celebration ends at Lake Jacksonville with a Ski Show on Sunday, June 10th.
Taste for yourself the best tomatoes and fun festival packed with lots to do for everyone.  For additional information, contact Jacksonville Chamber of Commerce at (903)586-2217, or go to  JacksonvilleTexas.com/Tomato-Fest or Facebook.com/JacksonvilleChamber.