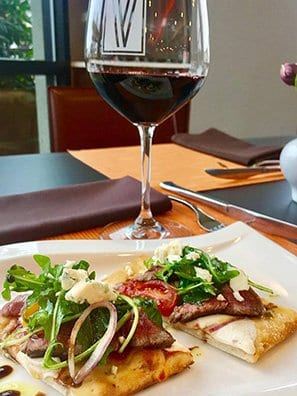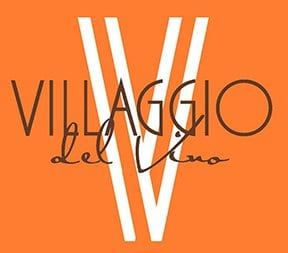 By Barbara King
Rogelio Tellez, better known as Chef Rojo, is a whirling dervish in the kitchen and the new mastermind behind the culinary excellence of Villaggio del Vino.
Born in Mexico City, Chef Rojo grew up in Dallas and Austin, starting his culinary expertise early by making bread with his mother at the young age of fifteen.
"I remember cooking was something that always fascinated me," he recalled. "It was my passion then, and it has remained my joy now."
He loves to experiment and has taken his love of Asian, Mexican, and other cultures and techniques, to blend them into a unique, high end menu for the restaurant. Becoming a chef takes commitment, creativity, and a very strong work ethic. As Chef Rojo says, "It's a 12 hour day, with preparation, actual kitchen time, purchasing, and management all rolled into one."
Training with top chefs in Texas has enabled him to create his own unique recipes and put a spin on traditional much-loved fare as well. At Villaggio since October, Chef Rojo has used his expertise to totally revamp and ramp up the menu that is now an homage to fine dining.
"You can be sure that your meal is freshly prepared with only the finest ingredients," he explains. The restaurant boasts a top of the line meat slicer used to prepare the specialty salami boards and an authentic firewood oven for their one-of-a-kind Neapolitan pizzas.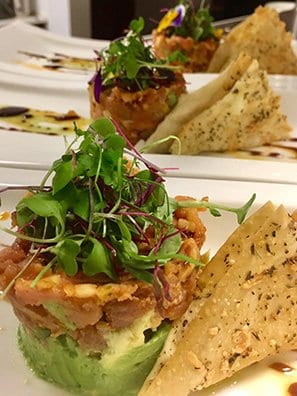 In the few short months, he has been at the restaurant, he has brought back the epitome of fine dining to Tyler, and it is evident he takes great pride in the presentation of each and every dish.
"We are proud that we make every entrée from scratch as it is ordered and take our time so that when we serve your meal, it appeals to every sense, from visual to smell and taste." He says that his menu is a reflection of the ambience and elegance of the restaurant itself, from the communal high top dining table to the mirrored, sophisticated "V" bar area that invites diners to stop, have a drink, and relax while awaiting their dinner. The restaurant is an inviting oasis, with a no-hurry, relaxed feel that is reflective of big city dining.
Every dish is made with care and attention to detail, from the lasagna to the mouthwatering ribeye steak, to the very fresh fish options, ranging from pistachio crusted salmon to branzino sea bass.
"Our fish comes in fresh three times a week," Chef Rojo explains. "You are guaranteed the best, finest fish in town right here."
The menu also boasts lamb shank, chicken saltimbocca, pesto spaghetti, and the Italian wagyu burger. (Australian wagyu, truffle mayo, arugula, tomato, pancetta bacon).
"We also cook organically, and we make our own truffle butter, mozzarella, sauces, and desserts in-house, and our soups are also prepared fresh every day." Chef Rojo said. "My favorite soup on the menu is our Italian tomato basil, made with Italian herbs, creamy tomato, and burrata cheese."
The restaurant also serves a mind-boggling brunch, complimented by classic mimosas, blood orange bellinis, and their very own VdV classic brunch Bloody Mary. Pair that with options like blueberry almond pancakes, steak egg benedict, poached egg carbonara pasta, or strawberry French toast, and you will be in brunch paradise.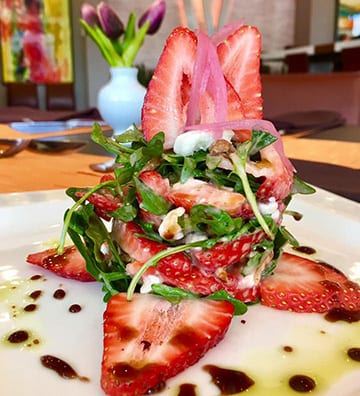 What keeps Chef Rojo motivated? "I love coming out of the kitchen and talking to guests about their experience with us and what they ordered and their opinions," he said. "There are a lot of restaurants to choose from so we want to make sure the dining experience is top notch from the minute our guests come in the door," he said.
Chef Rojo has also had great success with the food truck industry, and hopes to be able to make this dream a reality for Villaggio del Vino as well. "A mobile bistro may be in our future, and we look forward to exposing more of the community to our great food."
Chef Rojo has also shared his knowledge and wisdom to students and suggests that aspiring chefs "start at the bottom and learn everything there is to know about the food industry, and never give up on your dreams."
Being a full time chef doesn't lend itself to a lot of personal time, but when Chef Rojo gets away from the restaurant, he likes to golf and watch food shows like Hell's Kitchen. "My wife and I are truly dedicated to Villaggio del Vino right now and the future success of this stellar restaurant."
Villaggio has a lot more to offer the sophisticated dinner. "Wine Down Wednesday" offers half priced select bottles of wine (5-9pm), and when the weather is conducive, the patio will offer live music most Thursday evenings. Delivery is available within a five mile radius, and the restaurant is thrilled to host private in-house events.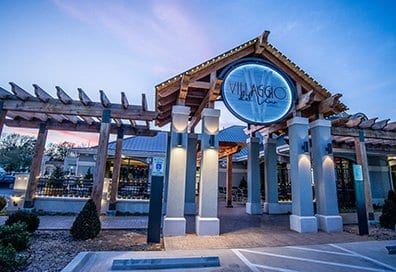 Chef Rojo is excited about the new "Wine Pairing Dinner Event" when, once a month on the third or fourth Thursday, he will prepare a five course specialty dinner, to compliment wine companies that will bring in a sommelier to make the evening complete. "Last month we featured the Prisoner Wine Company, and I prepared red fish, beef short ribs, grilled pork tenderloin, and triple chocolate mousse cake for a great evening of socializing and dining." For more info about the Wine Pairing Dinner and to make reservations call the restaurant at (903) 534-VINO (8466).
You might wonder if a chef darkens his own kitchen when he's not on the job? "I love to barbeque, so I'm at the grill a lot at home. My wife loves to bake; so between us, we share cooking and love to experiment with food as much at home as at the restaurant," said Chef Rojo.
Meet Chef Rojo and sample his exquisite menu at Villaggio del Vino, located at 4803 Old Bullard Rd. Restaurant. Hours are: Monday-Thursday 11am-2pm, 5-9pm; Friday 11am-2pm, 5-10pm; Saturday 10:30am-2pm, 5pm-10pm.
For more info find them at www.facebook.com/villaggiodelvino or go to villaggiodelvino.com.