Villaggio del Vino: Chef Rogelio Tellez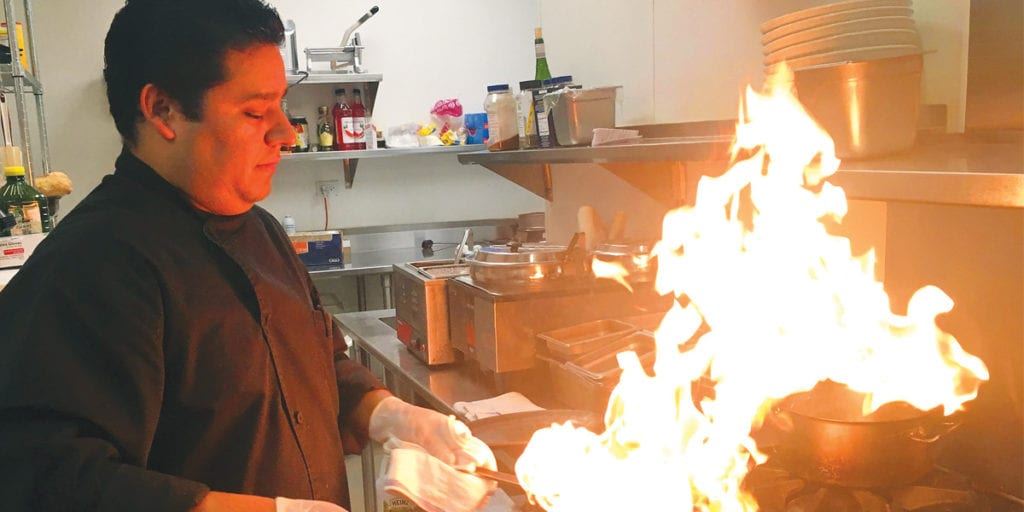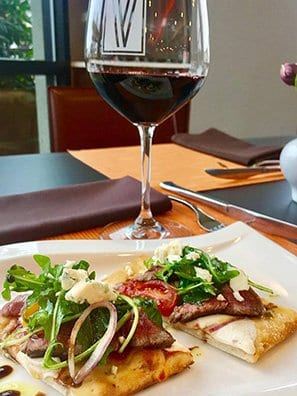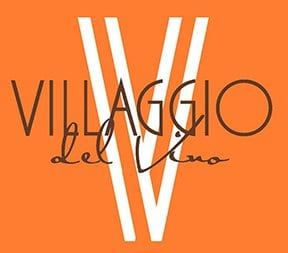 By Barbara King
Rogelio Tellez, better known as Chef Rojo, is a whirling dervish in the kitchen and the new mastermind behind the culinary excellence of Villaggio del Vino.
Born in Mexico City, Chef Rojo grew up in Dallas and Austin, starting his culinary expertise early by making bread with his mother at the young age of fifteen.
"I remember cooking was something that always fascinated me," he recalled. "It was my passion then, and it has remained my joy now."
He loves to experiment and has taken his love of Asian, Mexican, and other cultures and techniques, to blend them into a unique, high end menu for the restaurant. Becoming a chef takes commitment, creativity, and a very strong work ethic. As Chef Rojo says, "It's a 12 hour day, with preparation, actual kitchen time, purchasing, and management all rolled into one."
Training with top chefs in Texas has enabled him to create his own unique recipes and put a spin on traditional much-loved fare as well. At Villaggio since October, Chef Rojo has used his expertise to totally revamp and ramp up the menu that is now an homage to fine dining.
"You can be sure that your meal is freshly prepared with only the finest ingredients," he explains. The restaurant boasts a top of the line meat slicer used to prepare the specialty salami boards and an authentic firewood oven for their one-of-a-kind Neapolitan pizzas.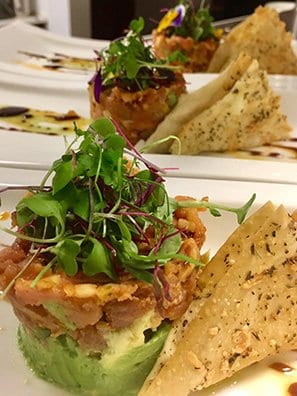 In the few short months, he has been at the restaurant, he has brought back the epitome of fine dining to Tyler, and it is evident he takes great pride in the presentation of each and every dish.
"We are proud that we make every entrée from scratch as it is ordered and take our time so that when we serve your meal, it appeals to every sense, from visual to smell and taste." He says that his menu is a reflection of the ambience and elegance of the restaurant itself, from the communal high top dining table to the mirrored, sophisticated "V" bar area that invites diners to stop, have a drink, and relax while awaiting their dinner. The restaurant is an inviting oasis, with a no-hurry, relaxed feel that is reflective of big city dining.
Every dish is made with care and attention to detail, from the lasagna to the mouthwatering ribeye steak, to the very fresh fish options, ranging from pistachio crusted salmon to branzino sea bass.
"Our fish comes in fresh three times a week," Chef Rojo explains. "You are guaranteed the best, finest fish in town right here."
The menu also boasts lamb shank, chicken saltimbocca, pesto spaghetti, and the Italian wagyu burger. (Australian wagyu, truffle mayo, arugula, tomato, pancetta bacon).
"We also cook organically, and we make our own truffle butter, mozzarella, sauces, and desserts in-house, and our soups are also prepared fresh every day." Chef Rojo said. "My favorite soup on the menu is our Italian tomato basil, made with Italian herbs, creamy tomato, and burrata cheese."
The restaurant also serves a mind-boggling brunch, complimented by classic mimosas, blood orange bellinis, and their very own VdV classic brunch Bloody Mary. Pair that with options like blueberry almond pancakes, steak egg benedict, poached egg carbonara pasta, or strawberry French toast, and you will be in brunch paradise.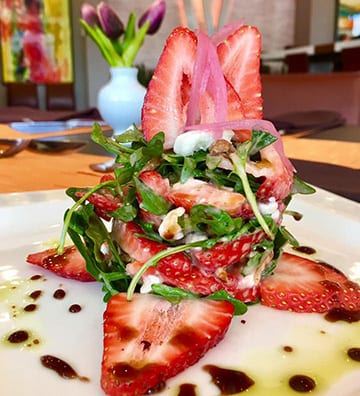 What keeps Chef Rojo motivated? "I love coming out of the kitchen and talking to guests about their experience with us and what they ordered and their opinions," he said. "There are a lot of restaurants to choose from so we want to make sure the dining experience is top notch from the minute our guests come in the door," he said.
Chef Rojo has also had great success with the food truck industry, and hopes to be able to make this dream a reality for Villaggio del Vino as well. "A mobile bistro may be in our future, and we look forward to exposing more of the community to our great food."
Chef Rojo has also shared his knowledge and wisdom to students and suggests that aspiring chefs "start at the bottom and learn everything there is to know about the food industry, and never give up on your dreams."
Being a full time chef doesn't lend itself to a lot of personal time, but when Chef Rojo gets away from the restaurant, he likes to golf and watch food shows like Hell's Kitchen. "My wife and I are truly dedicated to Villaggio del Vino right now and the future success of this stellar restaurant."
Villaggio has a lot more to offer the sophisticated dinner. "Wine Down Wednesday" offers half priced select bottles of wine (5-9pm), and when the weather is conducive, the patio will offer live music most Thursday evenings. Delivery is available within a five mile radius, and the restaurant is thrilled to host private in-house events.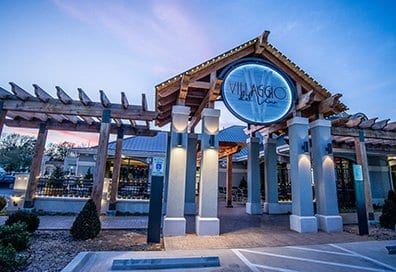 Chef Rojo is excited about the new "Wine Pairing Dinner Event" when, once a month on the third or fourth Thursday, he will prepare a five course specialty dinner, to compliment wine companies that will bring in a sommelier to make the evening complete. "Last month we featured the Prisoner Wine Company, and I prepared red fish, beef short ribs, grilled pork tenderloin, and triple chocolate mousse cake for a great evening of socializing and dining." For more info about the Wine Pairing Dinner and to make reservations call the restaurant at (903) 534-VINO (8466).
You might wonder if a chef darkens his own kitchen when he's not on the job? "I love to barbeque, so I'm at the grill a lot at home. My wife loves to bake; so between us, we share cooking and love to experiment with food as much at home as at the restaurant," said Chef Rojo.
Meet Chef Rojo and sample his exquisite menu at Villaggio del Vino, located at 4803 Old Bullard Rd. Restaurant. Hours are: Monday-Thursday 11am-2pm, 5-9pm; Friday 11am-2pm, 5-10pm; Saturday 10:30am-2pm, 5pm-10pm.
For more info find them at www.facebook.com/villaggiodelvino or go to villaggiodelvino.com.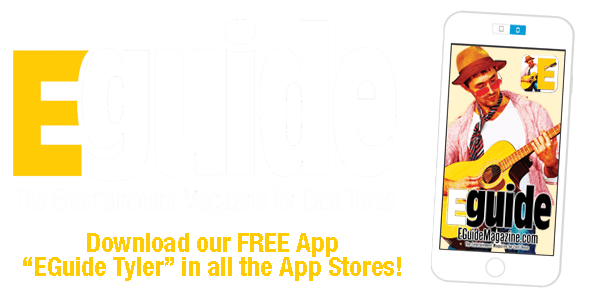 Festival of Fruit: 34th Annual Tomato Fest Saturday, June 9th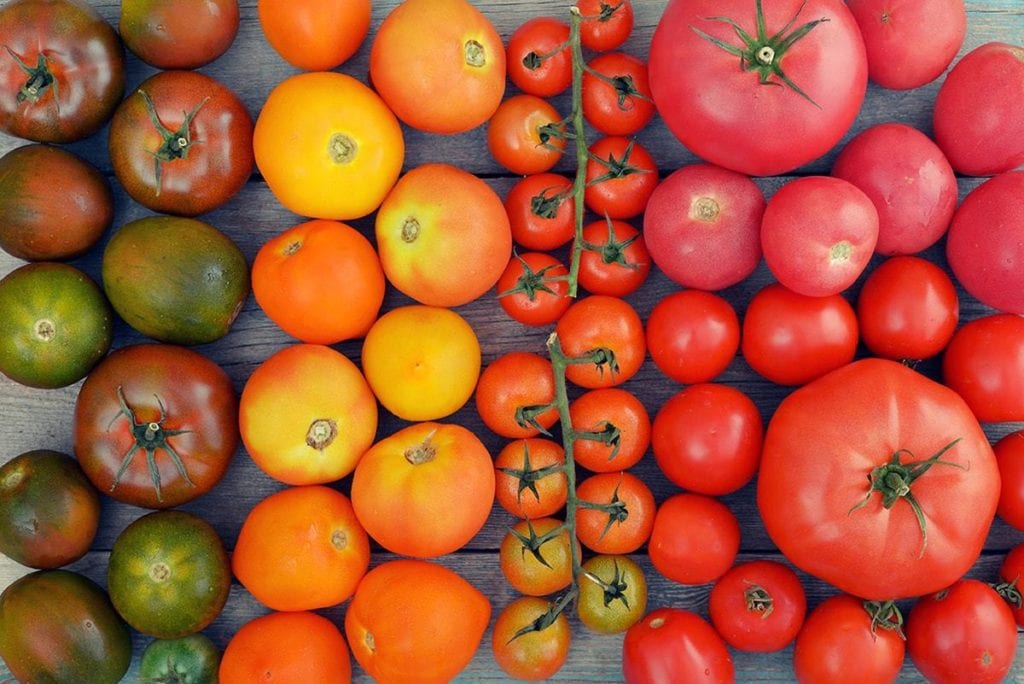 34th Annual Tomato Fest Saturday, June 9
th
Welcome to Jacksonville – home of the best tasting fruit – tomatoes!
Local farmers are busy getting ready for the upcoming 34th Annual Tomato Fest in Jacksonville, Texas by planting acres of the best tastin' tomatoes. Join the celebration Saturday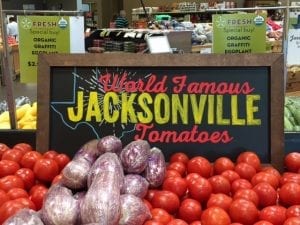 , June 9th in downtown Jacksonville for a BIG day of activities that will be happening all day long. Over 200+ vendors and all kinds of festival food, including the famous fried green tomatoes, Farmers Market, $500 Got Talent Contest, Car Show, Motorcycle Show, Tennis Tournament, Soccer Tournament, Softball Tournament, Entertainment, Kidz Zone, and so much more will cover 5 blocks downtown. Tomato events include Salsa Contest, Tomato Eating and Peeling Contest, Tomato Archery, Tomato Shoot, Best Home Grown Tomato Contest, Tomato Packing Contest and tour the Tomato Shed. Saturday evening, Chili's Street Dance will take place featuring Brian Chance Band and Lady Chazz and the Tramps. 
Activities kick off on Saturday, June 2nd with a 5k run sponsored by All Smiles. Monday, June 4th and Tuesday, June 5th is Family First Clinic's corporate challenge Dodgeball Tournament.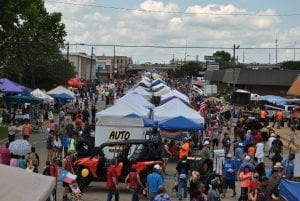 On Wednesday, June 6th, a Gospel Concert sponsored by Whataburger featuring, The Group, will perform at Central Baptist Church. New this year on Thursday, June 8th  is the Farm to Table dinner event that will take place at Castle on the Lake on beautiful Lake Jacksonville and will be catered by Rob Gowin, Sadler's Kitchen & Catering. A 4 Man Scramble takes place at the Cherokee Ranch Golf Club on Friday, June 8th. The final Tomato Fest week celebration ends at Lake Jacksonville with a Ski Show on Sunday, June 10th.
Taste for yourself the best tomatoes and fun festival packed with lots to do for everyone.  For additional information, contact Jacksonville Chamber of Commerce at (903)586-2217, or go to  JacksonvilleTexas.com/Tomato-Fest or Facebook.com/JacksonvilleChamber.
East Texans Learn to "Live Healthy"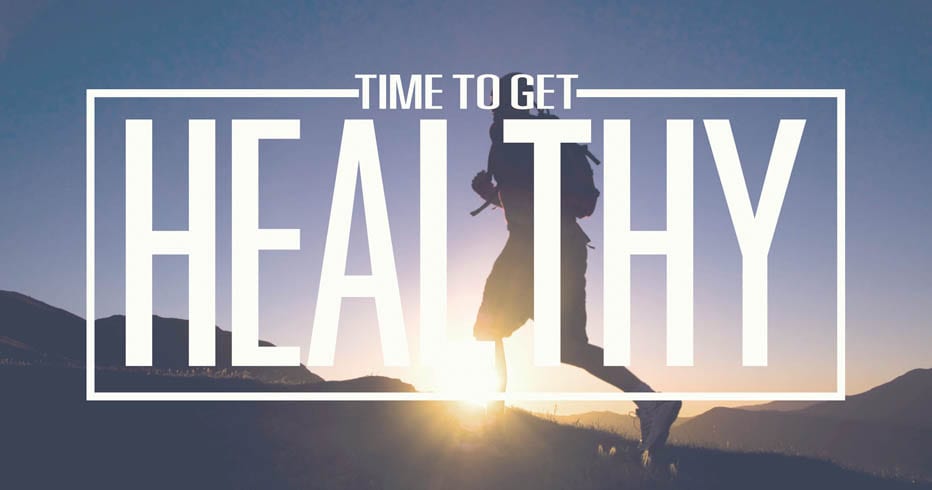 This Month at Integrative Health Matters:
Integrative Health Matters offers a healthy alternative to losing weight.
"Food is the real medicine. Through our innovative, hands-on programs, we aim to inspire healthy change through education. Diseases, chronic conditions, inflammation, and immune system disorders are often attributed to diet. Food is the medicine that can fix the problem. Integrative Health Matters is lifestyle medicine. It's not about drugs and doctor's appointments. It's about how to eat right, how to think right, and to understand all the things we have to do to stay healthy," said neurosurgeon Guy Danielson, medical director and founder of Integrative Health Matters. "This is root cause (medicine), not covering up symptoms with something from the pharmacy. The pharmacy is out in the garden."
The public has opportunities to visit Integrative Health Matters at any of these classes:
Every Wednesday (12:15-1:15pm) – Mindful Movements ; (5:15-6:15pm) – "Just Breathe" Meditation

May 4th (10-11am) – Functional Food Friday: Detoxing

May 8th (6-7:30pm) – Kitchen Talk: Tabbouleh with Karol

May 11th (10-11am) – Functional Food Friday: Eating Seasonally

May 21st (6-7:30pm) – The Good News About Type 2 Diabetes

May 22nd (6-7:30pm) – Kitchen Talk: Raising Healthy Eaters

May 25th (10-11am) – Functional Food Friday: Eating Healthy on a Budget
Cooking classes offered twice monthly are in-depth health and cooking presentations. These "Kitchen Talks" invite the public into the IHM instructional kitchen to learn to cook tasty and nutritious meals and create a healthy home environment.
Integrative Health Matters is located at 419 WSW Loop 323 #400 in Tyler, next to La Madeleine. For information about Integrative Health Matters, contact (903)595-8077 or visit ihm.life.
M6 Winery:
Celebrating Life & Good Things
Written and Photographed by Barbara Greenbauer
Take some time to wind down, breathe, and enjoy a superb glass of wine at M6 Winery & Tasting Room and Gift Shop in downtown Bullard. Owners Joe and Anne Moody set the pace as the charming and affable owners who greet you at the door and welcome you inside.
The atmosphere is palatable the minute you arrive, inside the front door is a Texas trove of
hand-made one of a kind wood pieces that can either house your own wine collection or accent it. Move along into the inner room and you will feel right at home as you order wine, food, and listen to live music.
Joe Moody is in his element and passionate about his foray into the wine business. Relying on his business background and his interest in the wine-making industry, he has developed an inventory of his own, a grand selection of whites and reds that will be taste bud treats to either the wine connoisseur or novice.
"Wine is about celebrating life and the good things," explains Moody. "Anne and I have traveled from California to Italy and experienced multitudes of vineyards and tasting rooms.  We were ready to bring all of our experiences to East Texas." M6 derives its name from the Moody's family of six, including the four grown children who were a piece of the business from its infancy. M6 Winery & Tasting Room is nestled on a corner of downtown Bullard, a piece of property Joe Moody has owned for over 20 years that has served as his office for both an oil/gas and real estate business over the years.
"Creating a good wine is an act of love and patience," explains Moody. "Grapes cannot be rushed and in the process, you have to be aware of what you are looking for in a flavor profile. It takes a lot of planning and preparation; blending is like art with different aromas, colors, and flavors."
The tasting room is an experience in itself, from the beautiful front and center bar fashioned from the ribs of wine barrels to the tin roof and rough cedar ceiling accents. Choose your wine and sit back while local musicians entertain.
There's another great space outside that the Moody's affectionately call The Vinery, a vine-covered patio with plenty of room and great furniture to sit on while you  enjoy the Texas weather.
Your palette will applaud you when you sample an M6 original wine. White wines include the Blue Norther, an aromatic semi-sweet Riesling with hints of apples and stone fruit. The Bluebonnet is an off-dry white blend, perfect for poultry, fish, and pasta dishes. Or try the Sweet TexAnne, named for Mrs. Moody, with sweet honeysuckle and strawberry overtones. This wine is perfect for summer salads and cheeses and is sweet enough to serve as a light dessert wine.
The Texas Viognier is an unoaked, medium to full-bodied dry wine, with notes of pears, honeysuckle, and tangerine. It pairs well with roasted poultry, orange chicken, seafood, apricots, fennel, capers, or pumpkin.
M6's Rosé wines include the Blushing Texan, a semi-sweet Rosé wine blend with a light pink color. The appropriately monikered Tyler Rosé is a dry blend with a touch of High Plains Zinfandel. This blend was created especially for our local Tyler market and its famous association with roses.
If red is more your thing, there are lots to choose from. Friendship Red is made with the hearty Ruby Cabernet grape. It is a great compliment to all things pasta, as it goes great with all sauces, from marinara to Alfredo.
The Moodys very first Signature Blend is Vintner's Touch, a bold red blend that pairs well with roasted meats. This blend is made from grapes grown both in Texas and California.
Red Texana is great with Texas BBQ or Tex-Mex dishes. It is full-bodied and made from the Ruby Cabernet grape. It has a spicy finish.
Feel free to pair your wine with meat, cheese, or combo plates, olive oil with bread and spices, or a slider plate. Paired flights include a chocolate or cheese, and of course, you can do a Tasting Flight of five different wines and keep the signature M6 tasting glass. M6 wines range from an affordable $18 to $28 a bottle.
Be part of the family and join the M6 Wine Club to experience the best of their offerings with
five special wine shipments annually. When it's time to get your selections, M6 offers a complimentary glass of wine and hors d'oeuvres to members at pickup parties.
M6 can host your private party and create personalized wine labels to commemorate any event from birthdays to anniversaries.
Joe has nothing but compliments for the wine-growing community in East Texas, saying "We are all very supportive of each other and share resources and information."
Mark your calendars for the Piney Woods Wine Festival, running May 11th-12th and join M6 and the other 18 wineries on the trail for a spectacular weekend of music, art, and of course, lots of wine to taste.
Lauren and Bobby Grounds from Tyler wanted a new destination and searched the internet for wine and live music and found M6. "We love this venue," said Lauren. "It's very different and
fun, and the wine is fantastic." They were trying the Blue Norther and the Blushing Texan with a cheese plate and Billy said "We will definitely be back. We like the atmosphere here.  It's very welcoming."
Joe is thrilled that M6 wines are featured at favorite Tyler restaurants, including Rotolo's, Dakotas, and the Grove. "Mention that you would like to try an M6 wine and you won't be disappointed," he said.
The Moodys welcome you to experience M6 Winery & Tasting Room. "We want everyone who visits us to feel like they are our honored guest," said Joe Moody.
M6 is open Saturdays from 1-6:30pm and is located at 201 W. Main St., Bullard. They can be reached at (903)360-0369, by email at info@m6winery.com, or on Facebook at M6Winery.