Warmer Weather Calls for 5K's, Fun Runs & Much More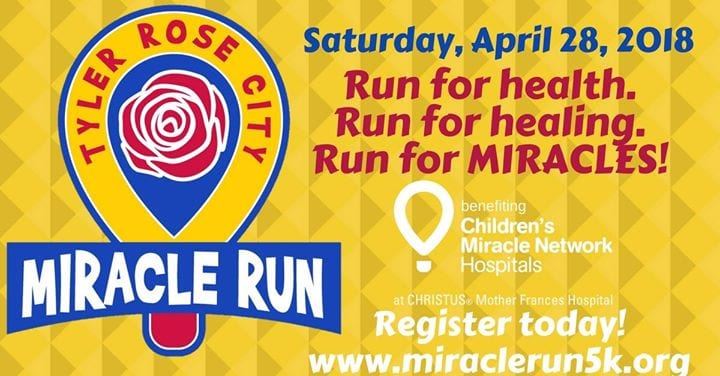 To add a walk, run, or biking event, please send to, eguidemagazine@gmail.com. It is always free to list any event.
April 7th – Tyler Run for Autism– Join this 7th annual run inspired with the purpose of raising funds to provide much needed Applied Behavior Analysis (ABA) therapy for children on the autism spectrum in East Texas. 100% of the funds raised are given back to children enrolled at The Treatment and Learning Center for Children with Autism (TLC) or Autism Response Team of East Texas (A.R.T.). Register at tylerrunforautism.org.
April 7th – The 7th Annual Home Run 5K/10K and Kids Fun Run hosted by Sky Ranch Camps in Van, Texas will be held at The Cannery in Lindale. All proceeds go to build one home a year for a deserving family in the Lindale/Tyler area. The 10K will begin at 8:15am, the 5K at 8:30am and the Kids Fun Run will be at 9:30am. For more information about the ministry, the race, or to register, you can visit proverbs1917ministries.org.
April 14th – Nightwalk for Hope –
Held annually, this nighttime walk will be held 5:30-9pm at Rose Rudman Trail. Come together as a community to walk 2.5 miles through Rose Rudman Park as you carry lanterns to light up the night, symbolizing hope and freedom for those silenced by modern day slavery. Register at
nightwalkforhope.org
. This is sponsored by For The Silent. This family-friendly fundraiser includes multiple food trucks, children's activities, music from El Guapo Records, and more. As the sun sets around 8:15pm, they will conclude the night with a 2-mile walk on a section of the Rose Rudman trail.
April 21st – Lead the Way 5K – Bring the whole family and come out and support our area schools. Register at tylerisd.org. This will begin at 8am and be held at Dr. Bryan C Jack Elementary, 1900 Balsam Gap Rd., Tyler.
April 28th – Diva Du will be held in Tyler. This beginner-friendly race, now has an added distance for those seeking more of a challenge as well as a 5K option for those who still want to enjoy the Diva treatment without the full duathlon commitment. For more info go to facebook.com/thedivadu.
April 28th – Tyler Rose City Miracle Run – Run for the kids who can't. Run for the kids in your life. Run to make miracles. Simply lacing up your shoes and participating in the 2018 Tyler Rose City Miracle Run can help make miracles for the sick and injured kids of Northeast Texas. This will be held at Rose Rudman Park, Tyler starting at 8am. Register at localraces.com.
May 12th – 2018 Komen Tyler Race for the Cure® – Save the date for the 20th Anniversary of the Susan G. Komen Tyler Race for the Cure. At 7am, the Survivor Celebration opens. 8am, the Kids Dash begins. 9am, the 5k starts. This annual event raises funds for the breast cancer movement, thanks to supporters and survivors who step up and take action by fundraising for the cause. This will start at Bergfeld Park, 1501 S. Broadway, Tyler. To register go to komenectx.org.
July 4th – Freedom Fighter 5K will be held at Bergfeld Park. Registration is currently open at facebook.com/events/1219303424838365.
September 22nd – Pineywoods Ultra – Run through deep East Texas pine forests on a scenic course underneath towering pines. This diverse, single track course, almost entirely underneath a canopy of 100-foot tall pine timber, will keep you captivated as you navigate rolling hills through rooty and pine needle conditioned trails. Enjoy a post race refreshing swim in the 64-acre spring-fed lake while you rest and recover. As home to the forest race in our eco series, you won't want to miss this unique chance to run with deer through the deep piney wood forests of Eastern Texas. This is a 5k, 10k, 25k, 50k, and 100k. Wind through deep green pine forests on rooty single track while chasing deer and other wildlife. Enjoy the dizzying and majestic pine canopy above as you are shaded on your adventure. Register at ultraexpeditions.com/the-piney-woods-ultra.
September 29th – ZERO Prostate Cancer Run/Walk features a 5K run/walk, 1 mile walk, Kids' Superhero Dash for Dad, and virtual Snooze for Dudes program. ZERO is proud to partner with Urology Tyler, PA to end prostate cancer. Stick around for the family-friendly post-race celebration. Run/walk participants will receive tech shirts, free food and prizes, and the opportunity to connect with others who are impacted by prostate cancer. To register, go to support.zerocancer.org.
October 13th – 2018 Corkscrew Half
will be held at Kiepersol Winery, 21508 Merlot Ln., in Tyler. Register by e-mailing
itri365meredith@gmail.com
.
December 2nd – 2018 Tyler Half Marathon & 5K – This event will give athletes a tour unlike any other through the Rose City of Tyler, Texas. The event will start and finish from TB Butler Fountain Square in the center of downtown Tyler, Texas. More information can be found at tylerhalf.events and be sure to follow The Tyler Half Marathon & 5K on facebook.com/events/1565352873583566/.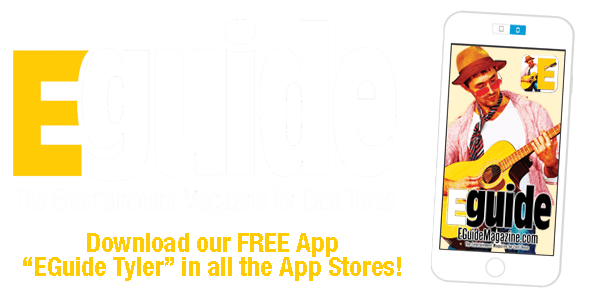 SAVE TONS on Pet Microchips This April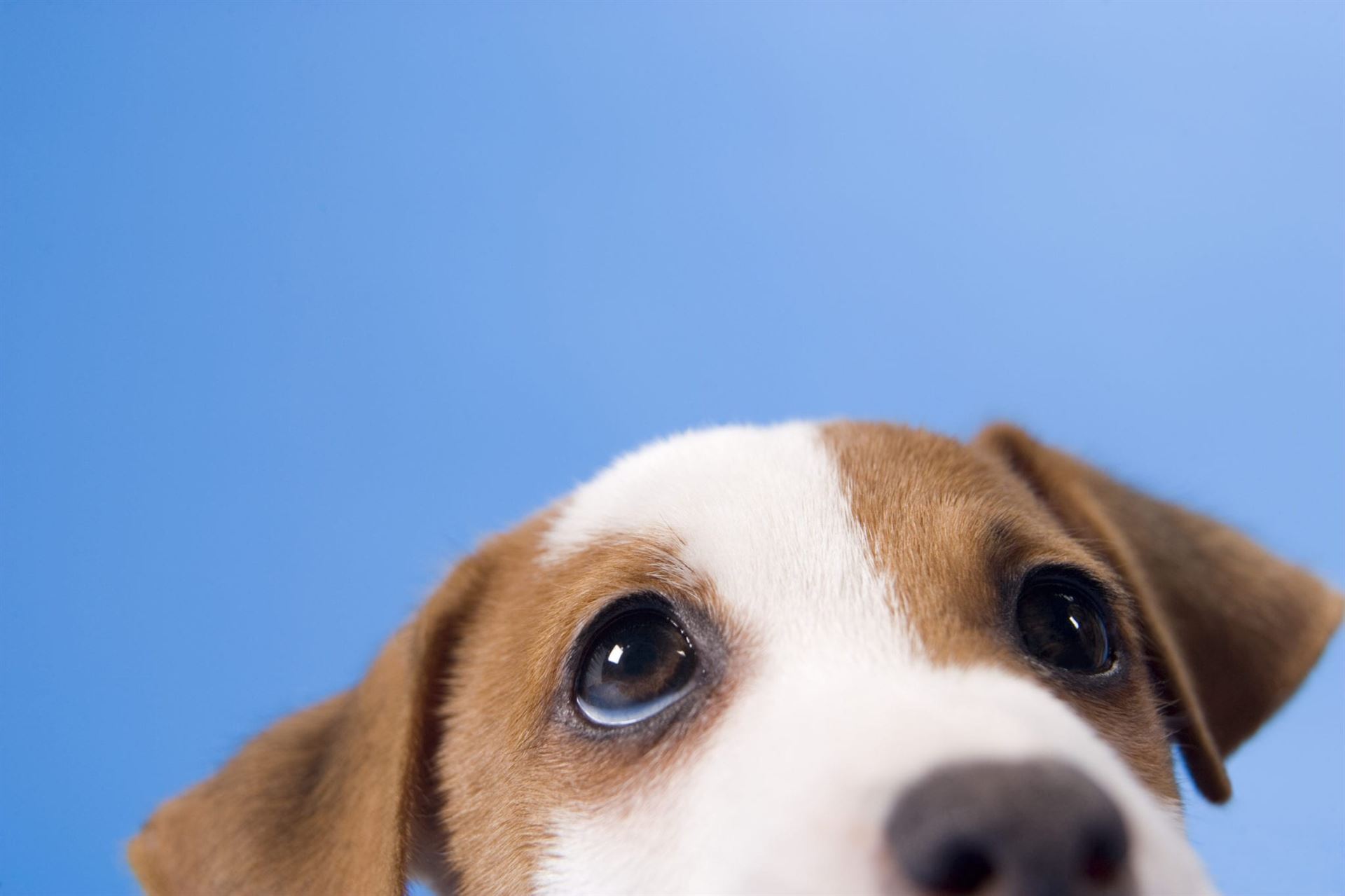 $5 Pet Microchipping in April
The Tyler Animal Shelter is offering discounted microchipping prices of $5 through the month of April, plus a one-day discounted rabies and microchipping event.
This year, the $5 microchipping is through the month of April at our 4218 Chandler Hwy location, not 3393 W. Grande.
The Rabies Vaccination and Microchipping Clinic will be April 26th at Fun Forest Park, 2000 N Forest, starting at 6pm.
"Filling out the paperwork takes longer than the actual microchipping," said Shelter Manager Shawn Markmann.
"If your dog gets lost or gets picked up, then you have an identifier to get your pet back to you, and if your animal is stolen it also helps retrieve ownership," Markmann said, adding that all of the animal control officers have microchip scanners on their trucks to help find the owner before they go into the shelter.
The Tyler Animal Shelter also is accepting donations to help the pets in their care. Dry pet food is accepted as part of its pet food bank program, which has given out 1,500 pounds of food since its inception. The food is given to families who want to give up their pets because they cannot afford to feed them. Other donations needed include white towels of any size, stainless steel food bowls, and hard rubber chew toys, similar to the Kong brand toys.
Calling All Poets, April 21st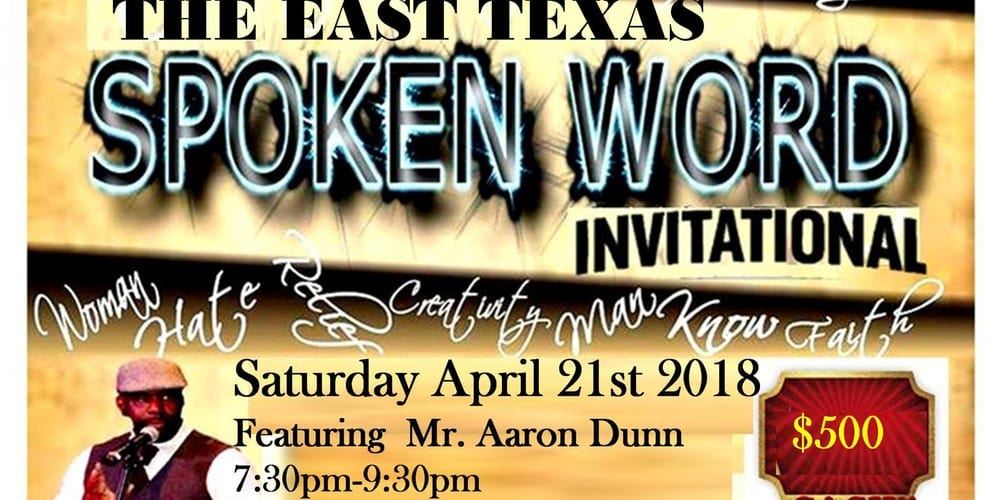 The East Texas Spoken Word Invitational Competition
The East Texas Spoken Word Invitational is an 'East Texas poets only' competition and will be held Saturday, April 21st, 7:30-9:30pm at El Guapo Records, 257 S. Broadway Ave., Downtown Tyler.
On this night, come celebrate International Poetry Month in a family-friendly space. At this collective community gathering, the featured poet will be Aaron Dunn, author of the new collection "Poetry For Your Sake." Aaron will be reciting works which will be available for purchase.
There will be 12 poets selected for his annual spoken word event. Prizes will be awarded. Poets can enter the competition for $10. There is free admission for any audience member.
Tickets are available at eventbrite.com > East Texas Spoken Word Invitational. To participate, you must have an eventbrite ticket.
Seating is limited. For more info call or text (972)704-5001 or go to mikeguinn.biz.
Horror & Paranormal Conference Held April 20th-21st
Horror & Paranormal Conference & Psychic Fair to be Held April 20th-21st
This year's annual Horror & Paranormal Conference & Psychic Fair is coming to town April 20th-21st, and it promises to be even bigger and better than ever.
Held at Staybridge Inn & Suites, 2759 McDonald Rd., in Tyler, you can experience everything from ghosts, to Bigfoot, to UFO's, to psychic readings – everything can be found at this hugely popular event.
New and returning guest speakers make this an event one to remember. Come satisfy your curiosity or add to your current knowledge. You will have the opportunity to meet the established stars, the up and coming stars, and of course, experience astounding psychic readings and galleries that will be going on.
April 20th kicks it all off with a VIP dinner with the stars. This event will also include some light ghost hunting plus a movie screening. Be sure to  experience the speakers and vendors all day Saturday, the 21st, and a psychic gallery that evening, followed by an all night ghost hunt at multiple locations. VIP ticket holders get early access with free coffee and donuts, front row seating, super stuffed goody bags, a special free tarot or rune reading by special guest Alexis Jones, access to a free movie of your choice Friday night at Hollywood Theaters, free dinner at Athena's Greek Restaurant on Friday night, and free admission to the psychic gallery on Saturday night. These tickets are very limited, so get yours early.
Guests include Scott Gruenwald, Trana Simmons, Marie Davis, Rosa Ramirez, Mike McCaskill, Jeff Hurley, Dr. Heidi Hoke, Ashton Rogers, and more.
Throughout the day there will be tarot readings, astrology readings, angelic guide connection sessions, psychic rune card readings, hypnotherapy demos, medium readings, mind clearing and energy balancing sessions, reiki healing, and photo ops.
The full itinerary as well as tickets are available at toursoftyler.com. Tickets are $15-$60.