January 13th (1:30pm) – Snow Foolin' at Caldwell Zoo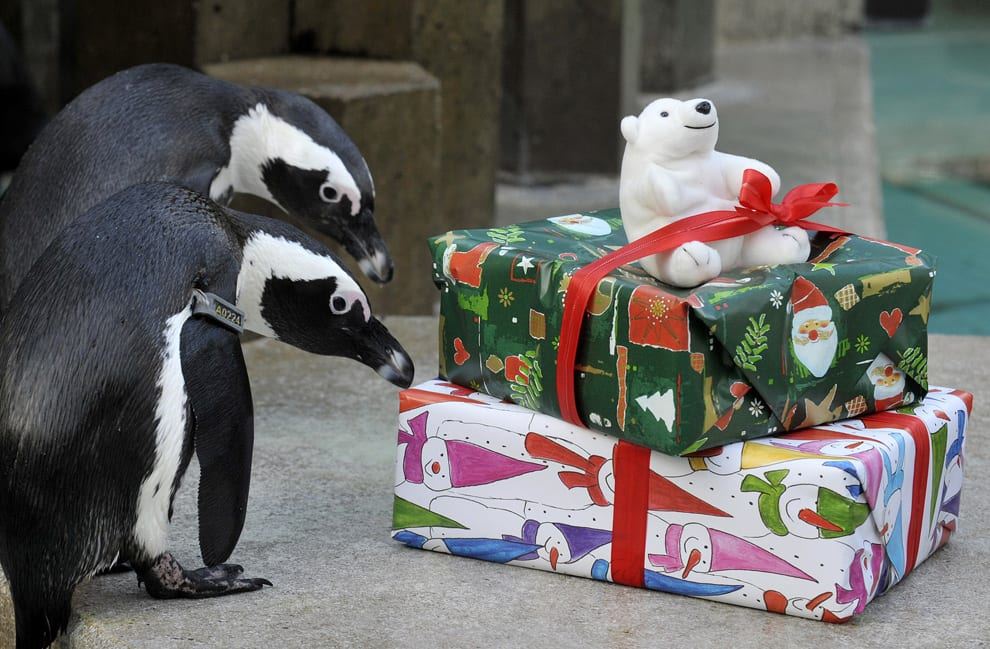 Old man winter is making his way to the Caldwell Zoo, and that means the zookeepers need to make some adjustments to ensure all the animal friends are safe. Some of the animals, like the big African spurred tortoises, come in for the winter. Some more weather-tolerant animals might be given access to either indoor or outdoor areas once the temperature gets below 45°. Animals, like the Chilean flamingos, are pretty hearty and can actually stand temperatures into the 20's, but will have to go indoors if it is much colder.
With this in mind, it is a fun month all over the zoo. Caldwell Zoo offers numerous extra-special Zooper Days throughout the season. Events are free with zoo admission and do not require advance registration.
January 13th (1:30pm) – Snow Foolin' –

Enjoy the cold weather fun at the African Huts.

February 10th (1:30pm) – Wild Bird Tweets –

This Zooper Day will be a real "tweet" as the Zoo celebrates "Wild Bird Feeding Month" with some special bird activities.
Scavenger Hunts are also available at the Zoo. These fun scavenger hunts for kids of all ages include Bird Search, Conservation Corps, Habitat Hunt, Mammal Mania, Sensational Senses, and Who Am I. Worksheets are available for free at the website. Print them out, and bring them with you to make your visit fun and educational.
Tickets are priced in several levels. Tickets are $8.95 for children 3-12, $12.95 for adults 13-54, and $10.95 for seniors 55 and over. Caldwell Zoo Members and children two and younger are free. Groups of 15 or more are eligible for discounted group admission pricing. You can become a member by downloading a form at caldwellzoo.org.
Parking is always free. Picnics and coolers are allowed in the designated picnic areas located adjacent to the parking lot outside the Zoo entrance.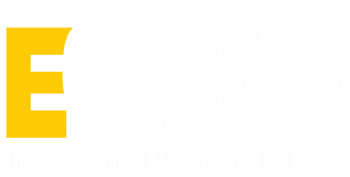 Feb. 23rd-24th: 4th Annual Mockingbird Tyler Conference
"The Wonder of Grace" Coming February 23rd-24th
B3 Ministries, in cooperation with Mockingbird Ministries (Charlottesville, VA), will bring the 4th Annual Mockingbird Tyler Conference: "The Wonder of Grace" to Downtown Tyler, February 23rd-24th.
 This multi-denominational gathering of conference contributors and MBird devotees will explore all that The Gospel engenders within the hearts of its hearers. This will be a celebration of faith, hope and love brought down to earth.  
Conference speakers will include John Zahl, author of "Grace in Addiction" and John Newton, author of "Falling into Grace" and frequent contributor to Mbird.com. Charlotte Getz. 
The conference will also include local breakout speakers Brent Kirkley (Tapestry Counseling Ministries), Ricky Garner (New Days Community Church), Aristeo Rodriguez (El Guapo Records), Brad Wofford (BW Design), Tim and DeAnda Frost, Stanley Ward, Stacy Canion, and Tom Brown.     
The conference will feature musical guest singer/songwriter/pastor Josh White, who will deliver a Friday night concert at 7:30pm on the 3rd floor of Bethel. A breakout talk on "Christ in Culture" will take place Saturday.
Josh White is the founding pastor of Door of Hope Church and Deeper Well Records in Portland OR. As a songwriter and recording artist for Tooth and Nail and Deeper Well, Josh has released eight albums over the last 15 years as well as writing for other artists such as Liz Vice. When not making music or running the church, Josh loves to spend his time reading and hanging out with his wife Darcy, and 2 children Henry and Hattie.
As part of the Saturday break-outs, Ricky Garner will speak on "If It Ain't Broke, It Can't be Fixed: Why The Cross is The Only Hope for Your Marriage." Ricky currently serves as assistant pastor at New Days Community Church in Tyler.
Also, Tim and DeAnda Frost will speak. Tim Frost is a memory-collector, storyteller, father, and husband. Tim is a speaker and author of hope from firsthand experiences of survival. He emits a positive and light-hearted energy when he speaks to a large crowd or in a one-on-one conversation.
Registration will begin at 4pm on Friday, February 23rd at Christ Episcopal Church, and the conference will begin in full at 5pm. The Foundry Coffee House and Bethel Bible Church will host Saturday, February 24th's portion of the conference.
Registration for the MBird Tyler Conference is $50. For couples, the cost is $90. A 1-Day Drop-in ticket is $30. Tickets to the Josh White concert only is $15. Childcare is available for a fee.
Registration will include dinner from Stanley's BBQ, a copy of "Grace in Addiction," a gift bag full of various goodies, and free admission to Friday night's Josh White concert.
For more information, online registration, itinerary, and past event videos go online to mbirdtyler.com or find them on Facebook.
Feb. 24th: For a Good "Soulful" Cause, Edwin Holt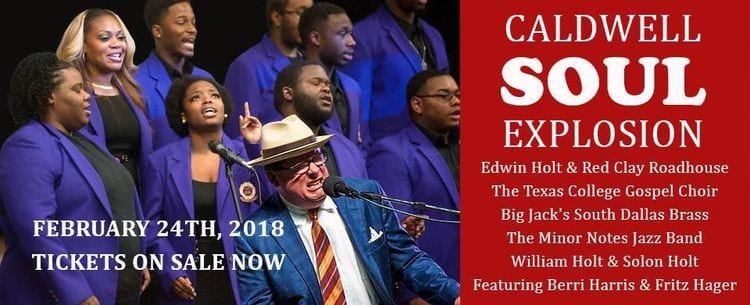 For a Good "Soulful" Cause:
Edwin Holt, Red Clay Roadhouse, and Texas College Choir Join Forces
By Edwin Holt
Some of you already know the backstory of my musical life, what you may not know is the soulful bond that developed between myself and a culture that I have come to define as my second family.
Like most people that stay in their comfort zone of their own culture, I found myself in a different realm. For several years in the south Dallas area and beyond, I found myself, a twenty year old male, performing in an all black blues band, in all black juke joints. The music was and will always be a great reward of my dues paid. The family of musicians I inherited, was a reward I never saw coming. Having the opportunity to perform, travel, and join them at their dinner tables with their families, has changed me into someone else.
Growing up in the small town of New London, Texas, I was sheltered to what lied ahead in the real world. A world that opened my young eyes to the reality of a culture riddled with struggles that continue to plague our society and most importantly, the very body of Christ.
People talk about how we are divided as a culture. They say that leadership does nothing to aid within this division but at the same time we fail to notice the blame within ourselves. We think we are helpless to make any kind of change in the world due to who we are or where were from – I believe differently. My focus in life, is to make a continued difference using love as a means of change.
So it should be no surprise that when the Texas College Choir reached out and asked me to help them get to New York in their own efforts to share the Gospel of music, I was all in. And with that, I'm hoping you are all in as well.
Presented by the Holt family, this will be an evening full of soul that will take place on February 24th at 8pm. Doors open at 7pm. The performance is being held at the Caldwell Auditorium, 300 S. College Ave., Tyler.
Please help me help others with music. It is a wonderful gift from God that brings people of all cultures together.
For more information and to purchase tickets, visit rosepickermusic.com.
Liberty Hall's Spring Fun: Johnny Lee, Monte Montgomery & Shooter Jennings

We are ready for spring! Here are whats coming to Liberty Hall.
Next week we have two Texan musical geniuses! First, on Friday, Feb. 23 at 7 p.m., we welcome "The Original Cowboy," Johnny Lee. Johnny is one of the many Country Music sensations JMT Entertainment will be bringing to Liberty Hall this year. Johnny is a member of the "Texas Country Music Hall of Fame" and is most known for his participation in "Urban Cowboy" with the song "Looking for Love."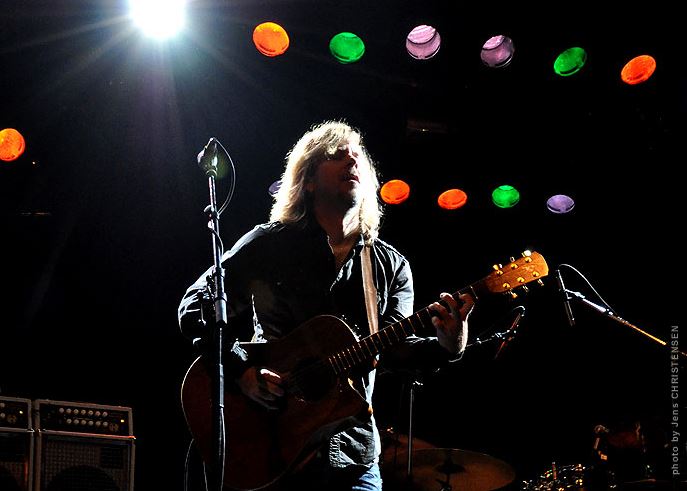 The next day, Saturday, Feb. 24 at 8 p.m., one of East Texas favorite artists, Monte Montgomery, visits our stage once again! After a 4 year break, Monte came back strong in 2016 with his new album "Dragonfly." If you want to hear one of the "Top 50 All-Time Greatest Guitar Players," you better not miss this show! For interviews with Monte Montgomery, contact Jay Reynolds (512) 944-6888
On Saturday,  March 10 at 8 p.m. we welcome Shooter Jennings, the son of country music legend Waylon Jennings! He "Put the "O" Back in Country" and now is bringing true outlaw country music to Liberty Hall. Opening for Shooter is the striking figure with an old soul and a voice like a force of nature, Jaime Wyatt. For interviews with Shooter Jennings and Jaime Wyatt, contact Adam Barnes adam@colonelmgmt.com.
Then, on Friday, March 16 at 7 p.m., you can sing, quote and chant along with your favorite scenes of Monty Python and the Holy Grail! This cult classic is a comedic parody of the grim circumstances of the Middle Ages as told through the story of King Arthur and framed by a modern-day murder investigation.
Next, on Friday, March 30 at 8 p.m., we grab our bottle of strawberry wine and welcome the multi-platinum international artists, Deana Carter. She took the industry and fans by storm with her wildly successful debut "Did I Shave My Legs for This?" She then showed her own blend of country and retro-rock with the hit "Strawberry Wine." For interviews with Deana Carter, contact Jules Wortman (615) 260-9985.
The month of April is full of Country and Rock 'n' Roll! We kick off on Thursday, April 12 at 7 p.m. with the legendary Johnny Rodriguez. Another Texas Country Music Hall of Famer, Johnny Rodriguez, has had fifteen top-ten singles and 6 number-one hits since 1973. Some of his classic hits include: "Pass Me By", "You Always Come Back (To Hurting Me)", and "Riding My Thumb to Mexico."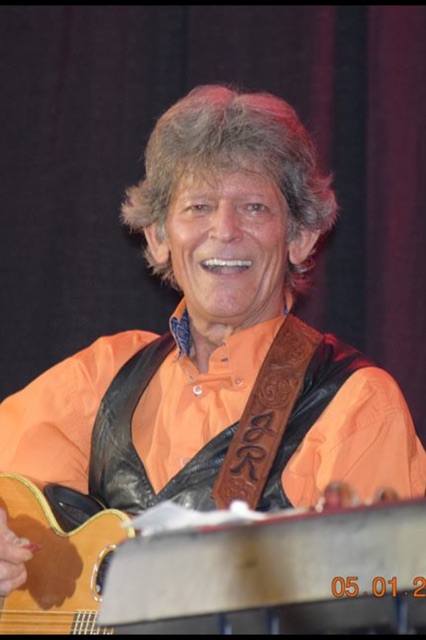 Then, on Saturday, April 14 at 7 p.m., we welcome one of the top Elvis tribute artists in the business! Al Joslin has won first place at the 2016 Ultimate Orlando, finished in the top 5 in the world at the 2017 Ultimate Elvis Tribute Artist Contest in Memphis and recently won first place at the Elvis Fantasy Festival in Portage, IN. Come see the Ultimate Elvis Country, Gospel, and #1 Hits! For interviews, contact Sheryl Jackson (214) 336-1104.
Next, on Friday, April 20 at 7 p.m. Bill Anderson, pays Liberty Hall a special visit. A member of the Grand Ole Opry since 1961, visits us Bill is one of the most popular, most enduring entertainers of our time. He is known, in fact as "Whispering Bill," a nickname hung on him years ago as a result of his breathy voice and his warm, soft approach to singing a country song.
The very next day, Saturday, April 21 at 8 p.m., after more than 50 years together, we welcome Mouse & the Traps come back to the Liberty Hall stage! They continue to be one of the best examples of "Texas Rock & Roll"! This acclaimed group was formed right here in Tyler, Texas and they serve up a good helpin' of original material and Classic Rock favorites. For interviews, contact Ken Nardo (903) 714-2284.
Finally, on Thursday, May 10 at 7 p.m., we have the honor to hear the music of the grandchildren of Twitty Conway & Loretta Lynn in concert. Tayla Lynn and Tre Twitty are remarkable young talents that would make their famous grandparents proud!
To top it all off, we will host student movie nights every first Thursday of each month. Students get a $2 discount off their ticket price with a valid student I.D. Be sure to visit LibertyTyler.com for more information and tickets and "Like" Liberty Hall on Facebook for daily updates.
Liberty Hall is a department of the City of Tyler and is located on the historic Downtown Tyler Square. The mission of Liberty Hall is to create exciting art and entertainment experience that will integrate the arts into the downtown's social, economic and community fabric by providing diverse opportunities for entertainment, through film, theater, comedy, and music.