Where to Buy and Sell Stuff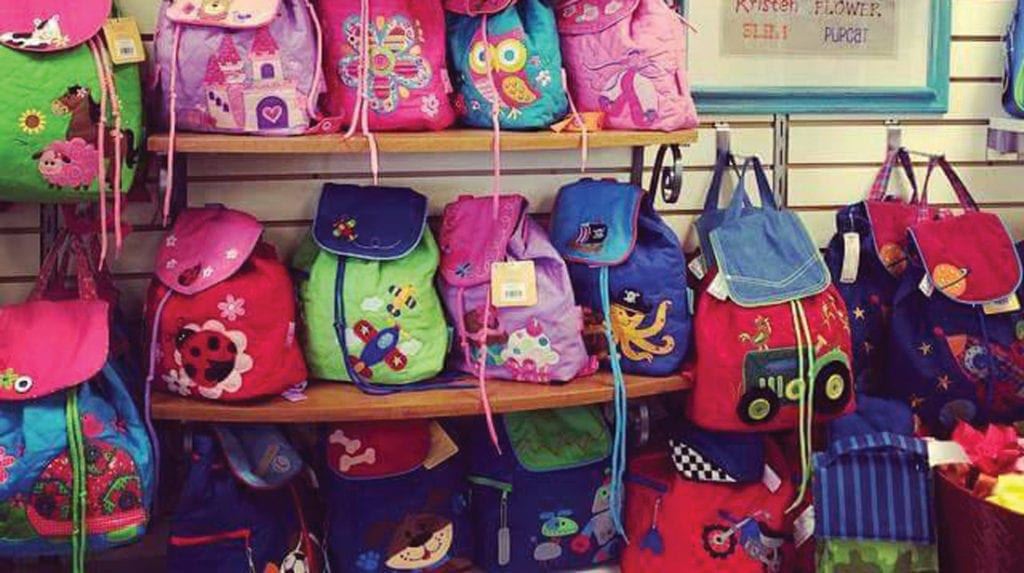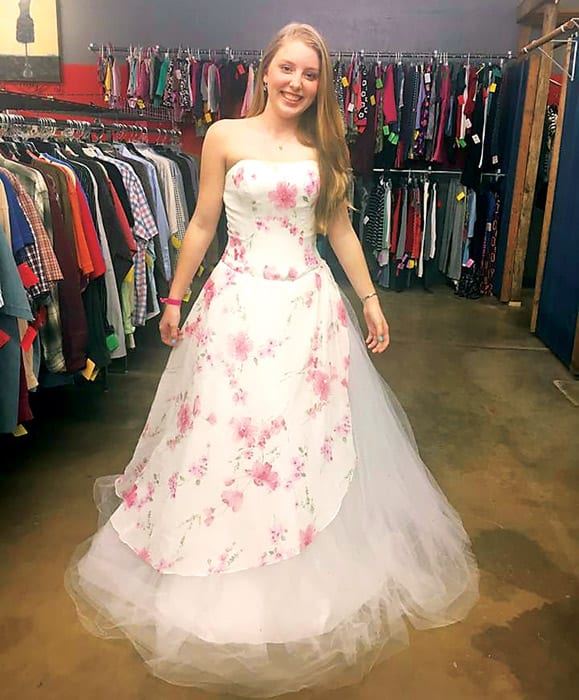 By Gini Rainey
There are a lot of bargains to be had out there in the shopping world, and a lot of them can be found in the consignment shops that are sprinkled around the Tyler area. By definition, a true consignment shop is a one that sells goods for an owner. The owner keeps ownership of his items until it sells, if it sells, and then is charged a small fee by the shop as compensation for handling that sale. However, a lot of the shops in the area, while labeling themselves as consignment shops, actually will purchase your used stuff so you can make room for more stuff. Tyler is fortunate enough to have both clothing and furnishings consignment stores. Here's a look at some of what's available so you can start making plans for your old and new stuff.
Lucky for you, there just happens to be three stores in the area of 9th St. and Broadway, so you won't have to drive far to catch some great bargains.
Mommy & Me, located at 101 E. 9th St., opened in 2007 with the concept that you can buy great brands without spending a lot of money. Operating out of a one-room storefront, Mommy and Me is very selective about what they buy so that what they sell is of excellent quality. Specializing in sizes infant through 12, they also have backpacks, furniture, and toys. For more info call (903)526-6130 or visit mommyandmeconsignment.com.
Right behind Mommy & Me is Flamingos, an upscale resale shop that generates revenue for the East Texas Crisis Center. While not necessarily a consignment shop by the true definition, Flamingos is a great place to pick up excellent bargains while supporting a good cause. Donations on hangers are accepted. For more info call (903)593-2553 or visit etcc.org/flamingos-upscale-resale.
Located on Broadway Ave., across the street from Mommy & Me and Flamingos, at 216 W. 9th St., My Sister's Room is a ladies consignment boutique that has been in the Azalea District for 19 years. Offering the newest fashion in clothes, jewelry, shoes, evening wear, and prom gowns, they have new merchandise arriving daily. For more info call (903)597-8500 or visit mysistersroomtyler.com.
Hand Me Ups Consignment, located at 2625 University Blvd., specializes in high-end clothing for the entire family. For more info call (903)630-6463 or visit facebook.com/handmeupsconsignment.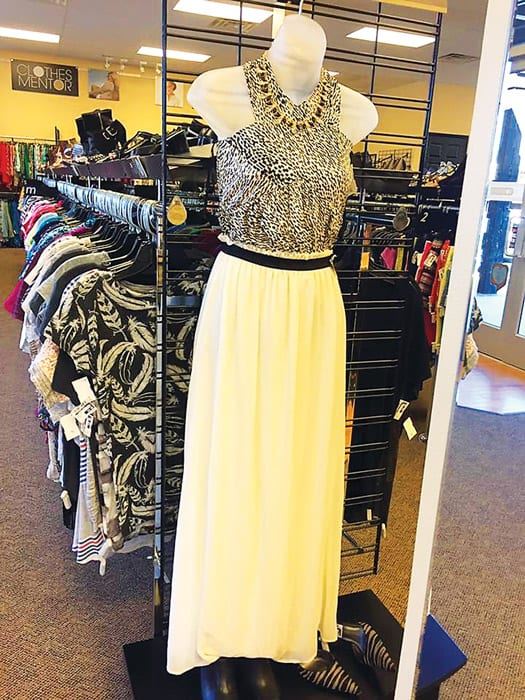 Plato's Closet, 322 ESE Loop 323, part of a national chain, specializes in trendy name brands for guys and gals. They will evaluate your gently used stuff and make you an offer. For more info call (903)534-2956 or go to platosclosettyler.com.
A Little Behind is a consignment store located at 4511 Troup Hwy. in the Highland Shopping Center. They specialize in gently used newborn to young children. In addition to clothing, they also have baby gear and much more. For more info call (903)592-5437 or go to facebook.com/A-Little-Behind-Consignment-Boutique.
Hangers of Hope, a consignment/thrift shop whose proceeds benefit Bethesda Health Clinic's missions, has recently moved into its new store located at 920 WSW Loop 323. Featuring clothing for all ages, all sizes (men, women and children), shoes for all ages, they also have accessories, furniture, linens, housewares, seasonal and holiday items, toys, jewelry, and more. For more info call (903)747-8474 or go to hangersofhope.com.
Clothes Mentor, a ladies resale shop for sizes 0-26, petite, and maternity, (no junior sizes) is located at 7006 Highlands Ln. (behind FRESH). Payment for items is immediate – no waiting for items to sell. Clothes Mentor specializes in gently-used items that are in style and good condition. For more info call (903)561-2525 or go to clothesmentor.com/tyler.
Designer Consignment, located at 4703 Troup Hwy., is an upscale ladies boutique along with furniture and home décor. Open for 5 years, they offer layaway and financing and also handle estate sales. For more info call (903)939-1888 or go to facebook.com/Designer-Consignment-of-Tyler.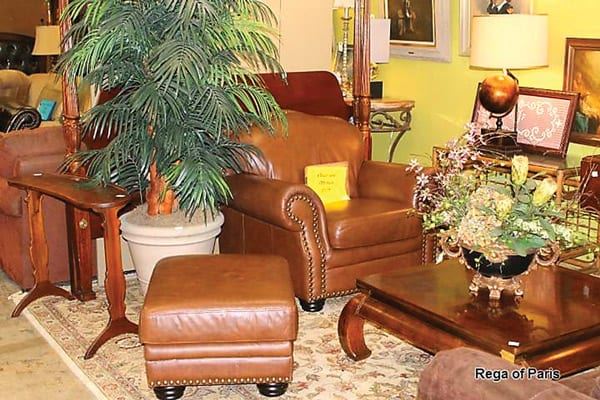 If you're looking to consign furniture or purchase quality furniture way below market price, then you need to stop in Tyler Consignment Warehouse at 4500 DC Dr. With more than 9,000 square feet of space, Tyler Consignment is a treasure trove of home furnishings, decorative accessories, and collectibles. For more info call (903)509-3395 or go to tylerconsignmentwarehouse.com.
Rega of Paris, located at 6722 S. Broadway, is an upscale consignment shop that specializes in furniture and antiques. With high-end merchandise, professional assistance, and an inventory that changes all the time, Rega of Paris started out in Jacksonville in 2003 and moved to Tyler in 2006. For more info call (903)561-1705 or go to regaofparis.com.
And remember, when you leave your house and are out selling your stuff or buying new stuff, in the immortal words of George Carlin, "A house is just a place to keep your stuff while you go out and get more stuff." So do Carlin proud; support your local consignment shops by going out and getting some more stuff!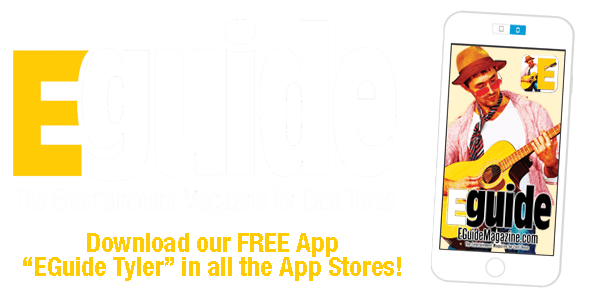 Rose City Farmers Market Downtown This Weekend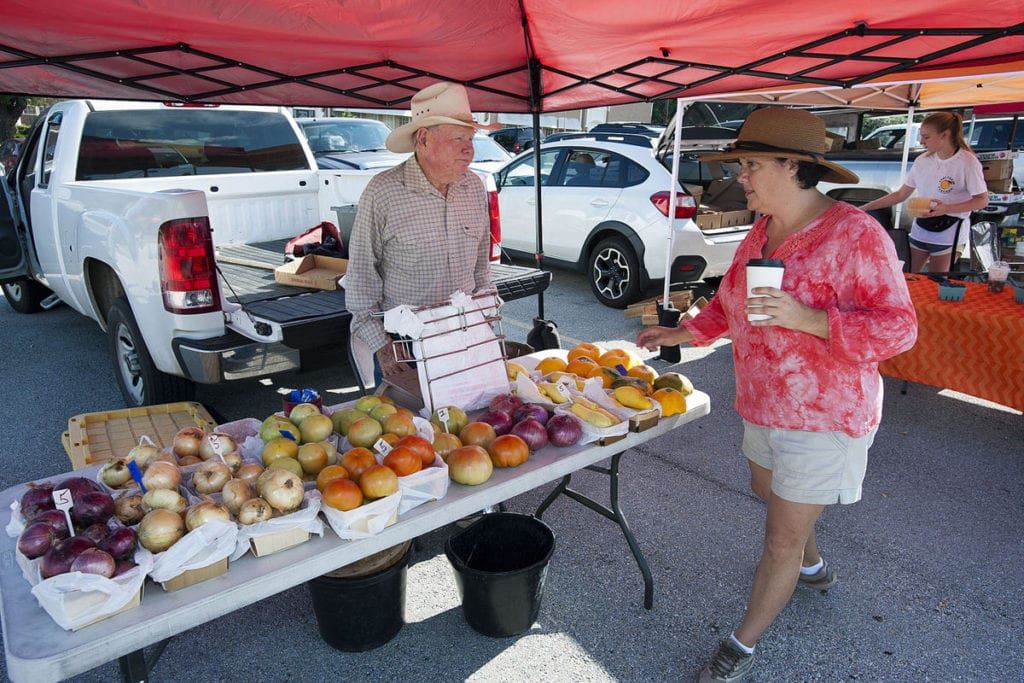 By Barbara Greenbauer
Everything is blooming, growing, and flourishing in East Texas and it's time to head back to the market!
Your Saturday mornings can be stupendous with by stopping downtown at the new Rose City Farmers Market location. Opening April 7th and running through the first weekend in November, the market is a neat, unique experience for the whole family.
Located just a block from the Square – in the Unclaimed Furniture parking lot in Tyler (236 S. Broadway),  the market is the place to be bright and early Saturday mornings from 8am-12 noon. Your senses will go wild with the atmosphere of the Rose City Farmers Market.
As part of the Food and Farm Coalition, their goal is to work toward a sustainable food system that meets the needs of both producers and consumers.
The market brings all that's fresh straight to you: fruits, vegetables, and herbs all grown within 75 miles of Tyler. That includes pasture-raised beef, lamb, pork, chicken, and turkey, free-range/non GMO eggs, and goat cheeses.
Jessica Bullock, Director of the Farmers Market, says "We are excited about the opportunity to connect people with locally grown food in a great community gathering place Downtown."
The move to downtown makes the market "easily accessible to everyone, which is extremely important to our mission," explained Jessica. All items sold at market are 100% produced or grown by the vendors. "Everything you'll see at the market has been grown, baked, or made by the vendors themselves, which may be a surprise to some," said Jessica.
Eating seasonally is what the market is all about, and when you eat food grown locally, it's is always harvested at the peak of its season. Local food is also not stored in shipping containers, so it doesn't spoil or lose health benefits on its way.
Buying food at its peak season also benefits our local farmers because it costs less for producers to harvest and transport and those savings get passed down to you…it's a huge win/win for everybody!
With the Market opening in April 7th and running through November 17th, every week will be a brand new adventure as the seasons change and different produce are featured. In April, a trip to the market will fill your senses with treasures from East Texas fields like arugula, carrots, kohlrabi, radishes, beets, turnips, strawberries, new potatoes, mustard greens, kale, lettuce, cilantro, onions, swiss chard and parsley.
The market is all about community, so you'll find something for everyone from fresh bread to flowers, coffee, jams and jellies, and baked goods. Vendors also showcase Texas olive oil, handcrafted art, and Texas fruit wines.
And that's not all you'll get to see at the Market. Local musicians will be showcased every Saturday, plus a new exciting addition of rotating food trucks. "We are proud to serve as a venue to some of Tyler's most talented musicians," said Jessica. Bring a lawn chair and enjoy the perfect blend of food and music and great weather.
Vendors or members must meet certain goals including being located within 75 miles of the market, providing safe and fair working conditions for all farm workers, organic or natural methods, humanely raised animal products, beef and other grass-eating animals are grass fed, and dairy is rGHB-free. Find out more about becoming a member/vendor at foodcoalition.org.
The market depends on volunteers to set up and break down, help with displays, banners, and lots of behind the scenes work. What a great way to give back to the community! People interested in helping can contact rosecityfarmersmarket@gmail.com.
"We are thrilled to be part of the Downtown scene and to be able to partner with the great small businesses that are part of this growing culture," said Jessica. "The new location is a perfect fit for the Market and the thriving downtown community." "We would like to thank Bill & Cecilia Bush of Unclaimed Furniture for the space and the support."
Bring the family and spend Saturday mornings at the Rose City Farmers Market, located at 302 S. Broadway in Downtown Tyler.
Visit them on Facebook at rosecityfamersmarket.com and foodcoalition.org.
Book Worm Events this Month: April 24th: Club Read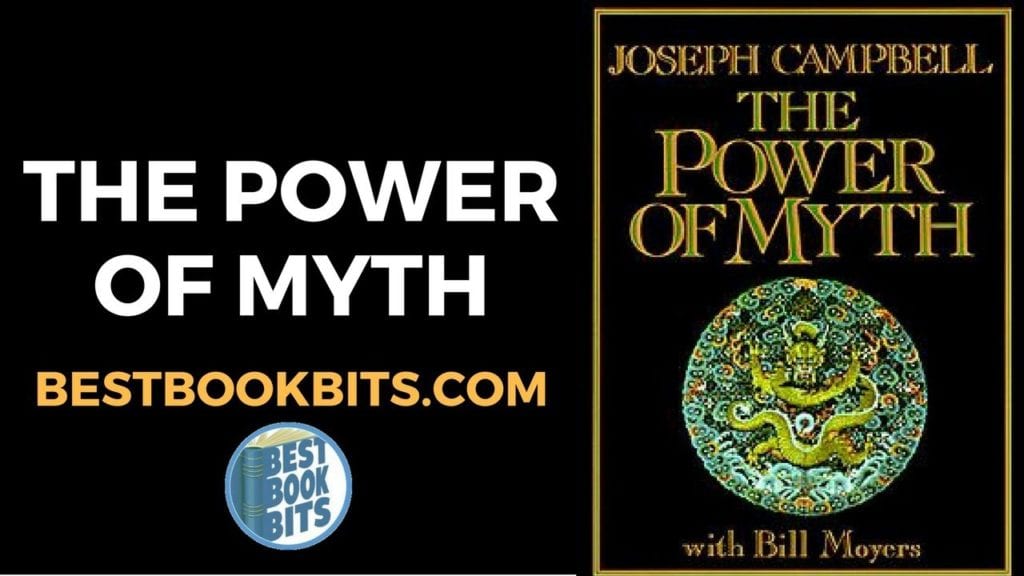 April 5th-7th (8am-6pm) – Book Fair – This year's event focuses on the sale of donated books which will go to endowed scholarships for nursing and healthcare at TJC and UT-T and for community health projects. Thousands of books will be available for purchase. This is held at SCMSA, 2004 Broussard St., Tyler.
April 14th (11am-12:30pm) – "MOM LIFE: Perfection Pending" Book Launch & Signing – Along with selling and signing copies of her new book during her stop at Tyler, Ethington will be discussing various parenting topics and opening up for a Q&A. This will be held at the Tyler Public Library, located at 201 S. College Ave., Tyler. For more info call (903)593-7323 or go to tylerlibrary.com.
April 24th (10am) – Club Read – Join the Club Read group in discussing this month's read, "Power of Myth" by Joseph Campbell. The Tyler Public Library is located at 201 S. College Ave., Tyler. Most events hosted by Club Reads are free. The Library is open Monday-Thursday 10am-7pm, Friday 10am-6pm, Saturday 10am-5pm, and Sunday 1-5pm. For more info call (903)593-7323 or go to tylerlibrary.com.
May 2nd (6pm) – Barnes & Noble Book Club featuring "The Female Persuasion" by Meg Wolitzer – Join in B&N's inaugural book club night, featuring "The Female Persuasion" by Meg Wolitzer. Attendees will receive an exclusive bookmark, and one signed copy of this book will be given away per store.
August 4th (1-5pm) – Book Bash will be held at Harvey Hall Convention Center, 2000 W. Front St., Tyler. They are doubling the authors for 2018's Book Bash – 80 Authors are attending! Tickets will be on sale until the day of the event. Come on out and find a new favorite author as well as meet the authors behind the stories. For more info go to facebook.com/events/1715126465459268. Tickets are $12.
Moss: "Where Flowers are Fair"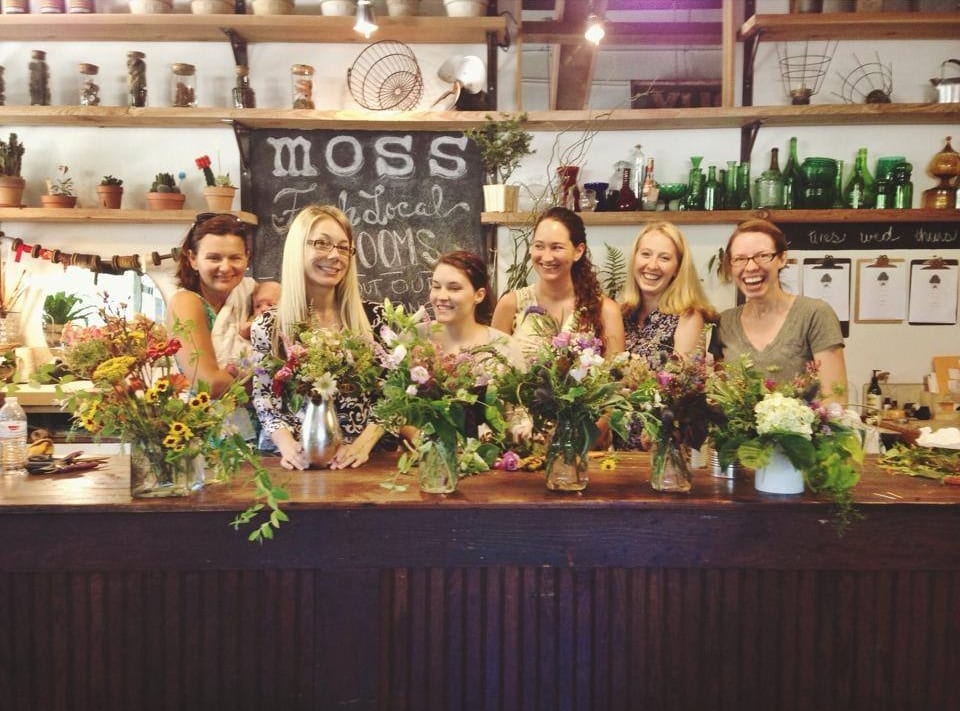 Moss-"Where Flowers are Fair."
By Barbara Greenbauer
Imagine a business that creates floral works of art, that combines the heart and thoughtful mission of fair trade flowers.
In the heart of Tyler, two women are creating unique and earthy arrangements that are works of art within themselves. The mother-daughter team of Paige McGuffey and Meagan Lissner are owners who work in tandem, relying on each other's strengths to provide East Texas with a new kind of florist.
Recently expanding from a 1,300 square foot space to their new current location – encompassing 4,000 square feet, located on Broadway Downtown – Meagan says, "We now have the space to really showcase all we can do and offer more classes and hands-on plant experiences." The shop is indeed a family-run business. Front and center is Meagan's great-great grandfather's countertop from his grocery business, where the magic is created. "The front counter is almost like our own bar," explained Meagan. The client can place an order, talk and watch and give input while we mix up our elements into a bright and beautiful concoction."
There are lots of philosophies and visions woven into this flower business. When asked about the distinctive name, "Moss: Where Flowers are Fair," Meagan responded "I just adore everything about the moss plant itself; it is so lush and gorgeous. But over and above that, the literal meaning for the word 'moss' is charity and is also the symbol for maternal love."
Owning and operating a small business involves not only hard work and long hours, but for Moss, everyone is involved. From Meagan's grandmother, to her husband and three kids (aged 5, 7, and 9), the whole gang is involved in this one-of-a-kind business. "You really have to be passionate and love people," said Meagan. "It is worth all the time and investment to be able to do what we love. It can be a balancing act, but we all pitch in and make it work."
Most folks won't be familiar with the term fair trade flowers, but it is at the heart and soul of everything they do. 80% of the world's flowers sold in the U.S. are grown in Latin America, South America, and Africa where female workers are often exploited to keep costs low, leading to severe abuse and mistreatment.
Fair trade creates a sustainable business model that guarantees social justice for the workers, and certified fair trade flower farms ensure the safety and good conditions for workers, which are typically vulnerable young women."It can be difficult to find sources and farms that are certified, but we do our research, and our mission is to support something greater than ourselves," explained Meagan. "We want to educate others to the plight of the workers and how we can make a difference."
The arrangements that are created and designed at Moss are unique and no two are ever the same. The team hunts for seasonal and unusual flowers to create masterpieces that will hav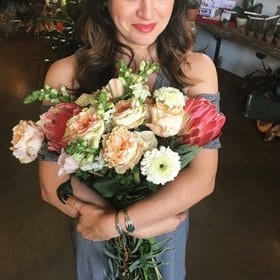 e everyone in awe. "We want to create a piece that reflects you and in that way is totally unique in itself," Meagan explained.
Client Amy Harbottle Carter said,"Their creative, organic, and vintage vibe is my favorite. Not only does Moss have gorgeous fair-trade florals, I can't get enough of the shop's collection of house plants, décor, gifts, and locally-made products. It's reassuring as a consumer to know that shopping there is also an investment in an ethical and meaningful mission."
You can play a huge part in the process at Moss. Come in with your dream and they can help make it happen. Bring in your favorite vase, pot, or container, and they can help you create a beautiful floral takeaway for your home, right then and there. Moss is known for their unique gift boxes, filled with coffee, treats, and succulents that will wow the lucky recipient.
Moss will work with you with blooms for your big wedding day, baby shower, corporate event, anniversary, or just a special gift to say thank you. Moss also has classes on all kinds of hands-on projects listed on their website at welovemoss.com. Grab a friend and come play with flowers!
Wandering through the shop is a feast for the eyes, with everything from fig trees, cacti, succulents and local pottery to geodes for terrariums and air plants.
Moss delivers locally, and gathers, forages, and hunts for local seasonal flowers that will really make your arrangements spectacular. They are truly excited about new ideas and visions, and will work with you through a consultation to pin down styles and colors, incorporating your favorite florals as well.
Frequent client, Traci Dixon sums up Moss,"I love the people and the heart behind this wonderful business. They are fabulously talented in handcrafting the perfect floral and greenery pieces with depth and character for everyone that walks through the door."
They truly do design arrangements the way nature intended them to be. When you choose to shop at Moss, you will always get a thoughtful creation that is anything but typical.
For more information, call (903)787-8822 or go to their website at welovemoss.com. You can also find them on find them on Facebook at mosswhereflowersarefair.
"Moss: Where Flowers are Fair," is located at 237 S. Broadway in Tyler. They are open Monday-Friday 10am-5:30pm, Saturday 10am-3pm, and closed Sundays.