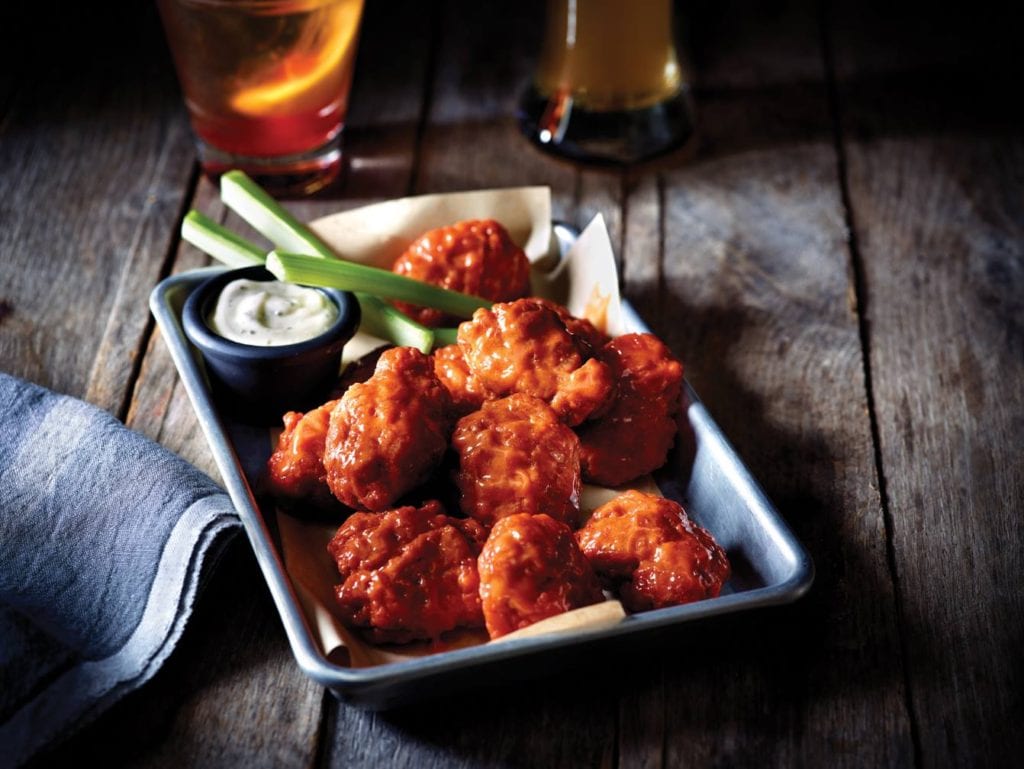 By Gini Rainey
I recently met up with a group of great friends for drinks at Applebee's, but who can just drink when there is also a terrific appetizer menu staring you in the face?  And, how can I pick just one for Dish of the Week, when their appetizer menu is loaded up with some really great items that are filled with flavor and also priced right?  So, allow me to let you in on a couple two or three great taste treats that are waiting for you at your neighborhood Applebee's. (And, no, I don't get paid by Applebee's to say all of this!)
For starters, we shared a plate of their Brew Pub Pretzels & Cheese Dip.  The cheese dip is a house specialty and is made with white cheddar and beer and it disappeared faster than ice on a hot griddle!  Of course, the pretzels just screamed "more," so my husband ordered up another plate of them for our end of the table.  Down at the other end of the table, I spied an order of the sweet potato fries that had just the right amount of crisp on them, and they disappeared pretty darn fast themselves!
For the next go-round, the couple across the table from us ordered a plate of the Double Crunch Wings.  These were amazing and didn't last very long, either.  Served up with ranch and celery, these babies rated high on the yummy scale!  Additionally, word had it from the other end of the table that the Cheeseburger Eggrolls with Applebee's signature dipping sauce are also pretty darn amazing.  Throw in dollar Margaritas or half price beers and you have all the makings for a great evening with friends.
FYI, Applebee's has been rated as having the most popular happy hours in the country!  Not only are there two happy hours a day, but with the great prices on select drinks and appetizers, there's no reason for you to leave the place unhappy, thirsty, or hungry!  Open from 11am-2am daily, the Tyler Applebee's, located at 5502 S. Broadway, is a great place to meet friends after work for an evening of good food, drinks, and conversations!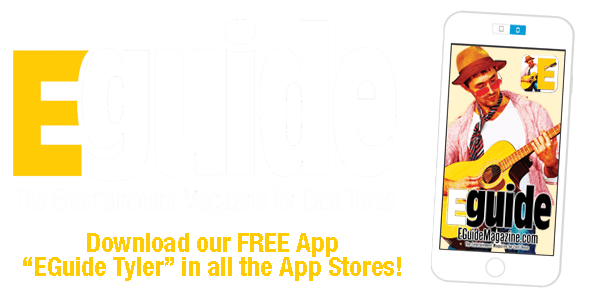 By Gini Rainey
When my mother passed away on July 4th, 1977, I hadn't been exposed to very many funerals here in the South, and I really don't remember that I had attended that many before we moved to Texas, so I wasn't sure what type of etiquette was called for.  I do know that we were inundated with food the day that she died, the bulk of which was bowl after bowl after bowl of butter beans.  If I'm not mistaken, we were presented with at least five bowls worth – big bowls – maybe you could even say very large bowls.  I know it was partly the lack of sleep and the grief process, but my sister and I started taking bets on what type of food was being delivered when the doorbell rang.  Of course, as the day progressed we knew for sure the next dish of funeral food would be butter beans and most of the time we were correct. To make matters worse, we all left the next day to fly to Minnesota for mom's burial, leaving a refrigerator literally packed full of butter beans.  When we returned 5 days later, you can rest assured that our disposal got quite a workout.
So today I would like to share with you THE definitive book about funerals.  I wish I had read this book prior to 1977!  Apparently butter beans, along with tomato aspic, are two of the primary foods necessary for a Delta funeral.  After reading this book, I'm pretty sure some of us have been doing it all wrong, and "Being Dead Is No Excuse: The Official Southern Ladies Guide to Hosting the Perfect Funeral," written by Gayden Metcalfe and Charlotte Hays, can help us overcome that hurdle so we can all become the perfect food-providers when the time comes.  Printed by Miramax Books in 2005, this book is just one of the many guides that Metcalfe and Hays have written to help everyone (or at least those who really care) put on their best Delta (Mississippi) Etiquette to safely (and correctly) be part of just about any
social situation imaginable from weddings and baby showers, all the way to funerals.
Although most of their wisdom is gleaned from their tri-state region of LA-ARK-Miss, I would imagine you could manage anywhere if you use their book for your own funeral food etiquette.  They also, so very charmingly, have included lots of recipes that are interspersed throughout their tongue-in-check chapters that are cleverly named Dying Tastefully in the Mississippi Delta; The Methodist Ladies vs. the Episcopal Ladies; Who Died? Stuffed Eggs, Etiquette, and Delta Pâté; I Was So Embarrassed I Liketa Died; Suitably Boxed: Meringue Shells, Pecan Tassies…and You, just to name a few.
I love how Metcalfe and Hays have taken a serious subject like death/funerals and put a nice, fresh twist on facing the final curtain.  They even managed to sneak in several references to death like "to die for" and "dying to get in," so you might find yourself dying of laughter reading this book.  Just in case you might want to use some of the recipes, don't worry, you won't need to wait for someone to pass on to glory for you to try them out.
When it comes to pimiento cheese, I'm pretty sure that you will find a divided audience.  People seem to either love it or hate it.  I get a craving for it about once a year, so I'm surprised to find that these ladies, who refer to it as Southern Pâté, included six variations of it in their book.  The recipe that stands out for me is called Beer-Cheese Pimiento.  To make it, using a food processor, blend together 8 ounces grated extra sharp cheese, 8 ounces grated red rind cheese or mild American cheese, 2 cloves of fresh garlic, 1 ½ tablespoon Worcestershire sauce, ½ tablespoon salt, ½ tablespoon dry mustard, ½ cup beer – not "lite," several splashes of Tabasco, 1 small jar (2 ounces) diced pimientos, and mayonnaise to taste.  After blending, add ¼ cup pistachio nuts – or more to taste – and finish blending.  This will make about one quart of PC – more than enough for lots of sandwiches or to eat with chips.  Wondering what to do with the rest of that beer?  Well, drink it of course and enjoy!
Foodie Events: June 14th – Rosé All Day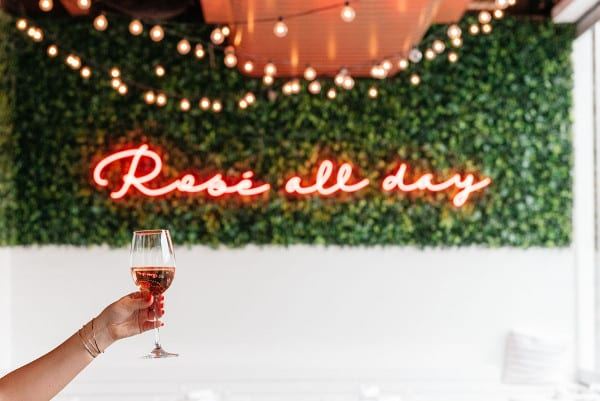 Foodie Events
Every Saturday (8am-12 noon) – The Rose City Farmers Market is open at its new location at 236 S. Broadway Ave., just a half block north of Front St. in the parking lot of Bill's Unclaimed Furniture. The market is open from April to November. This is across from "Moss, Where Flowers are Fair" and ETX Brewing Co. There is free parking in the Fair Plaza Parking Garage across the street. The Rose City Farmers Market is a family- and dog-friendly community gathering place, providing locally-grown produce, herbs, wood oven breads, pastries and granola, jams, pickles, locally roasted coffee, cheese, artists and artisans, live music, and sometimes even yoga. They are open every Saturday, April through November, 8am-12 noon. For more info on the market or to apply to be a vendor, contact (903)539-2875,

info@foodcoalition.org
, or
foodcoalition.org
.
Tyler Farmers Market is located in the parking lot of the Broadway Square Mall located at 4601 S. Broadway Ave., Tyler. The Tyler Farmers Market is open Tuesdays, Thursdays, and Saturdays 7am-2pm. They feature seasonal items under a big white tent.
June 12th (5-9pm) – Cause an Effect –
Dine Out – Make dinner a selfless act and dine at Chipotle, 4751 S. Broadway, Tyler. Mention Bethesda to have 50% of your purchase donating back to the clinic. Donations support programs of providing medical and dental care to the working uninsured or underinsured. For more info go to facebook.com/events/785259894992898.
June 14th (7:15-9:15pm) – Rosé All Day: A Wine Tasting –
Come to Cork, 109 E. Grande Blvd., Tyler for this pairing night featuring Rosé wines and exquisite food. Cost is $55. RSVP to Cork.
June 17th (3-10pm) – Fathers Day Shrimp Boil
will be held at The Grove, 3500 Old Jacksonville Hwy., Tyler. Celebrate Dad with boiled shrimp and all the sides (sausage, corn, potatoes, onions, and bread) plus live music outside on the lawn. Tickets are $20-$25 and available on Facebook at @TheGroveTyler.
June 20th (7-10pm) – Vintner's Dinner: Mediterranean
– This Mediterranean inspired meal will be sure to transport you to another world. Come join in for this wonderful Summer night of food and wine. July 25th (7-10pm), the Vintner's Dinner: A Taste of Alaska will be held. This dinner is full of classic Alaska flavors and paired with our exclusive and adventurous wines. These will be held at Kiepersol, 21508 Merlot Ln., Bullard. RSVP by calling (903)894-3300 or go to
kiepersol.com
, Other Vintner's Dinners will be September 26th, South of the Border; and November 28th, Fall Harvest.
News
Pazzeria By Pietro's is coming to Downtown Tyler at the 118 W. Erwin St. This will be a hand-thrown pizzeria which will sell pasta and other classic Italian fare. There are several locations in this small chain that is based out of Marshall, Texas. A sister restaurant, Pietro's in Longview. Rosaria Filippazzo, along with her husband, Rose Filippazzo co-founded Pietro's Pizza in the Longview Mall. Her devoted attention to detail and ability to know "what the customer wants" shows in her dedication to her family's success.
Eat It – It's Good for You!

By Gini Rainey
Now that we are a week down the road from Mother's Day, I would imagine things around your  house – and kitchen – have pretty much returned to normal.  We're past breakfast in bed for mom or a meal at her favorite restaurant, and if your kids are anything like my kids were, you're starting to hear "I don't like that" or "why don't we ever have what I like to eat" at meal time.  As a young mom on a limited budget, keeping a family of four food-happy seemed to be a daily struggle – trying to please everyone – that I nearly threw my hands up in the air and said, "Let them eat cake!"
However, being the ever-resourceful person that I was, I came up with a plan.  I sat the four of us down, gave everyone five pieces of paper and asked them to write down their favorite meals.  When they were done, I put all the papers into a bowl and with my calendar in front of me, we drew them out one at a time and entered them in the Monday thru Friday boxes for a month.  Then, I patiently explained to the girls that this was how it was going to be – Mom's Cafeteria Calendar would rule our daily menus, and if one of us didn't like what was going to be served, just be patient, because 'something you will like' would come along soon.
I will admit that one of my favorite meals to prepare is spaghetti, and I will also admit that I generally would make it on Wednesdays, which were a nightmare for the Taxi Mom.  This was a meal I could prepare ahead of time and have dinner on the table in the least 
amount time.  In later years, the girls told me they always knew what we were having for dinner after dance lessons, because we ALWAYS had spaghetti on Wednesdays.
Well, all of this is to say that Dom DeLuise put together a great cookbook filled with his Mama's recipes, as well as some from his friends and celebrities. DeLuise, the quintessential Italian wrote, "Eat This…It'll Make You Feel Better!" It was published in 1988 by Pocket Books and is filled with some really terrific recipes and photographs of, not only Dom and his family, but also the likes of Ronald Reagan, Ricardo Montalbon, Anne Bancroft, and Burt Reynolds. There are also lots of tales about Dom and his friends that are written in such a great way it's like you can almost hear him talking off the page.
While we often think of Italian cooking as being hearty and loaded with calories, nothing could be farther from the truth with this cookbook.  The majority of this book leans towards a healthier cooking/eating style and reflects Dom's attitude about natural flavors, i.e. "Salt may be good for melting ice in your driveway, but let's face it, it is not very good for you."
Well, here's a dish that sounds really yummy and is good for you, too.  Broccoli with Rigatoni by itself sounds great, but can also be augmented with chicken and mushrooms for a heartier version.  In a large skillet, heat 8 tablespoons of olive oil and 2 tablespoons of butter and gently brown 4 minced garlic cloves.  Add a bunch of broccoli that has been separated into florets (reserve the stems for another use) and stir gently until the pan gets very hot.  Add 1 cup of chicken broth, cover, and simmer just until the broccoli is al dente.  Meanwhile, cook one pound of rigatoni until al dente and then add to the skillet, along with ½ cup coarsely chopped fresh basil.  Mix thoroughly and put on a hot serving dish and sprinkle with another ½ cup fresh basil, pepper, fresh, chopped parsley, and grated romano or parmeson cheese. Serve with crusty bread and a tossed green salad.
Mangia!