By Gini Rainey
"The Slave Across the Street "
By Theresa Flores
This is a must-read book for anyone who still believes human trafficking and slavery is something that is experienced only in third world countries.  In this poignant and heartbreaking story, the author tells of her own experience as a not so typical 15 year old in Detroit, Michigan.  The daughter of an upper middle class family, who was on the cusp of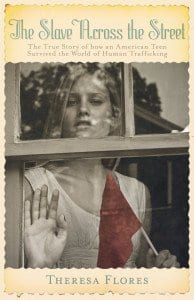 adulthood, Theresa found herself drawn into an impossible situation.  Her story, although very difficult to believe, is undeniably true and painful, and Theresa now spends her energy  bringing light to this unspeakable crime against our innocents.
When Theresa was not quite sixteen years old and was trying to fit in at a new school, she found herself attracted to a handsome, exotic young man from another culture.  Unwittingly, she was tricked into submitting herself to unspeakable horrors in order to protect her family from embarrassment and physical danger. For two years, she was raped, beaten and abused, drugged and sleep-deprived–all along trying to carry on the "normal" life of a teenaged schoolgirl in a well-to-do neighborhood.
As difficult as it is to believe that this sort of thing could be happening right under our noses without us realizing it, tragically it does.  So many of us are so busy being busy, we don't take the time to keep a watchful eye out for those who need it most.  Fortunately for Flores, she found her own way to escape from this slavery and managed to survive her ordeal without a pregnancy, VD, addiction, or death that typically occurs among similar victims.  It wasn't until much later that she was able to come to grips with her past and became determined to tell her story, in hopes that others would not suffer a similar fate.
Theresa, now a social worker, provides a cautionary story for young girls who might fall into a similar trap and think there's no way out. Her expertise as a social worker lends even more credibility to her addendum at the end of the book that gives parents and youth workers an idea of when something like this might be going on and how to help.  And, because this book is geared more towards the adult audience, it also provides  a cautionary reminder for the parents of young girls who are more involved in their careers and activities than in the lives of their children.
Copyright 2010 – Ampelon Publishing
4 out of 5
"Great Kitchens of the Midwest: A Novel"
By J. Ryan Stradal
This first book for Stradal, who was born and raised in Minnesota, is a New York Times Best Seller and also a winner of the 2014 Best Novel award in the William Faulkner-William Wisdom Creative Writing Competition.  Being from the Midwest, I probably was drawn to this book because of the quirkiness of the title, but the characters and their even quirkier lives kept me reading to the end.  The main character of the book is a woman named Eva, the daughter of Lars
Thorvald and his wife, Cynthia.  When Eva is first introduced, she is just a baby and lives with her parents in Minnesota. Although her father, Lars, had no special training and came from a working class family, he had a special gift; he can discern various tastes and flavors from foods and loves to cook. Lars adores his daughter, but his wife Cynthia realizes too late that she doesn't want to be a mother and would rather be a sommelier. The chapter ends and important decisions have been made about young Eva's life and care.
This book is about food, family, and maturing into the life you were born to live, sometimes without really knowing why.  It was possibly inevitable that the daughter of an up-and-coming Minneapolis chef and a sommelier-in-training would grow up to have a refined palate and a passion for good food and wine, but Eva Thorvald largely had to come to this place without the direct aid of her parents.
The title of the book alludes to the places Eva lives and works: primarily Minnesota, Wisconsin and Iowa. Each chapter of this book focuses on a particular food and its importance in Eva's life, which unfolds from infancy to her mid-thirties. While she is never encouraged by her surrogate parents to pursue a culinary career, Eva naturally gravitates to this world and eventually becomes a well-known, world-class chef. The book culminates by drawing together many of the significant people in her life to serve a meal that incorporates all the foods from the previous chapters. In Eva's words it is "her greatest dinner of all time" and it tells "her life story through the ingredients in this meal."
Foodies will enjoy the backdrop of Eva's life story, and I believe everyone will be drawn into the subtle wit woven throughout the story as the diverse characters wander in and out of Eva's life. Or is it the Eva wanders in and out of their lives? While not all the characters are likable, they are all engaging and make significant contributions through their attributes and/or foibles.
Copyright 2015 – Pamela Dorman Books
4 out of 5
"Loss: A Novella"
By Glenn R. Krisch
If you are interested in a good, quick read, you might want to try this one.  Krisch explores the loss of Angie's husband due to a car accident.  There is an apparent honesty about in how Krisch portrays Angie's character during her time of suffering following the accident.  Instead of being a romantic, swooning with loss, but courageous and plucky to the end, Angie is seen as a decidedly messier and more plausible heroine.  By the end of the novella, you won't even be certain if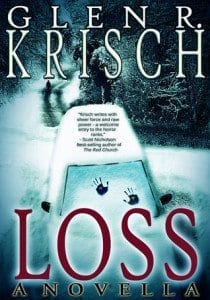 Angie reaches any stage of a real recovery.
If there weren't already some small details towards the start of the novella that gave the story an air of mystery, you might be lured into a sense that the widow's suffering was the only purpose of the book.  Even then, that wouldn't have been a bad thing because of Krisch's ability to build characters that are both believable and likeable.  However, without having to issue a spoiler alert, the back stories that are told help to make sense of the characters and the actions that are involved.
I think an author like Krisch is able to write about the darkness that surrounds sorrow and grief because he understands reality and is not afraid to write about it. He keeps his readers on a non-sugar diet that could be considered to be our health in the long run. Even when writing fiction, he abstains from wish fulfilment and gives his readers characters who sometimes find redemption and sometimes don't, who sometimes find justice and sometimes don't and who are never one dimensional. "Loss" is a solid novella that completes its own story at just the right pace allowing us a ringside seat to someone's suffering and loss while intriguing us with a mystery finally revealed.
Copyright 2012 – Stray King Publishing
4 out of 5