By Gini Rainey
"Call Me Anna: The Autobiography of Patty Duke"
By Patty Duke
It seems like Patty Duke has always been a part of nearly every American's life for a long time. She was that certain kind of celebrity who transcends the norm of celebrity. So when she died unexpectedly last month, I did something that I have been meaning to do for years – I purchased her autobiography and immersed myself into it. Not only did I surround myself with her verbiage, but I also found myself looking up a lot of things on YouTube and Google that she made reference to in her book. I have embraced her persona and now have an even greater respect for the youngest person to win an Oscar prior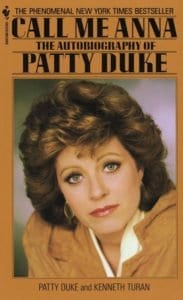 to Tatum O'Neal.
Duke openly and honestly retells the story of her life, the good, the bad and the ugly. From her early work in commercials, to the exhilaration of live performances on stage, to the mind bending work of television and movies, to the non-sugar-coated realities of her bipolar disorder, Patty tells it in such a frank and absorbing way that it's difficult to put this book down.
Patty's story will take you on an exceptional journey from a fractured home to old Hollywood cocktail parties, and though her talent and versatility shines through all of her writing, it's her style and sensitivity to her own realities and those of the people she knew both personally and professionally that will make this book memorable for you.
From the trials and tribulations of her depression-crippled mother and alcoholic father to her experiences as a starry-eyed ward of her fame and money-hungry agents to her tales of catharsis and transcendence from bipolar disorder, she goes from one extreme to the other in the space of a few pages taking you right along for the ride.
From the inside cover of the book "Call Me Anna is an American success story that grew out of a bizarre and desperate struggle for survival. A harrowing, ultimately triumphant story told by Patty Duke herself–wife, mother, political activist, President of the Screen Actors Guild, and at last, a happy, fulfilled woman whose miracle is her own life."
Patty's story is one that is at once heartbreaking and startlingly hopeful. Whether you choose to read this book to find out more about the making of the star or the disorder that brought that star to her knees many times, this is definitely a book well worth picking up.
5 of 5
Copyright 1988 – Bantam
"The Girl With No Past"
By Kathryn Croft
Touted as being a novel along the lines of "Gone Girl" and "The Girl On the Train," this psychological thriller holds up its end as being an intriguing and suspenseful read. Croft's writing is very clear and effective while still being dark and tense and all of the things that you would expect from this genre of literature. From the very beginning of the book you are able to draw the conclusion that the main character, Leah Mills, is hiding something very dark and sinister. While being a very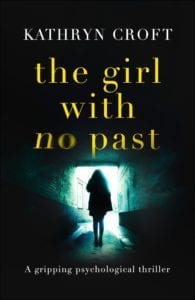 well developed character, Leah is extremely flawed, but comes across as authentic.
Masterfully woven together into a good story, the plot line jumps back and forth between Leah's high school days and her present day life as a librarian. Throughout the story, the reader is made acutely aware that Leah has had something horrific happen to her in the past that she is trying to keep from affecting her current life. Although we don't know much about her past, slowly and surely, as the book progresses, little glimpses of it are revealed every few chapters. Of course, like any other well-written thriller, just when you think you have it all figured out, the plot takes a new twist and shoots off into an entirely different direction.
Although it was a bit difficult for me to get involved in this book, once I reached a mid-way point, I was hooked and found it hard to put down. Even though I did eventually reach this point, in retrospect, I think the storyline's potential was never realized. There was a lack of a definitive nature in Leah that took away from what should have been emotional and gripping moments in the story. With an ending that could give the reader whiplash, it's a shame that the whole book didn't share the same impact that came on the last page.
3 of 5
Copyright 2015 – Bookouture
"Me Talk Pretty One Day"
David Sedaris
The third collection of essays by Sedaris, this collection has so many things going for it. Although I read it a few years ago, my love of David's satirical view of all things living has not diminished one iota. This man can crack a joke that bends you to its will and forces you to laugh. Although not framed as a narrative of his young childhood through to adulthood, "Me
Talk Pretty One Day" is packaged as a coherent narrative of Sedaris' experiences that come across more catty than observational.
In this book, Sedaris again proves that he is perhaps one of the funniest writers in America. It seems like the most consistently hilarious stories are the ones dealing with the odd idiosyncrasies of his father, however the funniest story by far in this book had to be "You Can't Kill the Rooster," about Sedaris' foul-mouthed, white trash younger brother. While some of the stories are more hysterical than others, overall this book is really refreshing. Sedaris is dark and critical of almost everything, including himself, but his gift of looking at completely ordinary things and describing it in a way that is hilarious is exceptional and unique.
In what might be the most unusual autobiography ever, Sedaris has seamlessly melded his trademark brand of humor with the often bitter truth of reality, and in turn, presents the reader with something almost magical. His rare brand of humor would seem to be able to transcend the boundaries of what we have come to know humor writing as in the 20th century and has become a new, unique style. Whereas observational humor is typically funny due to its normalcy, Sedaris makes his absurd and bizarre life a disturbingly funny reality.
5 of 5
Copyright 2001 – Back Bay Books