"And Then There Were None" on Stage at Tyler Civic Theatre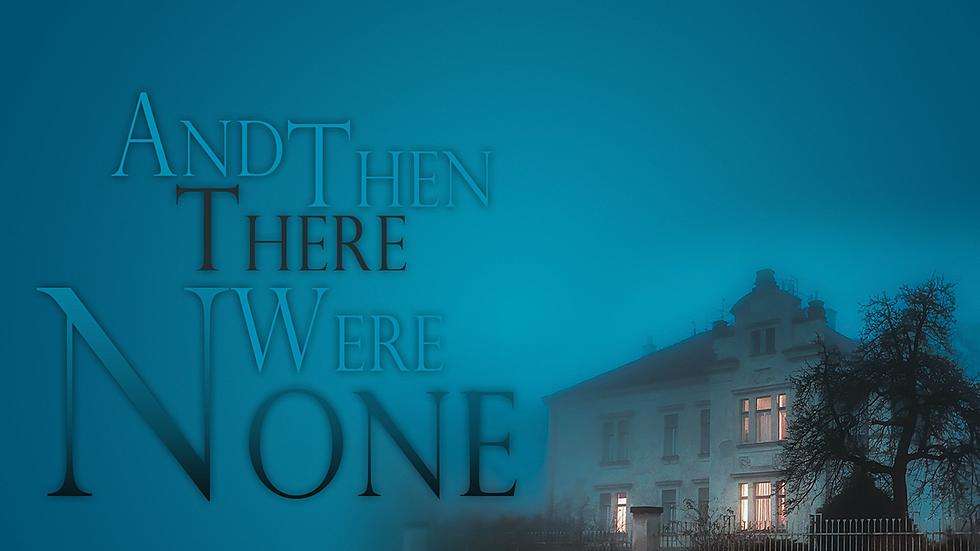 October 25th-November 3rd (Thursday-Saturday at 7:30pm, Saturday & Sunday at 2:30pm): "And Then There Were None" will be presented on the stage at Tyler Civic Theatre. Ten strangers are summoned to a remote island. All that the guests have in common is a wicked past they're unwilling to reveal and a secret that will seal their fate – for each has been marked for murder. As the weather turns and the group is cut off from the mainland, the bloodbath begins and one by one they are brutally murdered in accordance with the lines of a sinister nursery rhyme. Tyler Civic Theatre is located at 400 Rose Park Dr., Tyler, next to the Tyler Rose Garden Center. For more info call (903)592-0561 or go to tylercivictheatre.com.
Reviewed by John Baggett
It's spooky season once again and in addition to the ghosts, zombies, and other creatures of the night, Tyler Civic Theatre is providing their own thrills, chills, and a murder (or, murders,) most foul. Strap in for some scary fun with their production of the classic murder mystery, "And Then There Were None."
Set on the isolated Soldier Island, ten individuals, both as guest and servant, have been summoned to meet there in the mansion owned by the mysterious Mr. & Mrs. Owen. Everyone is brought to the island by boat captain and deliveryman, Narracott (Nemo). Upon arrival, everyone is told that Mr. & Mrs. Owen will not be able to arrive until the next day but to carry on without them. The servants, Thomas and Ethel Rogers (Jack Ragland and Mallory Hallmark), prepare dinner and show the guests to their rooms, as has been instructed.
The guests include Lombard (Cameron Davis), a former soldier and adventurer, retired Judge Wargrave (Roger Pharr), timid doctor Armstrong (David Dickerson), retired General MacArthur (Richard York), religious spinster Emily Brent (Jennifer Rader), arrogant and reckless Marston (Bryan Knous & understudy Dereck Large), former police inspector Blore (Jennifer Diotallevi) and former governess turned secretary, Vera Claythorne (Amanda Nail).
As everyone settles in, Mr. Rogers plays a phonograph as instructed, where a mysterious voice (Ben Michael / Amanda Spangler), informs the guests that they were all responsible for the deaths of someone in their lives. Outraged and horrified, the guests reveal how they were summoned. Things take a turn when Marston appears to choke to death. At first, this is chalked up to an accident. As they are stuck until the morning, everyone goes to bed, but when Mrs. Rogers is found dead, it becomes very clear that someone on the island wants them all dead and is picking them off in the order and fashion of a poem above the mantle. If they want to escape the island, they must do two things – wait and stay alive.
"And Then There Were None" is based on the novel of the same name by acclaimed author Dame Agatha Christie. After the publication of the book, Christie was approached by a playwright who wanted to adapt the story for the stage, only for Christie to deny them the rights and adapt it herself.
This production was directed by Michael Ward, who previously directed "Singin' in the Rain" and "Les Miserables" for TCT, and assistant director S. Blake Rohus, who recently appeared on stage in "The Complete Works of William Shakespeare: Abridged." Together, Ward and Rohus assembled an incredibly talented cast that brought to life the tension of the source material and a homage and nod to classic Hollywood (complete with a wink and nod to Turner Classic Movies).
The show uses its minimal set quite well, making it a much more intimate experience like you're actually in the room with these characters. Using projecting and sound effects in the creation of the "dark and stormy night" that is the setting for a great murder mystery, the show has the type of creepy atmosphere that Christie herself aimed for in every story.
While there are moments of levity and, at times, dark humor, there are also some moments that are quite chilling and could frighten, which is a credit to the direction and the capability of this cast. Plus, it's the kind of scary fun people look for this time of year.
"And Then There Were None" is an incredibly fun and creepy good time. It features a cast filled with seasoned veterans and newcomers, all of whom are extraordinarily talented and shining examples of the kind of talent that exists in East Texas. If you want a nice little scare, but maybe be able to sleep through the night once it's over, then this is exactly where you should be looking.
"And Then There Were None" opens on Friday, October 25, and runs through Sunday, November 3, 2019.


Liberty Hall Hosts Robert Ellis and Reckless Kelly Jan. 25th

Tickets available at LibertyTyler.com or on Facebook at @LibertyHallTyler. For more information about upcoming events, sponsoring an event or renting Liberty Hall, email LibertyHall@TylerTexas.com or call at (903) 595-7274. Liberty Hall is located at 103 E. Erwin St., Downtown Tyler.
Robert Ellis: Texas Piano Man
Saturday, Jan. 25 at 7 p.m.
Before signing with New West Records in 2011, country songwriter Robert Ellis made a name for himself in Houston. Inspired by the country, folk and bluegrass records he'd heard while growing up in southern Texas, Ellis began playing shows around the state.
Ellis released Photographs in the summer of 2011 and the album was selected by American Songwriter as one of its Top 50 Albums for that year. Ellis toured the US and Europe before relocation to Nashville.
After nearly a three year break, Ellis returned in February 2019 with Texas Piano Man, which he is taking on the road early 2020.
Jamie McDell – Opening for Robert Ellis will be New Zealand singer/songwriter Jamie McDell. She has achieved a prolific amount for someone so young. Being signed to EMI at age 16 sparked the beginning of a successful musical journey, making Jamie McDell a household name across the nation. With the release of her debut album 'Six Strings and a Sailboat', she went on to achieve Gold album sales, receive three NZ Music Award nominations, winning Best Pop Album of 2013. Her sophomore record 'Ask Me Anything' gained global attention, seeing album track 'Moon Shines Red' featured on American TV series Pretty Little Liars.

Tickets are available now at LibertyTyler.com. Balcony $22, Floor $28, Private Box (seats four) $120. Doors open at 6 p.m., show starts at 7 p.m.
Reckless Kelly –
Thursday, Feb. 6 at 7 p.m.
For two decades, the band has toured coast to coast relentlessly. It has demonstrated its longevity in a world where trendy newcomers have proclaimed the Next Big Thing by spinning a couple of pop hits. Not unlike the pioneers who preceded them on the western frontier where the Brauns were raised, they have forged their survival without compromise, combining hard work with a resolve that success is only satisfying when achieved by their own standards and definition.
The group's most recent studio album, Sunset Motel, is, like all its predecessors, distinctive in its own way while true to form. Self-produced and recorded in Austin's renowned Arlyn Studios (where Millican was made two decades ago) and mixed by Jim Scott (Rolling Stones, Dixie Chicks, Tom Petty, Sting, Roger Daltrey, Crowded House, et al.), it reflects Reckless Kelly's attention to craft and continuity.
Twenty years since its founding, Reckless Kelly continues to fight for wider recognition, secure in the knowledge that fans, critics and contemporaries will continue to sing its praises.
Tickets are available now at LibertyTyler.com. Balcony $28, Floor $42, Private Box (seats four) $170. Doors open at 6 p.m., show starts at 7 p.m.
Full Calendar for Liberty Hall:

Bored? Find something FUN to do…Download our App!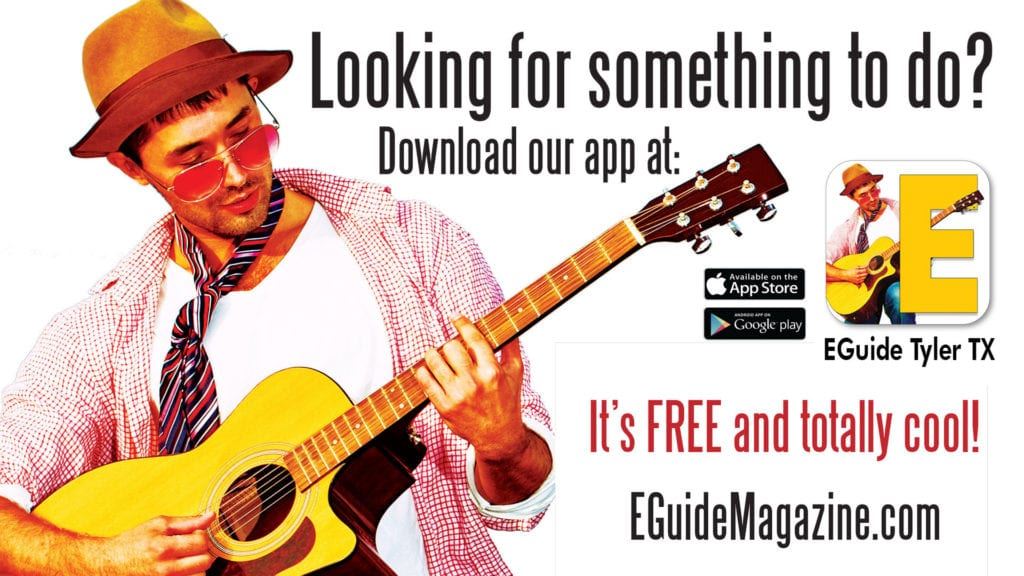 Looking for something to do?
Want to know who is playing live music around town?
See what is going on Downtown?
What is "EGuide Tyler TX"?
"EGuide Tyler TX" is a FREE events app from EGuideMagazine.com, the #1 entertainment guide for Tyler, Texas and the northeast Texas region.
What can "EGuide Tyler TX" do for me?
With "EGuide Tyler TX" you can:
Find new places to eat and drink.
Get info about the best local live music going on daily
See what is going on today, this weekend, or next month
Find festivals, theatre, art, concerts and tons more
Enter to win fabulous weekly giveaways
The easy-to-use menu helps you find out what to do this weekend
…all at your fingertips….and it is FREE!
Download our free app "EGuide Tyler TX"!
FREE Things to Do, Fun Events and More

There's nothing better than FREE and Tyler offers a ton of FREE things to do!
For more events, check out EGuideMagazine.com 's entire