April 27th-28th: April in Edom Art & Wine Experience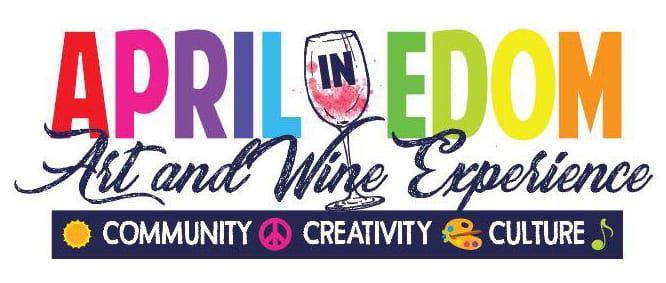 Come out to the lovely town of Edom April 27th-28th, 10am-7pm, for a wonderful festival celebrating all things art and wine in East Texas. Admission is free.
There is something for everyone including a variety of vendors selling an assortment of products including art, crafts, soaps/lotions, clothing, candles, housewares, woodworks, jewelry, mixed media art, and much more.
The Blue Louie Band will be headlining at the Sundown Concert at Edom City Limits on Saturday night. Other musical acts include Jenni Mansfield Peal, Sharon Walker, Michael Morse, Stan Johnson, and others.
Roving street entertainment will be "Play Time With Eliot" Improv Theater, along with Barbershop Quartet, Interactive Kids Area, and several stages of live music.
The Pet Place will be sponsored by Circle Star Pet Resort and Rag-Tag with a pet adoption center benefiting Henderson County Humane Society.
A PAWS Pet Parade will take to the streets 2pm with cash prizes!
There will be a variety of food trucks and an array of concession vendors.
Plenty of parking is available. For more information call (817)721-7778 or (903)590-7567.
Edom is located at the intersection of Hwy. 279 and Hwy. 314, 15 miles west of Tyler. It is just sixteen miles southeast of Canton in southeast Van Zandt County, and is the third oldest town in the county. The festival will take place all around the city's center flashing red light mecca.