Art Events: A Wealth of Creative Events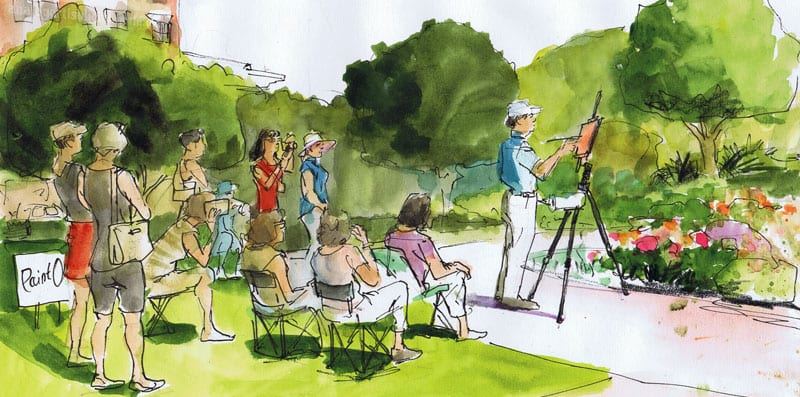 April 13th (3pm): Intuitive Painting Class at Artfix – What is intuitive painting? It is letting go of expectations or fear to allow your painting to evolve based on your heart's callings. It is allowing the current layer of paint (or other medium) to inform you of what comes next. It embraces your inner creativity and mystery. Come out and let your artistic voice speak and your intuition as an artist grow. At the end of the class, you'll have 1 or more paintings that you created. Space is limited, so please reserve your place in the class by going to facebook.com/AFculturedStudios. Artfix Studio is located at 112 South Broadway in Downtown Tyler.
April 13th (6pm): Art Exchange at Strada Caffe – There will be many artists under one roof for this awesome night of music, art, poetry, and self-expression. This is free to the public to attend. Come help support local artists and musicians. Any artist can participate by contacting the Tyler Art Society at facebook.com/tylerartsociety for details. Strada Caffe is located at 302 E. Front St. in Downtown Tyler.
April 14th: Call for Artists for the 2019 Junebug Summer Fair – The Forge is excited to host its annual Junebug Summer Fair with two splendid days of art and music in the shady woods of Ben Wheeler, Texas on June 13th-14th. They are currently looking for artists to fill up the lovely gardens once again with booths for all kinds of art. Email submissions to junebugsummerfair@gmail.com (deadline April 14th). For more info go to facebook.com/events/2226751617563787.
April 20th (4pm): Call for Artists, "It's Natural:" A Juried Show at Edom Art Emporium – The EAE is excited to host a beautiful show boasting Mother Earth and all her wonders. In a nod to Earth Day, EAE hopes to bring more awareness and respect to the beauty and bounty of nature through various forms of art. Submission deadline is April 5th. Gallery exhibit dates are April 18th- May 26th with a Gallery Reception Saturday, April 20th, 4-7pm. Email submissions to edomartemporium@gmail.com. The Edom Art Emporium is located at 8281 FM 279, Edom. For more info go to edomartemporium.wordpress.com.
April 27th (11am): Art in the Garden at Tyler Rose Garden – Tyler Parks and Recreation invites you to explore your artistic color palette surrounded by nature's beauty during the 13th annual "Art in the Garden" event at the Tyler Municipal Rose Garden, located at 420 Rose Park Dr., in Tyler. Artists are encouraged to bring their creativity, paints, paper or canvases, easels, and a picnic lunch to the garden 11am-2pm.This event is free and open to the public with light refreshments being served in the Rose Garden Center. A display of children's art from the Tyler Art School and local adult artists will also be on display inside the Rose Garden Center during the event and for several weeks following. For more information or to participate, please call Debbie Isham at (903) 531-1214.
April 27th (3-9pm): Cultural Arts District Street Fair – Come experience everything the TJC Arts District has to offer! Food, live music, gallery tours, planetarium shows, and performances will be spread across five venues. Check out the local artists at the outdoor market before taking in a comedy at the theatre, or create memories with your whole family at the Museum of Art. Snack on some light bites from TJC's new Culinary Arts Program before seeing an eye-popping show at the planetarium. Let the dance department take you on an adventure to a magical castle, and finish off the evening with some live music and star-gazing with high-powered telescopes. Whether it's your first time in the Cultural Arts District or you've been visiting for years, there will be something new for everyone! Admission to the Street Fair is free, but anyone who books passes early will receive a special thank you gift at the event! This will be held on the Tyler Junior College campus.