By Gini Rainey
Welcome to October.  Welcome to fall!  Welcome to Texas in the fall – temperatures in the 90s, sweat freely flowing, still using the pool.  I'm not ashamed to admit, I am so totally ready for cooler temperatures and we usually start experiencing them the end of September, but I do believe Mother Nature is not quite ready to go there yet – at least not around here.
Our church has a theater program, and this weekend the play "Sylvia" was presented as part of a dinner theater experience.  I dare say that this had to have been one of the funniest plays I've seen in a very long time.  Brilliantly played by a cast of five, "Sylvia" tells the story of a guy who picks up a stray dog in Central Park, much to his long-suffering wife's dismay.  After looking at several snippets of other productions of "Sylvia" I would put ours up against theirs any day.  We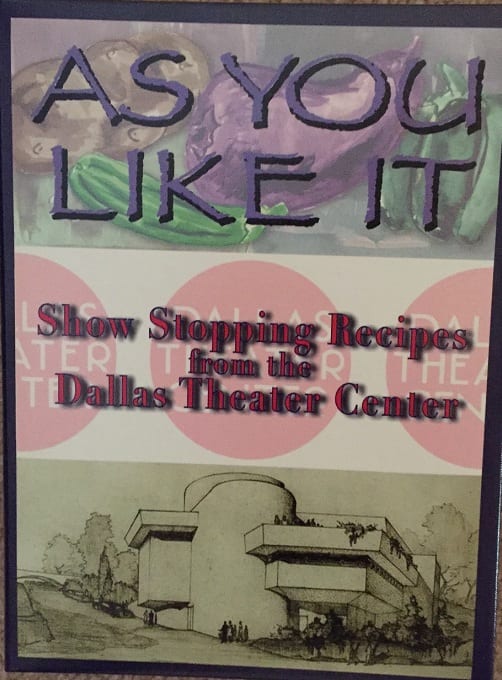 are very fortunate to have a theater board that is forward thinking and an amazing talent pool from which to draw.  Additionally, we have a team of really great cooks and the meal that was served (pork tenderloin was the star) was awesome.  If you don't support small theater, think about starting today.  I don't think you will be sorry.
I have a cookbook that was put together by the Dallas Theater Center Guild in 2002 and was published by Morris Press Cookbooks.  "As You Like It: Show Stopping Recipes from the Dallas Theater Center" is filled with a collection of recipes contributed by the Guild.  All sound amazingly yummy, but one really jumped out at me: Pork Tenderloin with Cilantro Sauce and with fall somewhere around the corner, this would definitely be a yummy dish to prepare for family or guests!
First, prepare the marinade by combining ¼ cup fresh lime juice, 1 tablespoon of sugar, 1 ½ teaspoon grated lime peel, 2 teaspoons peeled and minced fresh ginger, 3 tablespoons minced fresh cilantro, and 1/3 cup olive oil and whisking.  Marinate a 4 pound pork tenderloin, covered, for about 24 hours in the refrigerator, turning several times. When ready to cook, bring the meat to room temperature.  If you choose to barbeque, place the meat over hot coals about 6 inches from the flame and grill for about 20 minutes. Or, brown all sides in a skillet and cook, covered in a preheated 350° oven for 40 minutes.  After cooking, let the tenderloin stand for about 5 minutes before slicing on the diagonal.  Serve with Cilantro Sauce:  Melt 1/3 cup unsalted butter in a small sauce pan. Remove from the heat and add 1 tablespoon lime juice, ½ teaspoon grated lime peel, 1 tablespoon minced fresh parsley, 2 tablespoons minced fresh cilantro and salt to taste.  Served with twice baked potatoes and a green salad, you won't find much better eating this fall!