All About Good Food and Family
By Barbara King
The kitchen at Athena is full of activity, and like everything else about this unique restaurant, it's all about family, all the time.
The Sklavenitis family, sister co-owners Vicky and Effie run an authentic dining experience like no other. Recipes handed down from generation to generation remain the mainstays on the menu, infused with Greek flavors and love for good food.
Athena opened in 2013 and is growing strong thanks to their good friends and customers that keep coming back according to Vicky. The clientele started out with folks who had visited Greece and were familiar with the food but has grown by word of mouth to regulars who can't get enough of the atmosphere and homemade delicacies.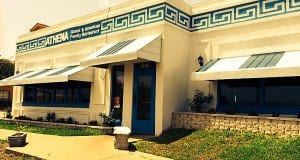 Vicky and her daughter-in-law Mariam are running the show in the kitchen tonight, but the entire family is involved and makes the place the labor of love that is quite evident as you are greeted warmly at the door.
"You have to be passionate about food, people, and service," Vicky said, explaining that the 90 hour weeks are not for the faint of heart. "We get in early, get the prep work done, which includes three different Greek homemade soups, salads, and of course, our specialty Greek desserts," she explained.
Vicky and her family make sure you are made right at home and make it a point to visit with customers at their tables. Vicky said, "If you order something and it is not to your liking, we make sure that we make it right every time, and will bring you something else to try from the menu. Our goal is to make sure no one goes home hungry, and everybody leaves happy."
The family hails from the Greek island of Lekas, and moved to North Carolina to begin their restaurant business, then on to Tyler. Every family member pitches in, and the kitchen is a whirlwind of activity, from chopping the fresh vegetables to slicing the gyro off the roasting spit.
The menu is a cornucopia of delights; appetizers including traditional hummus, dolmas (imported grape leaves stuffed with rice, served with tzatziki and pita bread) rotisserie gyro, spanakopita (fresh spinach pie) are all served with exquisite presentation and attention to detail.
Salads are perfection, including Aphrodite's salad, served with fresh spinach leaves and strawberries, with feta cheese, tossed in their own balsamic vinaigrette dressing.
Traditional Greek favorites are a taste sensation, including chicken or pork souvlaki, lamb shish kabob, pastistio (layers of pasta and ground beef sautéed in herbs and spices, topped with bechamel sauce, and served with warm pita bread), and mousaka (layers of roasted potato, eggplant, parmesan cheese, and ground beef). Drunk pork chops are marinated in Greek wine and grilled with Greek spices.
Greek food isn't complete without traditional pitas, and there are a lot to choose from: famous gyro pita, pork, chicken, lamb, vegetarian, philly, or kefte (Greek meatballs wrapped in a pita topped with diced cucumbers, tomatoes, red onions, tzatziki, and parsley).
Athena literally has something for everyone. For those craving more traditional items there is Grecian spaghetti, lasagna, chicken parmesan, manicotti, and spaghetti kima (homemade meat sauce).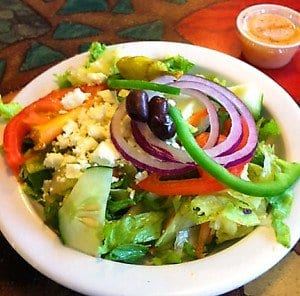 Craving something from the sea? Athena also has tilapia. They offer a variety of platters that will fill 
everyone up including the Gyro Plate (lamb and beef served with tzatziki sauce, French fries, Greek salad, and warm pita bread), Athena's Combo (beef and chicken, onions and peppers, tzatziki , pita, and Greek potatoes), or Athena's trio (pastitso, moussaka, spanakopita, and warm pita bread).
Drop by during lunch for soup and salad, lamb souvlaki, gyro and Greek salad, and pork or chicken souvlaki, with lunch items ranging from $5.95 to $9.95.
You can't leave Athena without trying some of their homemade baklavas, layers of filo pastry, filled with chopped nuts, syrup, and honey. It will leave you wanting more and more! Other items on the dessert menu are Galaktoboureko (Semolina custard in filo dough) tiramisu, chocolate, or cheesecake.
You can enjoy beer and wine with your meal, including authentic Greek wines. In the future, the sisters hope to bring a nephew from Greece for a few months to entertain customers with great music while they dine.
Athena's also caters and has handled weddings, corporate lunches, and events in the Tyler area.
When your dinner arrives, garnished with feta, olives, and warm pita bread, it looks almost too good to eat! Vicky said, "You have to love to cook and serve the best food you can prepare to your guests. Our motto is, 'When you're here, you're family,' and we truly believe that."
Athena is open Monday-Thursday, 11am-9pm, Friday and Saturday, 11am-9:30pm, and Sunday, 11am-9pm. Athena is located at 1593 WSW Loop 323 in Tyler.
For more info call (903)561-8065, go to athenagreekrestaurant.com, or find them on Facebook at Athena Greek and American Family Restaurant.