Written and Photographed By Barbara King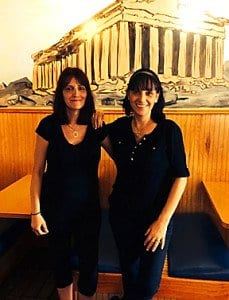 Are your taste buds weary of the same old tired selection of fast foods or chain restaurant standbys? Are you ready for a culinary adventure that may be outside your regular eating comfort zone? Athena Restaurant (named for the Greek goddess of wisdom) will serve you a rich sampling of the heritage and traditions of Greek cuisine and culture with a definite sense of family thrown into the mix.
The menu is a giveaway to the essence of the restaurant, stating "when you are here, you are family" and it's clear from the first warm greeting through the entire dining experience that you are part of a true family collaboration.
The owners of the restaurant are sisters Vicky Sklavenitis and Effie Siamos, originally from the island of Lefkas, one of a group of seven islands separated from the mainland of Greece by a narrow channel.
Together with their husbands, and Vicky's son and daughter-in law, Athena's prepares traditional recipes that have been passed down from generation to generation.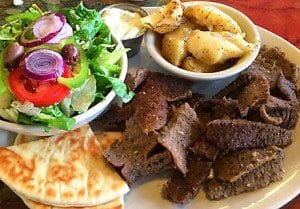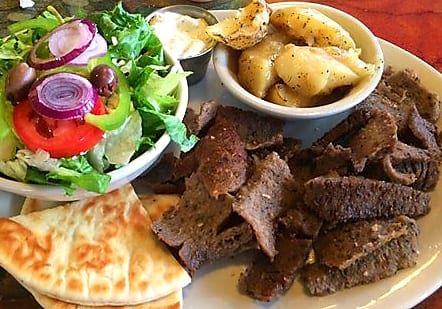 The sisters emigrated to the United States as teenagers, and have been part of the family restaurant business since the 1970's. They are a passionate team; cooking in the kitchen, greeting and seating guests, and completing each other's thoughts about the restaurant. "We are the only Greek restaurant in East Texas," explains Mrs. Siamos "and we have many regular guests who travel from Longview, Athens and Kilgore. We have second and third generation Greeks who want to relive memories with the food their grandmothers used to cook."
Colorful scenes of Greece grace the walls, while traditional Greek music and the intense smells of grilling make it a unique cultural experience for diners. Some patrons drop by to re-live travels to Greece, reminiscing with the family who always takes time to stop by the tables to share stories.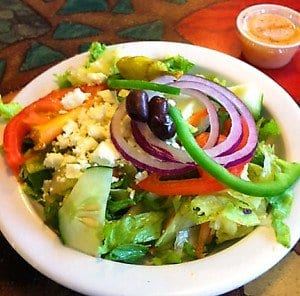 Of course you'll find traditional Greek offerings on the menu, like the authentic gyro, a blend of rotisserie beef and lamb, served with their special tzatzki sauce and always warm pita bread.
If you venture back to the kitchen, you'll meet Mike Arvanitis, the grill master, keeping a watchful eye on the rotating meat ready to be sliced. Moussaka is another favorite, with layers of potatoes, eggplant and ground beef, topped with a béchamel sauce. All the ingredients used are fresh and food is made to order, and it's evident when you see the spanakopita, stuffed with spinach, feta cheese, green onions and topped with Greek spices. If you are adventurous and willing to give your palette a workout, there's lamb shish kabob or pork tenderloin souvlaki.
The hands-on partners are very particular about their food and service and arrive in the early morning hours to get items prepped, along with preparing a fresh soup daily, including avgolemono, a traditional Greek favorite from a delicious blend of fresh chicken, rice, lemon and egg. Fasolada soup is a crowd pleaser, made with northern beans, fresh celery, carrots, onions, broth and Greek seasonings.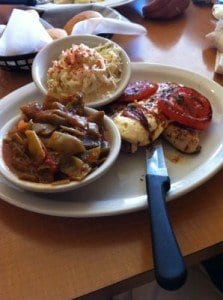 You'll see some guests order a variety of appetizers to whet their taste on Greek delicacies, munching on hummus served with pita bread, grilled feta or dolmas, grape leaves stuffed with seasoned rice. Traditional Greek salads, consisting of lettuce, tomatoes, cucumbers, red onions, green peppers, pepperoncini, kalamata olives and feta cheese are all prepared with the freshest ingredients.
If you're a bit timid and fancy something closer to home, Athena also offers more standard fare, like hot subs, hamburgers and lasagna. "Sometimes families come in and most order from our Greek specialties" explains Mrs. Sklavenitis. "When the food arrives, the ones who hesitated and ordered something familiar usually want to try everything because it looks and smells so good." There really is something for everyone, as Athena classifies itself as both a Greek and American family restaurant.
Angela Bradley and Joseph Hughes chose Athena for a dinner date and before the meal was over, were already planning their return to try things they missed on the menu. They noticed the restaurant a few times driving by, and since Joseph had been exposed to Greek culture and food by a high school teacher, couldn't wait to try it. Feasting on the Athena's trio sampler plate, they were already eyeing the sweet desserts.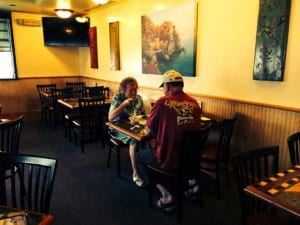 They immediately noticed the "super welcoming" family atmosphere and loved the diversified menu. "Athena isn't like some of the impersonal chains," Angela explained. The prices are very reasonable and the food is unique."
The sisters like to dream big and very soon the restaurant will serve patrons beer and wine. Some renovations are also being completed to a spacious party room in the back to hold larger groups. Live music is next on their list but they admit it might be challenging to find Greek musicians in the East Texas area.
Clarence and Margaret Beatty from Pine Springs were welcomed by name on their second visit, a fact that made a definite impression. Enjoying a Greek salad, Mr. Beatty commented that the customer service was outstanding and the owners really cared to take the time to visit and listen to their comments.
To top it all off, save some room for the home made desserts featuring baklava, made with layers of phyllo pastry filled with chopped nuts and honey, tiramisu or galaktoboureko Greek custard. I left the restaurant with warm hugs good-bye and a delicious sample of baklava to savor.
Athena also takes care of folks in a hurry, offering take-out and family size servings for four, which is perfect for those busy weeknights. You check out the menu at athenagreekrestaurant.com or on their Facebook page at www.Facebook.com/athenagreekrestaurant.
Bring your family and join their family at Athena, open Monday through Thursday, 11am-9pm, Friday and Saturdays 11am-9:30pm and Sundays 11am-9pm.
Athena is located at 1593 WSW Loop 323 beside La Quinta Hotel. For larger parties, call for reservations at (903)561-8065. Walk-ins are always welcome.