By Gini Rainey
The weather in Tyler is playing tricks with my brain this weekend.  While it's just the middle of August, looking out the window at the gray sky is making me feel a whole like fall has hit.  My poor head thinks I should be in the kitchen making a big, ol' pot of soup or stew for dinner, but I just don't think I'm ready for that.  We did have chili and rice for lunch, but I think that might be the only concession that I'm ready to make just yet.
This is the time of year when you have mixed feelings about seasonal changes – or at least I do.  Being a warm-natured person, I really do dread the summer time, especially here in Texas, but once it gets rolling, I find that it's pretty sweet running around the house bare-foot, dressed in shorts and t-shirts while spending time on the patio and around the pool.  Then it seems when autumn shows up and the temperatures start dropping (I use the term loosely in these parts!), I really enjoy putting on my jeans and a sweater, curling up in my comfy chair with a good book and watching the fireplace send sparks up the chimney.
So, I'm sitting here, flipping through a cookbook that I picked up on ebay a while back, and wishing that my husband liked seafood and pasta.  He says the only good shrimp, is a fried shrimp, but "Star Palate: Celebrity Cookbook for a Cure," written by Tami Agassi and Kathy Casey, has an amazing looking recipe for Seafood Pasta that has crawfish tails, shrimp, and crabmeat served over linguini.  Published in 2004 by Documentary Media, this cookbook is full of some of the most amazing full color photographs of the finished products that you'll find.
Filled with recipes from stars from all walks of life, with this book you'll come away knowing how to make Jay Leno's Uncle Louie's Chicken Wings Marinara, Iron Chef
Masaharu Morimoto's Tuna Pizza, Florence Henderson's Chicken Piccata, Henry Connick, Jr.'s Jambalaya, Tracy McGrady's Smoked Salmon Linguine, and Alice & Sheryl Cooper's Almond Chicken Salad.  If you were thinking that George Strait might have been left out, well his recipe for King Ranch Chicken is included, along with Tim McGraw's Chicken & Dumplings, Michael R. Bloomberg's Baked Beans, Alonzo Mourning's Sweet Potato Pie, and Dyan Cannon's Chocolate Mousse Parfaits.  I just love flipping through these cookbooks because you never know what will be on the next page and this one is now exception.  I had a great laugh over Joan Rivers' recipe for Toast: take 2 slices of white bread and place them in a toaster.  Press down the toaster handle.  Wait till toast pops up.  Remove from toaster and spread with butter.  For special occasions, raisin bread may be substituted for the white bread.
But, I have to tell you, I've been looking around for a good sugared bacon recipe, and Arnold Palmer's Crispy Brown-Sugared Bacon Strips is one that I think I might have to try.  First you preheat the oven to 350°.  Then roll, pat or shake one pound of sliced (thick or thin) bacon in 1 cup of packed brown sugar and place strips on a rack set on a flat pan with sides.  Bake bacon in the oven for about 25-30 minutes, or until dark brown.  You can turn the bacon once – using tongs.  When the bacon is done, remove from rack with tongs and drain thoroughly on brown paper.  As the bacon cools, the bacon will harden and can be broken into smaller pieces, if desired.  Oh yeah – that sounds like some mighty good eating – might even entice my husband to eat some seafood pasta with this served on the side!

Day Two of Our Stay At Home Order

By Gini Rainey
Desperate times call for desperate measures, and I'm so glad I have nearly five hundred cookbooks in my arsenal, although most of them won't do me any good a time like this, which is why I'm so glad that I picked up this little cookbook about a month ago. Yes, Prison Ramen: Recipes and Stories from Behind Bars might just make a difference in my life (or not) when our food supplies begin to run out.  Fortunately, our household has plenty of toilet paper, paper towels, disinfectant, and food (if you think I'm going to tell you my address – think again), but should we run short, it's good to know that, not only do I have about a week's supply of ramen to fall back on, but also a cookbook with some fairly awful recipes and in-mates stories to fall back on. 
Written by Clifton Collins Jr. (Capote, Star Trek, and West World, among others) and Gustavo "Goose" Alvarez (inmate extraordinaire) and printed in 2015 by Workman Publishing, this off-beat cookbook attempts to elevate the lowly ramen noodle to a higher level.  I never knew there were so many ways to "cook" ramen, although a lot of times, the recipes mostly call for just soaking in tepid tap water, depending on the availability of water temperature in the chef's cell. 
Not the least bit tongue-in-cheek, the recipes, along with accompanying stories that have been included, are contributed by various inmates (past and present) of jails/prisons in the California penal system and show a lot of creative imagination on the part of the inmates.  Using whatever commissary items available, they have been able to create everything from a PB&J and a ramen tamale to Hit Man Burritos and Trejo's Machete Ramen.  You remember Danny Trejo, don't you? Before he became known for playing the anti-hero in dozens of movies and TV series, he was a drug counselor. Seems he also served a little bit of time. 
Trejo isn't the only "celebrity" who contributed. Tarryn Manning (Orange is the New Black), Shia Labeouf (Man Down), David Anthony Fausino (Married…with Children), Clancy Brown (The Shawshank Redemption), and Slash (Guns and Roses) also shared their recipes and stories in this book. 
I can hear all of you now, shouting at your screen "But, what about a recipe?" Let me tell you, right now, we should all be thankful that we aren't really incarcerated and hopefully these mandated, life-saving orders aren't life sentences, because I'm pretty sure we really won't need to fall back on any desperate measures for food. However, if you insist, one of the least stomach challenging recipes is for "Butt-Naked Ramen Soup," which is pretty much your basic ramen.  If you should choose to be a bit more adventuresome, you could always up your game and make "Frankie's Soup in the Hole," which adds one chopped Slim Jim to "Butt-Naked Ramen Soup." 
So, let me leave you this thought: we're all in this together and we will survive.  Be thankful for your family, be thankful for the health care professionals and be thankful you live in America. Stay healthy and happy and appreciate the smaller things in life, like sun shining, birds singing and life living. 


By Gini Rainey
Right now, considering all that is going on in our world, the KISS method would seem to be the best way to go with everything.  You know, Keep It Simple Silly!  I bought some new and weird cookbooks recently on ebay and I thought this might be a good time to share one of them with any of you out there that might still check periodically to see if I'm still around. Which, by the way, is probably an excellent thing for all of us to be doing right now. Give a call to some of the folks (or all of the folks) in your life who are important to you today. Our lives have all change dramatically in the past few weeks and it's never too late to let people you love know you care. 
I was chatting with my sister a little bit ago and I reminded her of the time that I had the Asian Flu.  I checked with Google earlier to determine when that pandemic made its way around and discovered it was in 1957 – when I was nine years old. I was sick with it around Halloween time and what's the worst possible thing that can happen to a kid
when they're nine and sick around Halloween?  Right! They can't go Trick or Treating! My sister, who is eight years older than I and was in high school, offered to take a grocery sack around the neighborhood to collect candy for her poor little sister who was stuck at home, bedded down on the couch, with a raging fever. 
My dad, whose creativity knew no bounds, drug a six-foot ladder up out of the basement and dressed it in his overcoat.  He put our jack o lantern on the very top of the ladder, ran a string through the sleeve of the coat, and over to me on the couch.  When the doorbell rang, some poor unsuspecting, candy-hungry kid was greeted by the door slowly being opened by a ghoulish giant of a pumpkin-headed man swinging his arm maniacally at them. 
I'm sure mom made sandwiches that evening, just to keep things simple. (nice segue, huh!?!) It's too bad she didn't have had a copy of Scanwiches in her cookbook arsenal. This book, written by Jon Chonda and published by PowerHouse Books in 2011, is definitely one of a kind. It features amazing cross-section scans of sandwiches, along with the ingredients, place of origin, and bits of trivia. The range of sandwiches go from the super simple and humble grilled cheese sandwich all the way to a seven-layer Dagwood. From the strictly home-grown Elvis favorite of peanut butter and banana to the French Pan Bagnat and the Chinese Rou Jia Mo.  We've all eaten sandwiches, but the beautifully high definition scanned cross section photos of the sandwiches included in this book puts a whole new spin on the humble sandwich. Speaking of dinner, just looking through this book will give you a king-sized hunger for something yummy to eat! 

Patriot Delivery: You Seriously Do Not Have to Cook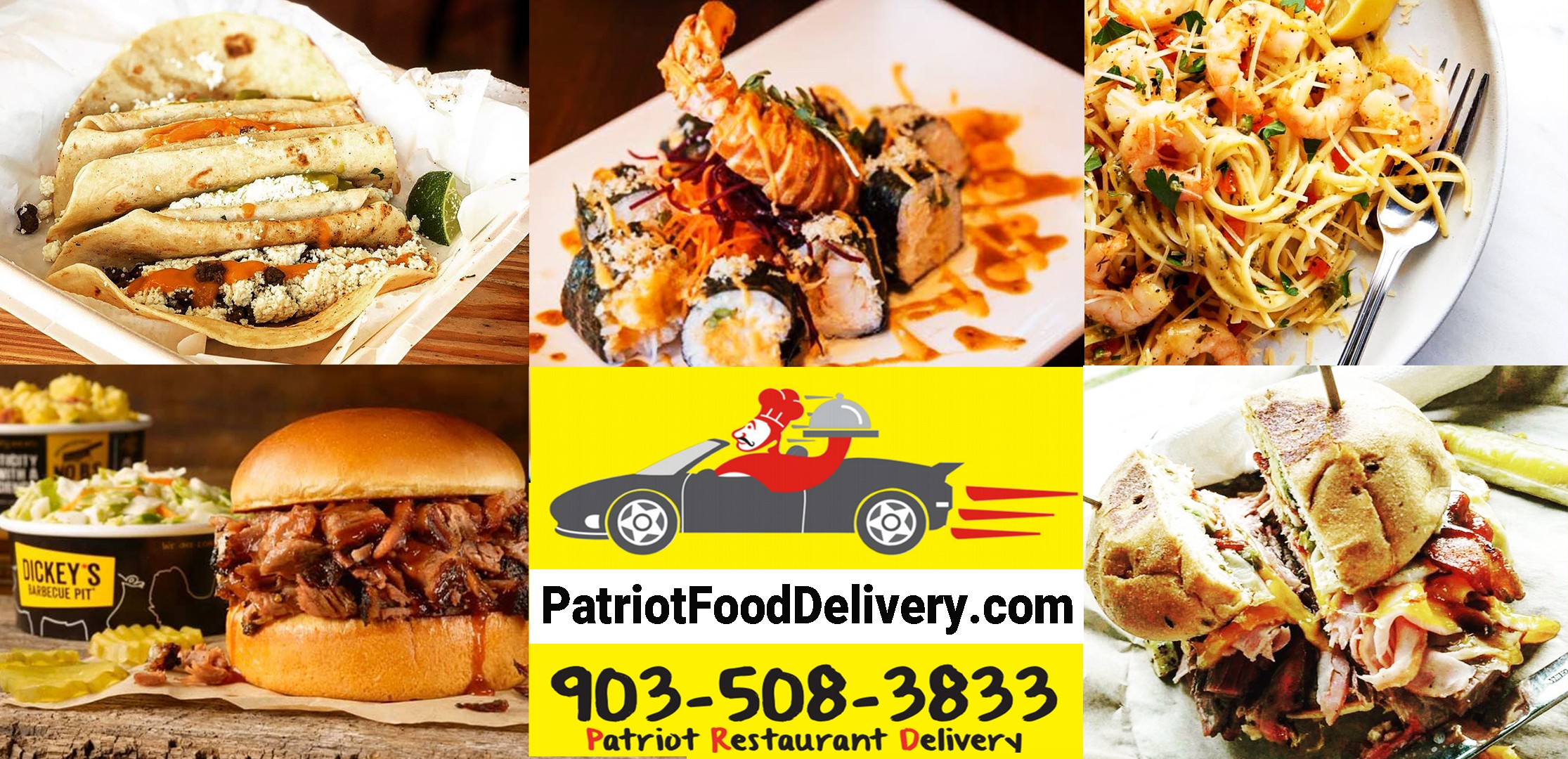 Use promo code:

"EGUIDE" for no delivery fee!
Valid for one use per customer.
---
Now more than ever, delivery services are at the top of the list for importance. Combine that ultimate convenience with a chance to #supportalocalbusiness and you have a win win!

Patriot Delivery will bring it all to your door – be it your home, office, hotel or school campus.
With Patriot Restaurant Delivery you can order food with a few swipes of your finger on their super easy to use APP or mobile website, a few clicks on your computer, or old school via a quick call to their professionally trained call center.

Patriot offers quick, easy and convenient delivery from these restaurants:
Tyler: Posado's, Happy Fish, Corner Bakery, WhatSub Bahn Mi, Rounders Pizza, Newks Eatery, Starbucks, Say Cheese, Taco Shop, King Torta's, Slim Chickens, Poke Bop, Fuzion Express #2, Donut Palace, Dickey's BBQ Pit, Firehouse Subs, McAlisters, The Porch at ETX Bew, Mama's Restaurant, Five Guys, Margarita's Mexican Cafe, Smallcakes Cupcakery, Topp's Pizza, The Diner, JT2 Gourmet Burgers, Janie's Cakes, Yami Buffet, Chiangmai Thai Sushi, Mario's Italian Restaurant, Texas Roadhouse, Taj Mahal
Bullard: Ribmasters, Legends Burger Co.
Lindale: Starbucks, Eastern Buffet, Leo's Asian Bistro, Brisket Love BBQ, Smokey Mike's BBQ
Jacksonville: LaFrontera, Legends, Rancho Grande, Ritual, The Patio Seafood, Sadler's, Commerce St. Drafthouse
Whitehouse: Ribmasters, Mr. Taco Jr.
If you need anything at all from Patriot or have any questions, please email them at customerservice@prdtyler.com.  They will usually respond within a few minutes.  If needed, give them a call, (or a text), at (903)508-3833.
Corporate accounts can be set up where your business can receive a bill at the end of each billing cycle, too.