By Gini Rainey
"The Yellow Crocus"
By Laila Ibrahim
Set in pre-Civil War Virginia, The Yellow Crocus tells the story of a young woman, Mattie, who is a slave on a plantation, and her young charge, Lisbeth.  Torn from her infant son, Mattie is pressed into service as a wet nurse for Lizbeth.  Through excellent character development, Ms. Ibrahim has created two very dynamic characters that are not only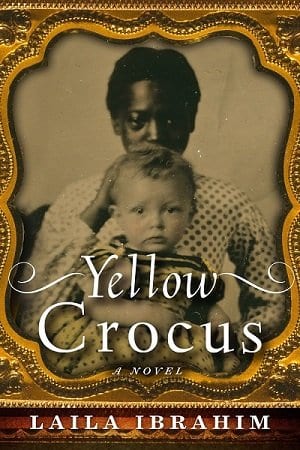 believable, but also capable of drawing you in on an emotional level.
Although the story-line revolves around these two central characters, it is also about the lives of the daughters and sons
of the white plantation owners and the society mores they were expected to follow.   This book provides an intimate, and
sometimes painful, look at the lives and relationships of plantation owners and families and their slaves, who were regarded no more than property to be traded, sold, abused, and mistreated.  It is also a book that tells of forgiveness, love, and redemption.
As far as I'm concerned, what makes this book so intriguing is the inter-twining of the lives of Lisbeth and Mattie.
Because of Ibrahim's realistic characterizations, I found my interest captured from the very beginning and became completely immersed in the life of this plantation.  At times I found myself cheering for Mattie and Lisbeth, crying over their troubles, appalled by the behavior of some of the characters that their lives intersected with, and impressed by the behavior of others.
While the bond that Mattie and Lisbeth shared was very strong, the reality of their own individual lives and circumstances, and the brutal contrast between the two was a clear theme in this book.  While the story lines could have been tied up in a neat bundle and left hanging, they twined together in a poignant and fitting ending.  While this was an easy book to read, the messages it contained were very clear and thought provoking and definitely worthwhile.
5 of 5
Copyright 2014 – Lake Union Publishing
"Hush"
By Karen Robards
Wow!  This book had me hooked from the beginning.  Although there were several subplots in the works, this offering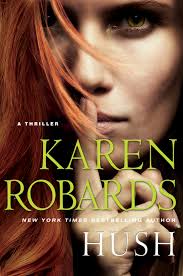 from New York Times best-selling author Karen Robards doesn't pull any punches.  With two main characters, Finn, a CIA agent, and Riley, the ex-wife of a now-deceased son of a wealthy family, the Texas weather this summer isn't the only thing that's hot.  With a riveting plot, a steamy sub plot, and terrific characterizations, you might find yourself like me – unable to put this one down.
With a writing style that is natural and fluid, this easy to read book won't take long to get through, even though there are 449 pages. Described as a romantic thriller, it delivers nicely on both counts.  Some of the romantic scenes are fairly stimulating, barely bordering on the edge of inappropriate, but definitely intriguing.  The thriller action is non-stop, with a billion dollars at stake, everybody is after everybody, and no one is safe.
While the good guys are trying to stay one step ahead of the bad guys, their relationship develops from one of wary trust to complete trust and back and forth again, but the underlying sexual tension keeps everyone, including the reader, a bit off balance.
This is a definite "must read" as far as I'm concerned.  My only question is:  If Karen Robards has over 50 novels to her credit, what took me so long to discover her.  I want more of this author!
5 of 5
Copyright 2014 – Gallery Books
And now for something completely different!
"Ten Days in a Mad-House"
By Nellie Bly
I came by this book because it was suggested by Amazon for me.  I love how you can get suggestions from book sources based on what you've previously read.  It helps to take away the indecision and lands interesting books like this one in your lap.
In case you are unsure of who Nellie Bly is, as was I, she was an American journalist, writer, industrialist, inventor, and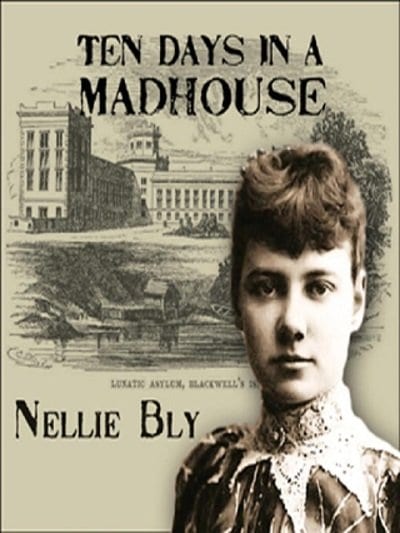 charity worker who was widely known for her record-breaking trip around the world in 72 days, in emulation of Jules Verne's fictional character Phileas Fogg, and an exposé in which she faked insanity to study a mental institution from within.  She was a pioneer in her field, and launched a new kind of investigative journalism.
The result of her exposé is the book "Ten Day in a Mad-House," written in 1887 as an assignment from her boss,
publisher Joseph Pulitzer, Her undercover journey took her from the streets of New York City to the lunatic asylum on Blackwell Island.  Feigning insanity, Nellie convinced judges, doctors and nurses, to gain entrance to the asylum, and as difficult as it was to gain access, it was even more difficult to leave.
Faced with the deplorable conditions of the facility, she discovered the things of which nightmares are made: patients being fed rotten, inedible food, an uncaring staff, misdiagnoses and mistreatment and generally being ignored by the doctors and so-called mental health experts of the day.
This true account of the deplorable conditions provided an invaluable insight of the treatment of mentally ill patients and resulted in a major reform that would impact the mental health industry for years to come.
Although not an easy read, this could be classified as a necessary read to provide a look at where we've come from and where we should never even consider returning to. It may have only taken me a few days to read, but it is definitely a story that will stay with me for a lifetime.
4 of 5
Copyright 2015 – Open Read Media