By Gini Rainey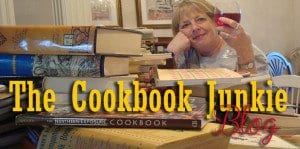 Just when you think something is gone…boom…it's back again and hopefully (fingers crossed) this is true of The Cookbook Junkie blog! Even though I've reviewed this book before, I think it bears repeating and sort of has a cryptic title for this edition of CBJ! She Came in Through the Kitchen Window, written by Stephen J. Spignesi and published in 2000 by Kensington Publishing Corporation, is a cute little 224-page book filled with Beatle trivia and corny recipe titles that are take-offs on lots of familiar Beatle tunes.  Among those are, to name a few, We Can Wok it Out, a stir-fry recipe filled with chicken, cabbage, pineapple, and water chestnuts; Eight Tomatoes a Week, basically an egg-salad concoction stuffed into hollowed-out tomatoes and drizzled with French dressing; Paperback Fritters, a basic fried corn fritter recipe with a clever tie into with Paperback Writer described by Mr. Spignesi as "…soaring harmonies and then heads right into a kick-ass guitar riff à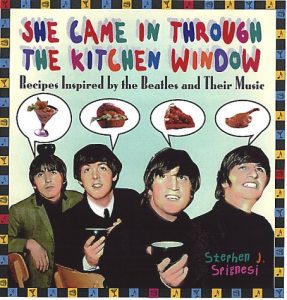 la Day Tripper—except that in Writer, that was recorded by an amplified and distorted bass guitar…." It's all those little quotes and recipe lead-ins that make this cookbook great for anyone into The Beatles and their music or just likes to cook!
We had some friends over the other evening for pool time, beer, and burgers.  The husband was in charge of the main event, while I took on the dessert. Because it was a last-minute plan, I wanted to go with something that didn't require an extra trip to the grocery store. I like to keep frozen berries or frozen pies in the, you guessed it, freezer, and I just happened to have recently purchased a ginormous bag of frozen strawberries, blue berries, black berries, and raspberries (yes, raspberries!)  Cobbler came to mind in a snap!
So, here's how you can shine at the last minute, too. I unceremoniously dumped a 2 ½ pound bag of frozen berries into an oven-proof casserole dish and put in the micro-wave for a couple of minutes to start them thawing. Meanwhile, I just happened to have a couple of rolls of frozen pastry sheets, so took one out and got it thawing. I pre-heated the oven to 325° and put the dish of berries on the stove on medium heat. I brought them to a gentle bubble, rolled out my pie pastry, cut a circle out of the middle (my casserole was round) and set it aside (to be put on top of the cobbler), and sliced the remaining dough into small strips.
When the berries began a decent bubble, I added about ¾ cup of granulated sugar (you can adjust for taste – we like it a bit tart) and stirred in until dissolved.  You will need to watch the mixture, so it doesn't burn on the bottom.  Then I gradually added the dough, a few pieces at a time, and kept stirring until  incorporated. Finally, I added the reserved piece of dough on top of the berry mixture, cut slits, and dusted with sugar. I set the casserole in the oven, on a baking sheet (or foil) – because it tends to bubble over – and baked for 30-40 minutes (or until golden brown on top – adjust time for your oven)
You can serve it warm or cold, but it's pretty good summertime eating with a big ol' scoop of Blue Bell® Homemade Vanilla ice cream melting over your warm cobbler.
Comments? Suggestions? Snide remarks? You can write to me at thecookbookjunkie@aol.com and I promise I might write back! Keep reading, I'm planning a few cookbook giveaways!