Feb. 16th: Big Daddy Weave & The Isaacs in Concert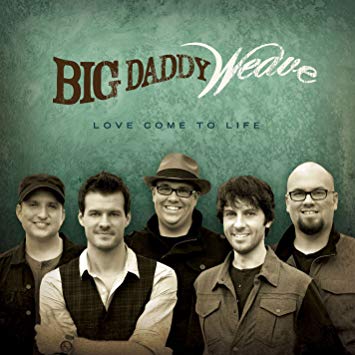 2019 is looking like a record year for awesome concerts in East Texas. These are some we think that you need to know about and need to get tickets for soon before they sell out.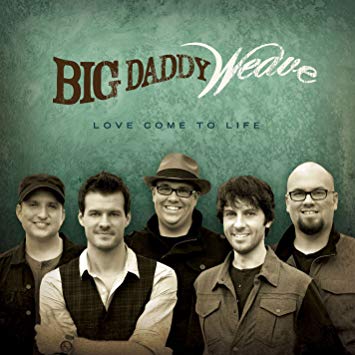 Big Daddy Weave at First Baptist Church in Flint – February 16th, 7pm
Big Daddy Weave is one of Christian music's most loved and respected artists. A mainstay on the radio, the band achieved their most recent hit single with "The Lion and The Lamb." This follows five consecutive No. 1 singles including "Love Come To Life," "Redeemed," "The Only Name (Yours Will Be)," "Overwhelmed," and "My Story." "Redeemed" became an anthem of unprecedented impact when it spent 11 weeks at No. 1, was dubbed "Song of the Year" at the first annual K-LOVE Fan Awards, earned Dove Award and Billboard Music Award nominations, and was certified Gold by the RIAA.
Since forming in 2002, Big Daddy Weave members Mike Weaver (lead vocals, guitar), Jay Weaver (bass, vocals), Jeremy Redmon (guitar, vocals), Joe Shirk (saxophone, keys, vocals) and Brian Beihl (drums) have released seven full-length projects, amassed more than one million units in album sales and have received numerous honors, including ASCAP and BMI Awards and the prestigious Rich Mullins Artist Impact Award, among others.
However, more than all the accolades Big Daddy Weave has garnered, it's the stories about how their songs have impacted lives that fuel the band's passion for recording and touring. "When we hear the Lord, we want to do what He says," Mike offers, "whether it looks like success to the world or not."
In story and song, the members of Big Daddy Weave simply want their legacy to be one characterized by loving people and telling of the Love that's left an indelible mark on their hearts. "My story is really the story of what God has done, and the goodness of that is that it awakens things in other people," Mike adds. "Our story is really just part of His story."
Tickets are $20-$175 and available at ticketfly.com/purchase/event/1791412. First Baptist Church Flint is located at 11131 FM 2868, Flint, (903)894-7649.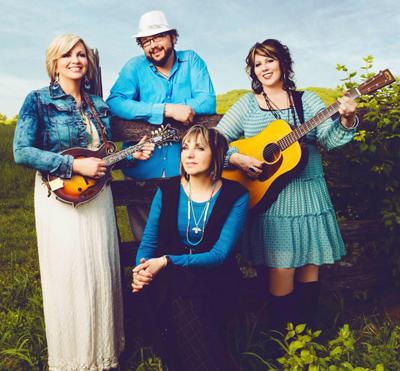 The Isaacs Come to Caldwell Auditorium – February 16th, 7pm
The Isaacs, a multi-award winning family group who began singing 35 years ago are based out of Hendersonville, Tennessee.
The vocalists are mother Lily Isaacs and siblings Ben Isaacs, Sonya Isaacs Yeary, and Rebecca Isaacs Bowman. Playing their own acoustic instruments and joined by other band members, The Isaacs have a unique style that blends tight family harmony with contemporary acoustic instrumentation that appeals to a variety of audiences.
Their musical style has been influenced by many genres of music including bluegrass, rhythm and blues, folk, country, contemporary, acoustic, and southern gospel. They perform frequently at the Grand Ole Opry, are active members on the Gaither Homecoming Videos and Concert Series, and travel internationally throughout the year to perform to welcoming fans in countries such as South Africa, Norway, Holland, Scotland, Ireland, Israel, Canada, and many more.
They have been nominated at and performed on the Dove Awards, IBMA (International Bluegrass Music Association) and NQC (National Quartet Convention) Awards, the ICCMA Awards (Inspirational Christian Country).
The Isaacs have won over seven Doves in various categories and have had several Grammy® nominations in their career.
Tickets are $25-$150 and available at 300 S. College Ave, Tyler or by calling (903)262-2300.
Michael McDonald at Cowan Center – February 20th, 7:30pm
With a career that encompasses five Grammys®, numerous chart- topping hits, a wealth of accolades, Michael McDonald is an enduring force in popular music. Before embarking on a phenomenal solo career, McDonald was an integral part of Steely Dan and the Doobie Brothers. Throughout the '80s and '90s, his solo career soared with a string of hits including "I Keep Forgettin' (Every Time You're Near)," "Sweet Freedom," "On My Own" (with Patti LaBelle) and the Grammy®-winning James Ingram duet "Yah Mo B There." He has a soulful voice that is guaranteed to touch your soul!
Tickets are $77-$97. The Cowan Center is located at 3900 University Blvd. on the UT Tyler campus. Tickets are available at the box office by calling (903)566-7424 or go to cowancenter.org.
This concert substitutes for the cancelled Kool and The Gang concert.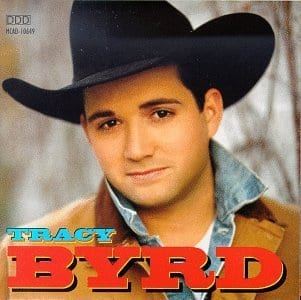 Tracy Byrd in Concert at Liberty Hall – February 21st, 7pm
Tracy Byrd is an American country music artist. Signed to MCA Nashville Records in 1993, Byrd broke through on the country music scene that year with his single "Holdin' Heaven," which reached Number One on Billboard Hot Country Singles & Tracks.
Although he did not land a second Number One until 2002's "Ten Rounds with Jose Cuervo," Byrd has charted more than thirty hit singles in his career, including eleven additional Top Ten hits and much more.
In 2016, the multi-platinum recording artist, Tracy Byrd, released his first album in 10 years titled All American Texan.
Tickets are $50. Liberty Hall is located at 103 E. Erwin St., Tyler. Tickets are available online at libertytyler.com or by calling (866)710-8942.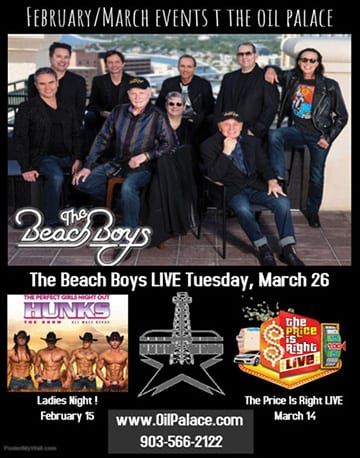 Beach Boys at The Oil Palace – March 26th, 7:30pm
The Beach Boys are a legend in themselves of music in the United States. "Fifty years ago, we started something very big," says Brian Wilson.
"So now we're celebrating together in a very big way. It's pretty miraculous that we can start out as a bunch of guys who didn't know anything about fame or money, or anything like that," says Mike Love. "All we knew was we liked to sing and make harmonies together. So to have it become part of American musical culture is pretty amazing."
The amazing yet true saga of The Beach Boys is well chronicled, and by any standard it's one of the greatest and most musical stories ever told. Now, this singular West Coast story continues with a global celebration that is befitting of the remarkable and enduring legacy of these Rock & Roll Hall of Famers.
To mark their 50th Anniversary, the founding members of The Beach Boys are reuniting for a major international tour and a brand new studio album that represents a whole new harmonic convergence from a group that has brought so much joy and harmony to this whole world.
For millions of Beach Boys fans spanning multiple generations, this 50th Anniversary Tour and new album called "That's Why God Made The Radio" which came out in 2018 from Capitol/EMI, represents a dream come true and is an almost religious experience.
Beach Boys Brian Wilson, Mike Love, Al Jardine, Bruce Johnston, and David Marks completed their recording sessions at Los Angeles' famed Ocean Way Studios for "That's Why God Made The Radio," and it is the band's 29th studio album, the first in decades to feature all of the band's surviving original members.
The Beach Boys' collaborative approach to writing and recording their new music is evidenced throughout this newest album with all of the surviving original band members participating to create its glorious harmonies, lyrics, and arrangements.
Through it all, the good times and the bad, The Beach Boys have always been at heart, a musical family. And to mark a half-century of musical excellence, the surviving members of The Beach Boys family are reuniting as only family can to reflect and to celebrate.
Inducted into the Rock and Roll Hall of Fame in 1988 and recipients of The Recording Academy's Lifetime Achievement Grammy® Award, The Beach Boys are a beloved American institution that remains iconic around the world.
Tickets are $45-$75 and available at The Oil Palace box office, by calling (903)566-2122, or at OilPalace.com.
For more concerts, visit EGuideMagazine.com