Written and Photographed By A. C. Slaughter
Captivating…when you first see an Arbor Castle Birdhouse the Harry Potter theme starts to play somewhere over your head and fireflies appear in your peripheral as you slowly walk towards these marvelous creations, timid and curious, excited like it is Christmas morning.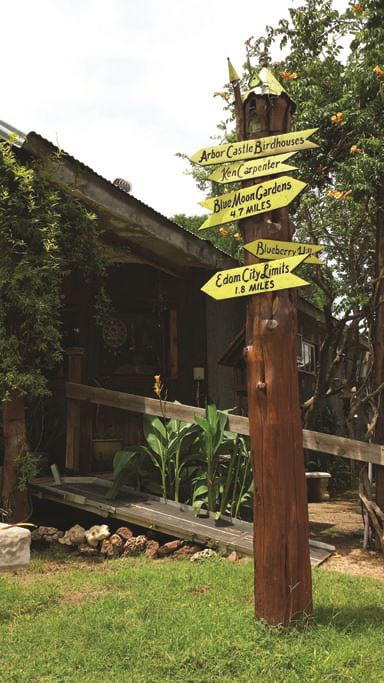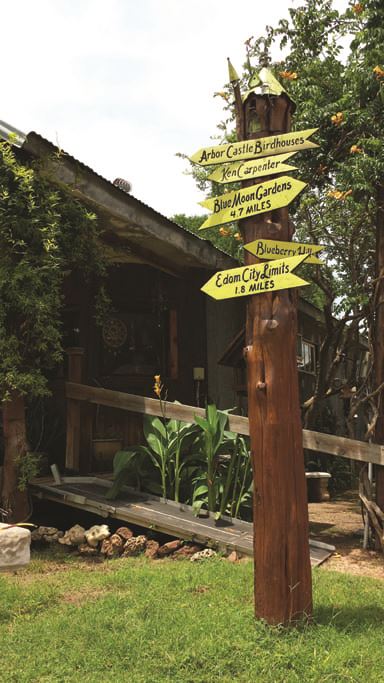 Majestic and quirky, these fun columns of earth capture your attention and keep you intrigued, wanting for more. Arbor Castle creations surprise each visitor with their perfect design and perfectly intended whimsy. A statue, an art piece, a birdhouse, a place where fairies sleep for the night – as soon as you see them you will want one to be a part of your life.
Joseph and Bobby Hopps, a father and son duo, are the men behind Arbor Castle Birdhouses. Joseph began making Arbor Castle birdhouses fifteen years ago and when you ask him why he makes birdhouses he replies, "Well, I enjoy birds for one thing. Oh and I like to eat." Earning a living making birdhouses comes as natural to these gents as putting on shoes. Joseph said he was making birdhouses for a competition when he came across this particular idea. He won the competition with this style of house and people really seemed to like them, so he continued. Joseph has been making Arbor Castle houses since 1999.
Son Bobby says he has been hanging around the shop since he was a young lad. "I'd sneak in there any chance I'd get." Watching how things are made is a wise way to inherit a trait. Bobby has been helping with Arbor Castle since 2005. Now the father-son duo creates together, making Arbor Castle a family affair. Each house is hollowed from a single cedar log. I asked if they hire Paul Bunyan to hollow out the stump but they said no, it is done mechanically by a specialized machine. Joseph's brother lives here in East Texas. "My brother is instrumental in making all this happen. He is a bit of a mechanical genius and he developed all of the tools to hollow these logs." Once hollowed out, the trunks are treated, sanded and prepared for any internal additions. Some of the houses are purely aesthetic in that they do not function as an outside birdhouse. They are meant for your buffet table, a corner pedestal or as the center piece for your autumn table. The decorative houses are equipped with LED lights that are specially made to be near natural materials. They do not over heat, making them safe to light up inside the cedar and therefore safe to have in your home.
On the outside, the functional houses look exactly like the decorative ones. Each piece has a roof and a set of stairs, both copper. The staircases wrap up around the outside of the dwellings and decorative leaves, also made of copper, help beautify the logs. Every piece of copper has a decorative patina. The patina on the copper is individual to each piece. Methods for attaining the patina include a combination of fire, water and time making each piece unique. The copper on the houses will change colors over time giving you a unique experience for years to come.
Joseph and Bobby leave as much of the cedar alone as possible when making the houses. In fact, Red Heart Cedar is one of the reasons Joseph ended up back in East Texas. Dried for a year and a half, the logs are kept at an undisclosed location waiting for the moisture content to go down. This helps the logs remain sturdy so they won't break or crack. Knots are left in the wood and become part of the charm.
The pieces are then treated; the cracks are filled with expansion glue and then covered with a strip of copper to make it pretty. Other metals have been used but over time the Hopps have realized that copper is the only way to go. Each birdhouse is now made from only Red Heart Cedar and copper. No other metals or woods are currently used.
Everything from the doors, the hinges, the locks, the leaves, the stairs, everything is handmade. These gentlemen come from a long line of handymen and would have it no other way. "My father has always been an artist," says Bobby. "When I was little he painted, abstract painted. My grandfather made church furniture for a living. If you've ever been in any of the churches, you don't see hammer marks, no screws and stuff -it looks beautiful where you can close your eyes, touch it and think, oh yeah that's high quality. Also, my uncle is a master woodsman." You can see the family traits in the workmanship. The birdhouses are exquisite – handmade with years of love. I am told that over 100 steps are involved in the most basic piece and you can see it. How much time does it take to make one? There is only a smile from father Joseph when I asked. My guess is that labor is not clocked as you can't quantify genius.
To add to the charm of the houses, the building where they are located is over 100 years old. Located in Edom, Texas, population 400, the building is a reminiscent of the old days when men sat outside on rockers in the evenings and life moved at the speed of crickets. When you see Edom, you get a sense of history. Arbor Castle helps keep that nostalgia flowing. For those of you who haven't been there, Edom has a collection of artists all working right there together: potters, jewelers, painters and of course, master woodsmen. Having all this talent in one quaint place makes the trip to Edom all the more worth it.
Shown all over the United States, the duo behind Arbor Castle loves traveling and meeting people who also make fun things. Some of these fun items are on display in their store. The next time you are out towards Edom take a minute and pop into Arbor Castle for a quick glance into the playful world of Joseph and Bobby Hopps and if you are one of the lucky ones, perhaps one of these fine houses will find its way into your home.
Check out Arbor Castle at www.arborcastlebirdhouses.com and see for yourself the magic and mystery behind these wonderful creations. You can find them at the intersection of FM 279 and FM 314 S in downtown Edom, Texas. Also look for them on Facebook.
Take a day trip out to Edom, it's only 20 minutes west of Tyler, and share with your family a family business, a family of artists and support your local artisans as they support you.
Until next time, East Texas, stay classy and MAKE ART.