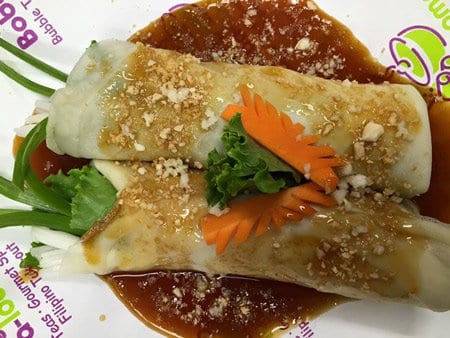 Written and Photographed Barbara King
How about taking a step outside your regular go-to food establishments, and try a cultural change-up in taste at Boba-Loompia?
Co-owners and friends, the Llave and Carpio families have brought new and authentic Filipino flavors to Tyler, literally right across the street from the University of Texas at Tyler. The restaurant, which opened in April 2016, has slowly grown to be the go-to spot for students and families alike that want to experience true Filipino dishes, made with love and care every day.
Originating in Asia, bubble tea, or boba is all the rage at the restaurant. The combination of sweetened tea and flavors plus the unexpected tapioca pearls at the bottom of your glass, give it the name "boba" or bubbles as they come up through your straw.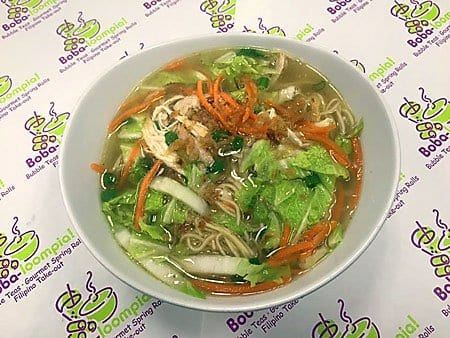 Almira Nunn, assistant manager, says, "Our name is derived from 'boba' from the tea to 'lumpia,' referring to our fried egg rolls."
Bubble teas are the number one item on the menu and can be either fruit or milk-based with lots of add-ins to suit your taste. It is known by many different names, such as bubble tea, pearl milk tea, tapioca ball drink, and pearl shake. It is usually served cold, with an extra wide straw available for savoring the chewy boba along with your drink. They also have an extra special popping boba that is filled with juice that literally pops when chewed.
The boba is actually derived from the starch of the cassava root and becomes chewy and translucent with the texture of a gummi bear candy. It's a rare mix of soft on the outside, chewy in the middle, and naturally sweet in the center.
Add-ins for flavor include rainbow jelly, mango jelly, blueberry pops, peach pops, pomegranate pops, kiwi pops, or coffee jelly.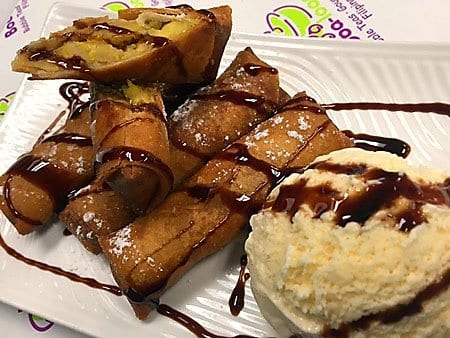 Fruit smoothies feature avocado, taro, papaya, durian, banana, strawberry, mango, honeydew, and strawberry mango for $4.50.
What attracts the college crowd and keeps them coming back? It's a little bit of everything; from the fact that the restaurant is not a chain to the fact that it also employs students and boasts that it is "100% Tyler-Texan grown."
Every table is adjacent to outlets for charging laptops and free WiFi, and a white board for study groups gives the restaurant a very welcoming vibe for the student population. "I would say it's the prices, portions, and people," adds Nunn.
UTT Nursing students Kha Nguyen and Nade McMahon dropped in between classes for a boba, royal milk tea, and Nguyen said, "It's so convenient for us to come by, and the drinks are very delicious and not like anything else in Tyler. We both know a little bit about Filipino food and we love it."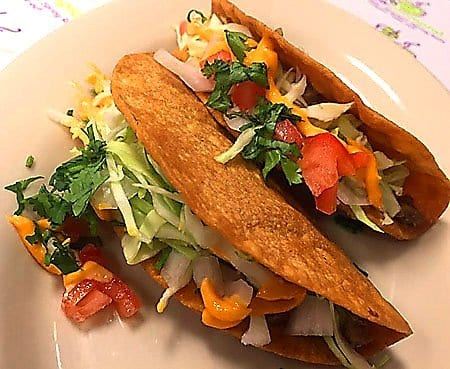 Start off your dining adventure with either beef Mami soup (braised beef, bok choy, and egg noodles in rich beef broth) or the famous lumpias (fried spring rolls, either beef, chicken, pork, or veggie) or the traditional Siopao steamed dough buns (your choice of either chicken or pork.)
Rice options include Pansit Bihon, rice noodles with a choice of chicken or pork, or Pansit Canton which are egg noodles with either chicken or pork. Lovers of stir fry can feast on a plate with garlic hoisin sauce including your choice of chicken, tofu, or pork.
Their combo plates can't be beat, (ranging from $5.95 to $8.25) starting with adobo, which literally means a marinade made from paprika, oregano, salt, and vinegar (chicken or pork) served with garlic or steamed rice and two fried lumpias. BBQ pork skewers are also served with garlic or steamed rice and two fried lumpias.
The fish special (blackened or coconut curry) is a scrumptious full plate of seasoned, specially-prepared fish. Or try the Lechon Kawali (crispy pork belly) that also comes with garlic or steamed rice and two fried lumpias.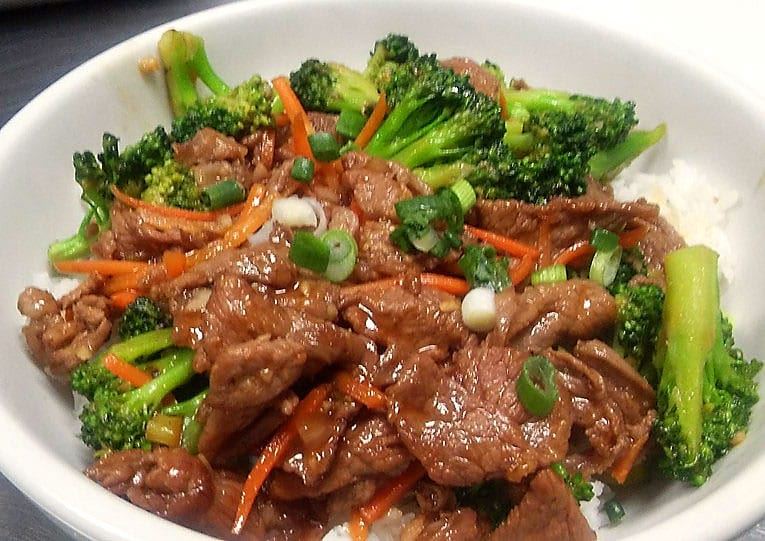 If you like chicken, try the Lollicup chicken (fried chicken) served with rice and two lumpias. Chicken wings come in five flavors with all the sauces made from scratch, including, coconut curry, adobo, honey lemon, pinoy, and spicy buffalo.
Chef specials include crispy pata (deep fried pork leg with tender meat and crispy skin). This treat takes time, so call ahead and order if you are in a hurry, and give them 45-minutes preparation time.
The beef Tapsilog is marinated beef served with two eggs with your choice of steamed or garlic rice. Beef-n-Broccoli Stir Fry is a favorite too, served with either rice or egg noodles.
Friends and co-workers Lauren Fehlis and Cheryl Ruiz were enjoying lunch "in a place that is a real cultural treat," said Fehlis. "I have lived in Austin, and this restaurant reminds me of the community and Filipino culture you can find there." Ruiz added, "The prices are fantastic, and the portions are huge, so you can't lose – plus you get to experience a different cuisine."
Finish off your meal with a specialty dessert called turon, a "lumpia style" plantain banana with jackfruit or cheesecake lumpia served with mango jam. Don't leave until you've tried the halo halo, another traditional dish, which literally means 'mixed together.' The ingredients vary from boiled sweet beans, coconut, agar jelly, and fruits mixed with shaved ice.
As well as being conveniently located, the restaurant makes it easy to order with a kiosk up front where you can peruse the menu and place your selection. Catering is available, but it's best to call in and talk through what you want as far as taste and preferences. Gift cards are also available at the restaurant for a special Christmas gift. Smaller parties are welcome, and it's a great location for a birthday, bridal shower, or small get together.
Boba-Loompia wants you to experience the Filipino culture and community, so come in and get ready for some wonderful exotic tastes.
Boba-Loompia is open Monday -Saturday 10:30am-9pm, and closed Sundays. Boba-Loompia is located at 3979 University Blvd., Tyler. For more info or to place a to-go order call (903)630-7337 or go to bobaloompia.com.