Calling DIY Lovers: Hammer & Stain ETX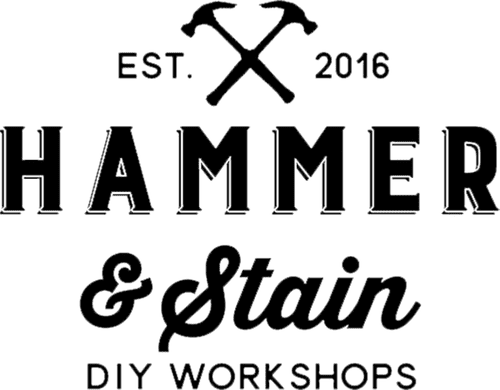 Hammer & Stain East Texas:
A Welcoming Space to Laugh & Create
By Barbara Greenbauer
There's a new place in town for all you creative DIY folks (also known as Do-It-Yourself) to build, stain, and paint to your heart's content!
Hammer & Stain East Texas is the welcoming space for everyone to laugh, share, and create. You can literally take a raw piece of wood and in a few short hours, leave the building with a personally-created, hand-crafted work of art that you will be proud to say you did with your own two hands.
Owner Kay Shubert is the vibrant, enthusiastic, and personal artist behind Hammer & Stain and she is the hands-on instructor who will walk you through your project from beginning to end.
Opened in February 2019 in Bergfeld Center beside The Egg & I, the space is large and inviting, and with other projects lining the walls, is in itself food for thought.
"We have hundreds of stencil ideas for people to start with," explains Kay, "but you are welcome to come in with an idea or concept and we will make it happen. The world of Pinterest has opened everyone's eyes to projects that are easy and fun."
You and your friends, family, co-workers (or any other combination you can come up with) are welcome guests and the space is yours as you grab your wood and a seat at the huge, wide worktables. A private workshop is a great time to bond, have fun, and not worry that you are not artsy or can't handle a brush.
All materials and tools are included and you will get step-by-step instruction as you work, eat, laugh, and party down. You also get to choose your style of music as you get creative.
On the night I visited, it was a private workshop that had been booked by co-workers from Christus Trinity Mother Frances ObGyn Clinic. It's the second visit for most and they have already set up their food and drinks at the back table and are singing and dancing to the 80's music as they begin to create.
Some of the ladies are checking out the endless selection of colors and glitter on "Bertha," the paint caddy that Kay built that dominates the back of the space.
The projects are diverse and unique; some ladies are creating signs for wedding gifts and Christmas presents and seasonal topics are a big hit. "We are getting really busy with Halloween, Thanksgiving, and Christmas projects," Kay said.
Projects can range from single plank boards to benches, headboards, or pillows. Shubert pre-builds most of the bigger items which have included sofa and buffet tables and kitchen islands.
It's a really fun, laid-back vibe as the group laughs, compares projects, eats, drinks, and chats. You can bring in your own choice of food and beverages (including alcohol) and make the space your own. Hammer & Stain hosts and books private parties for 10 people with the entire space able to accommodate up to 50.
Hammer & Stain has been DIY central to all kinds of groups: bridal showers, birthday parties, bachelorette parties, date nights, and corporate team-building adventures.
Dr. Charla Spencer, having a great time with her co-workers from the ObGyn clinic, said, "It's my first project and it's actually décor for my home." At a table behind Dr. Spencer, Barbara Schwab, an ultrasound technician, was hard at work designing a personalized wedding gift. Barbara said, "We are a really close-knit supportive group but having the opportunity to have fun together and go home with a neat handmade project is a bonus."
"I love meeting and helping all kinds of folks," said Shubert. "We have even had Boy Scouts troops come in to do kits that complete their badge work."
No time to party? Hammer & Stain has got you covered with "Hammer on the Go." They will bring everything to your location including tables and chairs and all materials. Shubert also has "make and take" kits that you can take home and finish at your leisure.
Tonight's funfest at Hammer & Stain is winding down, but the finished artwork is being oohed and aahed over and pictures are being uploaded to Instagram and Facebook. The handcrafted pieces are heading out the door but the memories are going to last a long time.
The store is open Monday-Friday 9am-4pm for walk-in customers that want to sit and create in their space. Shubert also has special ladies nights with added goodies and surprises – there have even been karaoke parties!
The next Ladies Night coming up is scheduled for Thursday, October 18th. It is open to anyone!
The best way to know about upcoming events and what's happening at Hammer & Stain is at hammerandstaineasttexas.com or call (432)301-0786. Find great group pictures and look at the finished artwork on facebook.com/hammerandstaineasttexas. Hammer & Stain is located in Bergfeld Center, 130 East 9th St. in Tyler.