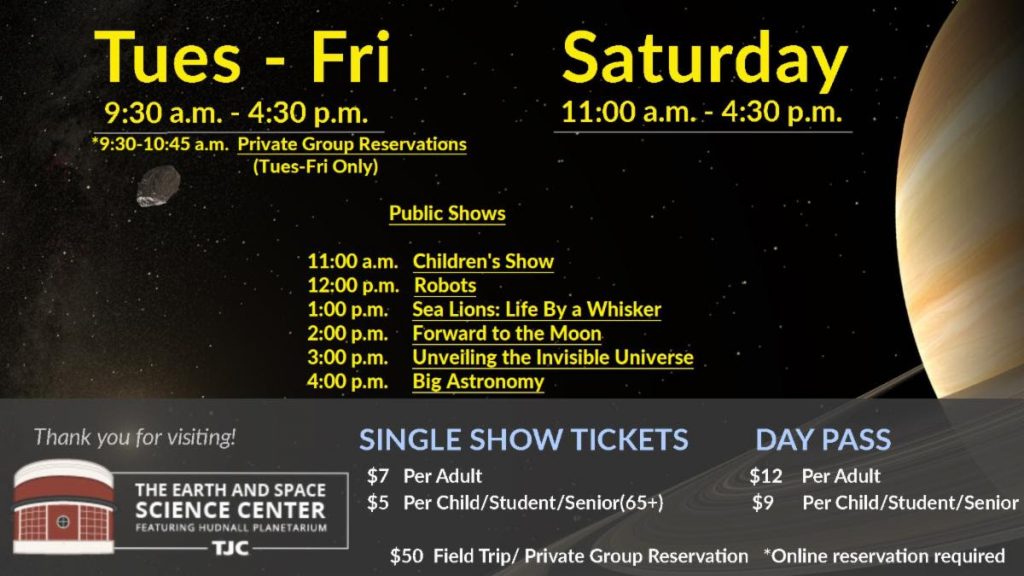 Looking for something fun and unique to do this Saturday night? Join us on July 16, as we turn the planetarium LOUD for our special "Legends of Rock" edition of LASER Rock and Roll Saturday! Our newly installed SkyLase system will allow us to make the planetarium's 40-foot dome come alive with LASERs and other special visuals set to some of your favorite rock hits, blaring through our 15,000 watt surround sound system!
This month's LASER Rock and Roll Saturday will include two experiences: "LASER Queen" at 7pm, and "LASER Rock" at 8pm.
Tickets are $5 for each show.
TJC science center summer hours begin May 31stThe summer season is blasting off at the TJC Earth and Space Science Center featuring Hudnall Planetarium, with the addition of new dome shows featuring the universe and the future of space travel.
"We're excited to debut two new shows — 'Unveiling the Invisible Universe' and 'Forward! To the Moon' — which I'm sure everyone will love," said Dr. Beau Hartweg, TJC science center director.
Beginning Tuesday, May 31, science center operating hours will be 9:30 a.m.-4:30 p.m. Tuesdays-Fridays and 11 a.m.-4:30 p.m. Saturdays.
Admission is $7 for adults, $5 for children, students and seniors (ages 65 and over). Day passes are $12 for adults or $9 for children, students and seniors.
Private group reservations will be available from 9:30 to 10:45 a.m. Tuesdays through Fridays. Admission for a private group of up to 30 visitors is a $50 flat rate.
The science center is located at 1411 E. Lake St., on the TJC main campus. Parking is free.
Dome shows and times
Children's show (11 a.m.) — The planetarium offers a variety of shows for children ages 10 & under, including: "Accidental Astronauts," "The Little Star That Could," "From the Blue Planet to the Red Planet," "Earth, Moon & Sun: The Secret of the Cardboard Rocket" and "Dinosaur Passage to Pangaea." A different show will be selected each day.
"Robots" (noon) — Host and narrator RoboThespian, a humanoid robot voiced by actor and filmmaker Simon Pegg ("Star Trek," "Shaun of the Dead"), takes students on a lively tour of the world to meet a dozen of the most remarkable robots in Europe, Japan, and the U.S.
From Robonaut, the first space robot handyman, and robot butlers and home helper humanoids, to eerily human-looking androids and remarkable rescue robots, the film showcases the latest cutting-edge efforts — and challenges — driving roboticists, engineers, and scientists around the globe to new breakthroughs.
"Sea Lions: Life by a Whisker" (1 p.m.) — Between a jagged cliff and a roaring ocean lives a colony of Australian sea lions. In an environment as equally harsh as it is beautiful, viewers are immersed in a classic coming-of-age tale guided by one of Australia's most unique, intelligent and playful animals.
Narrated by actor Sam Neill ("Jurassic Park"), the film looks inside a colony of creatures where a life of closeness, tenderness, and clumsiness sometimes gives way to great sacrifice and bravery. Dive into the world of a rare Australian sea lion pup — and meet the people who are trying to save her species.
"Forward! To the Moon" (2 p.m.) — Kari Byron ("Crash Test World," "MythBusters") takes audiences on a journey beyond the earth toward a sustainable future in space.
NASA's 21st century Artemis program, named after the Greek moon goddess and twin of Apollo, is the next step in its mission to explore the universe and land the first woman and person of color on the surface of the moon.
"Unveiling the Invisible Universe" (3 p.m.) — For thousands of years, humans observed the light coming from the night sky with the naked eye. In the beginning of the 17th century, Galileo's invention of the telescope revolutionized our knowledge of the universe. In the 20th century, the advent of rockets made it possible to go above the earth's atmosphere and observe X-ray and gamma ray radiation. In addition to light that can give us information about the cosmos — neutrinos and cosmic rays also provide vital information. The LIGO experiment opened a new window into astrophysics with its detection of gravitational waves from two merging black holes.
Winner of Best Full Dome Film at the 2021 Baikal International Film Festival, "Unveiling the Invisible Universe" uses vivid, dynamic imagery to survey 13 billion light years of space observation from Galileo to the recently launched James Webb Space Telescope.
"Big Astronomy" (4 p.m.) — It takes many people with diverse backgrounds, talents and skills to run a world-class observatory. Meet a few of these people as they share the wonder of the sky and the excitement of discovery. Explore the observatories nestled in northern mountains of Chile and learn why its beautiful mountain ranges and clear, cloudless skies create an ideal environment for studying the cosmos.
For more information, or to purchase advance tickets, go to sciencecenter.tjc.edu.
'LASER Rock the Dome Saturday' shows set for July 16
The planetarium's 40-foot dome will come alive with "LASER Rock the Dome Saturday," which includes two concert experiences filled with music, lasers, and other visuals. Tickets are $5 for each show.
Laser shows and times:
"Pink Floyd's The Wall" — 7 p.m.
Coupled with spectacular and mesmerizing laser art, Pink Floyd's classic 1979 epic album about personal struggle takes on a unique look, weaving its story into one of the most popular laser shows ever produced. Visitors will be spellbound as their senses take in this timeless journey.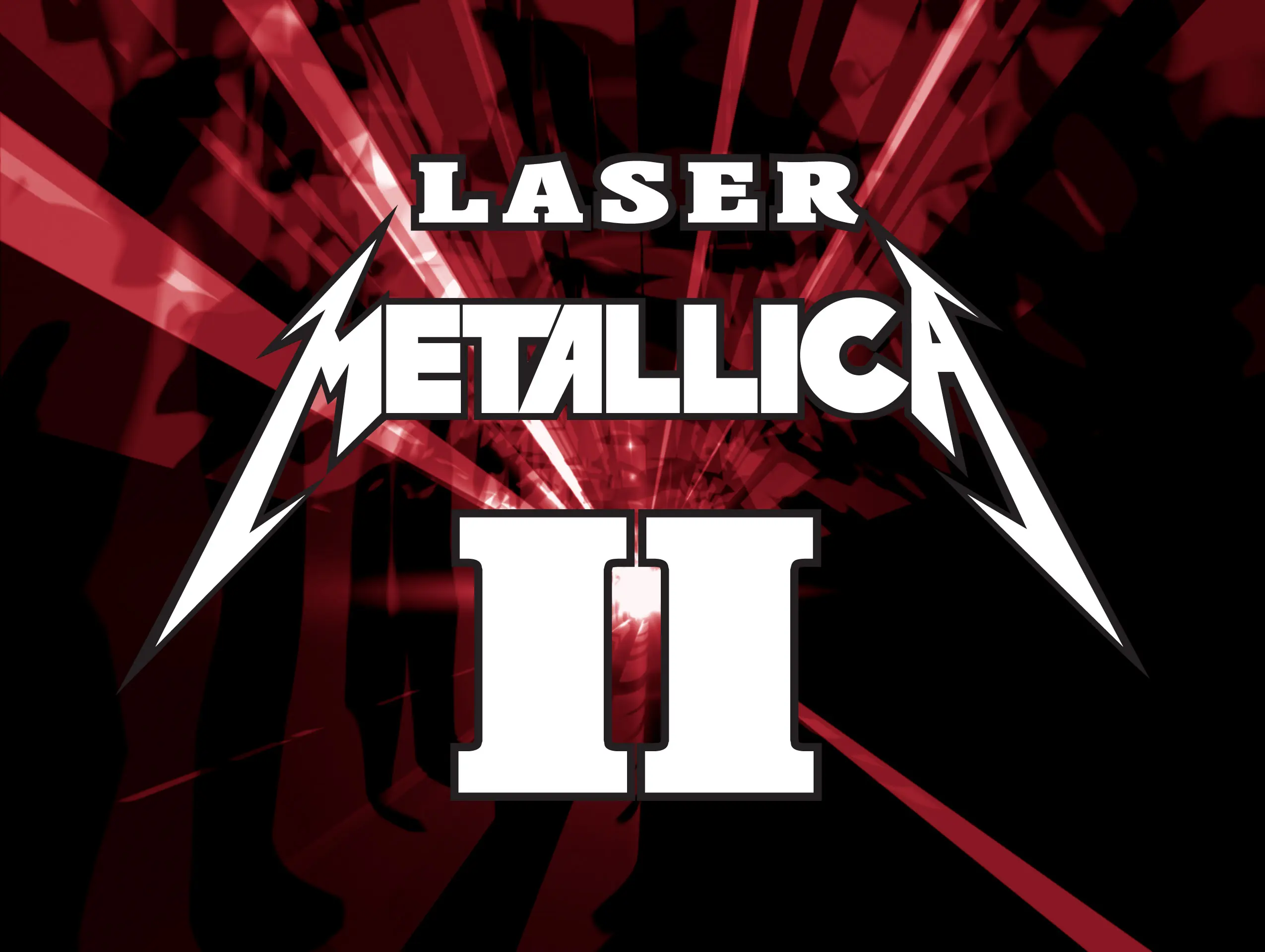 "LASER Metallica" — 8 p.m.
Considered one of the pioneering groups in what would become the heavy metal genre, Metallica's musicianship has been hailed by critics and fans around the world. The group's tempos, instrumentals, and themes are complemented with laser lights of the same caliber and style, offering audiences a pulse-pounding experience.