Clear Your Weekend…Edom Art Festival October 13th-14th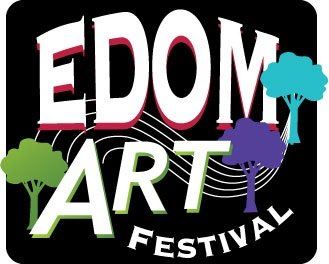 The 46th Annual Edom Art Festival:
Held October 13th & 14th in Downtown Edom
The tiny town of Edom, Texas has been a tourist destination for decades. It's quaint and exceedingly colorful. Every weekend the population swells as visitors come to shop the resident artist's studios and array of eclectic shops. In October though, the numbers balloon into the thousands for the Edom Art Festival.
Now in its 46th year, the festival has grown from an invitation-only to a juried event of exceptional art and craft makers. This year the festival will be October 13th-14th.
More than 60 art booths will spread out across the meadow in downtown Edom. This idyllic location is a natural setting for artistic creators to show their wares.
The pace is unhurried, so visitors have time to appreciate details such as Anne Felmeir's landscapes that are glazed on a cup rather than painted on a canvas.
Marvel at the beautiful woven textiles by Gloria Haefner-Gatti. She considers them tea towels, her customers often use them as statement pieces on the dining room table rather than for their utilitarian intention.
While many of the artists make pieces that are useful and beautiful, there are others who made the short list of invited artists because their work is just flat out exquisite. V. Chin's ceramic vases, and the cloisonné jewelry of Bill and Lisa Bailey both have historical precedence but manage to be as much of this time as pastimes; which is what makes their work compelling.
William Morris, a celebrated 19th century designer and key figure in the Arts and Crafts Movement said, "Have nothing in your house that you do not know to be useful, or believe to be beautiful." It's a good advice, when starting out with your first home, collecting for your now home, or downsizing from your big house.
Morris would approve of the Edom Art Festival were everything is either useful or beautiful and often both, hand-made by the artists who are on site. Morris was also a staunch supporter of the hand­made. One of the great joys of shopping art festivals is getting to meet the artists, knowing that you are purchasing a one-of-a-kind piece, and that you are helping support an artist. Patronage is a very rewarding experience.
Musicians and food vendors will be at the festival for day-long enjoyment. There are the expected fair foods, and the fabulous finds such as ice cream from the Double Barrel Dessert Company, and Zemer Root Beer, now being served by a third-generation Zemer.
Along with art, music and food, two local wineries, Green Goat winery & White Fox Vineyards, will have tasting booths with wine for sale.
The Edom Art Festival is family-friendly with a children's art-making area where finished artworks can join the growing gallery of site-made creations from years past, or they can be taken home to become an addition to the refrigerator gallery.
With so many decades of experience the organizers of the Edom Art Festival have made the event a delightful experience for vendors and visitors.
The free event will be held in downtown Edom, 20 miles west of Tyler at the crossroads of FM 279 and FM 314.
For more info go to visitedom.com.