Coming September 20th, an Exciting New Season at Cowan Center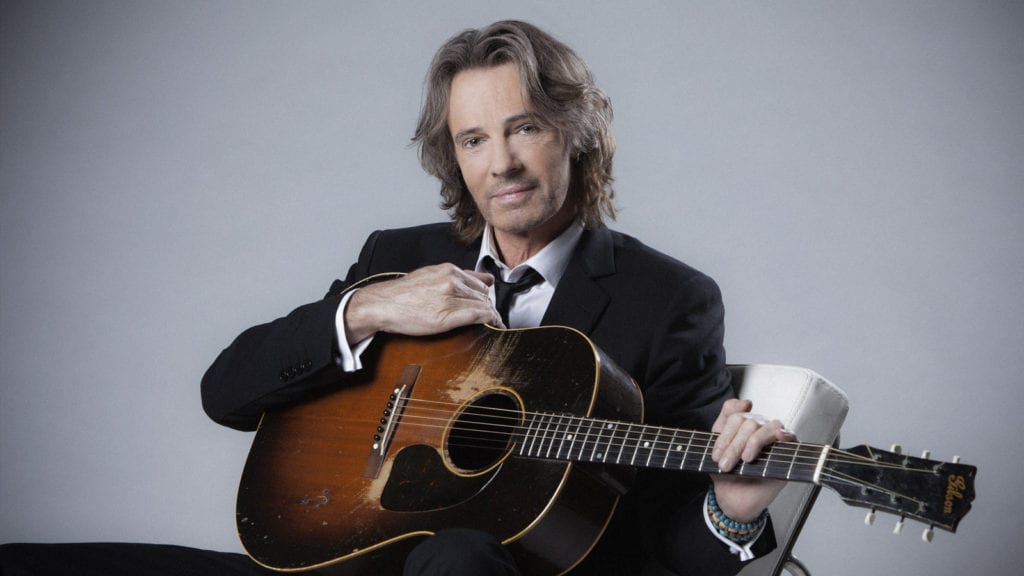 Bring on the unforgettable concerts! Bring on the big Broadway musicals! Bring on the amazing shows! Bring on the insightful lectures! It's a new season at Cowan Center!
The Cowan Center is located at 3900 University Blvd. on the UT Tyler campus. Tickets are available at the box office by calling (903)566-7424, or go to cowancenter.org. Upcoming productions are:
September 20th (7:30pm) – Rick Springfield –
Over the past four decades, Rick Springfield has worn many hats as an entertainer and performer. He is the creator of some of the finest power-pop of the '80s, a Grammy
®
-winning singer, songwriter, and musician who has sold 25 million albums and scored 17 U.S. Top 40 hits, including "Jessie's Girl," "Don't Talk to Strangers," "An Affair of the Heart," "I've Done Everything for You," "Love Somebody," and "Human Touch." Rick's latest album "The Snake King" finds Rick traveling down a dusty dirt road to explore the blues side of his rock 'n roll and marks a definite departure from the power pop for which he's known. Member sales begin August 13th, public sales start August 20th. Tickets are $47-$87.
September 29th (7:30pm) – The Texas Tenors –
Over 100 million people from around the world tuned in to NBC's "America's Got Talent" in 2009 to see The Texas Tenors become the highest ranking vocal group in the history of the show. Performing everything from country legend Alabama to opera's Puccini, John Hagen, Marcus Collins, and JC Fisher bring their unique blend of country, gospel, classical, and Broadway to the stage. Public sales start August 27th. Tickets are $37-$62.
October 4th (7:30pm) – Dennis Miller –
Maybe you've seen him on the FOX News Channel. Or, perhaps you remember him from his days as anchor of the "Weekend Update" segment on "Saturday Night Live." Dennis Miller is also an award-winning comedian, talk show host, sports commentator, actor, author, and television personality. After captivating audiences on Saturday Night Live from 1985 to 1991, he went on to earn five Emmy
®
Awards and three Writers Guild Awards for his critically acclaimed talk show, "Dennis Miller Live." Public sales start September 10th. Tickets are $27-$57.
October 13th (7:30pm) – "iLuminate,"
the fantastic journey of wireless technology and dance, is coming to Tyler! Music, art, and the technological magic of iLuminate brings you a story of adventure and romance told through dance styles ranging from contemporary, hip-hop, Latin, to breaking – all using the power of light. "America's Got Talent" called it, "The Best New Act in America!" Public sales start September 1st. Tickets are $32-$57.
October 27th (7:30pm) – The Selena Experience –
It's hard to believe more than 20 years have passed since Selena was taken from this world far too soon. Even though she was known as "La Reina de Tejano," Selena was more than a Tejano artist. She was a pop cultural icon. A true superstar. In this concert by Los Chicos del 512 and featuring Evelyn Molina, you will relive all of the songs ("Dreaming of You," "I Could Fall In Love," "Baila Esta Cumbia") that keep Selena's star shining bright today. Public sales start October 1st. Tickets are $27-$57.
November 8th (7:30pm) – "The Sound of Music" –
The Hills Are Alive! The beloved musical story of Maria and the von Trapp family will once again thrill audiences with its Tony
®
-, Grammy
®
– and Academy Award
®
– winning Best Score, including "My Favorite Things," "Edelweiss," and the title song. 2015 marked the 50th anniversary of the film version, which continues to be the most successful movie musical in history. Public sales start October 8th. Tickets are $37-$77.
December 8th (7:30pm) – The Robert Cray Band –
With five Grammys
®
, fifteen "Billboard" chart-topping releases, and numerous W.C. Handy Blues Awards, Robert Cray is one of the most successful blues artists of our time. His 40-plus years of touring have featured him in bars, concert halls, festivals, and the largest arenas around the world. Public sales start November 5th. Tickets are $42-$67.
January 24th (7:30pm) – "Something Rotten!"
is "Broadway's big, fat hit!" ("New York Post"). Set in 1595, this hilarious smash tells the story of Nick and Nigel Bottom, two brothers who are desperate to write a hit play. When a local soothsayer foretells that the future of theatre involves singing, dancing, and acting at the same time, Nick and Nigel set out to write the world's very first musical. Public sales start December 3rd. Tickets are $37-$72.
February 1st (10am and 12:30pm) – "The Ugly Duckling" –
Hans Christian Andersen's classic "The Ugly Duckling" has helped generations of children understand one of humanity's universal struggles. This classic story comes to life in this modern stage production and offers hope to us all as we root for the ugly duckling who exemplifies resilience and heroism along the way to becoming a beautiful swan. This is jointly presented by UT Tyler Cowan Center with Young Audiences of Northeast Texas and The Discovery Science Place. Public sales start August 20th. Tickets are $4.
February 4th (7:30pm) – "The King & I" –
Two worlds collide in this "breathtaking and exquisite" ("The New York Times") musical, based on the 2015 Tony Award
®
-winning Lincoln Center Theater production. One of Rodgers & Hammerstein's finest works, "The King and I" boasts a score that features such beloved classics as "Getting To Know You," "I Whistle a Happy Tune," "Hello Young Lovers," "Shall We Dance," and "Something Wonderful." Set in 1860's Bangkok, the musical tells the story of the unconventional and tempestuous relationship that develops between the King of Siam and Anna Leonowens. Public sales start December 3rd.
February 9th (7:30pm) – Kool & The Gang –
Indeed, it will be a huge "Celebration" when these living legends raise the roof. Kool & The Gang has sold over 70 million albums worldwide and influenced the music of three generations. During their 50-plus years together, they've earned two Grammy
®
Awards, seven American Music Awards, 25 Top Ten R&B hits with 31 gold and platinum albums. Public sales start December 3rd. Tickets are $52-$117.
February 19th (10am and 12:30pm) – "The Magic School Bus" –
When the class gets lost on the way to the planetarium, Ms. Frizzle saves the day by blasting into outer space for an epic interplanetary field trip! This is jointly presented by UT Tyler Cowan Center with Young Audiences of Northeast Texas and The Discovery Science Place. Public sales start August 20th. Tickets are $4.
February 26th (7:30pm) – Los Vivancos: Born to Dance –
Brothers from Spain ignite the stage with power, grace, virtuosity, and passion! Metallica, Deep Purple, Leonard Cohen…the best hits of all-time music legends come together in an impressive extravaganza created by the award-winning group Los Vivancos. Through tap dance, humor, martial arts, aerial performance, musical virtuosity, and flamenco, these six artistic and athletic performers create a spectacular stage utopia. Public sales start January 28th. Tickets are $37-$62.
March 16th (7pm) – The Chieftains with Paddy Moloney –
Irish luck must be on our side because the band most recognized for reinventing traditional Irish music on a contemporary and international scale will be on the Cowan Center stage on St. Patrick's Day eve! Six-time Grammy
®
winners The Chieftains have been making music together for over 50 years. Their ability to transcend musical boundaries has notably hailed them as one of the most renowned and revered musical groups to this day. And after 55 years of making some of the most beautiful music in the world, their music remains as fresh and relevant as when they first began. The band Switchback, known for playing American roots and Celtic soul, returns to the Cowan Center to open for The Chieftains! Public sales start February 18th. Tickets are $37-$77.
March 19th (7:30pm) – Dan Rather –
Those who hear Dan Rather speak often say that he is one of the most extraordinary communicators of our time. With more than 60 years spent chronicling our world and nation, few can match the authority, experience, and perspective that the famed newsman brings to almost any subject. With a career that began in radio and is currently shaping news coverage in social media and beyond, Dan Rather has earned his place as one of the world's most influential and respected journalists. During 44 years at CBS, including 24 years as anchor of the CBS "Evening News," he interviewed every president since Eisenhower and personally covered history-making events. He is the recipient of virtually every honor in broadcast journalism, including numerous Emmy® Awards, several Peabody Awards and the 2012 Edward R. Murrow Lifetime Achievement Award. Public sales start February 18th. Tickets are $27-$57.
March 30th (7:30pm) – New York Philharmonic String Quartet –
To commemorate the 175th anniversary of the New York Philharmonic, this phenomenal string quartet made its much-anticipated debut in Lincoln Center in March 2017. The members of the acclaimed ensemble, all multiple prize winners, are Concertmaster Frank Huang, Principal Associate Concertmaster Sheryl Staples, Principal Viola Cynthia Phelps and Principal Cello Carter Brey. Their concert program for their evening in Tyler includes pieces by Haydn, Shostakovich, and Brahms. Expect an evening of magnificent music with the New York Philharmonic String Quartet! Public sales start March 4th. Tickets are $27-$47.
April 9th (7:30pm) – "Finding Neverland" – This breathtaking smash, based on the critically-acclaimed Academy Award-® winning film, "Finding Neverland" tells the incredible story behind one of the world's most beloved characters: Peter Pan. Playwright J.M. Barrie struggles to find inspiration until he meets four young brothers and their beautiful widowed mother. Spellbound by the boys' enchanting make-believe adventures, he sets out to write a play that will astound London theatergoers. With a little bit of pixie dust and a lot of faith, Barrie leaves his old world behind for Neverland. The magic of Barrie's classic tale springs spectacularly to life in this heartwarming theatrical event. Public sales start March 4th. Tickets are $37-$77.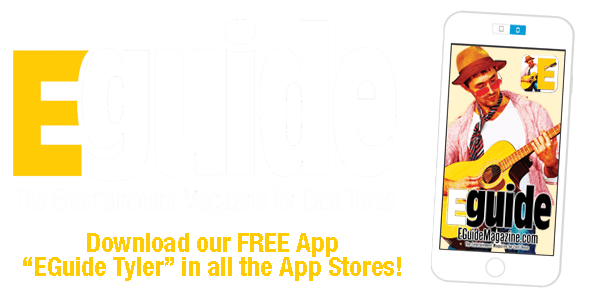 It's Time for Ice Cream: Move Over Summer Heat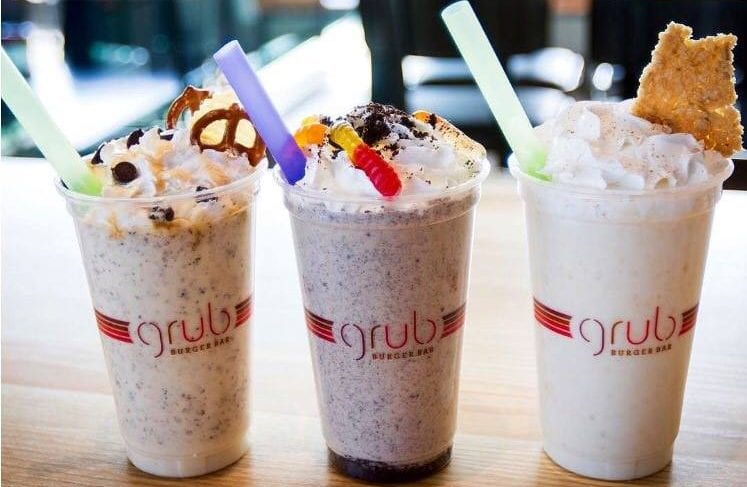 Summer is a wonderful thing. When the weather warms up, people head outdoors. Days are long and hot and it's perfect conditions for swimming, canoeing, biking, and picnics.
And best of all, a sweaty brow is a great excuse to gather your friends and go out for a drippy cone of ice cream. It's cold. It's sweet. It's creamy. And that burst of fruit-filled, nutty, or chocolate-chunky flavor can be incredibly refreshing when the steamy heat of summer starts to weigh you down.
As far as we're concerned, ice cream is summer's most delightful treat. Here are a few of our favorite sweet treats – from ice cream and froyo to shakes and custards.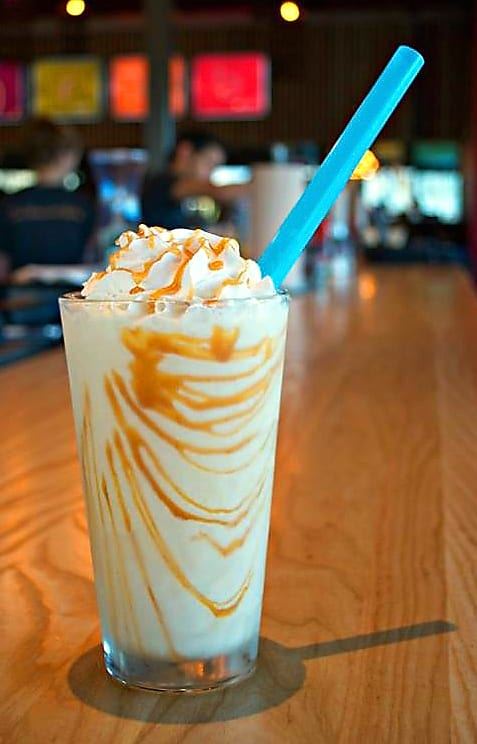 Grub Burger Bar
Grub Burger Bar (6421 S. Broadway Ave., Tyler, grubburgerbar.com) features some simply wonderful shakes in traditional flavors: strawberry, vanilla bean, and chocolate, plus Nutella, salted caramel, Root Beer float, and a monthly special.
Several hand spun specialities of the house are the "Kitchen Sink," featuring pretzels, peanut butter, salt, butterscotch sauce, caramel sauce, chocolate chips, coffee grounds, and potato chips (yes, potato chips). It is unique and heavenly and has a wonderful salty-sweet combo with a slight surprise crunch. Another favorite, the Worms & Dirt shake, has a ton of crushed Oreos and gummy worms.
If you are a chocolate lover, these two are for you. The ET Shake is like getting the entire candy aisle all in one glass with Reeses pieces, peanut butter, chocolate, and a peanut butter cookie. The Mint Chocolate Chip will hit the spot too with homemade crushed brownies, Andes mints, and a ton of chocolate.
For adults, Grub Burger Bar offers spiked shakes too. They have Bourbon & Caramel, Boozy Mint Chocolate Chip (vodka, crème de cacao, creme de mènthe, and Andes mints), the Tipsy Worms & Dirt (chocolate vodka, crushed Oreos, and gummy worms), and the ET Drunk Dial (chocolate vodka, Reeses pieces, peanut butter, chocolate, and a peanut butter cookie). Our favorite is the Spiked Dirty Kitchen Sink (chocolate vodka, pretzels, peanut butter, salt, butterscotch sauce, caramel sauce, chocolate chips, coffee grounds, and Grub's signature topping – potato chips).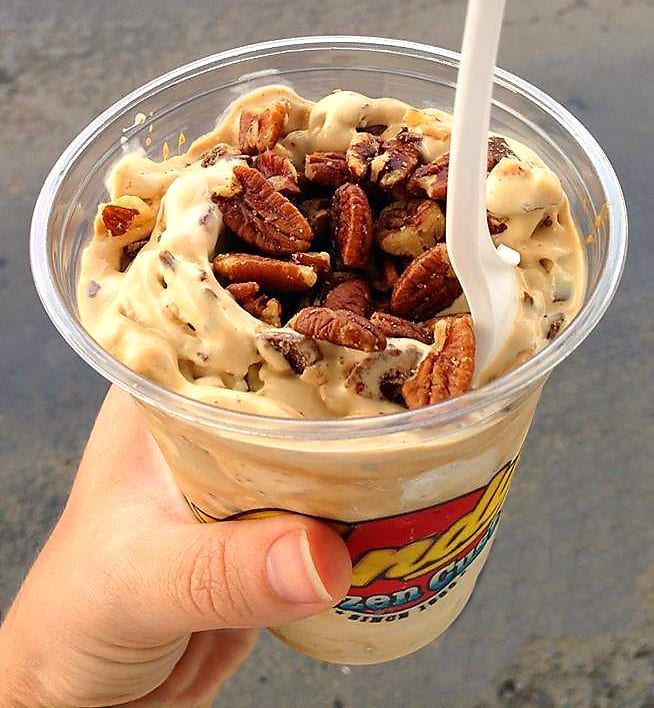 Andy's Frozen Custard
Andy's Frozen Custard (6106 S. Broadway Ave., Tyler, eatandys.com) has always been fanatical about custard and has served it with pride since March 19, 1986. For more than three decades, only the freshest ingredients have been used for a frozen custard experience you can't get anywhere else.
The difference? Ice cream is made from milk, cream, or a combination of the two. Andy's Frozen Custard is made from milk, cream, and egg yolks. Also, while the machine used to make ice cream churns air into it to make it light, frozen custard is produced in a machine that barely incorporates air into it at all, which means it comes out way more dense.
Andy's Frozen Custard has mastered custard and they offer a lot of creations that will cool you off this hot summer. A few of our favorites are Andy's Ozark Turtle (custard covered with hot fudge, crème caramel, roasted pecans, and topped with a cherry), The Original Straw-Ana (frozen custard covered with delicious strawberries and sliced bananas – think banana split ala custard), and Butter Pecan Concrete which is Andy's frozen custard blended with butterscotch and roasted pecans.

For chocolate lovers, you will think you have found heaven with Andy's Triple Chocolate Concrete (chocolate frozen custard blended with chocolate chip cookie dough and melted chocolate chips).
The Snowmonster Concrete has frozen custard blended with strawberries and melted chocolate chip. And the customer favorite, Andy's Turtle Split has custard, a whole banana covered with hot fudge, crème caramel, roasted pecans, and topped with a cherry…Andy's own version of a banana split.
Andy's has a convenient drive-thru and picnic tables out front that can accommodate a large group.
Mercado's Cafe & Posado's Cafe
In the mood for something a little different? How about ice cream in a fried tortilla! Mercado's (2214 WSW Loop 323, Tyler) and their sister company Posado's Cafe (2500 E. Fifth St., Tyler) has a unique menu item – the Bunuelo – a large golden-fried tortilla dusted with cinnamon and sugar and filled with big scoops of vanilla ice cream. It is served with your choice of syrup topping, whipped cream, and their specially-made praline pecans. This is a great treat after any meal and certainly a nice way to cool off on a hot summer day.
SweetFrog Frozen Yogurt
SweetFrog Premium Frozen Yogurt (2467 Crow Rd., Tyler, sweetfrog.com) is new to the fro-yo scene in Tyler but they are certainly not new to creating a great product. They feature a "create your own" bar where you can combo delicious, soft-serve premium frozen yogurt and a ton of toppings. The combinations are endless! You can create everything from a light snack, a decadent dessert, and everything in between. You pick the flavors, then add the toppings, and you can make it any way you want!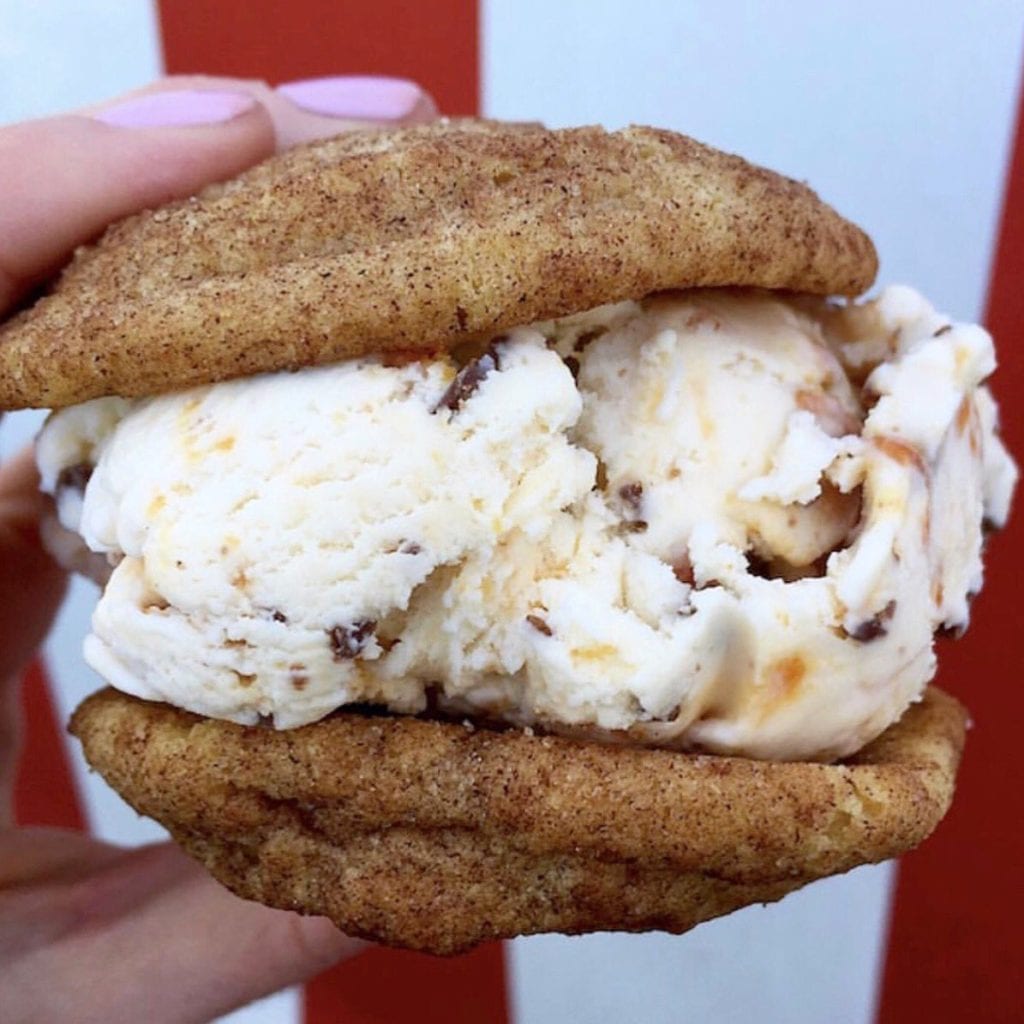 From SweetFrog's lovable mascots, Scoop and Cookie, to the meaning of the store's name of F.R.O.G. in SweetFrog which stands for 'Fully Rely On God,' SweetFrog is a great place to quench your fro-yo cravings.
Pokey O's Tyler
Pokey O's Tyler (facebook.com/pokeyostyler) What exactly is a Pokey O's? Well, it is a made-to-order ice cream sandwich individually customized for you from the Pokey O's dessert food truck. You can create any combo you can dream up – customizing the yummy fresh cookies and Blue Bell® ice cream – into a Pokey O's!
A favorite is the not highly creative but totally heavenly combo of chocolate chip cookies and chocolate ice cream – a chocolate lover's dream! 
The menu changes daily but standards are chocolate chip, snickerdoodle, fudge nut brownie, white chocolate, macadamia nut, sugar cookie, cappuccino chocolate chip, maple pecan, and more.
Blue Bell® Ice cream flavors include traditional vanilla, chocolate, mint chocolate, sea salt and caramel, cookies 'n cream, coffee, cake batter, rocky road, pecan pralines and cream, mocha almond, cotton candy, peachy peach and peppermint.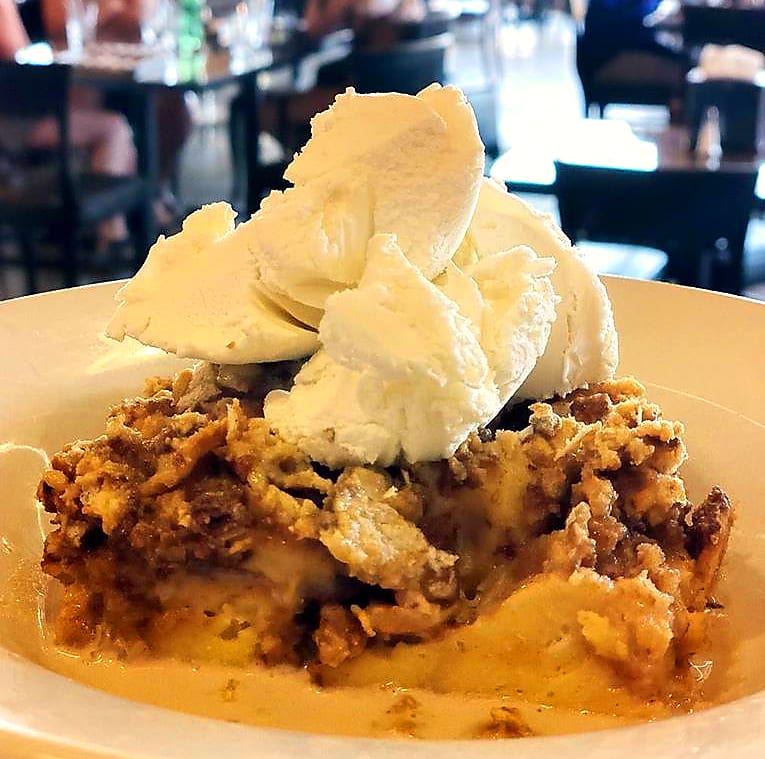 The Porch @ ETX Brewing Co.
The Porch @ ETX Brewing Co. (221 S. Broadway Ave., Tyler, etxbrew.com) serves Henry's Homemade Ice Cream, a Mom & Pop shop in Plano, Texas. You can get a cone or get it on top of their handmade Bread Pudding. The Porch offers a new creative kind of bread pudding every week. Recently, The Porch has had Grilled Peach with Cinnamon Stout Sauce topped with pecans and Henry's Cinnamon Ice Cream! They always have four different flavors of ice cream and keep them rotating.
Twisted Root Burger Co.
Twisted Root Burger Co. (4601 S. Broadway Ave., Tyler, twistedrootburgerco.com) is known for their burgers but did you know they specialize in shakes too? They have a great selection (some with alcohol) like the Fat Elvis (custard with peanut butter with bacon on top), Banana Pudding & Vanilla Wafer, Banana & Baileys, Creme De Menthe & Chocolate Chips. Our favorite is the Banana Foster which comes with custard mixed with bananas, caramel and sliced almonds, topped with whip cream and more caramel. It is truly drool-worthy!

July 27th: SFO, A Journey Tribute Band at Bergfeld Park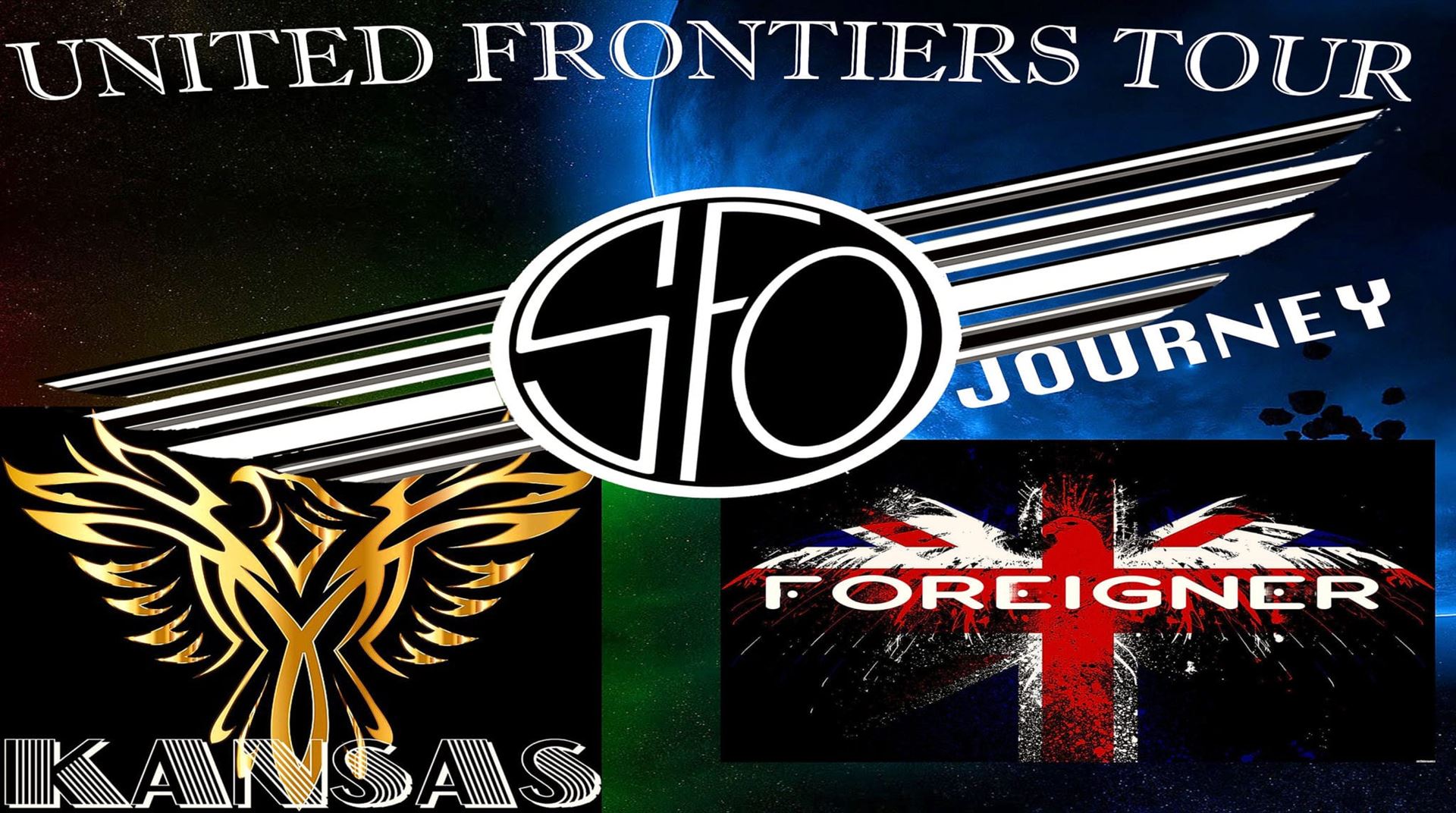 The City of Tyler will host the annual Bergfeld Summer Showcase at Bergfeld Park, located at 1510 S. College Ave., on Friday, July 27. The event kicks off at 6 p.m. with fun and food trucks and live music beginning at 7 p.m.
This year, SFO – A Journey Tribute, a Nashville native band will take the stage. SFO recreates the experience of a 1980's concert, playing all the Journey hits that you know and love with a special salute to Kansas and Foreigner. The band is made up of top-notch musicians from Nashville, Florida, and Minnesota who bring the highest level of musicianship to the audience.
Frontman Gabe Jacobs delivers powerful vocals to his audience by closely emulating the vocals and stage presence of legendary Steve Perry.
"This band will transport you back to the 80's with all the songs you know by heart!" said Adriana Rodriguez, event coordinator.
The local favorite food trucks will be present for quality dining including Say Cheese, Weinerland, Lupita's, Kona Ice and Pokey O's.
For more information, contact Adriana Rodriguez at (903) 595-7248 or at ARodriguez@TylerTexas.com.

New Cocktails inline for "A Toast to CORE" at Razzoo's this Summer!
Razzoo's Cajun Café Partners To Support Restaurant Families
For over 25 years, guests have flocked to Razzoo's Cajun Café expecting exceptional Cajun food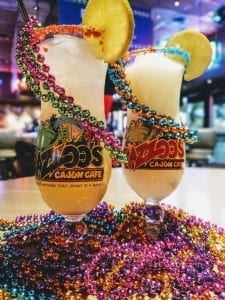 in a fun and relaxed atmosphere. However, many may not know that Razzoo's has a fantastic array of craft cocktails featuring fine spirits and fresh fruits and juices. On June 11th, Razzoo's launched two new specialty cocktails in a promotion titled "A Toast to CORE."
For every sale of these new drinks, Razzoo's will donate $1 to "CORE, Children of Restaurant Employees." Tito's Handmade Vodka will match that donation, up to $5,000.
The tasty new cocktails include: Tito's Peach Thyme Smash (Tito's vodka, Fresh Peaches, Sweet & Sour and Thyme), and Tito's Twizted Strawberry (Tito's vodka, Fresh Strawberries, Lemons, a splash of Sprite with a Twizzler straw).
CORE grants support to children of food and beverage service navigating life-altering circumstances. In times of extreme strain brought on by family death, injury or diagnosed medical condition, loss of home, or other sudden or extreme circumstances, food and beverage families can become overwhelmed financially and emotionally. CORE is the nationally recognized community of support for all food and beverage service families in need by ensuring they feel cared for and valued. Since 2004, CORE has raised more than $3 million and granted support to more than 350 families from across the industry and the country. Contributions from our COREporate Members and individual donors allows CORE to provide grants that keep our families safe, healthy, and happy.
"A Toast to CORE" will be celebrated through August 30th at all twenty Razzoo's Cajun Café locations in Texas and North Carolina.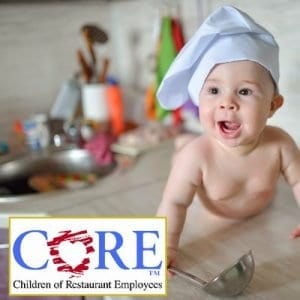 "At Razzoo's we try not to take ourselves too seriously. What we do take seriously is our food and our service. To us, nothing is more fun than treating our guests to great food and a great time in one of our restaurants. That's why we're here. Our food is authentic, it's made from scratch every day in each restaurant and it's darn good. Some of it sounds a little weird, like Rat Toes (really, they aren't) or the Grilled Gator Tail (really, it is). Some of it is hard to pronounce, like the Shrimp Piquant or Chicken Tchoupitoulas – feel free to point when you order (that happens a lot). We've been at this for over 26 years and we've made a lot of friends along the way. We'd like to think that didn't happen by accident. So check out our menu, find the nearest location and hop in the car. We'll be at the door when you get here."
Razzo's is located at 7011 S. Broadway in Tyler, 903)534-2922, razzoos.com/tyler. They feature live music every Thursday evening starting at 6pm. July and August line up is:
July 5th: Chris Colston Acoustic

July 12th: The Haggertys

July 19th: Blue Louie Acoustic

July 26th: The Mansion Family

August 2nd: The Leftovers

August 9th: Riley Redding

August 16th: Tyler Dudley

August 23rd: Ally Venable

August 30th: Al and the Longshots