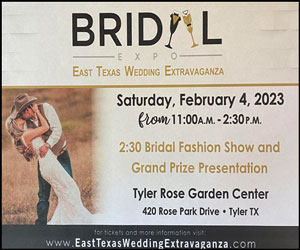 Cooking classes are available to anyone who wants to both learn to cook and increase their culinary skills. All classes are held at the Harvey Convention Center in Hall 3 from 6-8pm. Pre-registration is required for all classes. These classes include a cooking demonstration and recipes; plus you can enjoy a great meal. These classes are for adults. The cost is $15 per person per class. Registration can be made by calling (903)531-1214 or register for classes at parksandrec.cityoftyler.org. Dates and guest chef information is below. 
July 23rd: CLASS VII: "Southern Cooking with a Twist" featuring Guest Chef Cody Baschnagel, The Grove of Tyler

August 6th: CLASS VIII: "Four Day Meal Plan in One" featuring Guest Chef Chef Kat Santos, Founder, Food Works of Tyler

October 11th: Special Longtable Dinner in the Garden: "Rose to Table" at the Tyler Rose Garden. Tickets are $75 per person. Registration required. Tickets go on sale August 16th.