"Cooking: A Way of Life" Cooking Classes Continue Through the Summer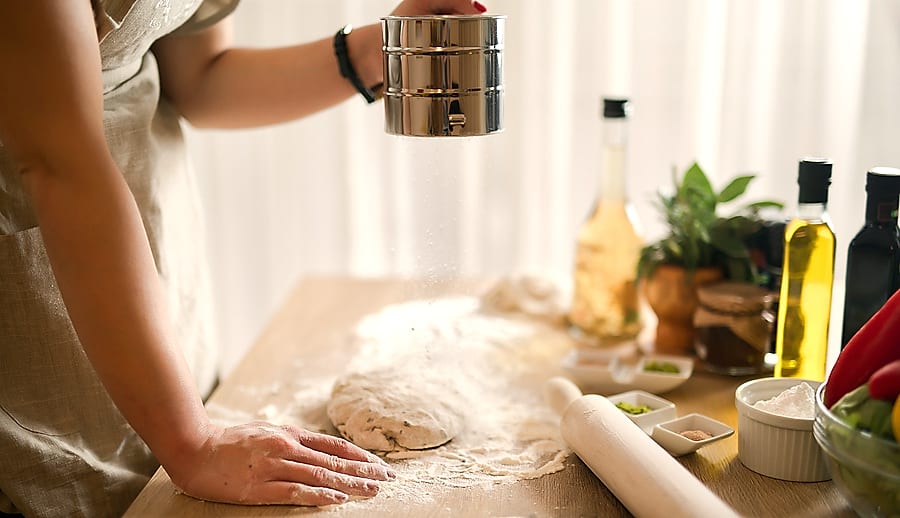 Cooking classes are available to anyone who wants to both learn to cook and increase their culinary skills. All classes are held at the Harvey Convention Center in Hall 3 from 6-8pm. Pre-registration is required for all classes. These classes include a cooking demonstration and recipes; plus you can enjoy a great meal. These classes are for adults. The cost is $15 per person per class. Registration can be made by calling (903)531-1214 or register for classes at parksandrec.cityoftyler.org. Dates and guest chef information is below. 
July 23rd: CLASS VII: "Southern Cooking with a Twist" featuring Guest Chef Cody Baschnagel, The Grove of Tyler

August 6th: CLASS VIII: "Four Day Meal Plan in One" featuring Guest Chef Chef Kat Santos, Founder, Food Works of Tyler

October 11th: Special Longtable Dinner in the Garden: "Rose to Table" at the Tyler Rose Garden. Tickets are $75 per person. Registration required. Tickets go on sale August 16th.


Foodie Events: Yum Yummy Good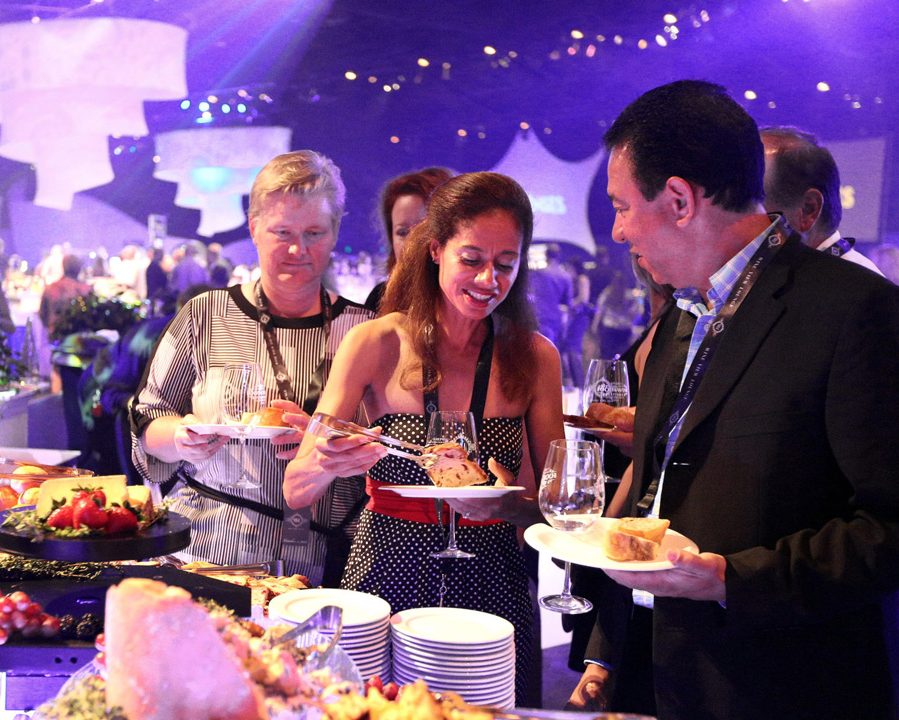 Tyler and Northeastern Texas is a food lover's paradise with an elaborate selection of cuisine types to cooking classes to the wonderful Farmer's Market. Check out these events going on:
For more events, check out EGuideMagazine.com 's entire


Bored? Find something FUN to do…download our App!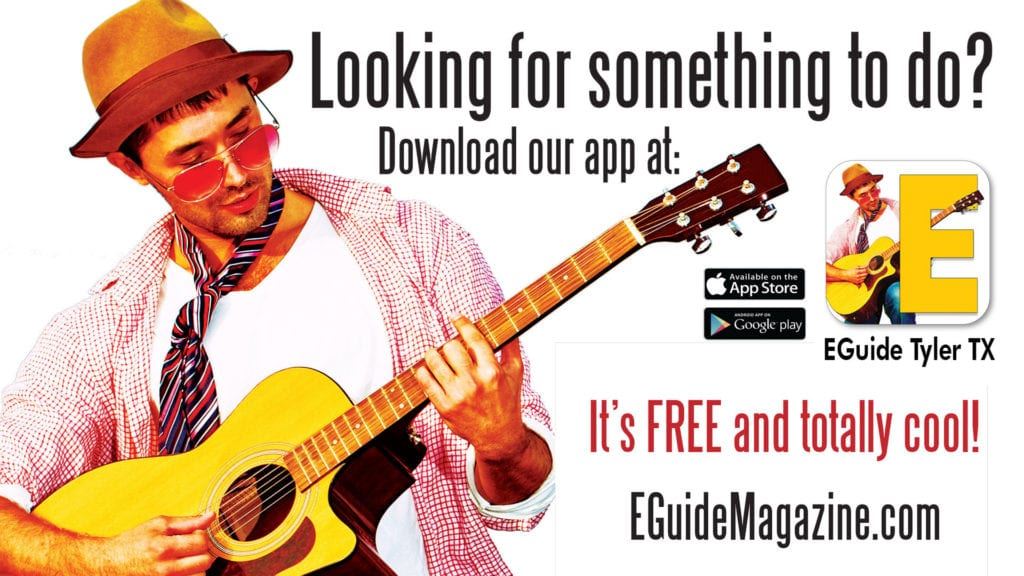 Looking for something to do?
Want to know who is playing live music around town?
See what is going on Downtown?
What is "EGuide Tyler TX"?
"EGuide Tyler TX" is a FREE events app from EGuideMagazine.com, the #1 entertainment guide for Tyler, Texas and the northeast Texas region.
What can "EGuide Tyler TX" do for me?
With "EGuide Tyler TX" you can:
Find new places to eat and drink.
Get info about the best local live music going on daily
See what is going on today, this weekend, or next month
Find festivals, theatre, art, concerts and tons more
Enter to win fabulous weekly giveaways
The easy-to-use menu helps you find out what to do this weekend
…all at your fingertips….and it is FREE!
Download our free app "EGuide Tyler TX" here:


Farmers Markets Around East Texas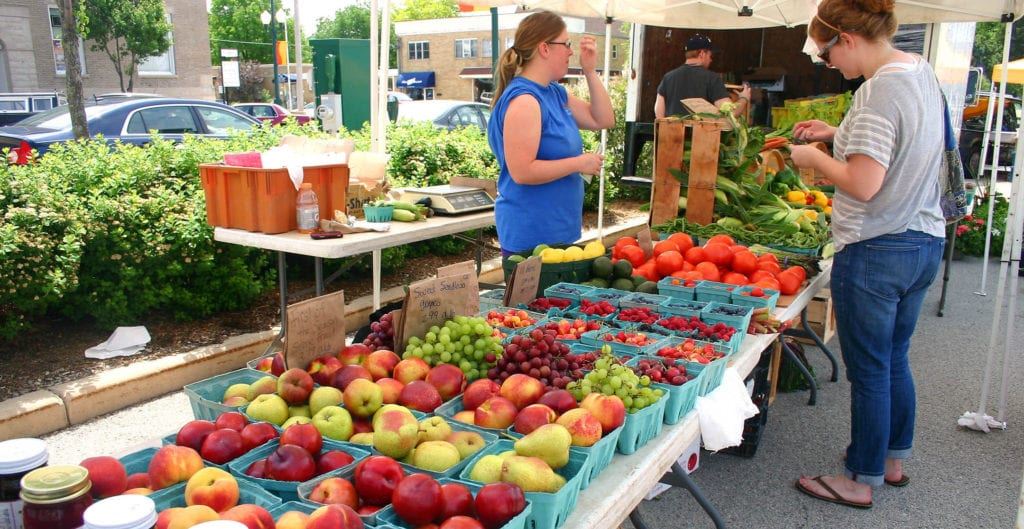 Everything is blooming, growing, and flourishing in East Texas, and it's time to head to your local favorite farmers market. Be sure to check one of these out for all kinds of goodies.
Rose City Farmers Market, Downtown Tyler
Saturday mornings, 8am-12 noon, the Rose City Farmers Market is a neat, unique experience for the whole family and even your furry four-legged friends. Located just a block from the Square, in the Unclaimed Furniture parking lot in Tyler (236 S. Broadway), the market brings all that's fresh straight to you: fruits, vegetables, and herbs all grown within 75 miles of Tyler. That includes pasture-raised beef, lamb, pork, chicken, and turkey, free-range/non GMO eggs, and goat cheeses. Every Saturday, the available selections are different featuring treasures from East Texas fields as the crops come in.  Also, there's fresh bread, flowers, coffee, jams and jellies, baked goods, Texas olive oil, handcrafted art, and Texas fruit wines on hand. Local musicians will be perform every Saturday. Visit them on Facebook, and foodcoalition.org.
Tyler Farmers Market
Tyler Farmers Market has moved to a new location at 2700 WSW Loop 323, Tyler, adjacent to Peltier Chevrolet. The Tyler Farmers Market is open Tuesdays, Thursdays, and Saturdays 7am-2pm. They feature seasonal items under a big white tent. You can visit them online at tylerfarmersmarket.org.
East Texas State Fair Farmers Market
East Texas State Fair Farmers Market, located at the Fairgrounds, 2112 W. Front Street, Tyler, is held under the large pavilion. They are open Tuesdays and Saturdays 7am-1pm. The East Texas State Fair Farmers Market is sourced from 100% local farmers who grow every last bit of food they sell on their own land. This is a covered/open air market, with locally grown fresh fruits, veggies, and flowers. There are also crafters, homemade baked goods, preserves, and fresh eggs. This farmer's market is located right behind the Rose Garden.
Lindale Farmers Market
Open through August 31st, this ongoing farmer's market occurs every Saturday (8am-1pm). Lindale Farmers Market will be held at the Picker's Pavilion, 205 E. North St., Lindale. Fruits, vegetables, artisan wares, and more are featured each week. Everything is home grown, home made, and hand crafted by artisans, ranchers, and growers. For more info go to www.facebook.com/Lindale-Farmers-Market.
Stillwater Farm Market Store
Located at 109 W. Main St. in Chandler, Stillwater Farm Market Store features locally fresh produce, pecans, local meats, baked goods, lunches, and ice cream! This is a destination for "all things fresh" and a great place to pick up locally grown produce. Stillwater Farm is the name given to their family land that is contiguous to the section of Fitzgerald farmland.  The farm features a pecan, peach, and fig orchard. Approximately 10 acres of irrigated row crop vegetables are also grown including onions, watermelons, tomatoes, peas, squash, okra, peppers, and more. For more info call (903)515-3502. They are open Monday-Friday 10am-6pm and Saturday 10am-5pm.