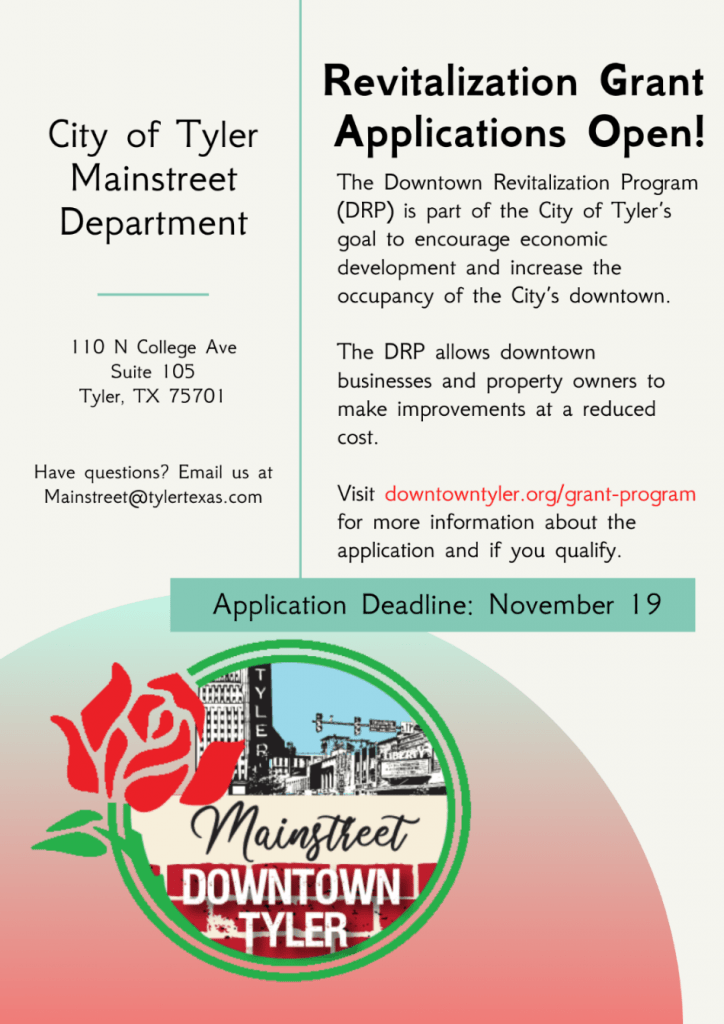 The Downtown Revitalization Grant is now accepting applications.
Interested applicants can visit www.DowntownTyler.org/grant-program to find the application and further details.
All applications must be submitted digitally to MainStreet@TylerTexas.com by Friday, Nov. 19 at 5 p.m.

The Downtown Revitalization Grant is available for any business inside the Downtown area, which is bounded by Gentry Parkway to the north, Front Street to the south, Palace Avenue to the west, and Beckham Street to the east.
The grant application includes the following major provisions:
Reimbursement grant for up to 50% of the total project costs not to exceed $10,000
Approved construction must begin within 60 days from the date of grant approval, and must be completed within 180 days
Eligible projects include, but are not limited to, life safety code compliance, commercial site exterior/façade improvements, ADA improvements, and historic reconstruction.
All funding for the program is made available from the City of Tyler Main Street Department and Heart of Tyler, Inc.
The Downtown Revitalization Program (DRP) is part of the City's goal to encourage economic development. The primary goal of the DRP is to increase the occupancy of the City's downtown. Secondary goals of the program are to address safety issues, improve the downtown aesthetics, building facades and extend the lifecycle of existing historic buildings by implementing appropriate design standards for the rehabilitation of historic properties.
The grant program will provide opportunities that will further the goals of Tyler 1st, which include:
Create a public-private partnership to lead the revitalization of downtown
Provide incentives for downtown development and redevelopment
Provide incentives to attract new anchors
Work to strengthen existing businesses and recruit new businesses to downtown
For questions or more information, email MainStreet@TylerTexas.com.