Dunkin' of Texas and LifeShare Blood Center Team Up to Encourage Blood Donations This August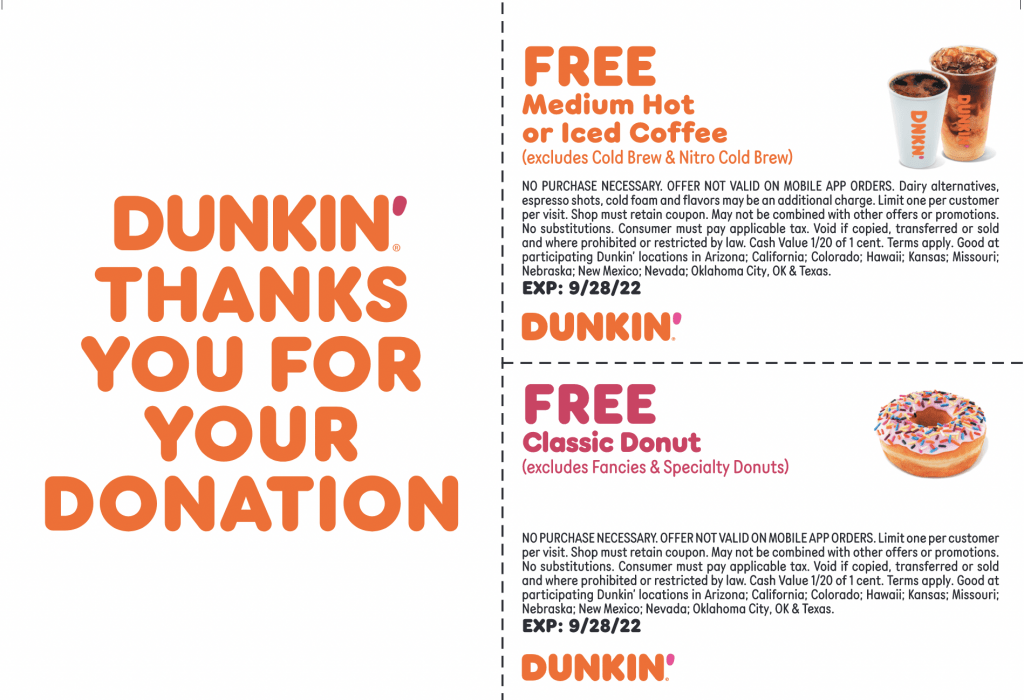 Dunkin' of Texas provides 2,700 vouchers for a free Medium Hot or Iced Coffee and a free Classic Donut to LifeShare Blood Center to support summer blood collection
Local blood donors are in for a sweet treat this August. Dunkin' of Tyler is teaming up with LifeShare Blood Center to provide 2,700 vouchers to LifeShare Blood Center donors in the region during August.
To thank donors who help refuel the blood supply throughout August, presenting donors will receive a voucher for a free Medium Hot or Iced Coffee* and a free Classic Donut**, redeemable at participating Dunkin' restaurants in the Tyler area, while supplies last. Vouchers are not redeemable for cash.
Local hospitals are depending on blood supply quantities to be maintained at all times, however, traditionally, LifeShare struggles to keep up with the demand for blood products in the summer.
"LifeShare Blood Center is very excited to partner with Dunkin of Tyler to help save lives in our shared communities. The summer season is a very hard time for blood collections. We are so happy to have these special incentives to offer our donors for taking the time to give the gift of life," said Kourtney Washington, Director of Marketing and Communications.
"Dunkin' is thrilled to team up with LifeShare Blood Center this August," said Shannon Durkin, Field Marketing Manager, Dunkin'. "We hope that by providing donors with a free Medium Hot or Iced Coffee and Classic Donut, Dunkin' will encourage the Tyler community to stop by Lifeshare and roll up their sleeve."
Donors who give at the LifeShare Beaumont Blood Center located at 4305 Laurel Avenue, or a Tyler or Beaumont mobile blood drive will receive a voucher for a free Medium Hot or Iced Coffee,* a free Classic Donut,**, and a LifeShare t-shirt. To schedule an appointment please visit www.lifeshare.org.
To learn more about Dunkin', visit www.DunkinDonuts.com or follow us on Facebook @DunkinUS or Twitter @DunkinDonuts.