Can't Wait To Give? Early Giving Is Open!
Donate to nonprofits in your community before midnight April 27, 2021.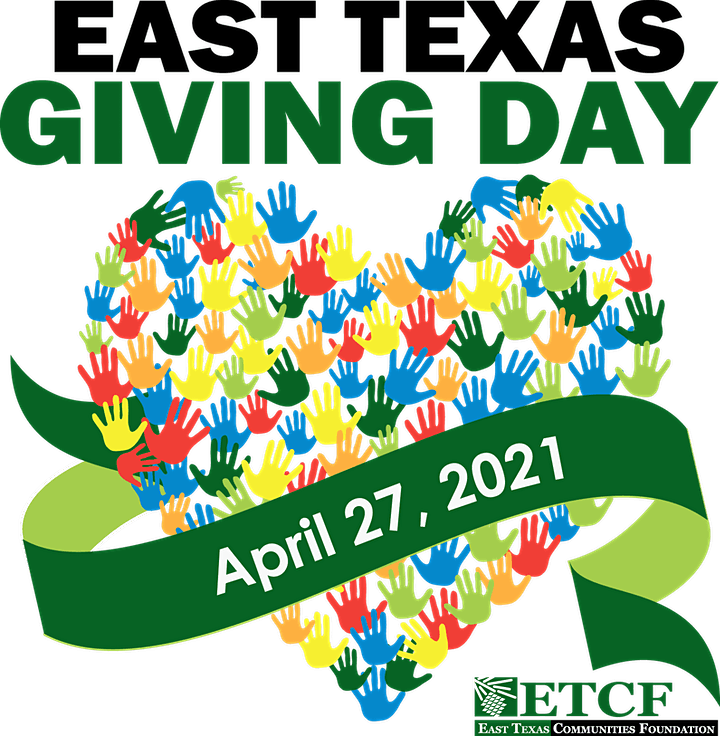 East Texas Giving Day brings the region together as one community, raising money and awareness for our local nonprofits.
The 18-hour online giving challenge officially happens on April 27, 2021 but you can start your impact today by making a donation to one of the participating nonprofits.
This event is designed to inspire people to give generously of both time and treasure to nonprofits helping to make our region stronger, creating a thriving community for all.
In 2020, 200 area nonprofits participated in East Texas Giving Day, combining for over $1,300,000.
East Texas Communities Foundation is excited to offer prize money to participating nonprofits. Additionally, many nonprofits have raised matching funds to help your dollars go even further.
About ETCF
What is a Community Foundation? 
Community foundations are tax-exempt public charities with a common goal: improving the quality of life in the geographic areas they serve. Community foundations are funded by individuals, families, corporations, and nonprofit organizations that create short-term and permanent charitable funds to help meet needs within a given region. Overseen by a volunteer board of community leaders and industry professionals, community foundations invest and administer these funds for the benefit of area nonprofits. There are more than 800 community foundations across the United States.
About East Texas Communities Foundation 
Founded in 1989, East Texas Communities Foundation's (ETCF) mission is to provide simple ways for donors to achieve their long-term charitable goals. ETCF works with individuals, families, businesses, financial advisors and nonprofit organizations to create charitable funds which supports a wide variety of community causes and individual philanthropic interests.
Who We Serve 
East Texas Communities Foundation is a public charity that serves donors and nonprofits in the following 32 East Texas counties: Anderson, Angelina, Bowie, Camp, Cass, Cherokee, Delta, Franklin, Freestone, Gregg, Harrison, Henderson, Hopkins, Houston, Lamar, Leon, Marion, Morris, Nacogdoches, Panola, Rains, Red River, Rusk, Sabine, San Augustine, Shelby, Smith, Titus, Trinity, Upshur, Van Zandt, and Wood.
Our Impact 
Over the past 30 years, ETCF has impacted the community in the following ways:
Received contributions totaling over $161 million
Distributed charitable grants in excess of $98 million
Currently manages over $103 million in charitable assets
Over 366 charitable funds have been established at ETCF
Giving to-or through-East Texas Communities Foundation is simple. Donations can be made in any dollar amount through the creation of a charitable fund or as a gift to an existing endowment fund. We work closely with you to develop a program of giving that meets YOUR needs and interests.
Contact Kyle Penney at 903-533-0208 or etcf@etcf.org for more details or to set up a consultation.