By Gini Rainey
My Stroke of Insight
By Jill Bolte Taylor, Ph.D.
Written by Jill Bolte Taylor, who is a neuroanatomist affiliated with the Indiana University School of Medicine, this book provides a very lucid account of a damaged brain's awareness of itself and Taylor's struggle to regain an autonomous and integrated life after having a significant hemorrhagic stroke in the left MCA. This book is an amazing educational and inspiring account of the author's own stroke and recovery. It was particularly interesting in regard to the apparent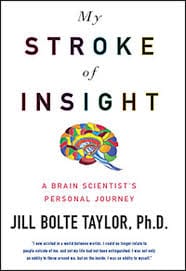 parallels between the ways the brain's right and left hemispheres work and human psychology and religious insight.
In an almost out of body experience, Taylor provides a clear and detailed description of what can happen when a stroke occurs. Her vivid analysis of the underlying repercussions of having blood flood the brain are so vivid yet they are understandable by a layperson.
This book has a lesson to be learned because it teaches so much about how the brain works. The information that Taylor imparts is significant because of knowledge that the right side of the brain is joyous and peaceful and that one can tap into that feeling. She explains in great detail how you might use your right brain more in life, and her book also can help give the reader a knowledge of compassion for people who are recovering from accidents or illness and having to relearn common things.
Dr. Taylor has truly written an awesome book. What are the odds that someone with such extraordinary knowledge of the brain and at the height of her career would have a stroke at the age of 37 and live to share such an amazing journey with us? That, coupled with her talent as a writer is unique and extremely interesting. Additionally, there is a list in the back of her book with information about supporting someone with a brain injury or illness that makes the minimal cost of the book well worth the expenditure.
5 of 5, Copyright 2009 Penguin Group
I Was Amelia Earhart
By Jane Mendelsohn
The story wasn't at all what I expected it would be, but the writing was absolutely as breathtaking as I imagine the views were for someone who loved to fly, seeing the world from so high above. The cover describes it as "lyrical" and that is
most certainly true. Only an author with talent like that can make the technicalities of flight seem like such a beautiful thing or make the dangers just as breathtaking as the scenery. This book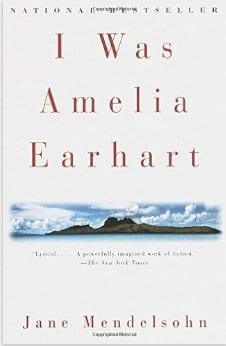 is a "flight of fancy" of what might have happened to Earhart and her Navigator Noonan.
Past and present, fact and fiction, first-person and third blend into a life of the celebrated aviatrix-both before and after her famed disappearance in 1937, at age 39 and unfolds with the surreal precision of a dream. This novel marks first-time novelist Mendelsohn as a writer to watch.
"The sky is flesh," begins the first of the scores of discrete vignettes and reflections that make up the narrative, an apt start to a story drenched in sensuality and the pursuit of it. The Earhart we see in this book is materialistic, glory-seeking, sexually hungry, outrageously self-absorbed, and utterly charismatic. Telling her tale with ruthless honesty in both her own voice and that of the self she sees "from far away… ghostly, aerial," she speaks of her days as America's sweetheart, as the wife of publisher G.P. Putnam.
Diverting from the historical record, she also speaks of the years after she and her navigator, Frederick J. Noonan, "a drunk," crash-land on a South Sea island that they name "Heaven, as a kind of joke," but that becomes a decent approximation as the years slip by and the castaways discover happiness in nature and in each other's arms. When rescue seems eminent, Earhart and Noonan take to the air one last time, and crash one last time, perhaps into eternity, but in any case into an existence defined not by control but by "abandonment"-a message in keeping with the story's theme but in fact an ironic one for a novel as calculatedly lovely and moving as this one.
4 of 5, Copyright 1995 – Random House