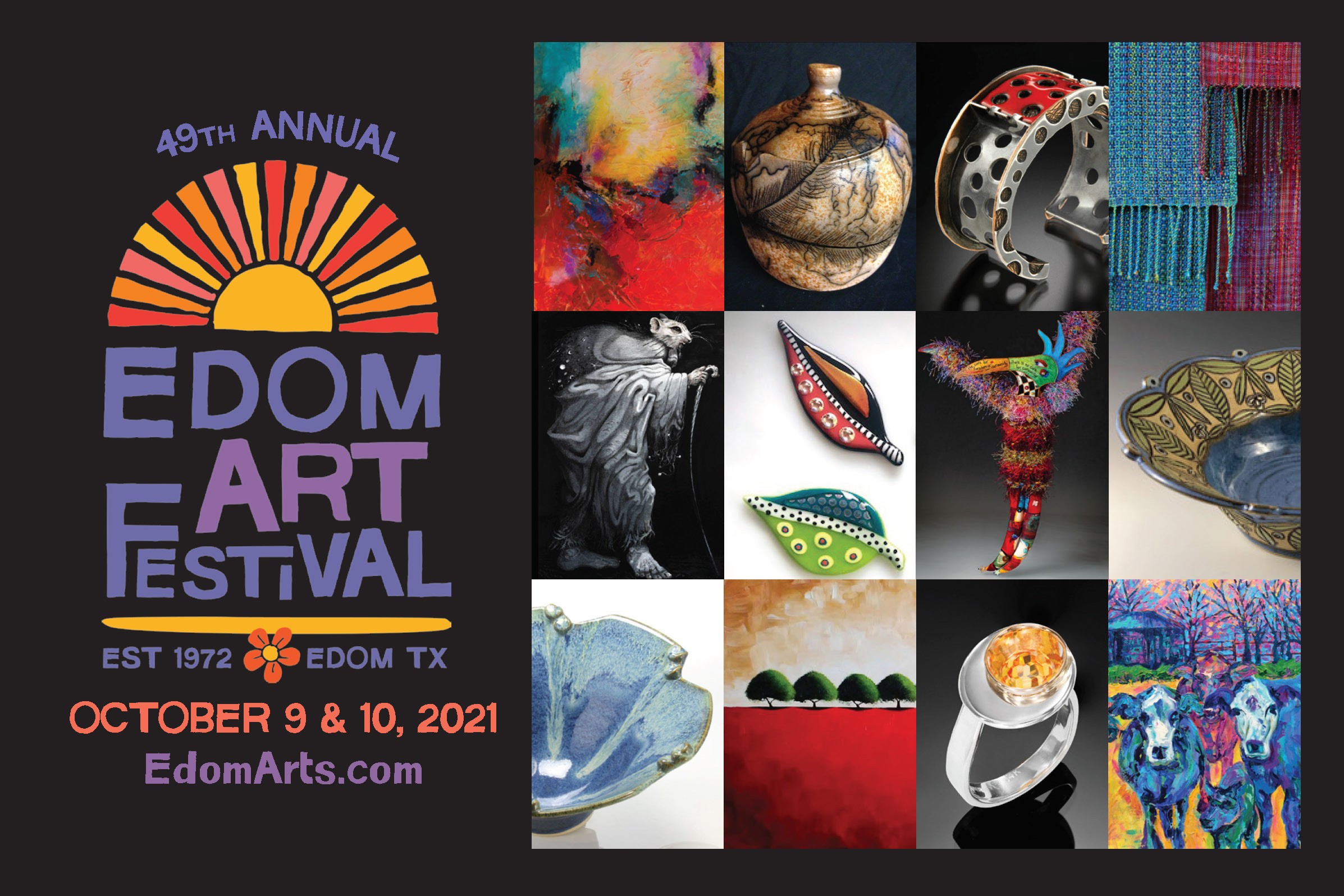 The 49th Edom Art Festival will be held on October 9-10 in downtown Edom, Texas. 
After a pandemic hiatus and the virtual festival of 2020, 60 artists in the mediums of painting, photography, clay, glass, mixed media, sculpture, metal, fiber and jewelry will once again be exhibiting in the meadow behind the art studios of downtown Edom. 
Many of your favorite artists return from several states, and some new delights this year as well.  Demonstrations of blacksmithing by Lonnie Robinson, and clay raku firing demo from crowd favorite Randy Brodnax will be entertaining. 
Our poster artist this year is Jan Byron, a mixed media artist from Dallas who incorporates her clever mind into her one-of-a-kind soft sculptures.  This year we are dedicating the show to the Celebration of Art and Life. 
There will also be wineries, delicious food, and a kids creation station. 
Admission is free.  For more information contact:  Beth Brown  903.258.519
—————————————————————-
The 2021 Edom Art Festival: A Celebration of Art and Life
By Beth Brown, Director of Edom Art Festival
The year 2020, or as I call it,  "the year of living on the edge of sanity", left many of us with scars, battle scars for some, deep wounds from loss, loss of loved ones, loss of our businesses and incomes, loss of personal interactions and being with friends and family to name only a few.
We all made it through, some more unscathed than others, and now we reflect on what the past year has meant to us, and how we survived.
The world is presented with a chance to reevaluate what is important, to see how we can live a more simple and personally productive life, to slow down and ponder the meaning of it all to carry us forward.
For the 2nd time in its 49th year history, the Edom Art Festival was canceled, once was due to an impending hurricane, and then in 2020, a hurricane of a different nature altogether.
As we emerge from this dark time into the light, the Edom Art Festival is dedicating this year's festival to The Celebration of Art and Life. I thought it would be interesting for you the reader to have a glimpse of how this life interrupted presented itself to artists.
For artists, we live a relatively solitary life, creating in our studio, drawing from the quiet to allow our minds to speak and guide our hands in unique ways.  Mary Geisler, a 2021 EAF artist states, "artists are the original social distancers", and how true this is.  This special time gave us opportunities to think about our priorities and possibly new directions with our work and lives. As Director of the Edom Art Festival, an artist for 50 years (has it really been that long!), and co-owner of Potters Brown in Edom, I have made the most of this juncture in life to heal, rather than creating.   My husband, co-collaborator in life and work, passed away almost a year ago, and this uninterrupted stage in life to heal my broken heart has been the luxury that I desperately needed.  I could not have been able to work and carry on life as usual if I tried.
I have reached out to some of our artists to see how this duration has impacted their lives and their businesses.  For some, unemployment was a life-saver as well as social security, commissions, and uninterrupted solitary studio time a blessing, one on one time with customers, changing and experimenting with new mediums not used since college, having the decadence of time and not rushing to ready for the next show or exhibition was life-changing.  Many learned newfound expertise in marketing, selling online with websites, social media, and Etsy, and perhaps teaching classes on a small scale were all savvy areas of proficiency, gone untouched until now.  Necessity is the mother of invention as they say.  As artists, we are a scrappy bunch, inventive when we need to be, resilient when we have to be, so this was just another opportunity to "MacGyver" our lives and make the most of a challenge with adroitness.
Glass-blower Lisa McKenzie expressed that they designed and created a new line of work using recycled glass that had been in 50-gallon barrels for the past 35 years, captioning them landscapes/seascapes/starscapes, and downsizing to a smaller furnace to blow glass, all solutions to cutting costs.  Scrappy indeed in the literal sense!  Painter Jo Edwards had a No-Show art sale where collectors successfully scooped up work to cherish.  Jan Byron, mixed media artist and the festival poster artist for 2021 said, "If I am awake, I am working, so the biggest adjustment was having the time to read a book without guilt."  She is realizing, like many, that she does not need as many shows and exhibits to survive, thinking of semi-retirement and feeling greatly fulfilled by that.  It would have been impossible to know this was an option without this period of drought.  I think worldwide folks are finding these options.  The general overwhelming consensus speaking with everyone was that the "virtual art show" that almost every canceled event embraced, were not successful at producing sales for them.  Wearing the hats of artist and director, this was particularly hard for me to hear wanting so desperately for this venue to work out.  This reveals to me that the public wants and needs personal contact with the artist.
A few artists had their best years ever generating sales with creative marketing.  The public does not comprehend the many jobs an artist must acquire along with their God-given talents;  there is a sales rep, bookkeeper, IT manager, shipper, photographer, carpenter, electrician,  and all-around dirty job worker and roadie, oh and sometimes art show director.  I am embracing the idea of "the slow pottery movement", much like the "slow food movement".  More thought, less trying to keep up with demand.
Now we are able to take a collective breath and put ourselves out there again, exposing those vulnerable underbellies of our creative processes.  Everyone is primed and ready, dusting off the displays, and trying to remember where all the booth supplies are, and ready to see friends.   Ms. Byron expressed that when doing shows again, please allow an extra 2 hours during setup for hugging.  But by far and most of all, we are ready to see you, the public.  Our customers are our friends, our family….when you purchase the piece from an artist, you take a piece of us home with you.    We live with you, whether you admire our work on a wall, adorn yourselves with our jewelry to be complimented on, or as a potter, dine with us or drink your morning coffee with us in a cup.  This is a relationship and it is beyond special, one cannot be manufactured or mass-produced, one that comes from connection with others.  There are few relationships like this in career choices, and it is beyond special.
This is why you come to art shows and support local small businesses, like the shops in Edom, because you make a difference in someone's life and in your own life.  And if we have learned nothing else from this past year, it is to be grateful and not to take life for granted.  Gratitude for friends and family, customers and collectors, health, the luxury of time, and coming back to our new normal, but mostly the joy of life.  Because all we are left with on this earth is love and joy, so let's get back out there and live and love.
Come celebrate the beauty of art and life with us at the Edom Art Festival, October 9-10  from 10-5. 
Admission is free.
For more information contact Beth Brown at 903.258.5192.