Fall Festival Fun for Everyone

Sunny days and mild nights make northeast Texas and Tyler TX the perfect place to enjoy festivals year-round. Many festivals celebrate art, music, film, food, beer, and wine while others celebrate various ethnic and cultural holidays. Here is a list of these festivals: 
For more events, check out EGuideMagazine.com 's entire



East Texas State Fair is coming to Town Sept. 20th-29th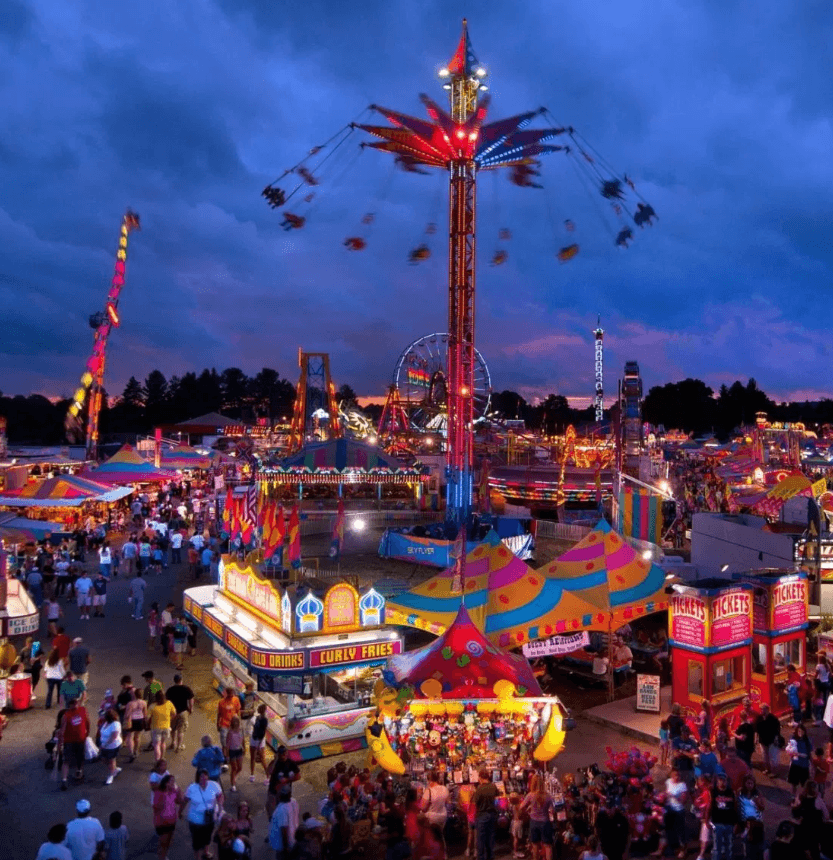 The fairgrounds explode with excitement for the 104th annual East Texas State Fair – the largest and longest-running event in East Texas. Fairgoers will experience a wide variety of attractions and shows, fantastic food, thrilling carnival rides, live music, livestock shows, animals, and so much more! 
Legendary rock icon Bret Michaels and Texas country superstar Aaron Watson are headlining the 104th annual East Texas State Fair!
Tickets are on sale now. Tickets are limited and are expected to sell out quickly. Tickets to these shows are $30 (including Fair admission) and are available online only.
You will not be able to purchase tickets at the gate for these concerts. All tickets are general admission. This is a festival-style stage with standing room only.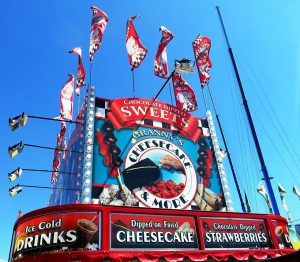 The Stonewater Roofing Stage is an all-new unique concert venue providing an extraordinary concert experience. Concertgoers will feel more connected to the artist with the help of a large catwalk extending into the crowd, large video walls, and unprecedented special effects.
In addition to The Stonewater Roofing Stage, there will be free nightly concerts on the Community Stage located in The Summit, an upbeat club atmosphere with drinks, dining, and live entertainment. Concerts on the Community Stage are FREE with fair admission and do not require a special concert ticket. 
The music schedule is:
Stonewater Roofing Stage: 
September 21st (8pm): Aaron Watson with Chris Colston*
September 28th (8pm): Bret Michaels with Ashmore*
September 29th (4pm): La Invasora Conjunto Fest featuring La Fiera de Ojinaga
Oncor Community Stage:
September 20th (9pm): Mike & The Moonpies
September 21st (9pm): Sabrina Toole
September 22nd (9pm): The Tuxedo Cats
September 23rdh (9pm): The Bluez Boyz
September 24th (9pm): Tyler Junior College Jazz Ensemble
September 25th (9pm): Darrin Morris Band
September 26th (9pm): UT Tyler Jazz Ensemble
September 27th (9pm): Holly Tucker
September 28th (9pm): Billie Jo
September 29th (3:30pm, 5pm, 6:30pm): David Beck's Tejano Weekend
September 20th-28th (12:15pm, 5pm, 6:30pm): Rock Bottom Boys
September 20th-28th (1pm, 5:45pm, 7:15pm): Duelly Noted
September 20th-28th (8pm): Kardenni
*requires a concert ticket
FAIR ADMISSION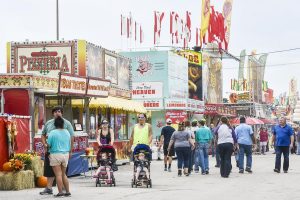 Adult (ages 12+)…………………………$10.00
Youth (ages 6-12)….……………..……..$6.00
Children (under 6)……………………….FREE

R.A.D. WRISTBANDS ($28) You can Ride All Day with the R.A.D. Wristband! Just pay one price for an unlimited number of rides! Available all day, every day! R.A.D. Wristbands can be purchased online and redeemed any one day.
Get your

  FREE Student Ticket (Mon-Wed)!
The East Texas Fairgrounds is located at 2112 W. Front St., Tyler. For more information or to buy tickets visit etstatefair.com.
Don't waste time waiting in line! Use the Express Lane! Buy tickets online and avoid the line at the ticket booth. Just use the express lane to scan your tickets and come right in!
Bored? Find something FUN to do…download our App!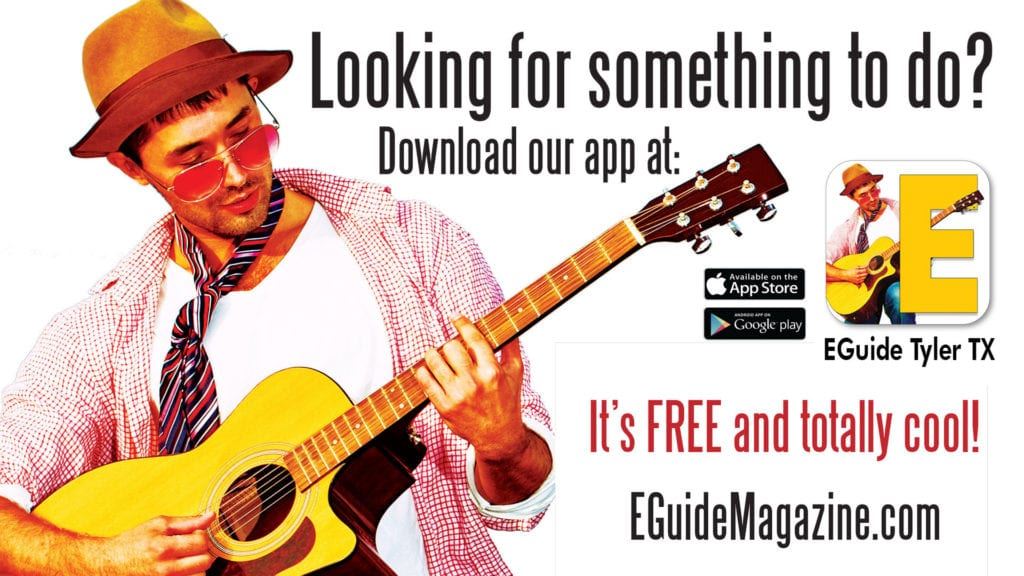 Looking for something to do?
Want to know who is playing live music around town?
See what is going on Downtown?
What is "EGuide Tyler TX"?
"EGuide Tyler TX" is a FREE events app from EGuideMagazine.com, the #1 entertainment guide for Tyler, Texas and the northeast Texas region.
What can "EGuide Tyler TX" do for me?
With "EGuide Tyler TX" you can:
Find new places to eat and drink.
Get info about the best local live music going on daily
See what is going on today, this weekend, or next month
Find festivals, theatre, art, concerts and tons more
Enter to win fabulous weekly giveaways
The easy-to-use menu helps you find out what to do this weekend
…all at your fingertips….and it is FREE!
Download our free app "EGuide Tyler TX" here:


Looking for something to do? Check out EGuide's Calendar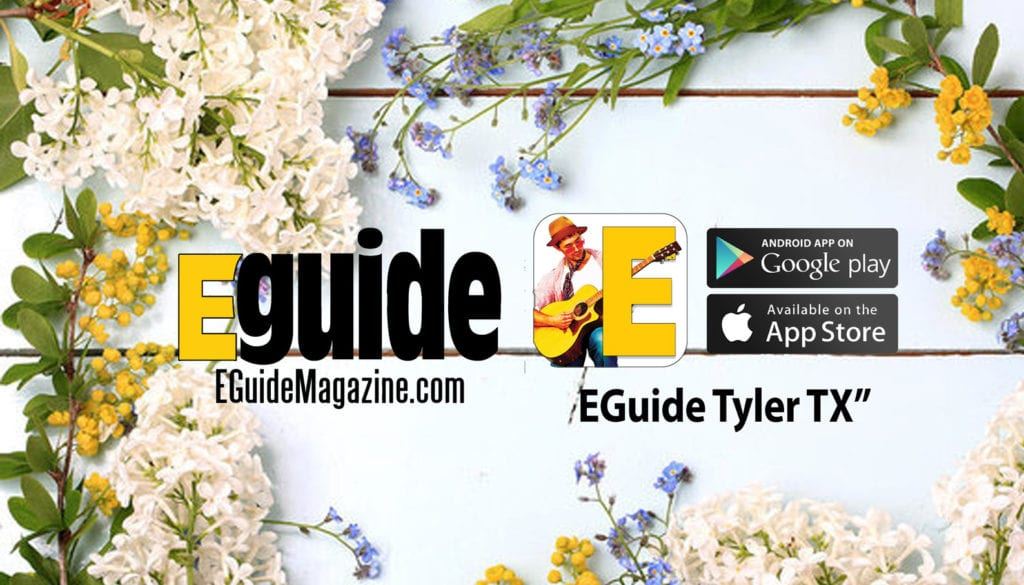 Please allow a few seconds for this to load, the file is HUGE with hundreds to things to do!
#ilovetylertexas