by Gini Rainey
"The Depraved Heart – A Scarpetta Novel "
By Patricia Cornwell
You knew it was coming – after all I've made yet another trip around the sun, so I've had yet another birthday, and I've received another one of my favorite gifts from my daughter – Patricia Cornwell's latest New York Times Best Seller. "The Depraved Heart" picks up pretty much where her last one, "Flesh and Blood," left off.
I must admit, that I was a bit disappointed in Cornwell's latest book. It begins with the discovery of the body of a young woman, who initially appears to have fallen to her death from the top of a tall ladder while changing a light bulb. Of course, nothing is ever quite that simple with Dr. Scarpetta's adventures, and she goes off chasing another mystery while her staff scrapes the poor woman's remains off the floor and takes her back to the lab for further examination and testing.
I have to admit that it bothered me a bit that an unusual amount of the first two-thirds of the book was devoted to the rainy weather, worrying about Carry Grethen (one of Kay's nemeses ), and recounting what happened to her in "Flesh and Blood." Eventually, the plot all comes together, but it felt as though I needed to push myself past all of that to reach a point
where I could finally become engaged in the book. Of course, then it was difficult to put it down, but I would have liked to have reached that point earlier on.
I miss the old Kay Scarpetta. The current Scarpetta has turned into a paranoid, complaining, and insecure person who seems to have forgotten her way back to where she works the best – the crime scene and the lab. The delightful interaction between her and her husband, Wesley Benton, has gone by the wayside, and her niece, Lucy, has turned into a self-centered automaton. Marino? He's just Marino – I don't think that will ever change. I have to admire him for taking the lead in this book when one of his fellow cops was in trouble.
However, once things got rolling, for the most part, the pieces of the puzzle started falling into place, and "Depraved Heart" became a much more interesting piece of reading. It's just a shame that it took so long to get there, and I can't believe Kay never even got back to her lab.
Will I read the Cornwell's next book? Yes, probably so, because I'm a creature of habit, as well as an optimist. I have to believe that Cornwell has a few more good medical crime mysteries up her sleeve that she'll be able to put down on paper and share with the loyal people who have read just about everything she's written. For crying out loud! I even have her (I use the term loosely) cookbooks!
Copyright 2015 – William Morrow
4 of 5
"Tree of Justice?"
By Carroll Mart Sinclair
Sometimes the families that we love dearly with all our hearts and from where our roots are deeply entrenched can give us some great fodder for inspiration. My family history is like this and so is Carroll Mart Sinclair's. This book came to me for review by the author and is an historical novel set in 1919 Leon County, Texas. Written in the dialect of early 20th century deep east Texas, "Tree of Justice" retells the story of the Dorsetts' journey from Alto to Centerville to pick cotton. Their ultimate destination places them on the farm of Mr. Sinclair's relative, Jim Sinclair, a hard-working landowner who also had sharecroppers who worked his land.
With a healthy respect for historical details, Carroll Sinclair recreated what it was like for a family to travel by wagon during the early 1900s. Meeting new people along the way, the Dorsetts shared good times with them as they camped out along the road, while picking berries, hunting dinner, and enjoying a fairly decent family life together. On a trip that would take about an hour and a half today, the Dorsetts spent 6 days in a mule-drawn, wooden wagon making their way to Centerville in order to make some money that would last them through the winter.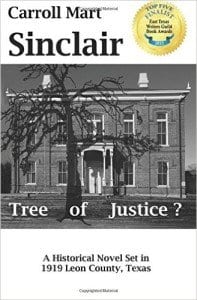 It was when they finally reached Centerville, though, that the story took on a whole new spin and become more involved with the lives of Sinclair's friends and relatives. Without issuing a complete spoiler alert, just let me say that many dynamic events took place following the cotton picking season.   However, considering the racial tensions that were prevalent during the early 1900s in the deep South, it should come as no surprise to the reader that the story line takes a nasty twist and culminates with a tragic ending.
Although well researched and written by Sinclair, I do have to say that reading a book written in dialect is not one of my favorite things to do, and I don't think that having it written in a more updated, easier to understand text would have impacted the historical value by that much. The book does provide, however, an interesting and fairly accurate look into the trends, lifestyles, and mores of the people of that period in history and should provide an invaluable tool to anyone who studies that time in the lives of east Texans.
Copyright 2014 – Early Sundown Studio
4 of 5
"A Wedding in December"
By Anita Shreve
Anita Shreve, who was deeply inspired by Ethan Frome's "Edith Wharton," writes in the shadow of her previous, highly successful novel "The Pilot's Wife." She once again demonstrates her skill at exploring the depths of love, heartache, guilt, and despair. This time, Shreve focuses on the wedding of Bridget and Bill, a pair of high school sweethearts who rediscover
one another after spending many years apart. Bridget is battling breast cancer, and this wedding is a testament to the couple's fervent hope that Bridget will somehow be able to beat the odds. Coming together to celebrate this occasion are some of the bride and groom's former classmates from their years at Kidd Academy in Maine back in the seventies.
"A Wedding In December" is a well written character study that in some ways feels like a family drama as the seven former classmates attend the wedding of two of them while each ponders if they can regain paradise lost like Bill and Bridget are trying to do.
This book will leave you feeling awestruck. Shreve definitely has a handle on writing. She manages, quite successfully, to draw her readers into her stories slowly, but surely, while displaying various characteristics of real life in each character.
Although, on the surface, this book seems to be simply a reunion of old schoolmates, Shreve manages to demonstrate that however complex life might seem to be, sometimes there really can be a simple solution. This book also might encourage you wonder that if you had taken a different fork in the road, where you would be at mid-life and beyond. Shreve actually has put into words what few people will admit, i.e. that they are or have been attracted to others and would have liked a do-over in their life.
Copyright 2007 – Little Brown and Company
4 of 5