By Holli Conley
While spring is always a busy time in Tyler, you might have noticed even more visitors descending on us the past couple of years because of the FRESH 15 – 15K, 5K and 1K, held at FRESH by Brookshire's and set for March 5th.
FRESH 15 was created to provide East Texas with a world-class running event, and to inspire participants of all ages towards a healthier lifestyle. Perhaps what's most unique about this race is that 100% of the money generated is given back to charitable organizations.
There were 2,800 runners in the inaugural race, which grew to 3,400 last year, and is anticipated to be more than 4,000 this year. Approximately 40% of these runners are not from Tyler, resulting in a large economic impact to the local community and businesses, not to mention the charities that benefit from the donations received from race revenue.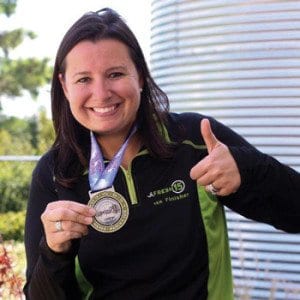 "We are excited for the continued growth of FRESH 15," said Trent Brookshire, Brookshire's Senior Vice President. "Because we donate 100% of runner revenue to charity, every single registration makes a difference."
Last year the event raised more than $140,000 for charity, which included Bethesda Health Clinic and Team Red, White & Blue, and this year the goal is to top it.
FRESH 15 is a race the entire community can be proud to support, and there are many ways to do so. From the athletes' participation, to the pace team, to the volunteers, the opportunities are many to help make it a successful event.
According to race organizers, FRESH 15 would not be a reality without the support of community members.
"We have been excited to support FRESH 15 because we believe in the impact the event has on the community," Shari Lee, General Manager of Visit Tyler said. "Not only do local charities benefit, but local businesses as well. With more than 40% of racers coming from out of town, this brings more people into the community staying in hotels, eating at restaurants, buying gas at the gas stations, and shopping at FRESH, among many other things they will do throughout their visit."
One of the good things about FRESH 15 is the race is accessible to runners of all levels, from beginners to elite athletes. The main event is the 15K, however, for those who prefer shorter distances, the event also features a 5K as well as a kids' 1K for ages 12 and under.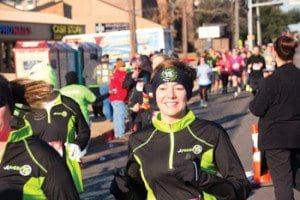 According to Trent Brookshire, challenging runners of all skills levels is important because they believe that motivating someone to become or stay active can change a life. FRESH 15 also offers training plans, and an annual running clinic to help runners get off the couch and prepare for the big day.
The race course is a scenic view of South Tyler, which starts and ends at Brookshire's environmentally-friendly store, FRESH by Brookshire's. Athletes will encounter a few hills along the route including the biggie, Heartbreak Hill, but there will be enthusiastic course cheerleaders from the community cheering runners on to the finish line.
"The support from the community was felt along the race course as people lined the course to cheer along the [runners]," Zach Ginnings, FRESH 15 runner said. "There were very few, if any, places where you couldn't see someone ahead to cheer you on."
The "Lil' FRESHie 1K" is for children 12 and under and is held inside the FRESH parking lot. The race takes children on a route that is approximately 0.6 miles long.
In keeping with tradition, runners will be delighted to learn that the goody bag, or swag bag as runners say, will include grocery items, a technical running hat, dri-fit shirt, and all race day photos are provided at no cost to the participant. In addition, a post-race concert by The Voice's Chance Pena, a local hometown star, will take place after the race.
If you are interested in running, registration is open until race day, but register early to save on the registration fee.
Not a runner? Not a problem! There are still plenty of opportunities to participate in the event. FRESH 15 encourages everyone to get involved in some capacity. It takes several hundred volunteers from the community to come together to make this event a success; every person makes a difference. News of Spain. There are more than 40 casinos in Spain. The online market is developing strongly – in 2015 alone, its growth amounted to 26% in the total industry. The most popular direction is sports betting and online casinos. Phone apps are popular, so we advise you to try desert nights casino app download and give feedback to our readers. The industry as a whole is regulated by the state, and in the provinces by local authorities. Legislation varies greatly from province to province. The easiest is to come watch the race and cheer on the athletes.
For more information on registering to run or becoming a volunteer, visit www.FRESH15k.com.