Get Outside: Build a Garden, Go for a Boat Ride & Go Fishing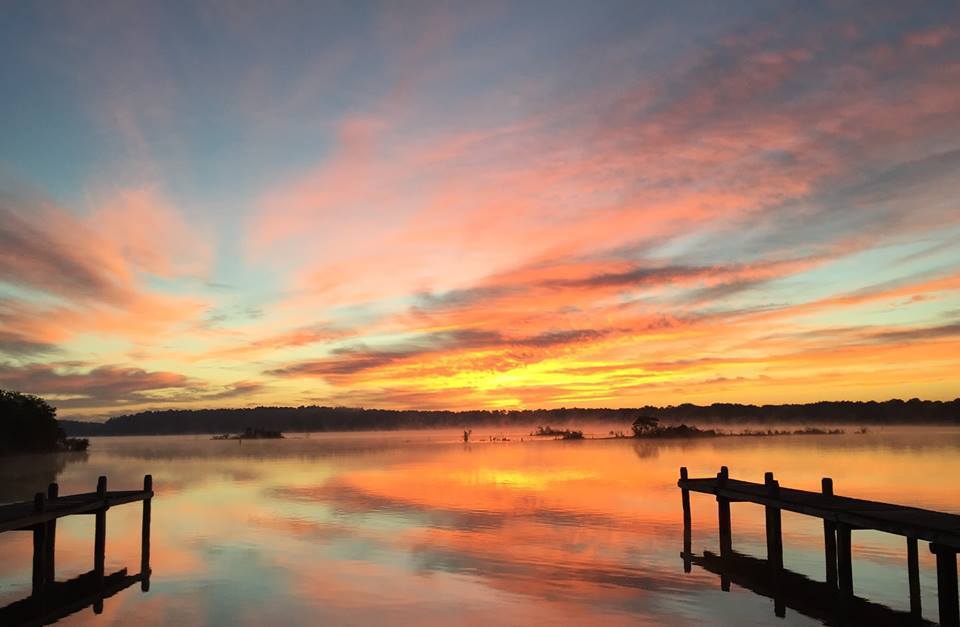 Spring is always a beautiful time in #tylertx and this spring, although COVID-19 demands that we all practice social distancing, you can still be outside. Here are a few things to do if you are getting stir crazy inside your house.
Go Fishing, Take Boat Ride on Lake Tyler
As of April 7th, from The Lake Tyler Marina Resort's Facebook page, LTMR) Lake Tyler is open! You can go fishing. You can ride in a boat. You can kayak. And you can enjoy the water!
No organization can hold a fishing tournament until the lake is released by the city. And as always, please practice social distancing while at the lake.
From LTMR, "We want to send a big thank you to our community for all the support you have given us through this period. The lake remains open. We remain open as well. The grill remains open for carryout orders. The setting area remains closed. The only change is that once you place your order, we ask that you go outside or to your car and we will bring it out to you. Please respect the 6-foot distance around you in all directions. Let's all stay safe and we will get through this craziness."
The Lake Tyler Marina is located at 18183 Concession Road in Whitehouse. Get Directions. They offer a Marina store, RV park, boat launch, grill, marine gas and a great place to relax. Call (903) 839-2650 to place your order or for questions.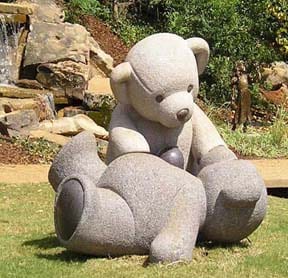 Local Parks Are Open
Tyler Parks are still open. They are Bergfeld Park, The Children's Park, Faulkner Park, Gassaway Park, Hillside Park, Lindsey Park, Rose Rudman Trail, Southside Park, Tyler Municipal Rose Garden, Woldert Park, and Glass Recreation Center.
When visiting the parks be sure to check out the "Four Pedals of the Rose" for free swag or go on a Scavenger Hunt.
Best practices when visiting the parks and playgrounds include using hand sanitizer, washing hands constantly and wiping off equipment before and after use. Residents and visitors should continue to practice social distancing and follow the guideline of avoiding groups of more than ten people. As always, if you, your child or someone in your home is sick or at higher risk for infection, please stay home.
Gardening for Exercise & Fun
Water University at the Texas A&M AgriLife Research Center offers a range of Virtual courses on water efficiency and water quality protection practices locally and across Texas. Most courses are free to the public. Sign up here. These are just a few of the upcoming classes:
Course
Date
Constructing a Raised Bed Garden – VIRTUAL CLASS
Apr 7, 2020
Texan Plants – VIRTUAL CLASS
Apr 9, 2020
Made for the Shade: Shade Gardening – VIRTUAL CLASS
Apr 14, 2020
Put the Care into Lawn Care – VIRTUAL CLASS
Apr 16, 2020
"Saving FROM a Rainy Day: DIY Rain Barrel Class – VIRTUAL CLASS
Apr 18, 2020
Weed'em and Reap: Weeds and Watering – VIRTUAL CLASS
Apr 21, 2020
Herb Your Enthusiasm: Herb Gardening – VIRTUAL CLASS
Apr 23, 2020
The Urban Orchard: Fruits, Nuts and Berries – VIRTUAL CLASS
Apr 28, 2020
Birds, Bees and Butterflies: Gardening for Wildlife – VIRTUAL CLASS
Apr 30, 2020
Family Friendly Gardening – VIRTUAL CLASS
May 2, 2020
Butterfly Gardening – VIRTUAL CLASS
May 5, 2020
FoodScaping – VIRTUAL CLASS
They also offer guides for building a garden, plant tips, a calendar for when and what to plant, watering guides, lawn how-to's, How to Build a Rain Barrel, Water Efficient Landscape Designs.
Several cool videos are available at Facebook.com/AgriLifeWaterU/ like Grow Your Own Veggies, Virtual Gardening Class, "Let's Ketchup" on Tomatoes, "You're Sure to Find APEELing," and more.
Water University at the Texas A&M AgriLife Research Center – Dallas is the state's most comprehensive offering of scientifically based solutions for water conservation and resource management. Water University harnesses the unmatched expertise of the Texas A&M University System to bring you unparalleled opportunities for collaboration in conservation.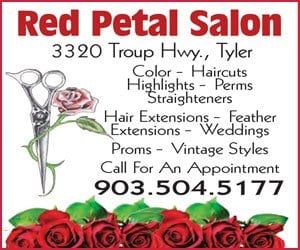 Upcoming 5Ks, 10Ks, Marathons, Tri's & More
For more events, check out EGuideMagazine.com 's entire


---
There's a great amount of variety with the walks, runs,
triathlons and more in East Texas. Check out these upcoming events.
It is free to post any event. Please click "Add Event" below to add yours!
Cowan Center: 2020-2021 Season Is Announced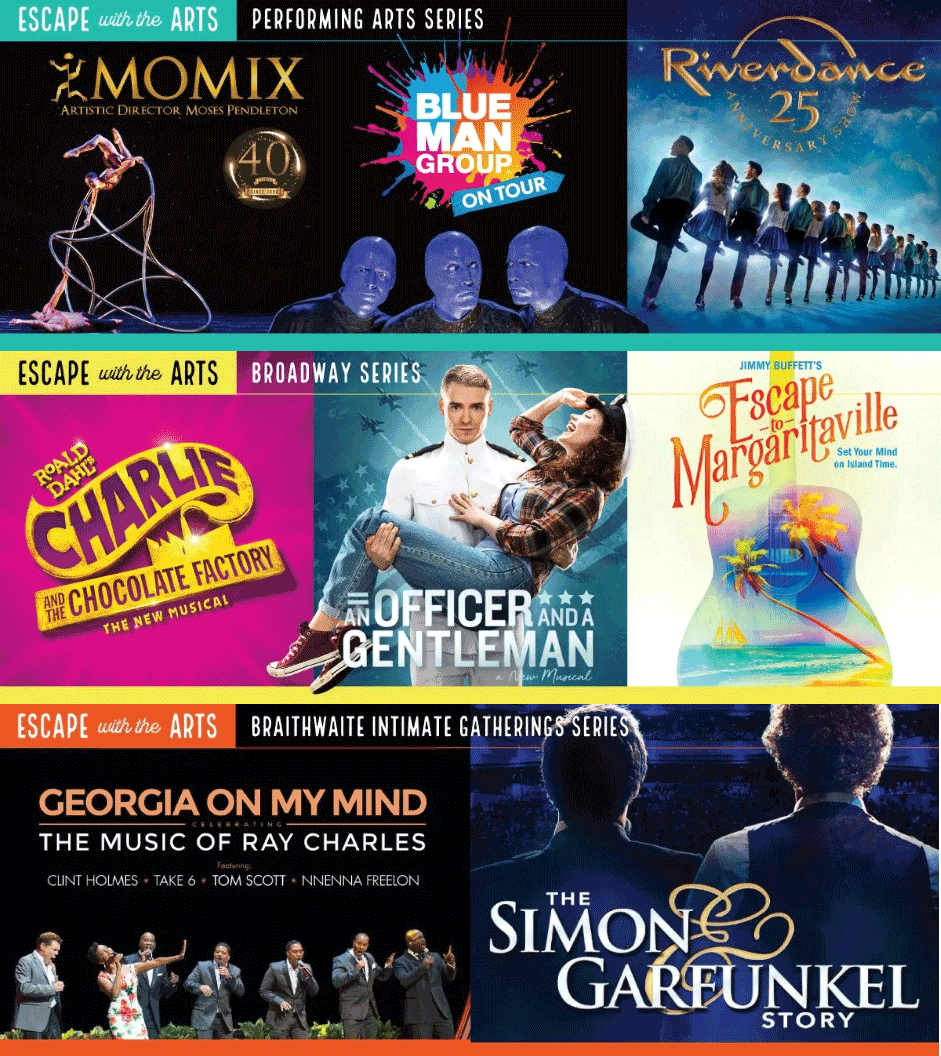 For more events, check out EGuideMagazine.com 's entire


Wondering what is showing at the Cowan Center?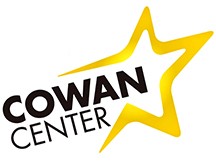 There's nothing like opening a season with a fun show and a member party for the ages! No better theme than Jimmy Buffett music, an escape to Margaritaville, and a pre-party for Cowan Center Circle members!
"I think we all deserve some social time with our friends and like-minded Broadway fans," said Susan Thomae-Morphew, UT Tyler Cowan Center Executive Director.
"This is our 24th Season! We can't believe it either! We promise to have lots of great talent again and will be gearing up as we celebrate a quarter of a century soon. Over the next 2 years we will be developing programming for new target audiences and upgrading our premiere venue known across the state and beyond as a magnet for amazing artists and shows."
"The Cowan Center Circle is the lifeblood of the Cowan Center's service and success. Your membership support is needed now more than ever before. We have big plans and want to make you proud of this wonderful asset we share with so many. It is with you that we reach high and provide the best for our community, state and region."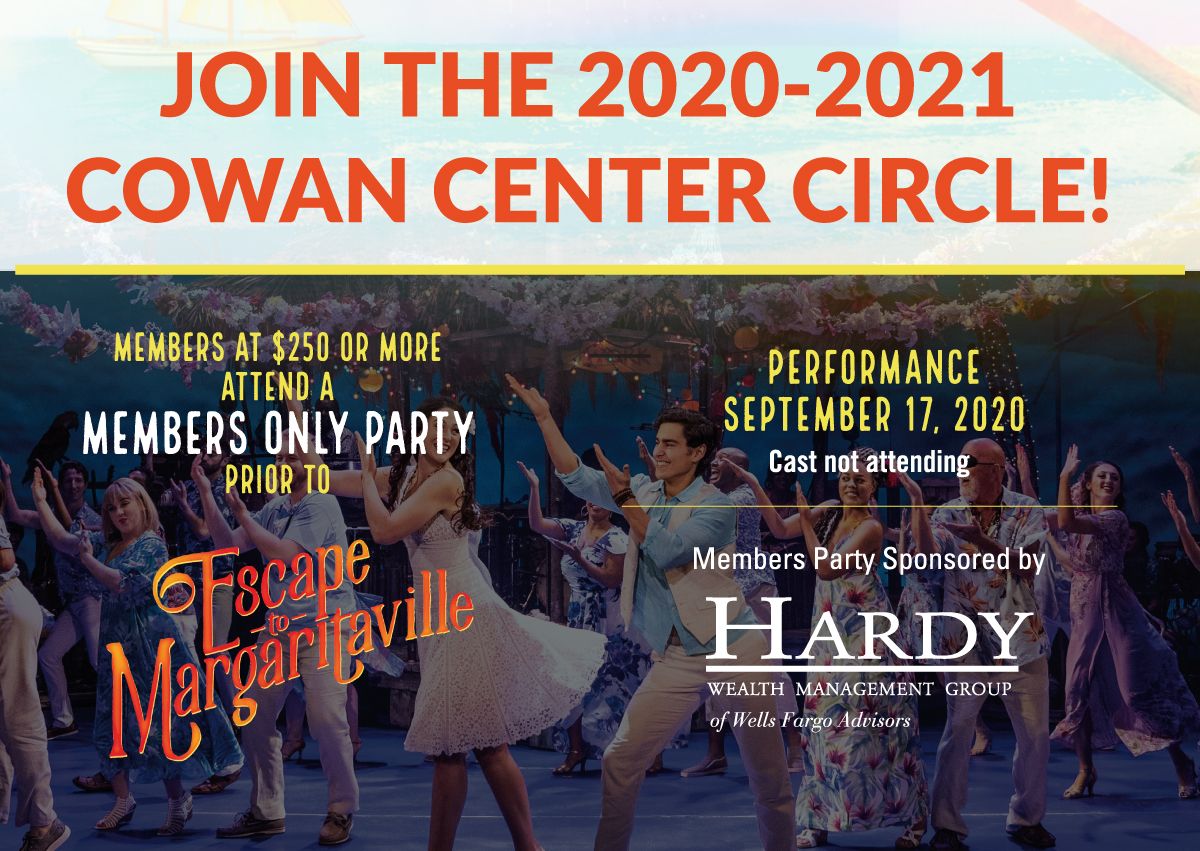 "We ask you to renew your membership, consider an upgrade, and invite friends to jump into the Cowan Center family. We want to fill the house every show and share the magic of live performance. Help us reach for the stars and come see some on stage, too!"
"We are grateful for each and every one of you. I can't wait to see you all again!"
All events are performed in the Cowan Center located on the campus of The University of Texas at Tyler, 3900 University Boulevard – FAC 1120 in Tyler, TX (Google Map).
QUESTIONS? Call (903)566.7424. More information and TICKETS can also be found at CowanCenter.org. Watch for announcements on Cowan's Facebook and Twitter pages too.
Upcoming acts are:

School is Cool August 6th: Donations Still Needed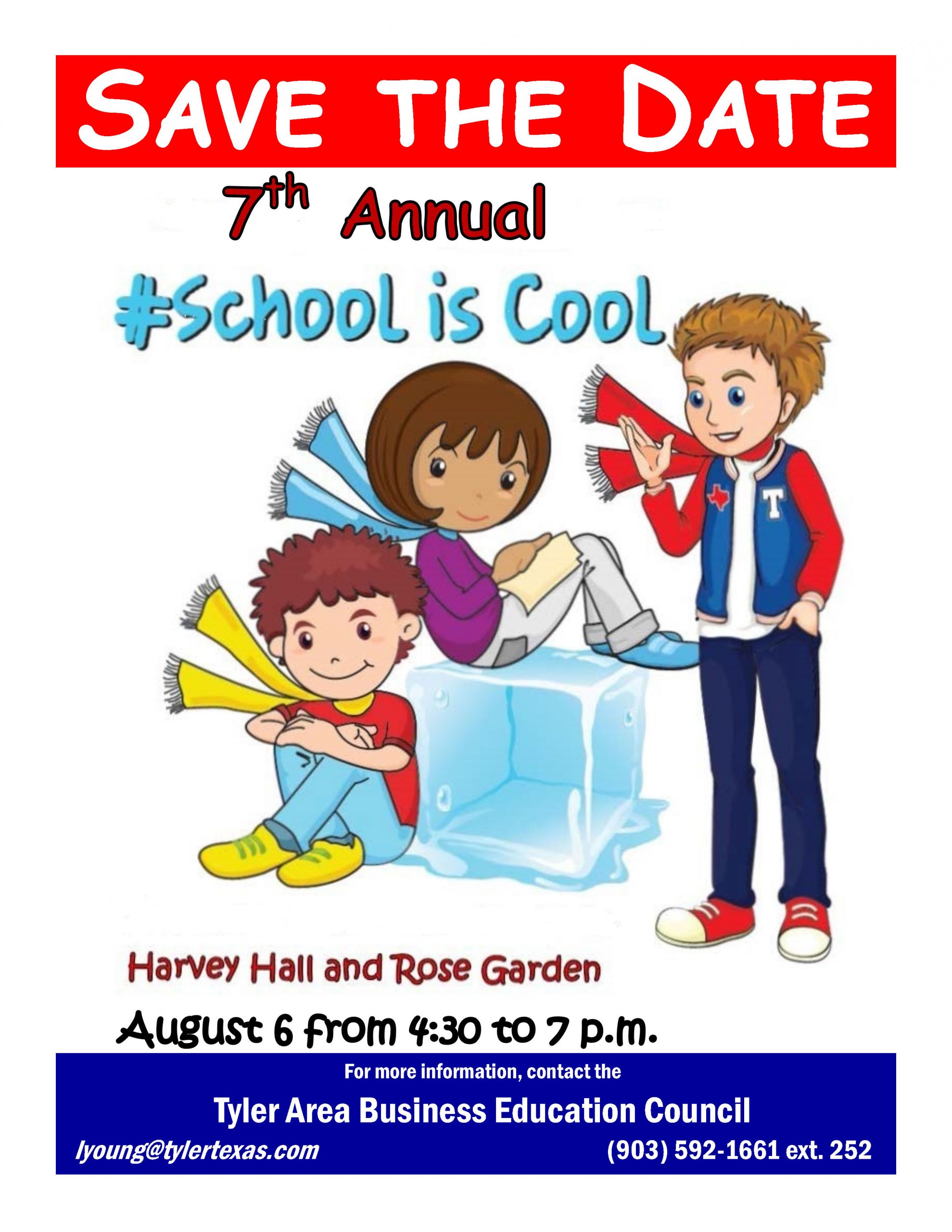 The 7th annual #SchoolIsCool event will take place Thursday, Aug. 6 from 4:30 to 7 p.m. at Harvey Convention Center, located at 2000 W. Front St. and the Rose Garden Center, 420 Rose Park Dr., Tyler.
Due to COVID-19 precautions, this year's event will take place as a drive-through. There will be no booths or services inside the building.
Donations are needed! Please consider donating backpacks, school supplies and/or giving a monetary contribution. $30 will purchase one backpack with supplies. 
*Children must be present for backpack tickets. No exceptions.
*Niño(a)s deben estar presentes para recibir boletos para mochilas. Sin excepciones.
Donations needed for annual #SchoolisCool event
The goal is to distribute 2,000 backpacks with supplies to kids of all ages enrolled in schools from Pre-K to 12th grade.
Tyler Area Business Education Council is currently accepting monetary donations and sponsors for this event. Every $30 donation purchases one backpack with supplies.
Donations can be made online on Eventbrite or by mailing a check to 315 N. Broadway Ave. payable to the Tyler Area Business Education Council.
Applications for sponsorships are now open and available at SchoolisCoolTyler.com.
"Every year we have the opportunity to serve our community and provide the necessary supplies for children to go back to school," said Tyler Area Business Education Council Executive Director LaToya Young. "This year will be crucial for a lot of families that lost their incomes due to COVID-19. We want to be there for them and need our community's help to make it happen."
Please consider donating backpacks, school supplies and/or giving a monetary contribution. $30 will purchase one backpack with supplies. Our goal is to distribute 2,000 backpacks.
Red pens
Blue pens
Black pens
#2 pencils
Pencil Sharpener
Erasers
Dry erase markers
Pocket folder with brads
Glue sticks
Bottle of glue
Box of facial tissues
Box of colored pencils—12 count
Box of crayons—24 count
Child's scissors
Package of ruled notebook paper
3×5 index cards
Spiral notebook
Composition book
Highlighters
Ruler
Credit card donations may be made at www.schooliscooltyler.com. Checks can be made payable to the Tyler Area Business Education Council and mailed to 315 N. Broadway Ave., Tyler, TX 75702.
Vendors & Sponsors:
Volunteers are needed to help make this event a success. If you would like to volunteer, please visit Volunteer Services page to fill out your application or call Volunteer Tyler at (903) 531-1100.
The deadline for platinum backpack sponsors is June 30th. The deadline for all other applications is July 10th.
For donations or sponsor and booth payments, visit our Eventbrite page.