Get Outside: Tyler Parks, Trails & SplashPads Are Open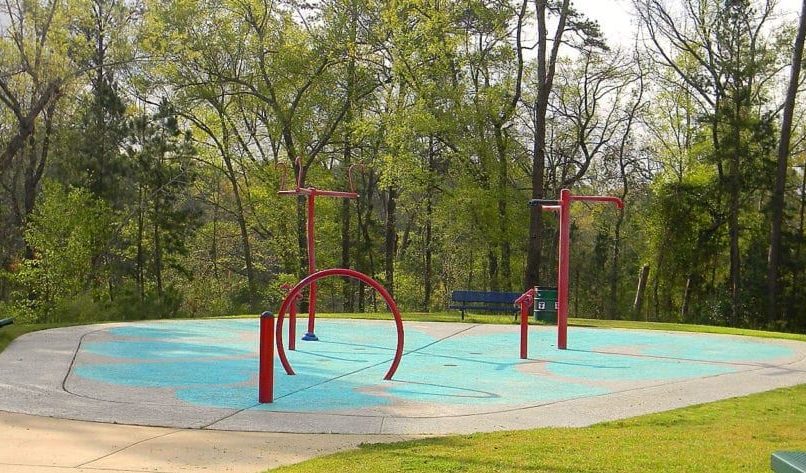 Tyler area parks and trails are NOW open to the public! We ask that anyone visiting the parks and trails carry hand sanitizer with them. Washing hands and wiping off any equipment before and after use can also help prevent the spread of germs and other harmful bacteria. Residents and visitors should continue to practice social distancing and follow all recommended CDC guidelines. As always, if you, your child, or someone in your home is sick or at higher risk for infection, please stay home.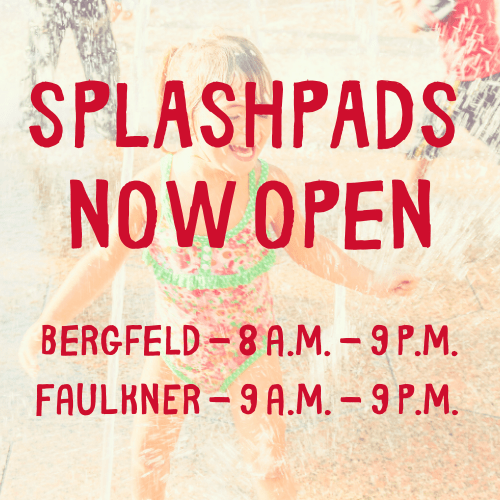 If you have any questions about park facilities or to report a maintenance issue with a splashpad, please call Parks Admin at (903) 531-1370.
Bergfeld Park Splashpad – Opens Monday, June 8. Admission: FREE, 8 a.m. – 9 p.m. everyday
Faulkner Park Splashpad – Opens Monday, June 8, Admission: FREE, 9 a.m. – 9 p.m. everyday
Fun Forest Pool & Splashpad – Opening June 2020! For more information, visit the Fun Forest Pool webpage. Admission: FREE
Woldert Splashpad – Opening Soon! Admission: FREE, Open 9 a.m. – 8 p.m. Everyday
Splashpad Activation
The City of Tyler's conservation initiatives involves reducing the use of potable water at the splashpads. In order to reduce consumption, the splashpad is on a timer which must be reactivated every 5 to 10 minutes depending on the facility. To activate the splashpad during open hours, you must hit the activation pad.
Faulkner Park Splashpad– Touch to activate pad near splashpad.
Bergfeld Park Splashpad – Step to activate pad near the bench.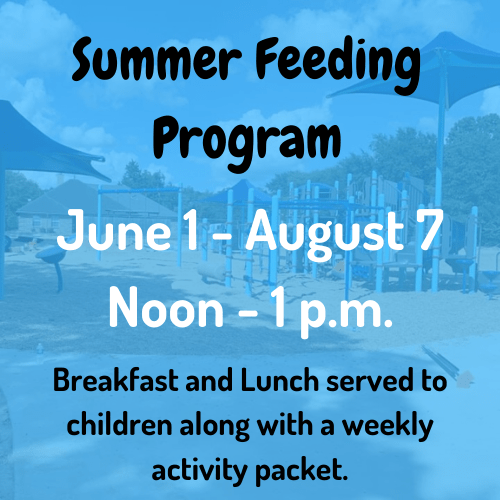 The Tyler Parks and Recreation Department along with East Texas Food Bank will host a 10-week Summer Curbside Feeding Program. During this time, Parks and Rec Staff will be distributing weekly activity kits to take home and enjoy. Our goal is to keep providing nutritious meals to the children in our community, along with giving opportunities to have some fun activities to do.
Dates: June 1 – Aug. 7
Locations: Glass Recreation Center, Gassaway Park, and Winters Park.
Time:  Lunch: Noon – 1 p.m. at all locations. Breakfast and lunch will be available at Glass Recreation Center during the lunch hour.
Weekly Summer Activities Kits: Activity fun kits will be distributed each Monday to all kids during lunch between 12 – 1 p.m. Kits will consist a variety of art and crafts projects for kids to do at home.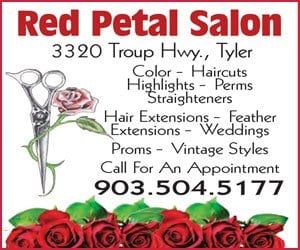 FREE Things to Do This Summer
There's nothing better than FREE and Tyler offers a ton of FREE things to do!
For more events, check out EGuideMagazine.com 's entire



Edom & Ben Wheeler: There's A Lot of Events in these Small Towns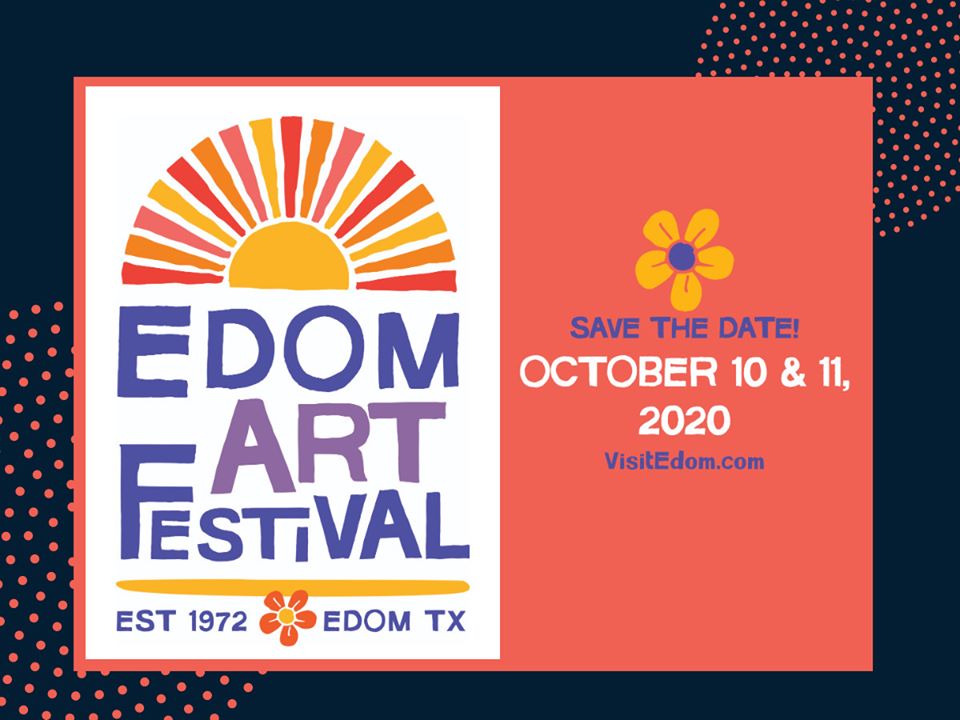 For more events, check out EGuideMagazine.com 's entire


Welcome to Edom & Ben Wheeler!
The Edom Area Chamber of Commerce is composed of a variety of businesses and individuals living in Edom and the surrounding area, who have a shared goal to further the interests of businesses and are willing to invest their time in community development programs – working together to improve the economic, civic, and cultural wellbeing of the Edom area. Located just 80 miles east of Dallas, Edom offers visitors a delightful place to spend a weekend or a lifetime. With the benefits of a small-town feel, and the close proximity to big town benefits in Tyler and Canton, Edom is a great place to start a business, raise a family or simply visit.
Edom is a jewel in the heart of East Texas and hosts artists studios, shops, festivals and events, cafes, gardens, blueberry picking, performance halls, and rental cabins. More info is at www.visitedom.com.
Ben Wheeler is located just a few miles down the road from Edom and continues the artsy feel and vibe. Officially sanctioned as the Feral Hog Capital of Texas and Voted one of the "Coolest Small Towns in Texas" by Texas Highways Magazine, Ben Wheeler is a gem for a fun day of shopping, eating and exploring.
Ben Wheeler hosts a variety of artisans, musicians, dining, shopping and festivals. You can even get married at the Harmony Garden Wedding Chapel nestled in the heart of downtown or bring the kids out to enjoy a day at our unique and historic Children's Library.
There's a lot going on in these funky cool towns. Check out these events:
Looking for something to do? Check out EGuide's Calendar!

Check out the day-to-Day calendar of events and things to do in #tylertx including concerts, festivals, restaurants, Local's Favorites, Downtown Tyler, 5K's & more!