By Gini Rainey
"Everything We Keep"
By Kerry Lonsdale
Once you pick up this perfect debut novel, don't plan on doing much else once until you turn the last page.  Aimee, the main character in this book, was scheduled to be married to her child-hood sweetheart, but instead, on that date she is attending his funeral.  With super character-building skill, Lonsdale hooks the reader into a tale filled with family strife,
unrequited love, and inner-fortitude.
With great tale-telling skills, Lonsdale takes the reader back and forth from the present to the past, weaving an intriguing story of a young man who would rather explore his artistic side rather than be molded into the corporate heir that his parents want him to be.  With the help of the girl who loves him, and the support of her parents, he develops artistic skills that are stunning, only to die on a fishing trip to Cancun.
Following his funeral, Aimee wallows in grief and self-pity, until she realizes that life goes on and that it's time for her to follow her dreams.  With the support of her family, friends, and a talented (and good-looking) photographer, Aimee rebuilds her life and tries to move forward and leave the past where it belongs.
With a perfect balance of sentiment and reality, Lonsdale has produced a novel that is filled with page-turning suspense.  Just about the time you think you've got it all figured out, bam!  The plot takes a new twist and leaves you wondering exactly what just happened.
5 of 5 – Copyright 2016 – Lake Union Publishing
"Everything We Left Behind"
By Kerry Lonsdale
So, if you didn't get your fill of intrigue with her first book, Lonsdale second book takes up where the first one left off.
  Using the same character building skills as in her first novel, she introduces a few new characters and provides a closer look at a couple of the carry-over characters.  With the intention of not having to issue a "spoiler alert" in this review, just know that what you think might have happened in "Everything We Keep" gets a whole new perspective in this sequel.
Using the same technique of visiting the past and then the present for plot intrigue, this book takes the reader from Oaxaca to Hawaii to California.  With great descriptive phrases, the reader will feel the heat of Mexico and the cool sands of Hawaii, while getting to know Carlos, a painter, and his two sons.  With all the passion of a great love story, this book also explores the smarmy drug traffic trade and the evil minds of well-meaning (?) family members.
Undoubtedly as successful as her debut novel, Lonsdale should have a bright future ahead of her, if she continues in the same manner of writing as she has so far.  With all the plot twists and turns she employs in her writing, you'll find both books real page turners.  I would suggest that you download or purchase both books at the same time because you will want to continue reading about this family once you finish the first book.
5 of 5 – Copyright 2017 – Lake Union Publishing
"Tell No One"
Harlon Cobin
Tapping into his great wealth of suspense tale skills, Cobin scores a major hit with this novel about Dr. David Beck and the search for his wife who theoretically was murdered 8 years prior.  Although released in 2009, this book holds up in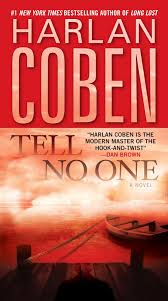 its references to modern day technology and medical nuances, making this stand-alone book a real attention grabber.
Unable to move forward following his wife's murder, Beck works in a clinic for low-income patients in New York.  Making friends with a drug lord whose son has hemophilia turns out to be a life-saver for Beck when strange messages begin to turn up on his computer indicating that perhaps his wife is still alive.
Building his characters with his usual finesse, Cobin manages to create such realistic subjects, you'll feel as if you recognize a few of them.  If you're very familiar with the mystery novel genre, you usually can figure out where a plot line is heading.  Not so with "Tell No One," as Cobin fills this book with more plot twists and turns than a country road, making "Tell No One" a book that will keep you riveted until you turn the last page.
5 of 5 – Copyright 2009 – Dell